A good helpdesk that meets your company's needs is a significant productivity booster. It can help take tedious tasks out of the way, reply to customers faster, and improve customer satisfaction.
However, the quality of your service depends not on the helpdesk alone. It's the people behind it who make the magic happen. They are the ones who deliver good customer service. They are your blood life.
So, today we're talking about some basic but essential things you can do to improve help desk customer service on the people side.
1) Learn to write informative ticket notes
Clear, comprehensive ticket notes play a significant role in delivering excellent customer service. Think of them as a narrative that tells you about the actions already taken to resolve the issue.
Working on the request, agents often loop in teammates from other departments. So make sure the more detailed your narrative is, the better result you'll get. In addition, informative ticket notes will help the person taking over the case and document the solution in case you need to revisit it.
A formula for an informative ticket looks something like this:
Who and when spoke to the customer.
Ticket ID.
A list of taken measures and their outcome.
Advice on what the person taking over the case should do or who to talk to resolve the problem
When the helpdesk staff should update the customer.
But except for writing informative notes, make sure everybody on the support team reads them.
2) Handle calls like a pro
It may come as a no-brainer, but the first words and the tone agents use to answer the call set the mood for the whole conversation. However, answering the call the right way is just one part of the play. While talking to the customer, specific phrases can escalate the problem in no time. For instance:
"There's nothing I can do." If you work at a helpdesk department, there is always something that you can do. Even if you can't offer a solution right away, you can hand over the case to another specialist, who could assist.
"I can't find any record of your purchase/account." Great, now what? Remember, your job is to solve a problem, not create it. So, instead of using this destructive phrase, start asking questions. For instance, maybe the customer made an order under a different name/address/phone number, etc.
"I'm so sorry. I am very sorry. I am so very sorry." Acknowledging your mistake is excellent, but again, you must work toward the solution. Instead, say something like this: "I'm sorry that you had this experience; we'll do our best to make everything right during the next couple of hours."
"Unfortunately, no…" If you can't provide a requested service, offer an alternative instead.
"Let me check." This phrase is too vague. Explain exactly what you're going to do to communicate with the customers.
3) Train Agents to Solve Complex Cases
Perhaps the most crucial thing is teaching your people to handle complex work. Not because it will help you solve stuff faster but because it will breed a healthy environment among your workers. A happy worker is more productive and, therefore, more valuable in the long run.
You don't have to worry that your customers will be left in the blue. Many help desk solutions have a robust AI system that will handle some of the more problematic issues just fine. In addition, once your staff is more trained, they will be prepared to fix stuff neither newbies nor I can improve. Invest more time into people, and you'll see incredible results soon enough.
If you have no idea how to train your people, Harvard Business Review defines
seven types of company representatives
. Your core focus is to develop a kind that is known as the Controller rep. This is a type of representative that will go out of his comfort zone to deliver a fast, easy-to-follow service. Something that is very valued by information-saturated customers.
4) Help Desk Social Network Integration
Next, you need to establish a powerful social presence. And the best way to do it is through a dedicated help desk social network integration. Now for those of you who are uninitiated, most help desk solutions (if not all) have a proper social media integration system that will allow your agents to view multiple messages from multiple platforms using a single entry point.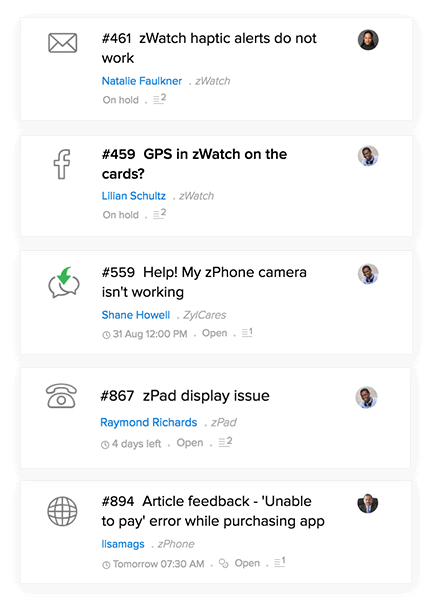 For example, in Zoho Desk, all the customer requests arrive in a unified inbox. You can distinguish which channel the request has come through by the unique icons near each. - Source 
In today's world, every customer is typically well-versed and knows what they want, but the thing is, most of them are impatient. This is because everyone wants a fast and accurate response, and more importantly, they want you to be accessible on every social media simultaneously.
In other words, the best customer service is when someone wants to reach you and can do so wherever they feel like it. So whether it is email or social media, you have to be present everywhere and ready to handle stuff. This is where social media help desk integrations come to help. These tools build customer loyalty and facilitate customer feedback, something that your existence as a business relies on.
5) Help Desk Video Recorder
Online video content went from a distant dream to a mainstream way of promoting your business and ideas. It is one of, if not the best, ways to advertise just about any product or service. Naturally, help desk solutions will follow suit. If you own a modern help desk tool and don't have a video recorder set up or enabled, we suggest you do it immediately.

Video content facilitates face-to-face communication, which is true, but the point is that video is faster than live chat.
Customers don't have to write long messages, nor do they have to describe stuff in great detail. Instead, they can just show what is bothering them and what kind of trouble they have. This will streamline work and improve customer relationships making it more personal at the same time.
Related reads: Best Help Desk Practices to improve customer service in 2023
6) Run an internal knowledge base
Customers are not the only ones who can benefit from an in-depth knowledge base. As your company grows, the amount of processes employees should follow and things they should know increases to a point where having a good knowledge base isn't an option but a necessity.
Investing time and money into creating an internal information hub can speed up the workflow and help onboard new employees faster. What we mean is that all your information will be sorted out and already prepared to be consumed by unknown people. Here are four pillars of a robust and functional internal knowledge base:
Carefully prepared info
Reliable software
Efficient Information Structure
Feedback platform
All of this is nonsense at a glance, but if we take each component and stack them on top, it all becomes pretty clear. Indeed, get rid of redundant or "nice to have" info, leaving only the core. Then provide a proper viewing system so your employees won't have to use multiple info-stacks to find things. Ensure structure and order also makes a lot of sense. If your data is presented first in socks, then toothbrushes, and shower structure, it will only slow down your staff. Make sure you have a toothbrush, shower, and socks structure. Lastly, make room for feedback, and you'll be good.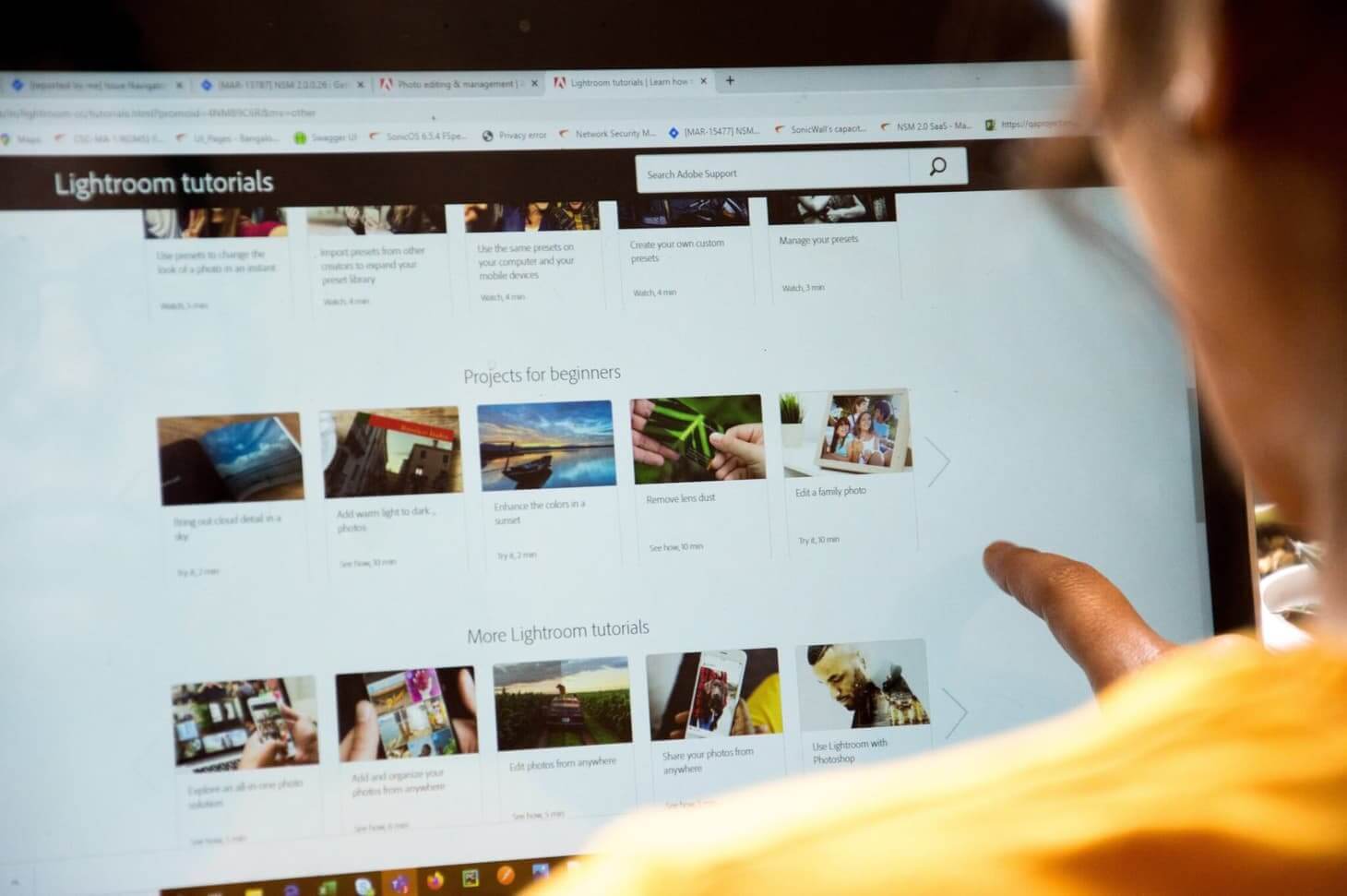 Having a good internal knowledge base takes time, but it will return you the favor almost immediately. Whenever someone on your customer service team bumps into a problem, they can research the documentation before reporting it as a problem. Or, having newcomers, you can introduce them to all the vital processes inside so they can spend more time on customer service skills. It will save time and money on training and improve your customer relationship simultaneously—a win-win.
7) Develop a Quality First Culture
Excellent customer service can be achieved through rigorous training and continuous work. However, that is not all. You can improve your customer service skills by establishing a healthy, quality-first culture. Now what we mean is that you explain to your staff what is good service and what is excellent service.
Tell them that good customer service is when you bring your broken phone to the warranty center, and they gladly accept it, whereas excellent customer service is when they not only fix it but send it back to you free of charge. This mindset will help you improve your customer relationships and help you form a positive public image, which is free positive marketing. As a result, your staff will be able to go above and beyond more often. In addition, your consumers will surely notice the jump in customer service.
Make sure your customer service team follows this mantra. Take the time to explain the critical differences between excellent customer service, and you'll enjoy better engagement and sales.
8) Establish a Feedback Loop
Lastly, another good way to improve customer service is to set up a constant customer feedback loop. Again, it is essential to recognize that your customer service cannot be handled on a case-by-case basis, even if you are not working on a scale. However, setting up a simple feedback form can help you learn about the good, the bad, and the ugly in a much more streamlined fashion.
Your objective is to learn as much as possible about the customer experience, regardless of whether the data comes through a phone call or an email. Therefore, we suggest you employ a help desk system with a strong social component. Why? Cause most people don't bother to provide feedback, but there's always a vocal minority that'll pour all the bad on your social media pages, where new people will go to learn more about your business. See where this is going?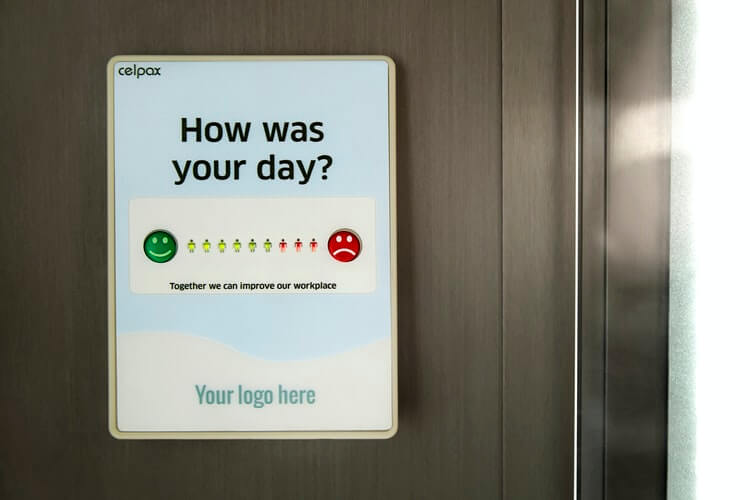 You might argue that you can moderate comments, but that doesn't seem like a good strategy as it is censorship. And we all know how people view such actions. So instead, a help desk solution that'll redirect the comment to an appropriate response form will ensure that the person complaining can disclose the issue more precisely. Not to mention be questioned for some extra details. This will improve your customer experience and help you maintain a good reputation.
Concluding notes
The tips mentioned above are fundamentals that we believe can significantly streamline the workflow and improve your customer service.
However, customer support requires continuous improvement, efficient systems, and skillful people. When all these are in sync, your business will have an efficient and productive helpdesk which will help raise customer satisfaction levels.