Many companies, small or large or even medium-sized ones, try to look up to the big guys. Whether it is how these big companies are organized or how they perform their daily operations, everyone tries to borrow some practices to replicate success. And who can blame them? They want to be the next big thing that everyone will love and share.
One such company, in the realm of help desks at least, is GrooveHQ. A new, much promising system that is setting its sights on Zendesk's place. And this is the reason why we decided to stack them together. To see, if the newcomer really has what it takes to replace the goliath that is Zen.
Before We Start
We'd like to make things perfectly clear to avoid any further confusion. Instead of listing the feature set, we'd cover how GrooveHQ and Zendesk differ, how both good and bad, and what it has that Zendesk doesn't. In short, we'd be looking at the usability rates, how you can personalize the tool, what team sizes are supported, and naturally, the price. This isn't a pros and cons type of thing but we'll note where there are some glaring issues.
1. Groove HQ is Very Accessible
The title says it all. The tool was made with average users in mind, therefore there aren't many complicated toggles or descriptions or whatnot. Zendesk is very accessible too but if you take a moment and scroll through the advanced menu section, you will realize that without a proper knowledge base article you'll be stuck.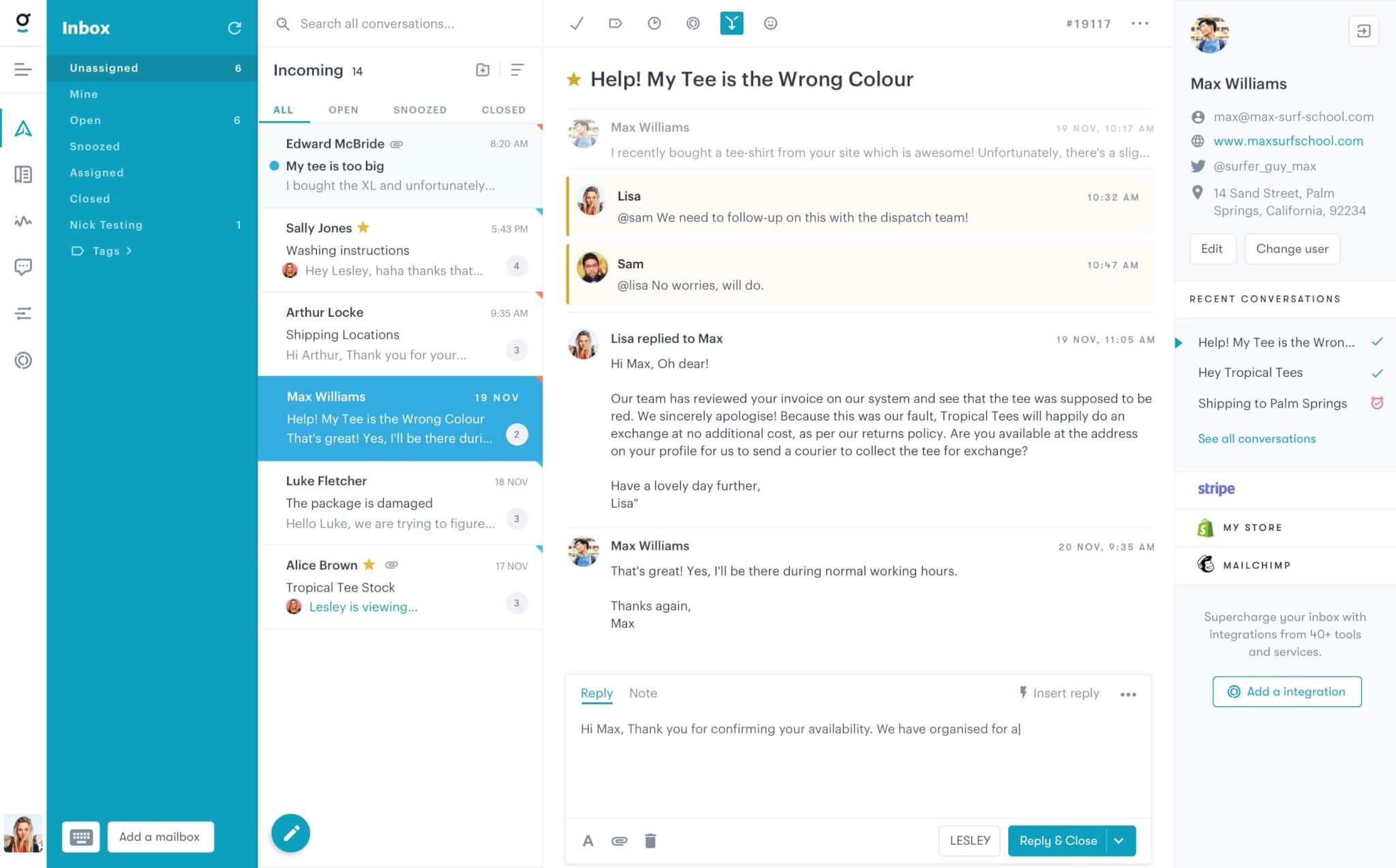 The appearance of the agent's workspace in GrooveHQ. Source: groovehq.com
Part of Groove's accessibility stems from the fact that this is technically a simple inbox that has a bunch of cool extras. Think of it like an email that comes with a tool that can automatically update everything you need, provide you with the ability to create canned responses, and grants access to a dedicated analytics and reporting system. But if accessibility isn't enough for you and you need more complex systems, you can further enhance things with seamless 25+ integrations.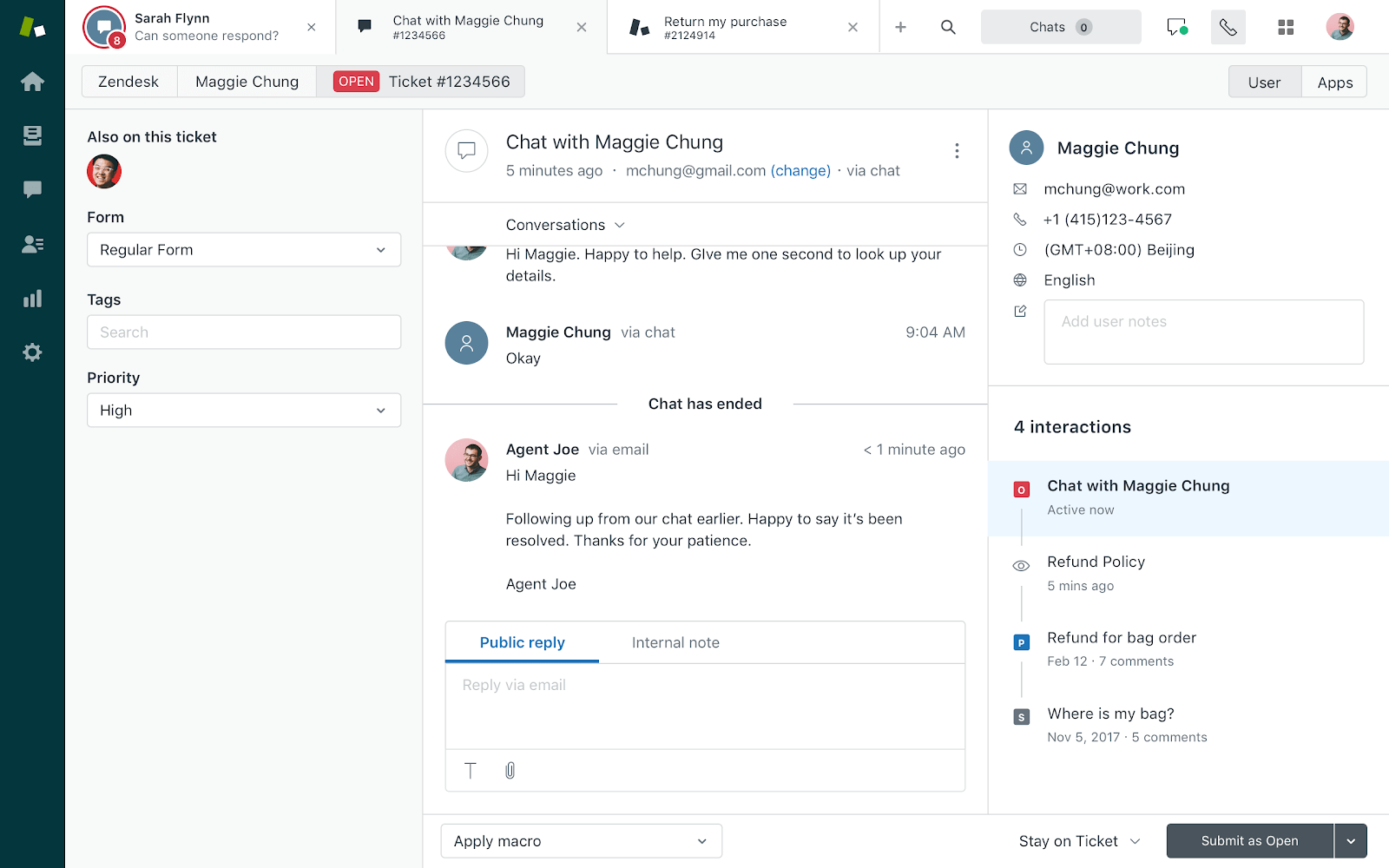 The appearance of the agent's workspace in Zendesk. Source: zendesk.com
It is very good in this regard as it is perfect for people that never used a help desk system before. It is inviting, fast, and does not require extra training since most functions come natural and organic. Good stuff all around.
2. GrooveHQ is Not Super Customizable
As with most cases, accessibility comes with a price. GrooveHQ isn't very customizable in terms of layouts or themes. While you can tailor the experience to your install base, you are still ultimately limited in what you can change from the backend of things. Zendesk in this regard is a pioneer. Whether you want to move certain blocks or color individual elements, the tool got you covered.
GrooveHQ isn't very customizable in terms of layouts or themes and Zendesk is better in this regard. For instance, it allows moving certain blocks or color individual elements.
GrooveHQ justifies this lack of customization by stating that the system looks like an email, something most customers will be familiar with. And that is true but judging the positive performance of dedicated help sections that are custom-tailored to the audience, it becomes clear, Groove is missing a vital component.
3. GrooveHQ Works In Small Teams
There was a time when Zendesk worked wonders in smaller teams but today, it is quite limited in this regard as most of its core functionality is tailored for enterprise-level companies, something Groove doesn't really have the means (yet) to support properly.
But in any case, GrooveHQ is great for startups that don't have a large number of agents. Complicated, highly advanced functions in small teams make the process of supporting poor and slow. Something as trivial as getting reports has to be transformed into a complex system where each person has to scroll through a myriad of features to get the data they need and then process this info a readable file. It takes hours to compile such data and on a monthly scale, this number will add-up significantly, something most startups just can't afford.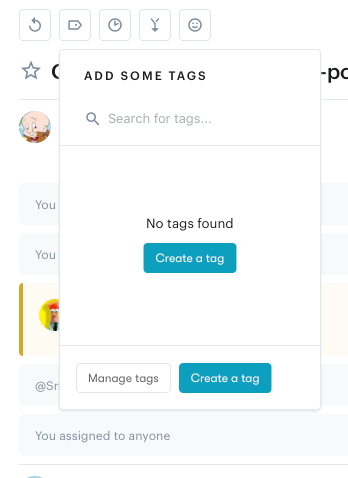 Creating and using a new Tag in Groove. Source: groovehq.com
GrooveHQ simplified such processes by removing certain features. If you work with terabytes of data, you will miss out but if all you need is a general look at the upcoming trends, then Groove got you covered. And then there's the ability to label and assign customers to specific support groups. Zendesk allows this too but Groove made sure that it is as effortless as slapping a sticker.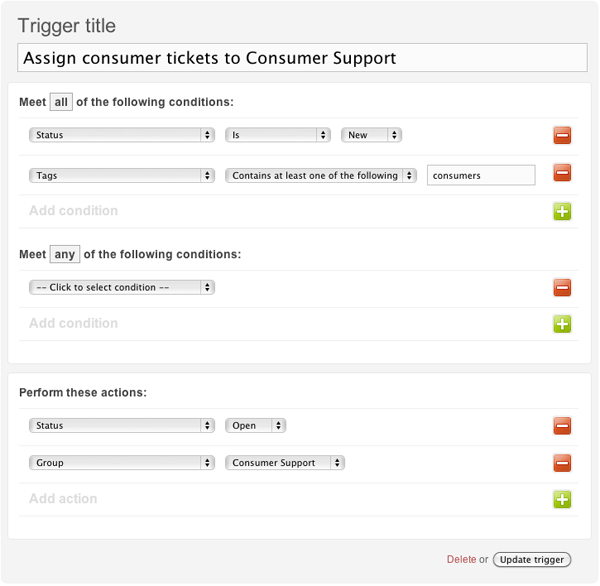 You can automatically add tags to certain tickets in Zendesk, but you have to be sure to adjust the Triggers just right. Source: zendesk.com
4. GrooveHQ is Cheaper
One of the key aspects of the GrooveHQ pricing policy is that they understand that smaller companies just cannot afford ultra-powerful tools. While some of you might be able to use the higher tiers, whether it will be sustainable and efficient in the long run is debatable. But in any case, here's how the prices stack against each other.
Pricing Table
Groove HQ Pro
Zendesk Pro
Price
$29 agent/month
$49 agent/month
Annual Subscription
$348 agent/year
$588 agent/year
Discrepancy/Savings
$240 per agent
While this might look insignificant, if you again, multiply this by the number of agents you have, it will stack up significantly. If you feel like you can live without Zendesk's premium functions, then go with Groove.
5. Other Things To Consider
While we could talk about the different functions each system has, we'd instead like to point your attention to the fact that Groove isn't exactly scalable. While in a traditional sense, it is and it is not at the same time. You see, the ceiling is pretty low for GrooveHQ as the top plan is the Pro plan. Granted, there is the Company plan but you'll have to ask Groove themselves for the details.
Then there is the fact that the system lacks any kind of AI-powered chatbot. This might seem irrelevant in smaller companies but you'd be forgiven if you'd underestimated the capabilities of modern neural-network systems. They've come a long way and are not able to close moderately-complex tickets on their own. This will not only speed up things for you but will allow you to train your agents to do more complex work.
Lastly, there's the fact that Groove doesn't really have a ticketing system. While tickets are still there and you can open and close them as you would in other tools, it's the inability to organize tickets in a way other systems allow you is what breaks the deal for us. It is overly simplified (which is again, good but not always) and can only be expanded through a third-party solution.
Final Notes
But that's about it for today. There is much more we want to discuss about the systems but that'll have to wait for another blog post. We hope we managed to help clear some confusion surrounding the systems, as well as we hope we managed to differentiate them enough.
In the meantime, if you feel like you've grown up from GrooveHQ and want to move your stuff to Zendesk, we are here to help. The algorithm is simple, you contact us, we deliver the goods. But for now, thanks for joining. See you in our next post.
Move to any of the 300+ supported help desk platforms
Set up a data migration and try it out now!
Start Free Demo