Because of advances in technology, customers are now used to getting instantaneous results and personalized services. Businesses that fail to deliver could lose out to nimble competitors. This is particularly true for financial institutions that are battling fintech companies. Now more than ever, the former needs a help desk for BFSI to stay competitive.
Designed to improve customer experience and the efficiency of support service teams, help desk systems are becoming an essential component of modern companies across industries. Few businesses doubt their importance. Oftentimes, the issue boils down to choosing the best software from a myriad of options.
Here, we'll talk about the challenges the BFSI sector faces and the requirements financial institutions can expect from their customers. These factors will help us narrow down the list to the top finance help desk providers for the industry.
What Are the Challenges BFSI Faces?
The modern world has brought challenges that the BFSI sector needs to step up to. Here are the particularly pressing ones.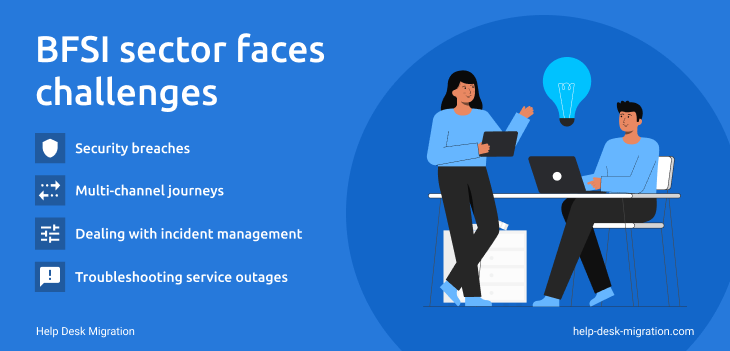 Siloed Communication Channels
Today's customers rely on multiple channels to reach their banks and insurance providers. Gone are the days when financial institutions could stick to answering only phones and email messages. Now they have to handle online chats and social media messages as well. Those that fail to support multi-channel journeys stand to lose out to competitors.
Companies that provide multiple communication channels need to replace outdated voice-centric systems that fail to provide cross-channel availability of data. They need a centralized system that allows agents to view the complete historical record of every customer across all channels.
Troubleshooting Service Outages
Financial institutions provide crucial services that must be available round the clock, such as payment gateways, online banking, and ATMs. Service outages are not only costly but also result in a barrage of customer complaints that the institution will have to manage.
Banks and insurance providers need a system that supports incident management. While the IT team is hard at work trying to restore normal service operations, your representatives should be using a trusty help desk for financial services to record, classify, escalate, and resolve incidents according to their level of urgency.
Security Breaches
Financial institutions are holders of sensitive data, including credit card details, bank account information, and social security numbers. This treasure trove of data is a double-edged sword that allows institutions to improve their products and services but attracts the most cunning of cyberattackers.
Safeguarding data has become even more tricky now that banks and insurance providers are servicing customers across multiple channels. More than ever, financial institutions need to invest in systems that feature the highest security standards and overcome these challenges as they endeavor to meet shifting customer demands.
Let's take a closer look at what customers expect from their banks and insurance providers.
Customer Requirements for Banking and Financial Services
Your choice of help desk system should be based on what customers want. Here are some customer requirements you must meet.
Personalized Products and Services
Today's customers expect personalized products and services from their banks. Financial institutions are responding to this requirement in a variety of ways.
Instead of providing standardized credit card rewards, banks can offer points designed for the specific interests of the customer. For example, they may apportion 50% of the reward points to an airline, 30% to a retailer, and 20% as cashback based on the customer's purchase behavior. Banks can also design a repayment plan tailored to the customer's profile.
Financial institutions can use predictive analytics to make demand predictions on specific products and services based on granular customer profiles. They can use data sets like online interactions, aggregated payments behavior, and geographic information to build detailed profiles and predict consumer needs and desires down to the level of an individual.
Fast Delivery of Products and Services
Customers don't want to have to go to the bank to open an account or apply for a mortgage, nor do they expect to wait for a month to get their loan application approved. Digitizing application and fulfillment services will speed up the process. Customers should be able to view, fill out, and sign documents online. And bank employees must be equipped with automated decision rule technologies for faster evaluation of loan applications.
Quick and Reliable Dispute Resolution
Customers don't like waiting on hold during calls or being pinballed between agents. Financial institutions can prevent this by improving dispute resolution with a help desk for banking services that is powered by AI and advanced analytics.
The system must allow customers to contact the bank at any time across various channels, including phone calls, chats, and emails. It should enable agents to access customers' historical records and leverage dispute patterns to address the problem.
Customer Requirements for Insurance and Reinsurance Services
Customer demands for insurance and reinsurance services are shifting. Here are the requirements to watch out for.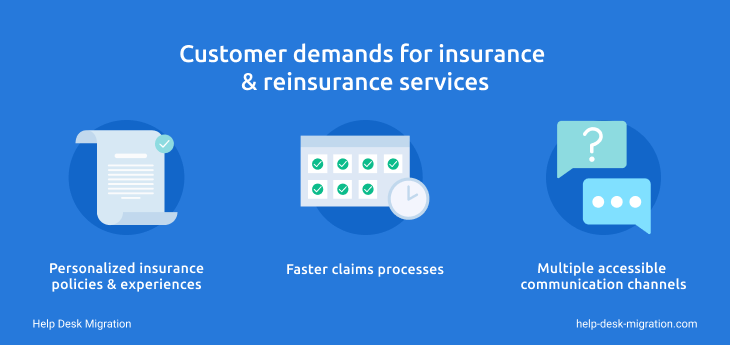 Personalized Insurance Policies and Experiences
In this digital world, consumers put a premium on usage-based, on-demand insurance policies. One-size-fits-all products just won't cut it anymore.
Insurance providers can meet customer demand for personalized experiences by leveraging data. They should take every opportunity to gather data, from application and purchasing to renewals and claims, then use the information to provide tailored products and services.
Providers should also make it easy for customers to share information. A help desk for insurance can keep digital channels readily available, with a repository keeping data consistent across platforms. This way, customers won't have to repeat information they've already provided before.
The repository also serves as a rich source of data for generating insights, analyzing customer behaviors and patterns, and understanding consumer values and buying triggers.
Faster Claims Processes
Customers want a hassle-free experience when making claims. Unfortunately, many companies fail to provide smooth processes. As a matter of fact, 68% of all insurer complaints involve claims. Insurance providers can get ahead of the competition by automating claims management.
Lemonade has demonstrated the power of automation by processing and paying a claim in only three seconds. They've made this feat possible by tapping into AI and behavioral economics. The technology minimizes fraud and reduces the need for brokers and paperwork, resulting in savings in time, money, and effort.
Accessible Communication Channels
Customers want to be able to reach their insurers anytime, anywhere. But insurance companies are lagging behind in the race to digitalization. 51% of insurers still rely on telephone communication, while 50% continue to communicate with their customers via traditional mail. These outdated methods are not only inefficient, they're costly too.
Opening more communication channels, particularly digital ones, can reduce costs and improve customer engagement. As a case in point, OP Financial saw a 1,000% increase in its number of users after it added a chat feature to its website.
Your support team will be instrumental in keeping your customers satisfied. And they'll have to be equipped with the right tools. But how much will it cost a company from the BFSI sector to run a well-oiled customer support program? Let's explore this question in the next section.
Customer Service Costs for the BFSI Sector
The costs of running your customer support program depend on several factors, including agent headcount, training requirements, equipment, and software. You also have to take into account the number of support channels you offer, the volume of inbound and outbound communications traffic, the complexity of customer issues, and the efficiency of your agents.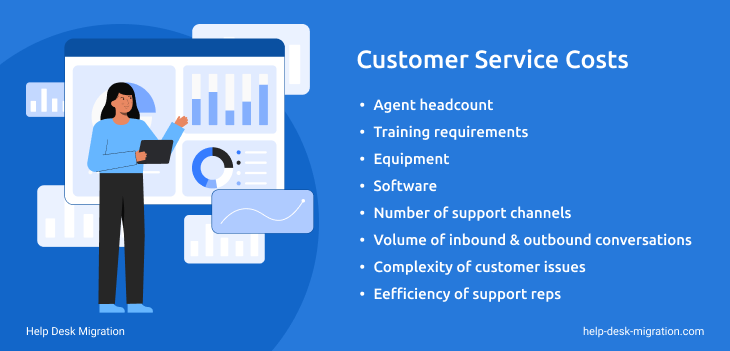 With so many factors in the equation, there's no simple way to come up with a ballpark figure. There's a surefire way, however, to reduce costs, and that's choosing a help desk system that speeds up issue resolution and maximizes the efficiency of customer representatives. A 2020 study puts the cost of manually handling a ticket at $22 while automating the process results in the resolution of 22% of tickets at zero cost.
You may be convinced of the merits of a help desk for BFSI but don't know which one is right for your company. The next section briefly describes the leading providers.
Which Help Desk Software Meets the Requirements of the BFSI Sector?
With so many options on the market, how do you choose the best help desk for BFSI? We've narrowed down the list to the top providers that match the requirements of the BFSI sector.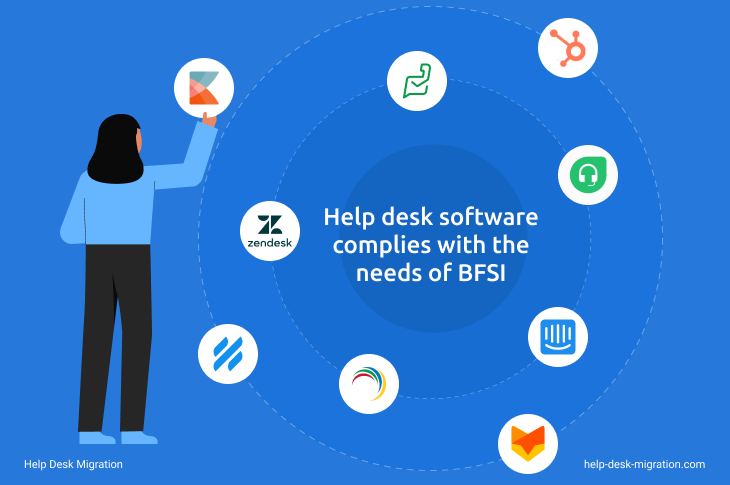 HubSpot Service Hub
HubSpot Service Hub comes with fully integrated relationship management (CRM) software that automatically tracks customer details and interactions with your company. Its omnichannel messaging feature enables representatives to communicate with customers across multiple channels and seamlessly switch between them. Service analytics uncover key insights that help improve the quality and speed of your services.
Zendesk
Zendesk keeps all customer data in one place, enabling agents to quickly resolve issues and provide bespoke support. It allows customers to reach you across all channels. Role-based permissions ensure only relevant people have access to certain data. The system leverages AI, automation, and self-service features to efficiently dispense financial advice.
Freshdesk
Freshdesk enables agents to connect with customers across all channels and assist them with everything from resolving payment errors to completing online forms. Access to in-depth customer information allows representatives to speed up issue resolution. Customers can also get quick answers from easy-to-launch AI-powered chatbots.
The system automates repetitive tasks and gathers feedback. It also helps complete complex processes like validating financial documents and performing due diligence.
Kayako
Kayako's customer service platform allows agents to communicate with clients via live chat, email, and social channels. Its live chat tool is particularly useful for responding to customers 24/7.
This context-driven platform lets you have a complete picture of a customer's historical data within a single view. Custom views and tags enable the support team to stay on top of pending tickets and assign them to the right people.
HelpScout
Although powerful at scale, HelpScout remains intuitive and easy to use. Customers can reach your agents via live chat, email, and the help center. And your team can quickly address customers' concerns with a platform that keeps customer data and previous interactions in one place. Advanced analytics let you evaluate traffic volume by channel, trending topics, and the busiest hours.
Intercom
Intercom takes pride in providing a messaging tool that's designed to help financial service companies register new customers and provide quick answers to loyal clients. Agents can use the platform to send targeted messages to encourage potential customers to sign up. Chatbots provide round-the-clock service, resolving up to 33% of customers' most common banking questions.
Zoho Desk
Zoho Desk automates repetitive tasks, manages complex service processes, and identifies bottlenecks in the workflow. Robust self-service features ensure customers get the help they need 24/7. The system assigns various degrees of urgency to tickets, spots irregularities in ticket traffic, and analyzes customer sentiment.
Service Desk Plus
ServiceDesk Plus specializes in transforming IT teams from troubleshooting machinery into those that provide awesome customer service. Incident management and problem management tools help improve agent productivity, manage the lifecycle of IT tickets, minimize service outages, and analyze the root cause of incidents to prevent them from happening again.
HappyFox
The HappyFox financial help desk software simplifies customer service in financial services with tools that make it easy to create tickets, respond to queries, and track discussions. It categorizes customer concerns and assigns them to the appropriate agents. CRM integrations allow customer support and sales teams to work closely together. The system also integrates accounting apps like Freshbooks to manage and track resource expenditures.
So Do You Need a Help Desk for the BFSI Sector?
Financial institutions face the challenges of an increasingly demanding customer base, the threat of security breaches, and service outages that disrupt their operations. They must overcome these challenges while meeting shifting customer requirements, including the demand for multiple channels of communication, personalized services, and speedy issue resolution.
With the right help desk for BFSI, banks and insurance providers can overcome the challenges and even surpass customer expectations. Fortunately, there's no shortage of options when it comes to help desk software providers. You're bound to find a system that matches your company's unique needs and requirements.
Working with an outdated help desk system? You can easily migrate to a system that does a better job of meeting your needs. Let's discuss how to get the data transfer started.