When it comes to choosing IT service management software, it seems that the list of systems is endless. Yet, despite the number of contenders, there are seemingly two leaders: Jira Service Management vs ServiceNow.
Each platform offers a vast number of features and capabilities. To choose one of them means to break the loop of changing your workflow. Still, you can't choose both IT software at the same time, can't you?
We've put together this comparison to see how ServiceNow and Jira Service Management differentiate in features, capabilities, and pricing. Keep on reading to get the clue of which software matches your needs.
Before you dive into this article, feel free to check out our visual comparison of ServiceNow vs Jira Service Management: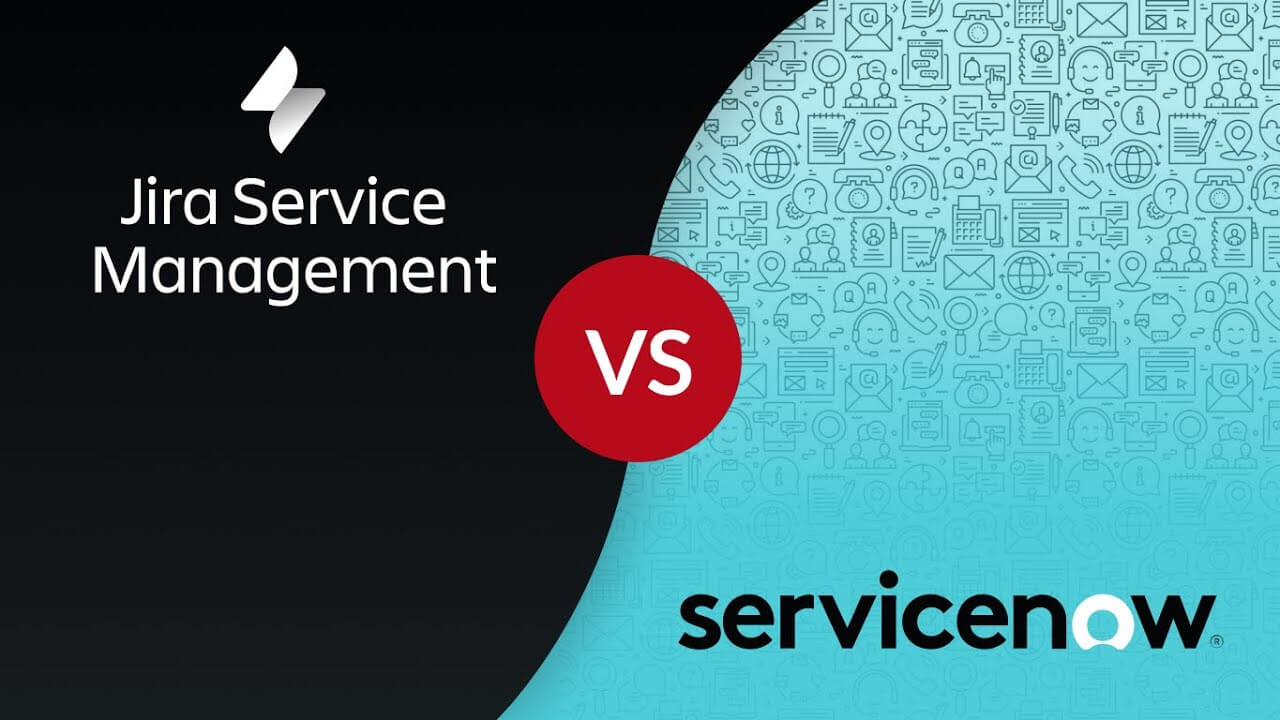 How to Migrate ITSM Software?
There's no such thing as the right decision. Make a decision, and if it doesn't work out, all you have to do is make another decision. To save your time and get you closer to the right decision, we dug in import and export capabilities and figure out the following thing.
Jira Service Management doesn't offer any import options to other ITSM solutions or help desk systems. You can just move separate data between Jira products. As for ServiceNow, it has a few connectors that help you link your account to another ITSM software or help desk solution.
However, if you want to migrate all your data to ServiceNow or Jira Service Management, you should give a test drive to our Migration Wizard. With our migration app, you import all records a) automatedly, b) without downtime or data loss, and c) control your data mapping.
ServiceNow vs Jira Service Management: Profile Check up
ServiceNow
ServiceNow hit the market in 2004 and a decade ago became the first cloud-hosted service desk. The solution offers a pre-built set of ITIL service management processes. The IT software provides a unified view of three concepts: design, transition, and operation.

ServiceNow covers the following ITSM processes:
incident management
service catalog
change management
configuration management
knowledge management
problem management
Jira Service Management
Jira Service Management appeared in 2013 as a Jira software extension. This ticket-tracking system connects IT and service teams with ITIL processes for
request fulfillment
incident management
problem management
change management

In addition, the pre-built workflows of Jira Service Management are pretty simple. This way, any business can set up an ITIL service desk and then customize it to their specific needs.
Jira Service Management vs ServiceNow: What Is Best Offer and Costs to Spend
When you buy a service desk platform, it is only half of the solution for your business needs. There are also additional expenses (time, money, or both) on its usage optimization. Therefore, you will want to get the most of the purchased solution from the very beginning.
Both ServiceNow and Jira Service Management offer a lot of extra plugins and modules to expand the out-of-the-box functionality.
ServiceNow
ServiceNow provides a free trial and is subscription-based. Unfortunately, there is only a cloud version of the platform available. The license fee goes up starting from $100 per agent/month. It depends on the number of users. However, you can get a volume discount.
Important: if you have less than 35 agents, you need a partner-delivered solution. If your company doesn't have in-house developers, you need third-party assistance to set up the software.
Above all, ServiceNow's typical customers are mid-sized businesses and enterprises.
Jira Service Management
Comparing ServiceNow vs Jira, the latter provides a 7-day free trial (which can be extended upon request). So, the IT software has four pricing plans:
Free - 3 agents team - 0$
Standard - $20 user/month
Premium - $45 user/month
Enterprise - billed annually (contact sales team)
The number of customers is unlimited, and they have access only to the customer portal. Another benefit is that Jira Core users and Jira Software users also have no restrictions. Moreover, they have access to the customer portal and can view the project level, create, view, and comment on issues internally. Plus, the users can even set up self-service portals if needed.
Comparing Jira Service Management vs ServiceNow, the last mentioned tool is typically used by SMBs and enterprises.
ServiceNow vs Jira Service Management: What About Features and Capabilities?
Now, let's discuss which functionalities of these IT platforms should grab your attention.
User Interface and Learning Curve
The UI of ServiceNow has a kind of enterprise look and focuses on ITIL. That's why some users find it less accessible and intuitive.
Atlassian customers feel at home with Jira Service Management in the admin console. At the same time, Jira's UI is intuitive enough to grasp it fast for new users.
If Jira vs ServiceNow interfaces side by side, Jira Service Management is designed for IT professionals working for various types of businesses. In addition, its learning curve is less steep compared to ServiceNow.
Platform Support for Customers
ServiceNow provides its clients with a community portal and product documentation.
On the other hand, Jira Service Management offers a developer portal and a community website.
Implementation Period
The average industry software implementation time is 3.3 months. However, according to the G2Crowd Service Desk Implementation Index Report, ServiceNow has 4.5 months' average implementation time. As for Jira Service Management, it takes 1.2 months to set up.
API and Integrations
Both solutions provide a well-documented API for building add-ons and integrations with other apps.
Concerning integrations, ServiceNow has several custom-built integrations, and Jira Service Management offers over 600 apps in the Atlassian Marketplace.
Platform Updates
It's always nice to have your software updated with a useful feature or some performance improvement, right? Well, Jira Service Management clients enjoy migration-free updates. ServiceNow offers only two releases per year, usually, those take place in March and September. Perhaps, less than Jira, but still you get upgrade patches.
ServiceNow as an Enterprise High-Productivity App
ServiceNow joined the leaders of the Gartner Magic Quadrant in 2019. Being an ITSM SaaS platform, ServiceNow has gathered all of its services within a single Now Platform. It focuses on everything from workflow and integration to app support.
In 2020, ServiceNow was named a leader in the Gartner Magic Quadrant for Enterprise Low-Code Application Platforms. Their approach helps businesses to develop enterprise‑grade apps with required governance and built-in reliability, security, data protections and scalability.
As ServiceNow targets B2B and B2E, you can request to make it available on-premise. In addition, this service desk invests heavily in such features as
chatbots
AI
mobile
project management automation
Advantages
ServiceNow offers different visual development environments for no-code and low-code development. Moreover, its automated testing frameworks and security testing dashboards keep advancing in the spheres of mobile, user experience, and chatbots.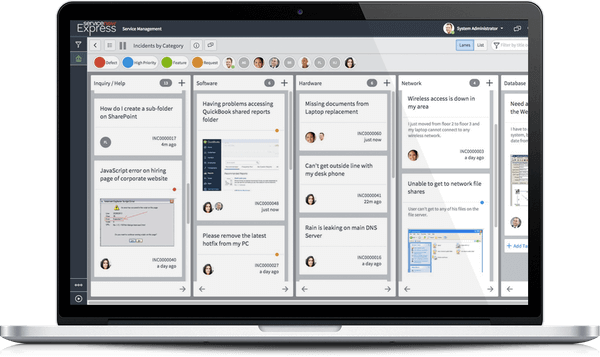 Source
ServiceNow has a lot of partners, 250 of which contribute to its accelerator programs for apps, components, and integrations. These programs are ServiceNow Store for both free and paid add-ons and ServiceNow Share for developer's interaction.
On the contrary to Jira Service Management, ServiceNow doesn't charge for the platform used during app development.
Drawbacks
In the core of ServiceNow, there is a shared hardware multitenancy with dedicated software stacks. However, you can use subtenant features in your instance. Yet that may increase the cost of ServiceNow.
Be ready to pay for real-time event processing and time-series event correlation through Event Management, Operational Intelligence extensions, and MetricBase time-series database. A business model of ServiceNow includes such a feature.
The mobile capabilities of ServiceNow don't include offline modes. Besides, the platform doesn't support external DevOps tools. Customers also say ServiceNow is rather tricky to deploy.
According to a Gartner customer survey, ServiceNow is named a high-control but not a high-productivity app. ServiceNow also scored lower than average for repurchase. Plus, reviewers request to improve the user experience.
As it turns out, the price is no guide to quality. Moreover, the advantages ServiceNow offers might not be enough for the expenses and possible extra charges.
The Value of Jira Service Management as an ITSM Platform
If you've chosen Jira Service Management, get ready to enjoy the benefits: lower ITSM expenses, reduced complexity, and improved collaboration.
Reasonable Pricing
According to the ESG Economic Value Validation report, Jira's end-users save up to 80% of costs compared to other platforms. In addition, Atlassian's Jira Service Management has a transparent pricing model without any hidden fees or expiring discounts.
Less Complexity, More Value
Jira Service Management allows its customers to save the ticket resolution costs. This means you can improve customer service elsewhere.
For example, opening and resolution of a level 1 ticket costs on average $24 in Jira Service Management. If this ticket is escalated to level 2 or 3, the prices go up. On the other hand, if the issue is shifted to a self-help portal, it costs on average $2 to resolve.
So, ESG has figured out that Jira's users managed to shift 45% of their tickets tagged level 1 to the self-service portal. This way, it makes their customer service operation more cost-effective. Impressive savings - an average of $22 per ticket. After migration to Jira Service Management, users report a reduction in the number of service tickets. Again, better customer service at a lower cost is a benefit of Jira Service Management.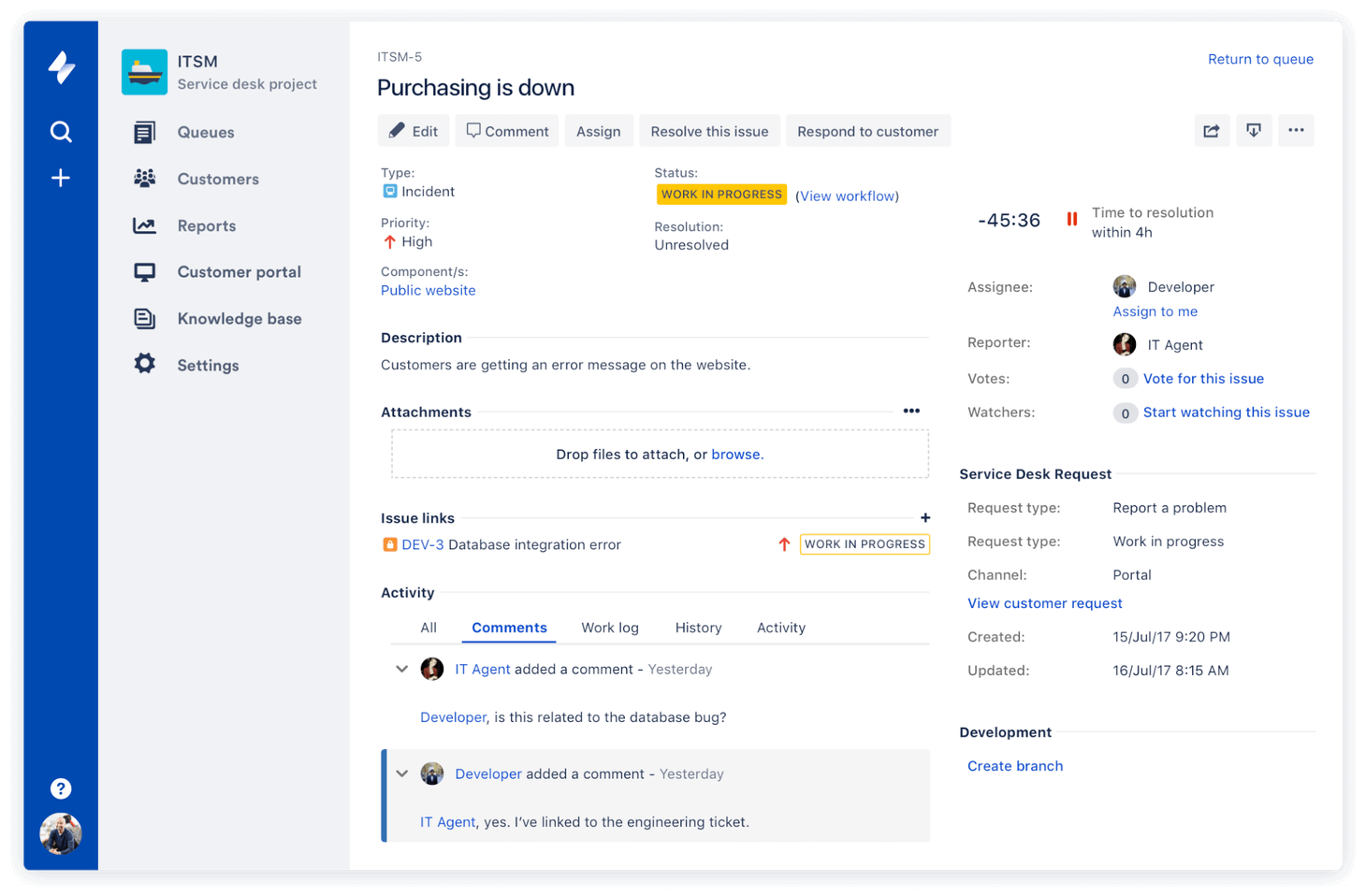 Source
The Same Platform, the Same Language
All businesses aim to improve dev and IT collaboration with the help of ITSM software. Jira Service Management and Jira software share a single Jira platform. It means they have similar UIs and APIs. This way, the team can work faster and need no time to adhere.
Besides, Jira Service Management allows customizing the software to the business needs. Jira works great for a team of 10 while scaling to 300 users quickly. The Jira programming environment is substantial. So, if your team works with Jira software, they will easily extend the Service Desk precisely to accommodate your organization's needs.
The Reverse Side of Jira Service Management
The ESG report paints an almost flawless picture of Jira Service Management, but nothing's perfect. After analyzing user reviews from G2 Crowd, IT Service Station, GetApp, and Capterra, we have compiled a list of Jira Service Management shortcomings.
You need to search the marketplace for add-ons to make it a customer-facing system.
Large organizations (more than 2000 users) cannot enjoy the SaaS version as it is limited to under 2000 users.
The search may be tricky sometimes. And after migration, it is rather hard to find old documents.
The Story issue takes more time to fill in as there are more required fields.
Jira Service Management doesn't embed a knowledge base, and portal customization may turn out a bit challenging.
Alerts management can lead to spamming a work email with alerts.
Recap
| | | |
| --- | --- | --- |
| Features | ServiceNow | Jira Service Management |
| Capability set | 4.4/5 | 4.5/5 |
| Ease of use | 4.1/5 | 4.4/5 |
| Community support | 4.3/5 | 4.4/5 |
| Release rate | 4.3/5 | 4.4/5 |
| Pricing and support | 4.2/5 | 4.2/5 |
| API and extensibility | 4.1/5 | 4.4/5 |
| 3rd party integrations | 4.1/5 | 4.3/5 |
| Companies that use it | 8.4/10 | 8.8/10 |
| Learning curve | 4.1/5 | 4.4/5 |
| Total | 4.3/5 | 4.4/5 |
So, which ITSM software do you choose: ServiceNow vs Jira Service Management?
Both platforms exceed in their features and integrations so either solution can be tailored into your business. If you need an ITSM solution for a small or middle-sized business, then Jira Service Management is your way to go. But, if you're looking for a more structured ITSM solution, then ServiceNow fits more.
However, regardless of your choice, Help Desk Migration will be there to move your data.
Frequently Asked Questions
The essence of ITSM can be expressed by the following line: ITIL helps your business move along the path of delivering quality, customer-centric service. Actually, today's workforce requires a set of products, processes, and procedures to provide fast and accurate service. The range of the tools you need to deploy and maintain is getting wider, and, therefore, it's harder to make the choice. Essentially, many companies find themselves caught in the loop of changing their workflows to match the structure of the platform used.
Jira Service Management is more oriented on customer support whereas ServiceNow is suitable for IT service management and IT asset management.
No, Jira can suit any type of business while ServiceNow is an enterprise-oriented solution with a key focus on ITIL.
No, they are two different service management platforms. You can use ServiceNow to create issues while Jira Service Management is built to manage them.
Jira offers separate products for different business spheres: project and issue tracking (Jira Software), business team collaboration (Jira Work Management), high-velocity ITSM (Jira Service Management), and others. ServiceNow, on the other hand, is only an ITIL solution for enterprises.
Jira offers a separate product, Jira Service Management that you can use for ITSM. You can use the platform to categorize service requests, changes, incidents, and problems by prioritizing them.
You can install ServiceNow Connector for Jira from the Atlassian Marketplace. This app can help you connect both instances.
You can tailor Jira to meet your specific needs. Whether you want a helpdesk or a service them, Jira Service Management has the feature-set for every team.
While some platforms don't require coding, ServiceNow needs a base working knowledge of JavaScript. It's essential as the platform uses its own JavaScript library in the configuration and infrastructure of the solution.