Over the past decade, we went from traditional phone support to sophisticated cloud-powered tools. They not only let us communicate with prospects but boost our performance in the industry. But with so many of them on the market, it can be hard to pick the right one for your company. Each vendor tries to win new customers and offer things that are not only unique but extremely helpful. Indeed, the competition is real and fierce as even today, new contenders continue to appear.
But we aren't here to discuss new tools. We're here to analyze two systems that have been in the industry for quite some time. Yes, today we will look at two of the most unique tools on the market, ServiceNow vs Salesforce. In this comparison, we will look at both systems and see their user interfaces, features, and what other people actually say about the tool. We will also briefly discuss each tool individually so that you can have a better understanding of how it came to be and what you can expect. So, with this out of the way, let's dive into the world of service desk systems.
About ServiceNow
A veteran among service desk systems, ServiceNow was founded in 2003 with the sole mission to improve IT service management operations. Ever since the company launched the first iteration of the product, it has evolved many times and formed a cult following among IT-oriented businesses. One of the key characteristics of ServiceNow is its focus on quality over quantity.
Reflected in its feature set, you won't be able to find a ton of different tools. But those that are there will work 100% of the time, making it one of the most reliable tools on the market. As of right now, the tool continues to evolve as the company acquires more technology and staff. Most ServiceNow competitors focus on providing as many features as possible with varying degree of success.
About Salesforce Service Cloud
The key advantage of Salesforce Service Cloud has over its competitors is the ability to build customer loyalty. Through a set of tools, businesses can understand customer pain points and enhance their products accordingly.
Service Cloud is a customizable solution. Unlike most help desks, you can set it up in a way that meets the unique needs of your business. This, however, makes the platform pretty difficult to use. Often times, companies hire a Salesforce administrator who sets up and manages the system.
Stacking Up ServiceNow vs Salesforce Service Cloud
Now that we know what each system is all about, it's time we proceed to the analysis/comparison itself. As mentioned earlier, we will look at three key parameters during this section, namely the user interface, features, and user feedback. Keep in mind that some of the things that we will mention are subject to change and can be patched, removed, or altered as both tools evolve. Now on to the analysis.
User Interface
ServiceNow Dashboard. Source: ServiceNow
If you look-up other ServiceNow reviews, you are bound to stumble on the fact that it is practically an email system. But that's the only aspect the system shares with an email client. The key idea of the user interface is to provide an easy-to-access sidebar that has practically everything you need to provide support. The main body of the tool is jam-packed with all kinds of fields (that can also be customized) and links.
On top of the page, you will find your personal profile and the search bar. The search bar comes with its own set of features (more on that in a bit) and can be used in just about any subsequent window.
As for Salesforce Service Cloud, the situation is somewhat similar. The layout, as you can see from the screenshots is similar. However, the new Lightning experience includes Case Kanban. It's an interactive drag-n-drop tile approach. With it, agents can decide what information they want to see in their console.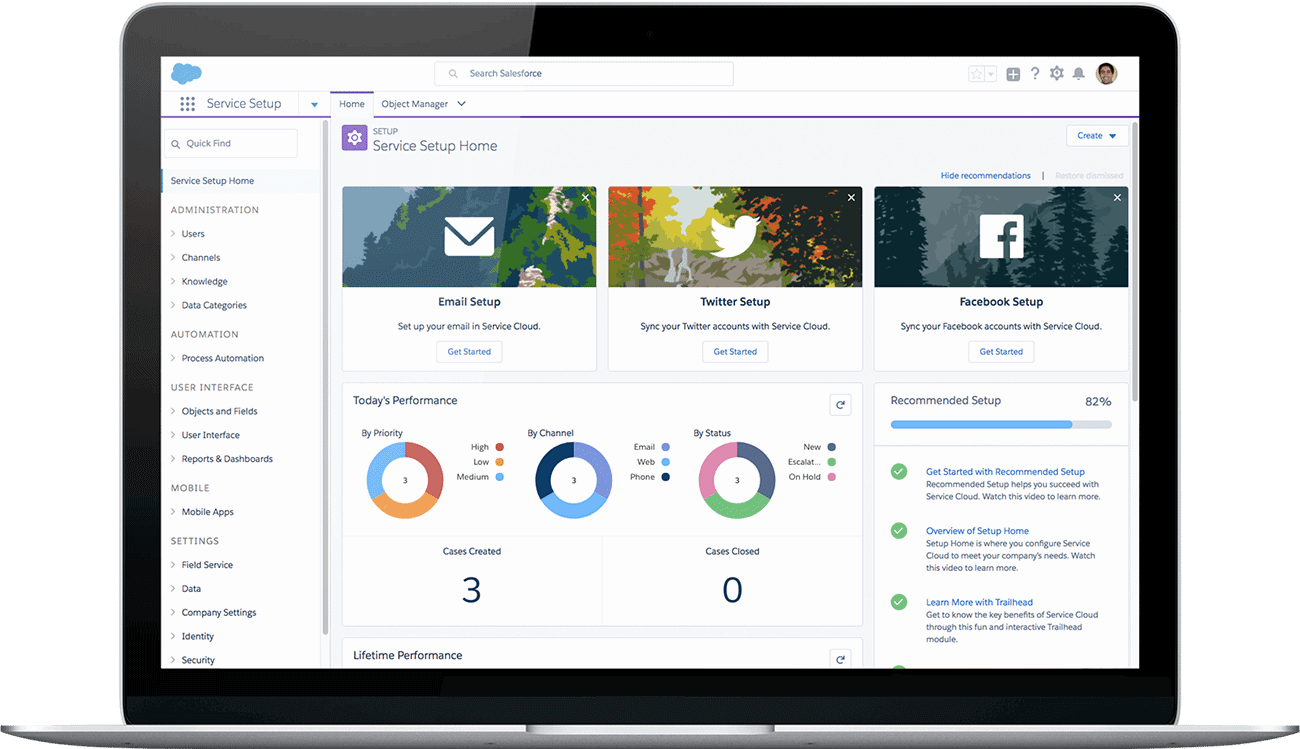 Service Cloud Lightning Console. Source: SearchCustomer Experience
Overall, both tools are well designed. However, to tell which one wins, you better try it yourself.
Key Features
The main meet of each tool is, of course, its feature set and this is where Salesforce Service Cloud shines the most. Thanks to the included integration system with other Salesforce products, you can easily expand the number of features this tool has. Yes, you don't have to be limited to just one search tool, as well as you don't need to rely on one analytics system.
Another key feature of the tool is the loyalty-building system. What it does is it gives you control and visibility over each customer interaction. And the AI-powered chatbot tool will aggregate data from various sources into one vault for your viewing convenience. Lastly, the service desk also enhances your agent performance through accurate predictions and recommendations right in backend workspace. Overall, this is a very robust tool with the only downside that you need additional features manually in you want more performance.
As for our ServiceNow comparison, we've already mentioned that the tool doesn't have a ton features. What it does have is quality across the board. Take for instance the unified dashboard tool that lets you track a wide range of things. With it, you can see what kind of hardware is in need of a repair, what kind of service subscriptions you have, and more. It works wonders and never has it hang or delivered wrong results.
If there's something wrong with the network or if the asset requires you to view it from the inside, the tool will definitely let you know about it. Another good point about the tool is its ability to set up intuitive dashboards that will deliver the above-mentioned reports. You can set up them for individuals, groups, clients, departments, etc. using custom metrics. They are only limited by your own imagination and this is precisely what we mean by quality when we talk about ServiceNow. There aren't that many different tools to work with but if you only need a hand few, this is the tool for you.
User Feedback
The last part of our ServiceNow and Salesforce review is user feedback. For many, this is the deciding factor, hence why we will try our best to cover all the benefits and caveats of each product. So, upon scanning popular websites most seem to agree that ServiceNow is very accessible and requires little to no prior knowledge. Another thing people like to point out is this tool work best in medium to large organizations.
Finally, the tool seems to handle most administrative duties and documentation for tasks and projects quite well. Many cite that it is easy to create dedicated resources for both internal and external use. It's also easy to establish a command hierarchy for managing said documents. As for the negatives, many users don't seem to appreciate the pricing model of the tool, citing that it can be hard to understand what you get for certain plans. And then there's the fact that some integrations need work as they aren't as seamless as the previous ones.
As for Salesforce Service Cloud, many business owners cite the fact that it is the best tool to manage huge contact lists. With Salesforce on board, there is virtually no need to use Excel or any other spreadsheet system. All you need to do is simply configure the source, the format, and the system will do the rest. Users also note that the tool is great at tracking the product life cycle and adoption rate. Whether it's a service or a tangible product, there is always an option for you to set up tracking mechanisms. As for flaws, certain groups state that Salesforce Service Cloud can be slow and unresponsive. This usually occurs during major updates or when the servers are overloaded. But overall, the tool is snappy and quite responsive outside of said scenarios.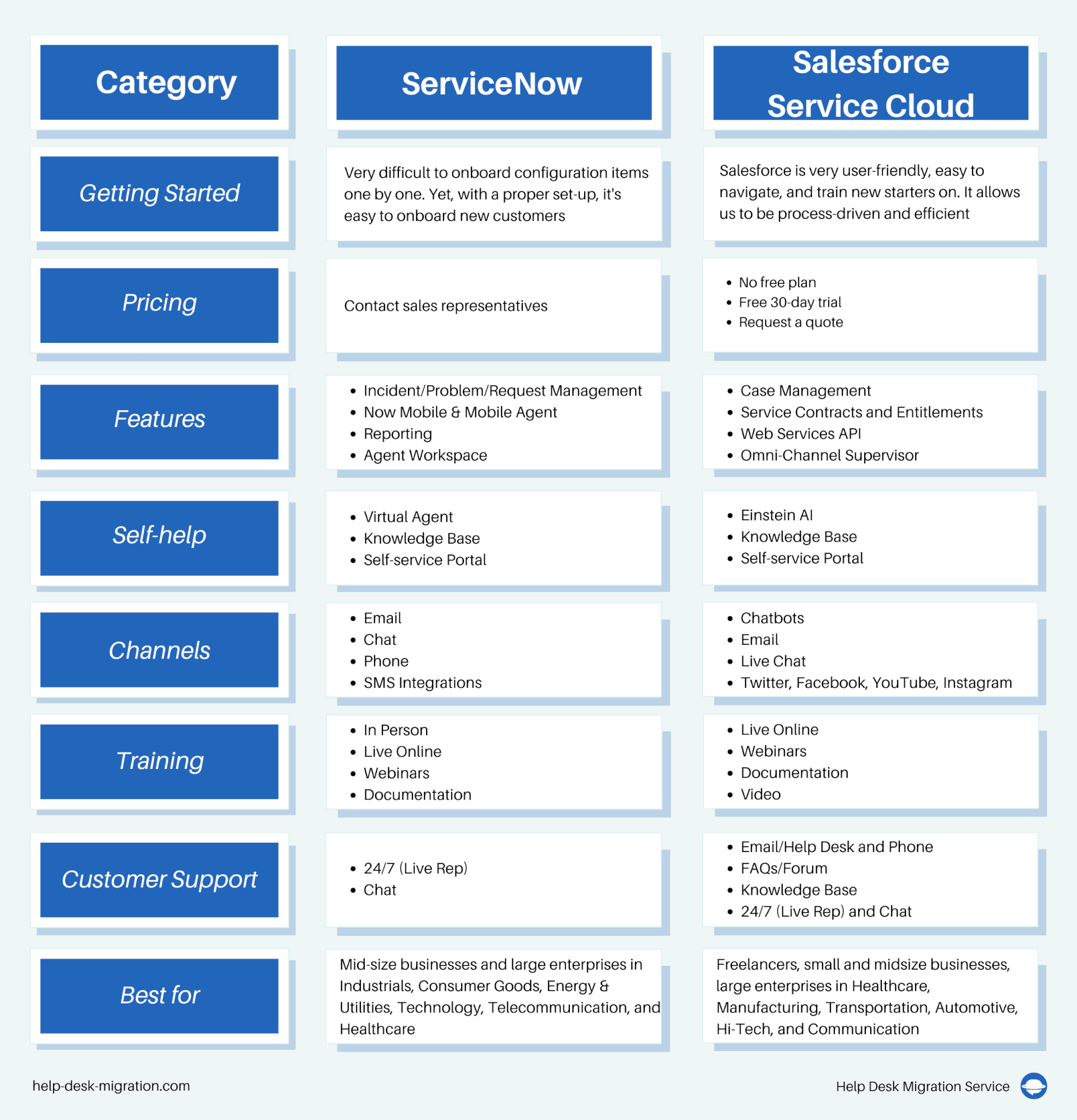 Final Notes
Looks like our ServiceNow vs Salesforce Service Cloud comparison came to an end. There are many differences between the two systems and its clear that there is no winner. Each system will work in its respective environment and it is a matter of preference. So, if you plan on moving your data to one of the systems we've covered, make sure to try our data migration tool. Or leave us a message if you have any questions. Our specialists will help you out in no time!
Frequently Asked Questions
It's hard to tell which system is better as they focus on different environments. Still, they both have various features and add-ons to meet the needs of customer service.
No, ServiceNow is a service management platform that empowers IT business whereas Salesforce is a cloud-based customer support software.
Salesforce Service Cloud has a native app called ServiceNow QuickConnect to integrate Salesforce with ServiceNow.
ServiceNow and Zendesk are the biggest Salesforce competitors. If you want robust reporting and advanced analytics, then Zoho CRM can be a great option. HubSpot CRM can be a good alternative if you need a feature-packed free version.
Salesforce is packed with more features than any other CRM system. The feature-set includes collaboration tools, analytics, workflow creation, task management, contact management, an intuitive dashboard, and opportunity tracking.
ServiceNow is different because the platform extends ServiceNow ITSM functionalities to other business functions. Plus, the system provides customer service management and HR service delivery.
You can install ServiceNow QuickConnect to integrate ServiceNow with Salesforce Service Cloud. It enables you to integrate Salesforce objects as accounts, contacts, and cases with ServiceNow.
ServiceNow is a well-developed IT service management solution that enables users to improve IT asset management, HR service management, SaaS license management, and software management. The platform is flexible in all aspects of its design. Plus, the software offers a rich set of integrations.