Intercom and Help Scout are big players on the market and are genuinely good at what they do. However, choosing between these two to transition your customer support is not an easy task.
In this article, we're going to cover the key features of each platform and break down the difference between Intercom and Help Scout to help you decide which one is better for your business.
Help Scout vs. Intercom: what's in it for you?
Help Scout is a web-based help desk software that integrates with your email client and gives you a clutter-free space to manage all your inboxes. Backed up with a knowledge base, API, automation tools and integrations, and many other cool features, Help Scout can help turn your support team into a well-oiled machine.

Key benefits:
great for managing multiple shared inboxes and brands;
enhances teamwork and improves workflow;
helps build rapport with customers.
Intercom, on the other hand, does not position itself solely as a help desk solution like Help Scout does. It's also a big web-based platform that helps manage customer communication. It comes with a wide variety of features that can satisfy the needs of marketing, sales, and customer support teams simultaneously.
Key benefits:
a single tool for sales, support, and marketing needs;
a possibility of customer support in mobile apps;
robust CRM and filtering capabilities.
Key features of Help Scout
@mentions
Help Scout makes it easy to bring in other staff members to collaborate on the issue. Just mention the person in the ticket note without having to assign it to them.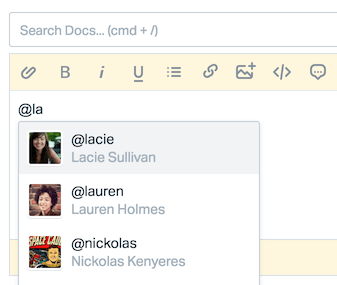 Source
Report Bundle
The help desk presents you with four categories of reports: Conversations, Productivity, Team, and Happiness.
Using them, one can evaluate such vital metrics as busy times and days, average first response and resolution times, customer experience, happiness, etc.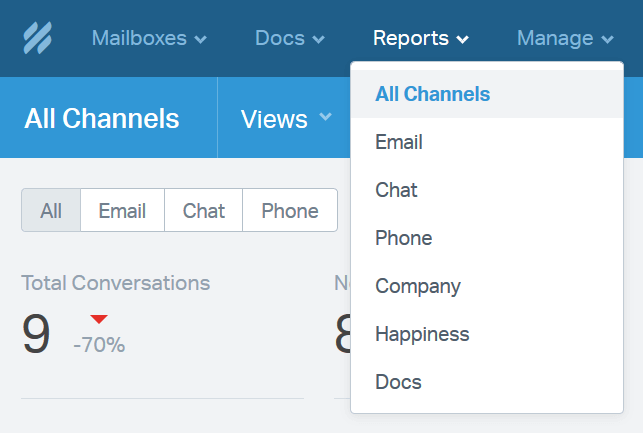 Source
Workflows, Auto-Reply, and Saved Replies
Help Scout comes with an excellent set of features that helps improve the agility and efficiency of customer service in your live chat, email, and other communication channels.
For instance, Help Scout can automatically refer tickets to staff members based on keywords using IF/THEN statements. Or send auto-replies to let customers hear back from you immediately after they send a message.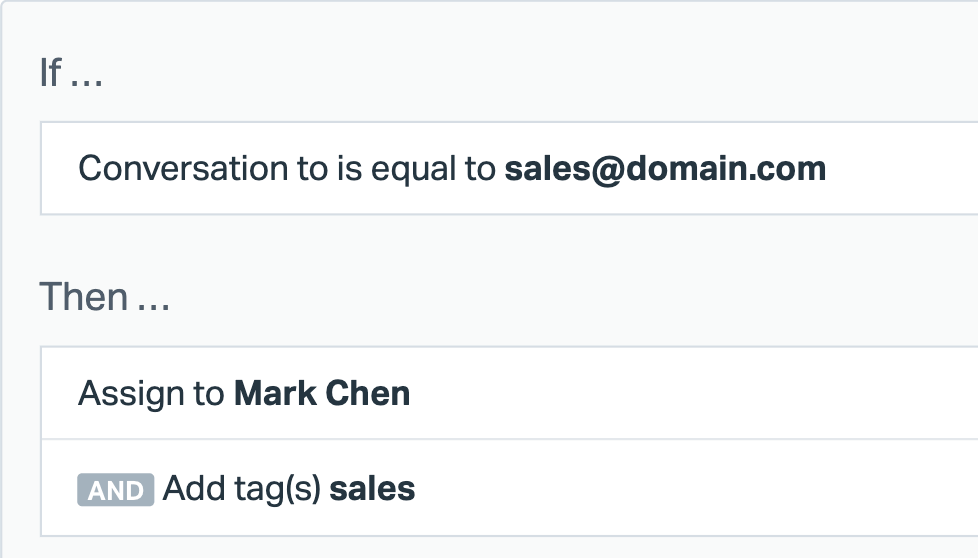 Source
Traffic Cop
Thanks, to visual indicators, Help Scout makes it easy to understand who's working on what conversation in real-time. However, it has a built-in agent that is always on the lookout for duplicate replies.
In Help Scout, when two people are working on the same ticket, Traffic Cop will check who responded first. Before sending the message, the other teammate will get an option to review the updates and then either send the message as is, change or discard it. While you can get similar functionality elsewhere, Help Scout polished it to sparkle. This is a very well implemented feature that you can also use in your knowledge base module to keep things tidy.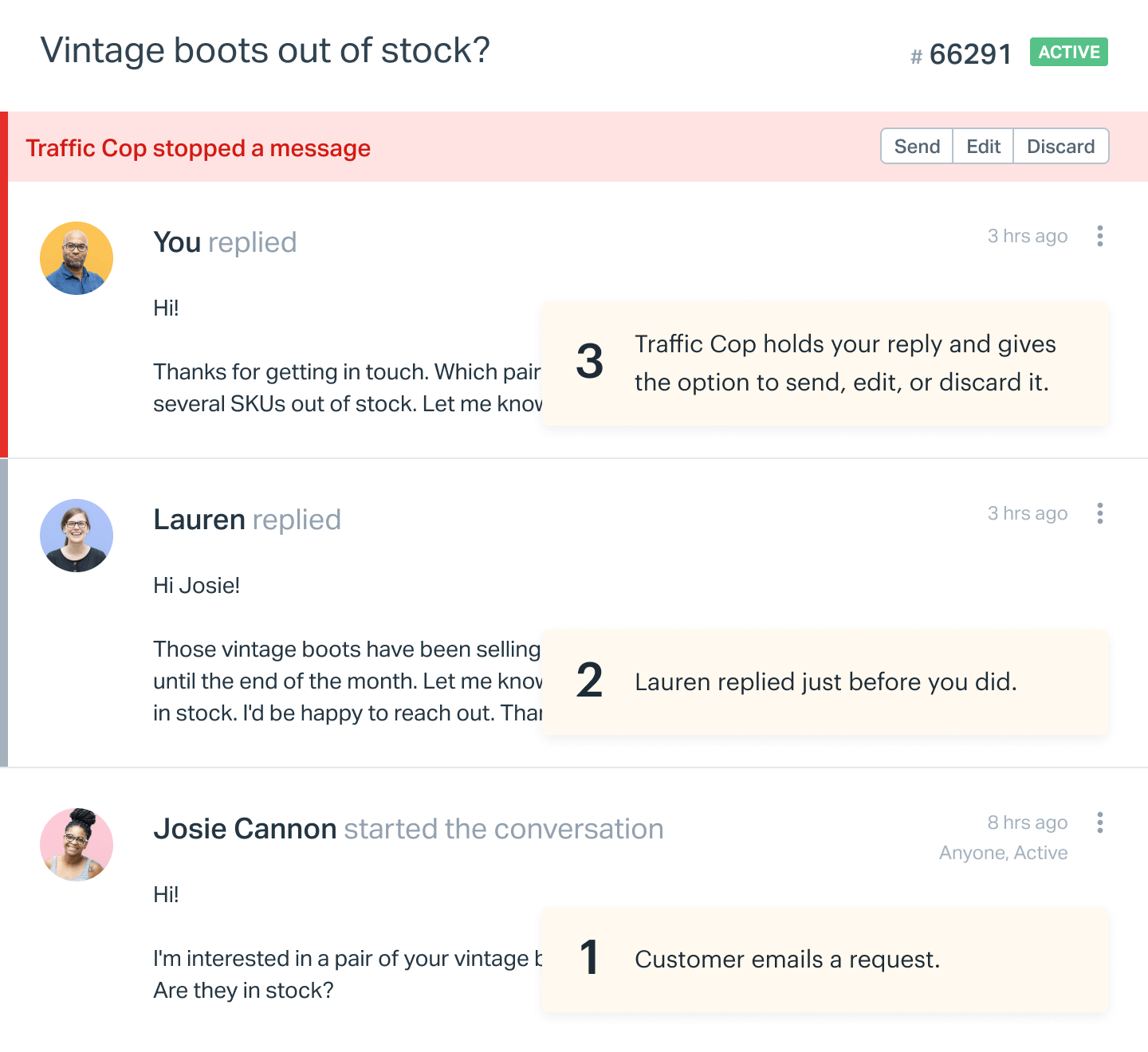 Key features of Intercom
Customer user profiles
When customers reach out to you, Intercom automatically turns them into leads and creates live profiles for each of them. By default, you will see their Name, Phone, Email, and Company info. However, Intercom allows building detailed customer profiles, so support, marketing, and sales teams could provide better service and ask qualifying questions.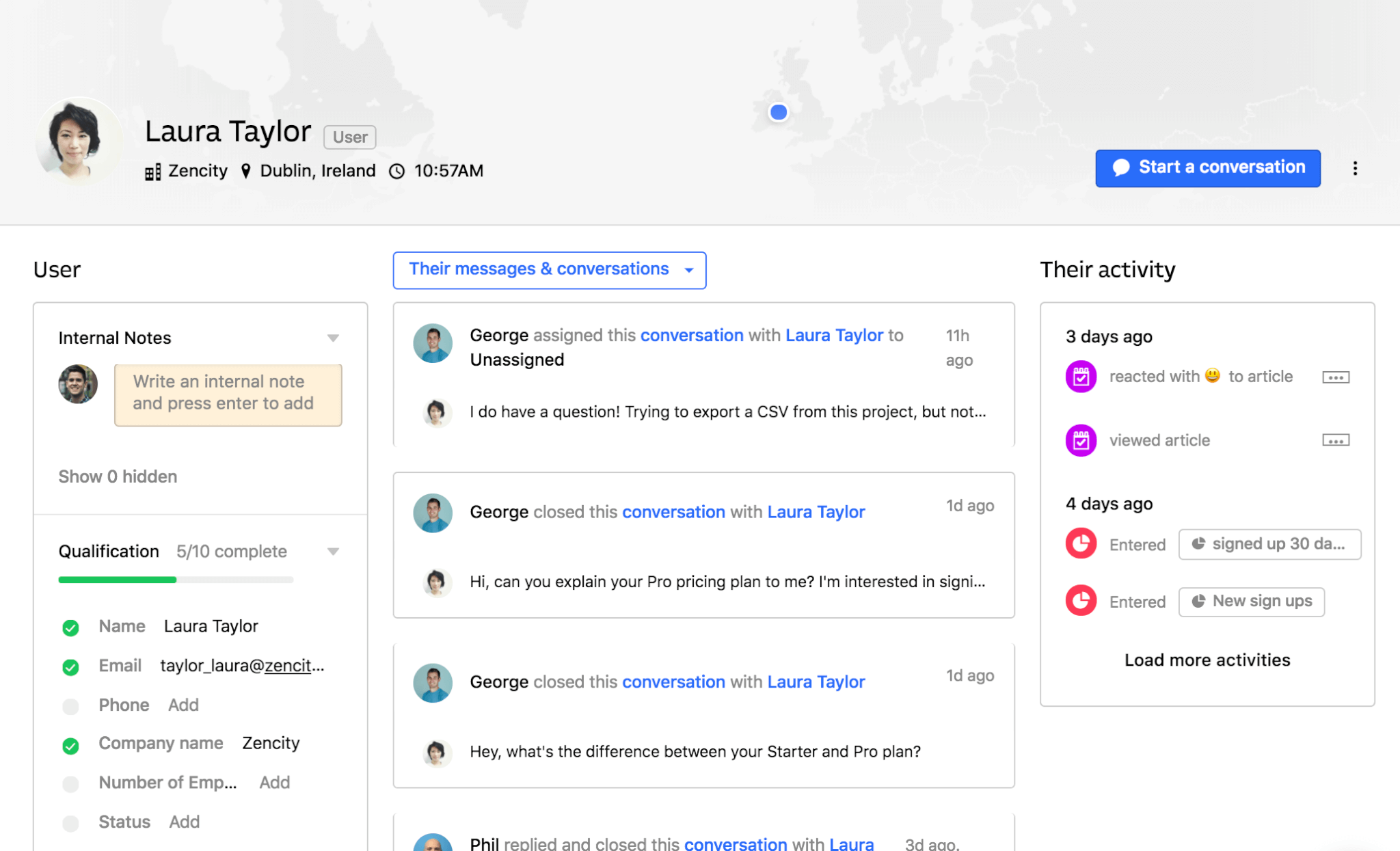 Automated ticket assignment
Intercom can automatically assign tickets to teammates and whole teams based on the criteria you choose. For instance, the subject of the initial message or any information about the lead that you track in Intercom.
This helps quickly assign tickets to the right people and reduce hours of tedious work.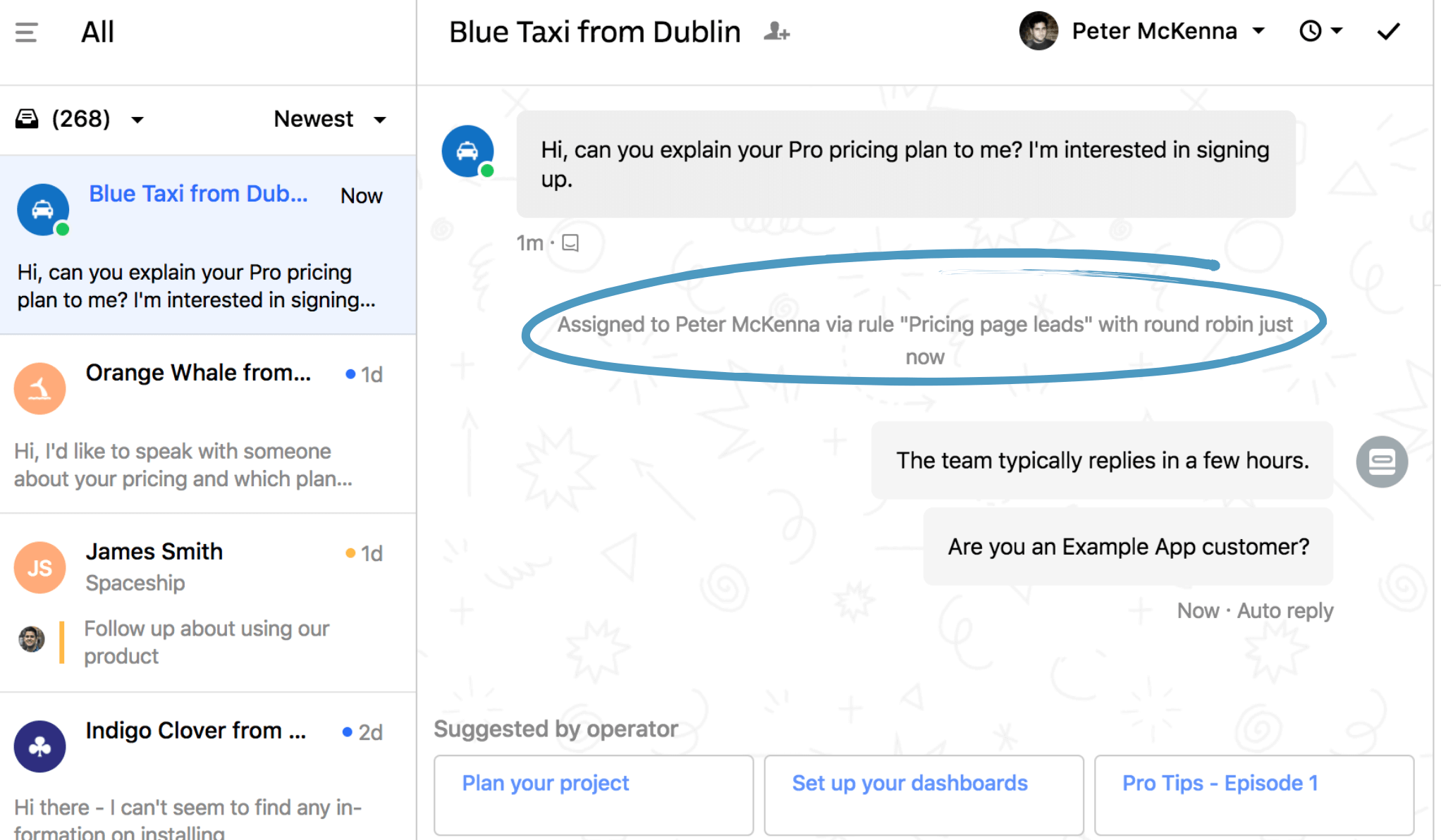 Operator
The operator is a bot that makes smart suggestions to end-users and support staff. Just like all bots do, it's supposed to take repeated tasks out of the way and handle common questions.
For instance, when a customer asks a question in Messenger, Operator automatically steps in to help find the answer. It also recommends relevant articles when agents are working in Inbox to help them reply faster. You won't find anything like this in Help Scout and even a third-party app won't add it as the Operator was built from the ground up specifically for the platform.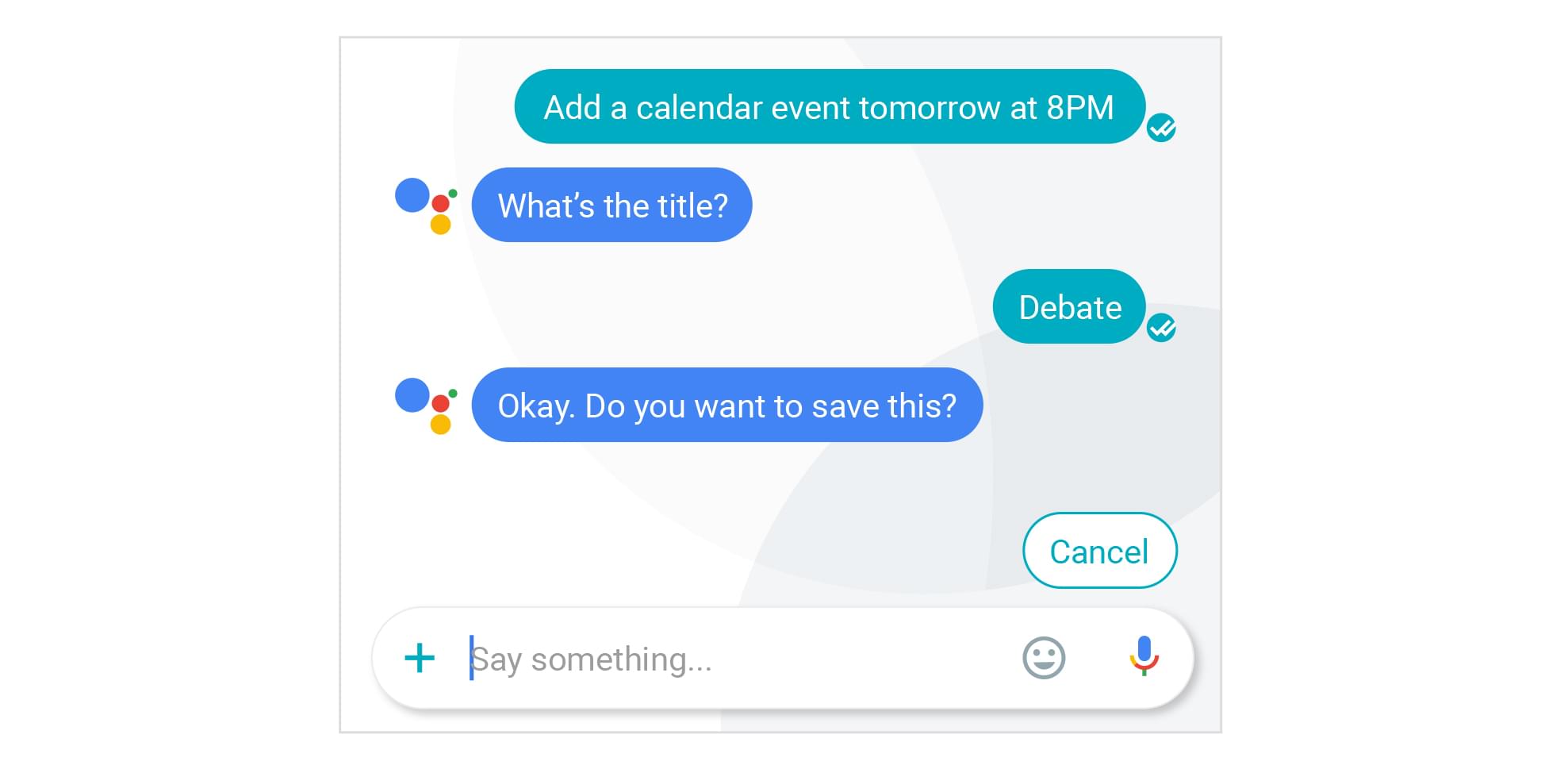 Which one should you choose?
It depends on the specific needs of your support team and the tasks you want to tackle.
If you're looking for a tool that not only allows providing customer support but can also help nurture leads and improve communication, then Intercom is the right choice as Help Scout can only do the letter one effectively.
However, if you need a simple yet efficient help desk that is proven to facilitate team collaboration, build great relationships with customers, have a robust knowledge base system, and can streamline the workflow, Help Scout is your new best friend.
Either way, we always advise business owners to use the free trial and read a bunch of user reviews to get a complete look at the picture. After all, no matter how our Help Scout vs Intercom comparison is detailed, there are still things we can't cover that other user reviews might talk about.
Migrate to Help Scout or Intercom with ease
Switching help desks can be painless if you do it with Help Desk Migration. Using our data import tool you can transition to Help Scout or migrate to Intercom at the speed of light. Feel free to check out the articles for a detailed guide.
No need to get your IT department involved, just sign up and follow the steps in the Migration Wizard and you'll be moving your Help Scout and Intercom data in no time.