At the start of the decade, the term "cloud solution" was a pretty novel, albeit vague idea that many were skeptical. Today, however, it is slowly becoming the norm. We went from CDs to Spotify, from DVDs to Netflix, and from home consoles to Google Stadia (although that one is still in the transition phase), the cloud is, indeed, taking over virtually every industry. And for good reasons too.
They are much more reliable, easier to scale, and frankly, more secure. Yet, it doesn't mean on-premise solutions are bad. In fact, they are still widely supported and continue to grow as we speak. In the help desk/service desk ream, one such solution is Spiceworks. A tool that needs no introduction but definitely needs a comparison, which is why we are here. That's right, today we will take a look at Spiceworks Cloud and On-Prem to see what option is the right for you. So, without any further delay, let's get started.
Comparison Points
Before we start doing our comparison, we'd like to narrow our analysis to just a few variables. It will not only be easier for you to digest but will allow us to focus on things that matter the most. So, in this case, we'll take a look at the core of the version, what pros and cons it brings to the table, and pricing. These are the most important aspects of the system and frankly, they will help us describe the key differences the most.
So, as the name suggests, Spiceworks Cloud is a cloud-based service desk solution that aims to deliver a set of tools that will help you manage technology (both software and hardware) using your browser. The tool does not require any kind of installation nor maintenance as everything is done remotely. Currently, the cloud version is not a direct upgrade nor a substitute but rather a side project that is being developed.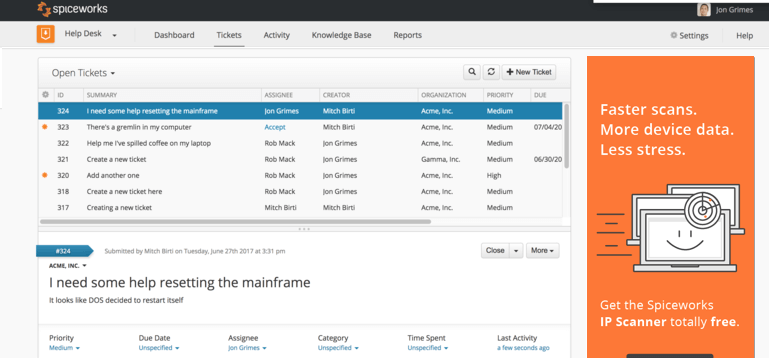 The ticket management menu in Spiceworks Cloud. Source
Pros & Cons
Here are a few pros and cons of using the Cloud version of the system. Now keep in mind that at the time of this writing, some things can change or be added. Be sure to come back to our blog to see if there are any new updates.
Pros
Requires no hardware
Needs no maintenance
Has unique features such as the ability to separate tickets and users into organizations
Easier to use
Cheaper in the long run
Much more secure
Fast installation process
Cons
The system lacks a lot of features (compared to the on-premise version)
Does not have as many integration options
Lack of Inventory options
Limited storage
Not as flexible
As you can see, there are a few advantages and a few disadvantages. For our money, if you seek flexibility and scalability, the cloud option is simply not for you. It is better suited for startups or small companies that don't really need the advanced stuff. Besides, as of 2015, the But don't just assume that on-premise is the way to go. Keep reading to learn more.
And now for the on-premise version of the tool. So, for those of you unaware, on-premise means that the tool is hosted locally, or more appropriately, manually. The key aspect of this version is flexibility. Companies that use the on-premise version have complete control over the system. However, this control comes at a cost as you have to pay for just about everything. From buying the hardware to renewing Windows Server license to hiring a technician, it is a pricy endeavor.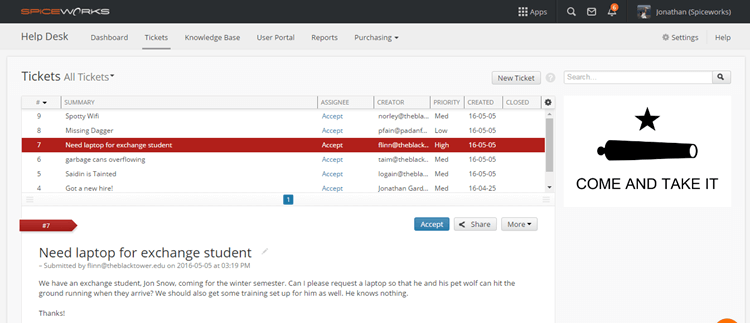 As you can see, the interface of the on-premise version is almost the same as in the cloud one. Source
Pros & Cons
Here are a few pros and cons of using the On-premise version of the system. And as we already mentioned, some things can change or be added as time goes.
Pros
Full control over all aspects of the system
Access to all features out-of-the-box
More frequent updates
Ability to use your own email server
Expandable storage
Cons
Fewer security options
Expensive in both short and long terms
Requires constant monitoring
A long installation process
So yes, the on-premise version is both better and worse than the cloud version. On one side you have a tool that is much more flexible and on the other, much more expensive. We can see this tool being used for large enterprises or companies that have enough manpower to maintain it.
Pricing
And now for the most interesting part of the analysis, the pricing options of Spiceworks Cloud and On-prem. And this is a tricky one as the cloud version went free in 2015, whereas the hosted one is expensive in terms of maintaining it (and installing it for that matter). Generally speaking, the on-premise version of Spiceworks might seem the more expensive one but it is actually very situational.
If you are an enterprise, then the cloud version will be more expensive since you'll have to buy additional features elsewhere. On the contrary, if you are a small company, you'll be just fine. The same goes for the on-premise version. Your best-case scenario would be to test them manually and see what really works for you.
Oh, and in case you are wondering. Yes, Spiceworks is completely free. You don't have to pay anything to use it. It is ad-driven though but the ads themselves don't have access to any of your data and are targeted blindly. Your main expenses will stem from your additional needs.
Final Notes
And this pretty much concludes our Spiceworks on-prem vs cloud comparison. Both options are really good for what they offer, it's just that not everyone will benefit from them. And if by any chance you are planning to move from Spiceworks, we can help you migrate your stuff from it. Just give us a call and we'll be on our way to help you out! But for now, thanks for joining.
Migrate to Spiceworks easily
Seamless and secure data migration services
Try Free Demo