There is a slight misconception that service desks are used exclusively for item management purposes. That is not the case, and one such system, Intercom, aims to prove it. The system is equipped with dedicated customer engagement, lead generation, and customer support mechanisms.
Intercom wants to be your be-all-end-all tool for your business. But how does it stack up under the microscope, or better yet, how does it stack up against a similar tool, namely, HubSpot Service Hub? Well, we did just that and we have all the data you might want to compare. Thus, without any further delay, let's get started with our Intercom vs HubSpot review!
Take a look at the brief visual Intercom vs HubSpot Service Hub comparison: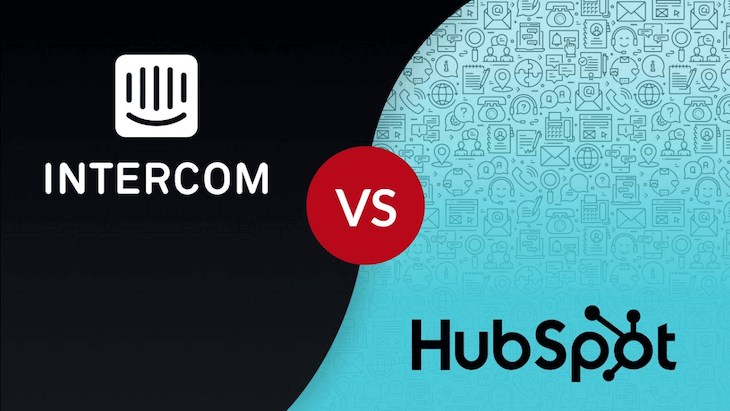 Scope of the Analysis
Since both tools are very promising, we can't just do a surface-level look, hence why we changed a few things this time. So, in this HubSpot vs Intercom review, we will look at the basics of each tool, at their features, talk about some technical details, and end with a price analysis. All of this will allow us to explore the Intercom vs HubSpot question thoroughly, as well as help us decide on how Intercom holds up. But enough with the introductions, let's dive into the tools themselves.
Introduction to Intercom
We'll start with Intercom. In short, Intercom is a SaaS service desk system that aims to deliver simplified (but still effective) communication and tracking systems for businesses of any size. Unlike other service desk systems, Intercom helps convert customers into leads with marketing tools and grow your sales pipeline. It allows you to see how people are using your site or product, meaning it is easier to land on pain points via targeted content, behavior-driven email, and in-app/in-web messages. Currently, the system is being used by many big-name companies, including but not limited to, Shopify, Atlassian, Sotheby's, and Unity.
Introduction to HubSpot Service Hub
Next on the list is HubSpot Service Hub, also a SaaS service desk solution that also aims at delivering more than item tracking. The key aspect of this software is that it allows you to transform your prospects into promoters. And all of this is done through some clever features (which we'll discuss in a bit) and carefully crafted efficiency mechanisms. As things stand now, the tool is used by some important companies, including VMWare, Colt, Suzuki, and many others.
Features
And now for the meat and bones, for the wine and bread, the features. As usual, we won't list everything. We'll shed a light on the Intercom vs HubSpot chat capabilities, marketing tools, and some features we deem extremely nice to have. We'll also be omitting basic functionality as it is, well, basic and most SaaS software at this price range and caliber don't really differ from one another.
Both tools have functionality that is missing in the competitor's feature list, so if you put them together, they might match like a jigsaw puzzle. We'll consider Intercom HubSpot integration, too, but let us keep you intrigued a bit.
Intercom
Just as in our previous section, we'll start with Intercom. Now there are three features we want to talk about. Namely, Customizable Bots, Account-Based Marketing, and Product Tours. These functions are very unique in their nature and they also happen to be the most descriptive.
Customizable Bots
So, let's talk about Customizable Bots first. As the name implies, this system allows you to create bots that you can personalize and customize tp a specific business category like Sales or Marketing and to your customer base. Now essentially what you can do is create a bot from top to bottom. We are talking about visual language to the way the chatbot appears and how it behaves with your customers.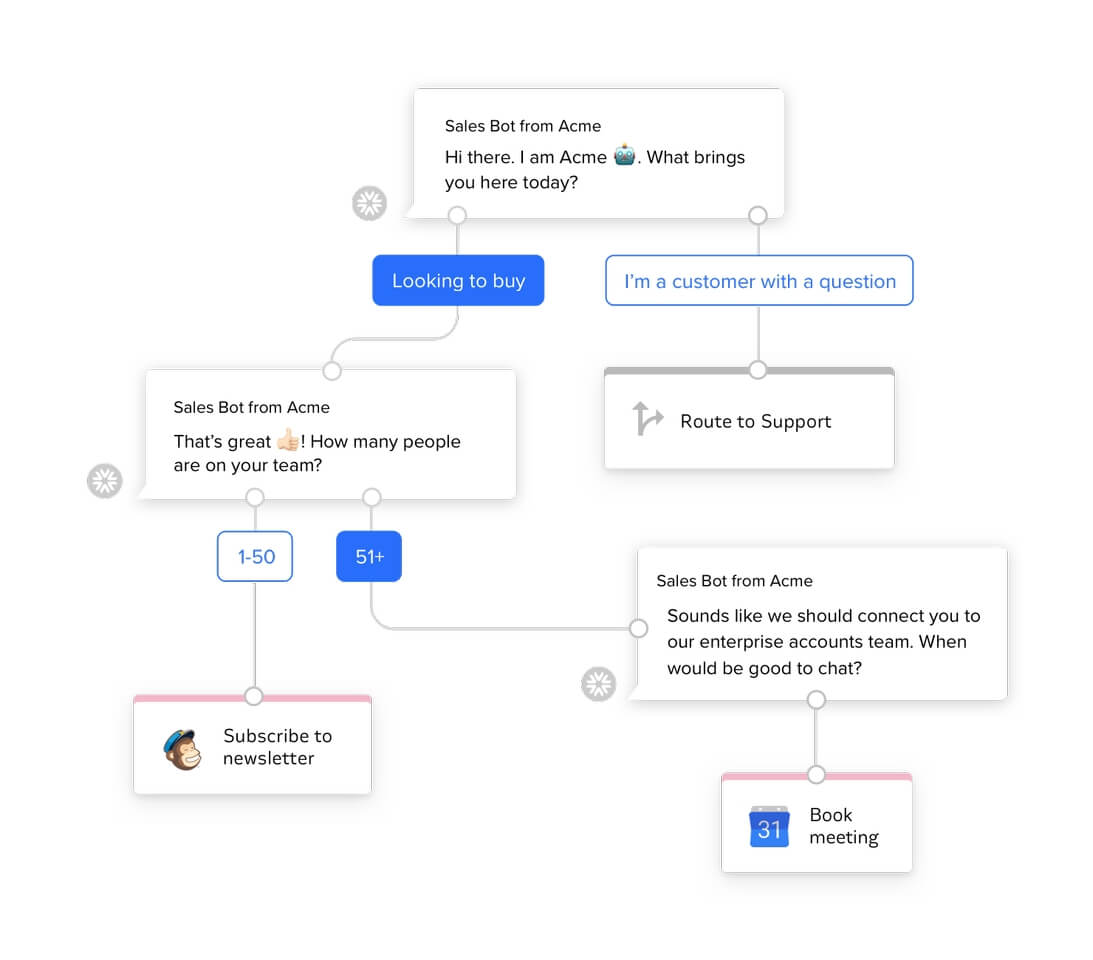 Creating a custom chatbot flow in Intercom - Source
The editor in which you design your bot is code-free as the bot connects to your tech stack and automates all the processes behind the scene. Another cool feature is that the system understands who is your potential customer, the bot uses historical and interactive data to come up with a meaningful message. The system's accuracy is quite high and it is being worked on to this day.
Account-Based Marketing
Next on the list is Account-Based Marketing. This is a type of marketing automation that will prove to be very effective in e-commerce cases as it allows you to target your current customers by giving them highly customized messages that are designed to push maximum sales. But sales and marketing isn't the only thing this module can do.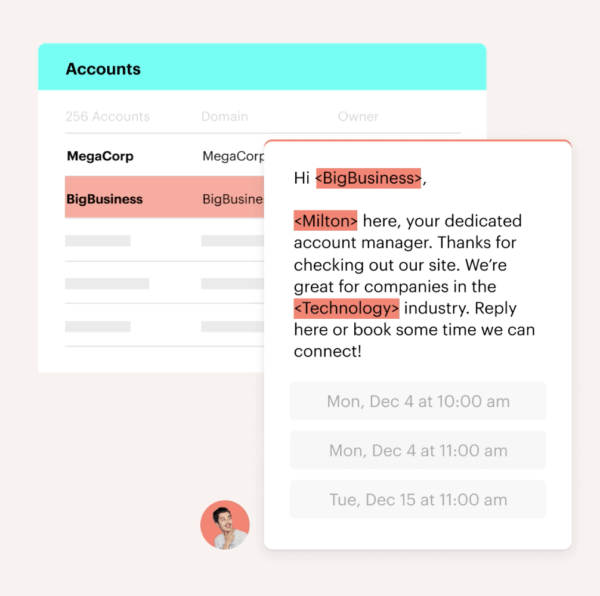 Using data enrichment tool to automatically send personalized messages to key decision makers - Source
With it, you can automatically route conversations or emails, or even chats to the right agent. In other words, your customers won't have to explain to the new agent about their problem as there is no new agent. They will be served by the same person over and over which means that your service will be even more personalized and consistent. This coupled with the aforementioned marketing will surely breed some healthy income and reputation.
Product Tours
And the last feature we'd like to talk about is Product Tours. With this function, you can highlight your service or product in a more, interactable way. In today's world, it can be hard to sell something using just visuals. Interactability, on the other hand, is a much more powerful tool. And this is precisely what this system allows you to do, you can not only display videos or audio logs but make your product more informative.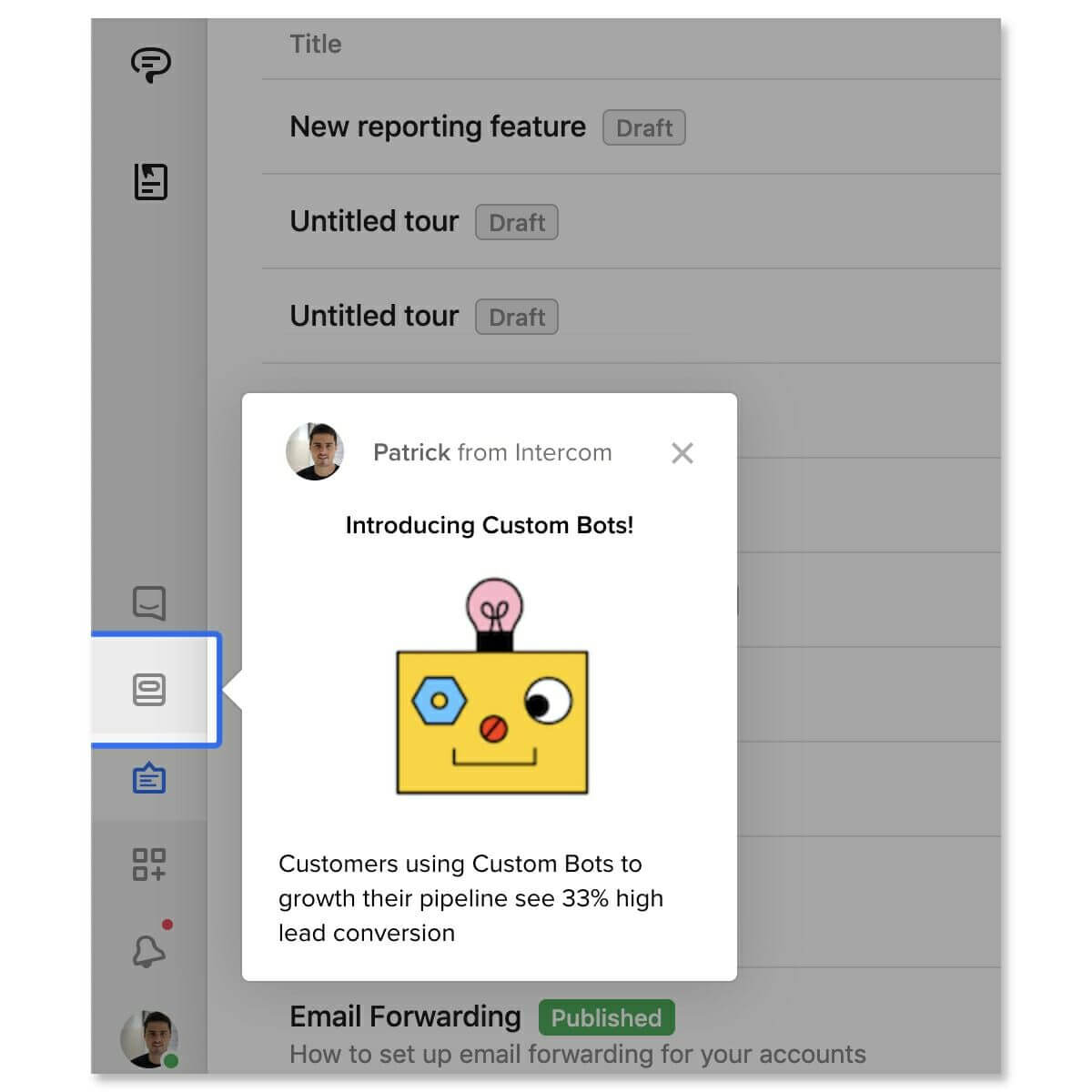 An example of a pointer message announcing a new feature - Source
To put this into perspective, say you have a gamepad. There are a bunch of different buttons and each of them does something. Now imagine if you can press any of those buttons and a video explaining what the button does appears. Put this feature on a scale and provide your customers with an extensive overview of your products or services. But the best part of it is that it does not require any coding skills whatsoever. Just drag and drop things the way you see fit and it will "just work".
HubSpot Service Hub
Alrighty, now that we covered Intercom and its various features, it is time that we take a look at HubSpot Service Hub. And just like in our previous case, we will only take a look at three HubSpot vs. Intercom features as it will allow us to maintain quantity parity. And the features are Conversational Bots, Seamless Escalation, and the NPS Survey module. Each has a lot to offer so let's take a look at every function individually.
Conversational Bots
If you compare HubSpot chat vs Intercoms implementation, the first aims to automate simple communication tasks. In essence, with a conversational bot, you can route your customers to helpful documents, FAQs, and other issue-solving material. But the benefits don't end here, you can also force the system to connect to a real agent in case the trouble hasn't been solved.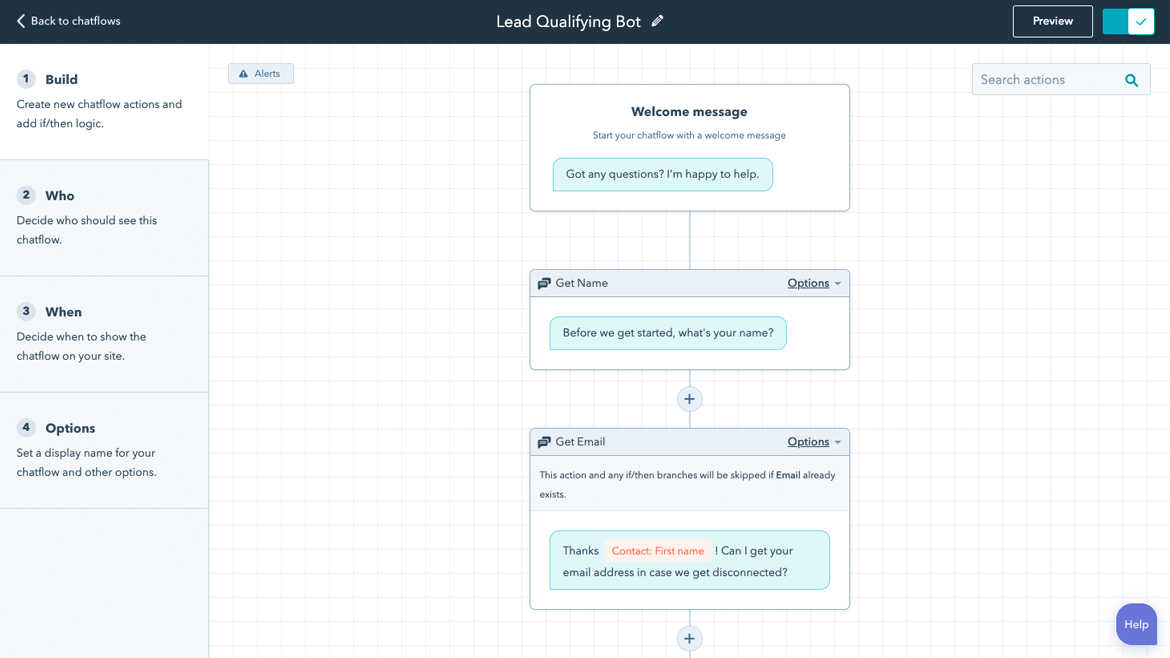 Customizing the conversation path for a Lead Converting Conversational Bot - Source
As for the bots themselves, they are quite intelligent and they don't really sound or feel robotic. The response lines are natural thanks to the fact that the system adapts to your business and public image by gathering data from your CRM. Furthermore, it will try to collect information as well. Whether it is your customer name or location or other data, the bot, if configured, will record all information in an internal knowledge base.
Seamless Escalation
Seamless Escalation will allow your staff to resolve any urgent issue without explicitly touching your customers. For some, this function might seem pointless. But it is only when you have fewer hands ready to solve your customer troubles this function becomes important. And speaking of customers, this feature was designed to handle even the most demanding and urgent requests.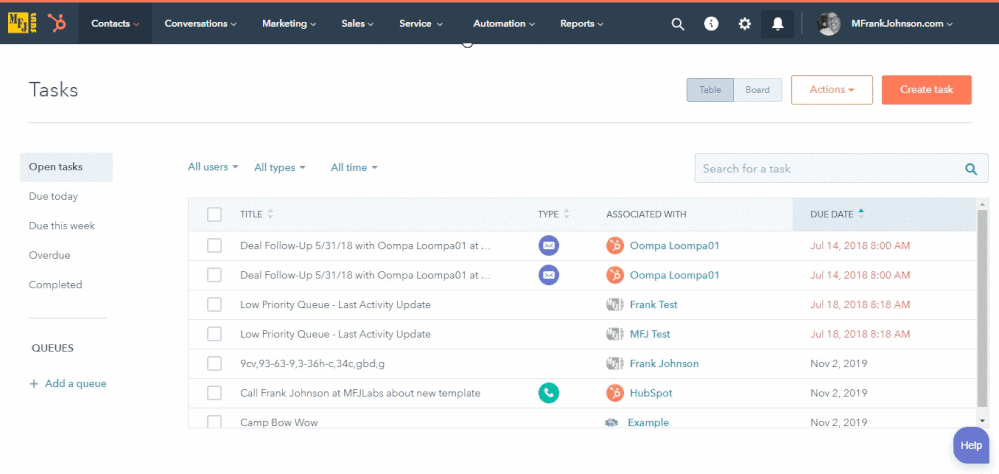 Changing the task assignee - Source
What it does is it seamlessly swaps agents when it is needed the most. In other words, when an agent can't handle an issue, he can use the tool to seamlessly transfer the conversation to his team members. This will ensure that no request is left untouched, as well as it will make your service much more robust since all requests are answered.
NPS Survey
And finally, we have the NPS Survey tool. Now for those of you who are uninitiated, NPS stands for Net Promoter Score and it is a metric that allows company owners to measure the possibility of customers recommending your product to others. That's right, whenever you see a pop-up asking you things such as "Will you recommend this [insert product name here] to your friend" with a scale from 1 to 10, this is the same system.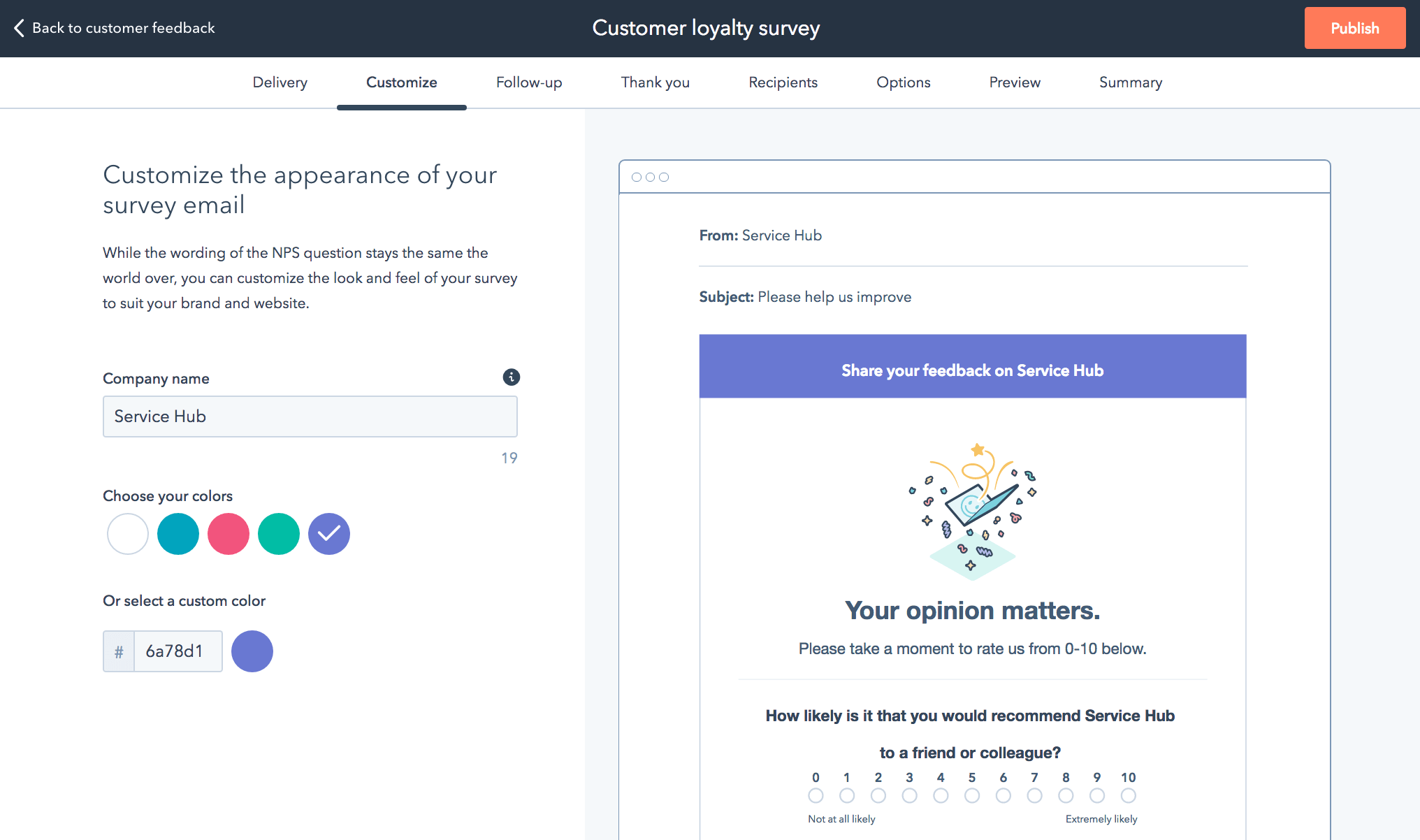 Customizing the appearance of your NPS survey in HubSpot - Source
Once there is enough data (which you can set the number of responses manually by the way), the tool will crunch the data and deliver you a report where you will be able to see how your current product operates and what things your customers like about it the most. The tool also counts how many times it showed the survey and how many people actually participated in it. This will allow you to tailor the message even further.
Technical Details
Now that we know what Intercom and HubSpot are all about and their feature sets, let's take a moment and see what each system has to offer from a technical standpoint. For many, this is an important part of the tool as each company has a distinct ecosystem of devices and OS's they rather not change without need. So, here's how each looks.
Figure 1: Intercom Tech Details
Device Support
Language Support
Pricing Options
Scalability
Deployment
Windows
Android
iPhone/iPad
Mac
English Only
Monthly subscription
Small,
Medium and
Large companies
are supported
WEB-Only
Figure 2: HubSpot Service Hub Tech Details
Device Support
Language Support
Pricing Options
Scalability
Deployment
Windows
Linux
Android
iPhone/iPad
Mac
Web-based
English
Chinese
Spanish
French
Dutch
Portuguese
Monthly Subscription
Small,
Medium and
Large companies
are supported
Cloud-Hosted
Open API
As you can see, HubSpot is the more technically sound system of the two. It not only supports more OSs and devices but comes in multiple languages. Both HubSpot and Intercom support all business types and sizes but Hub has another advantage as it has more deployment options. But overall, each software is good, despite the fact that Intercom is lacking in some cases.
But what if manage Intercom HubSpot customers from one place? Actually, it is possible via HubSpot Intercom Integration. You can get a HubSpot app from the Intercom App Store to seamlessly sync both solutions. The app allows you to automatically send Intercom users/qualified leads and their conversations into HubSpot, update HubSpot customers with Intercom details like email, name, etc, and more. Therefore, the Intercom integration with HubSpot can help your team manage customers more comprehensively.
Price
And for the last part of this lengthy analysis, we have the pricing options and this is where the two systems differ radically. As usual, we've taken the recommended Intercom vs. HubSpot plans since they are balanced in terms of features and price.
Figure 3: Pricing
Service Hub
Professional from $400 per month
Intercom
Professional from $153/month

Ticket status
Ticket routing
Task automation
Ticket pipelines
Knowledge base
1:1 video creation
Custom reporting
NPS surveys
Customer experience surveys
Customer support surveys
Insights dashboard
HubSpot CRM
Ticketing
Live chat
Conversations inbox
Conversational bots
Team email
Canned snippets
Email templates
Meeting scheduling
Tickets closed reports
Rep productivity reports
Time-to-close reports

Business Messenger Chat
Customer Data
Reporting
Management Hub
Targeted messages
Integrations
Behavior tracking
Chat workflows
Automations
Multi-touch campaigns
Live Chat
Unified Inbox
Canned Responses
Knowledge base
Ticket statuses
Rerouting capabilities
Clearly, in the HubSpot vs Intercom battle, HubSpot Service Hub is the more refined and feature-complete tool. But it is also the more expensive system. It's not just more expensive, it is two times the price of Intercom which can be too much for a small company. As for Intercom, it is good and has a nicely balanced price to performance ratio but we wish some of the features were more, advanced, akin to how Hub did it. But despite this, it is fantastic for what it is and if you are on the fence, then move on to the next, and final, section, which is the HubSpot vs Intercom verdict.
Verdict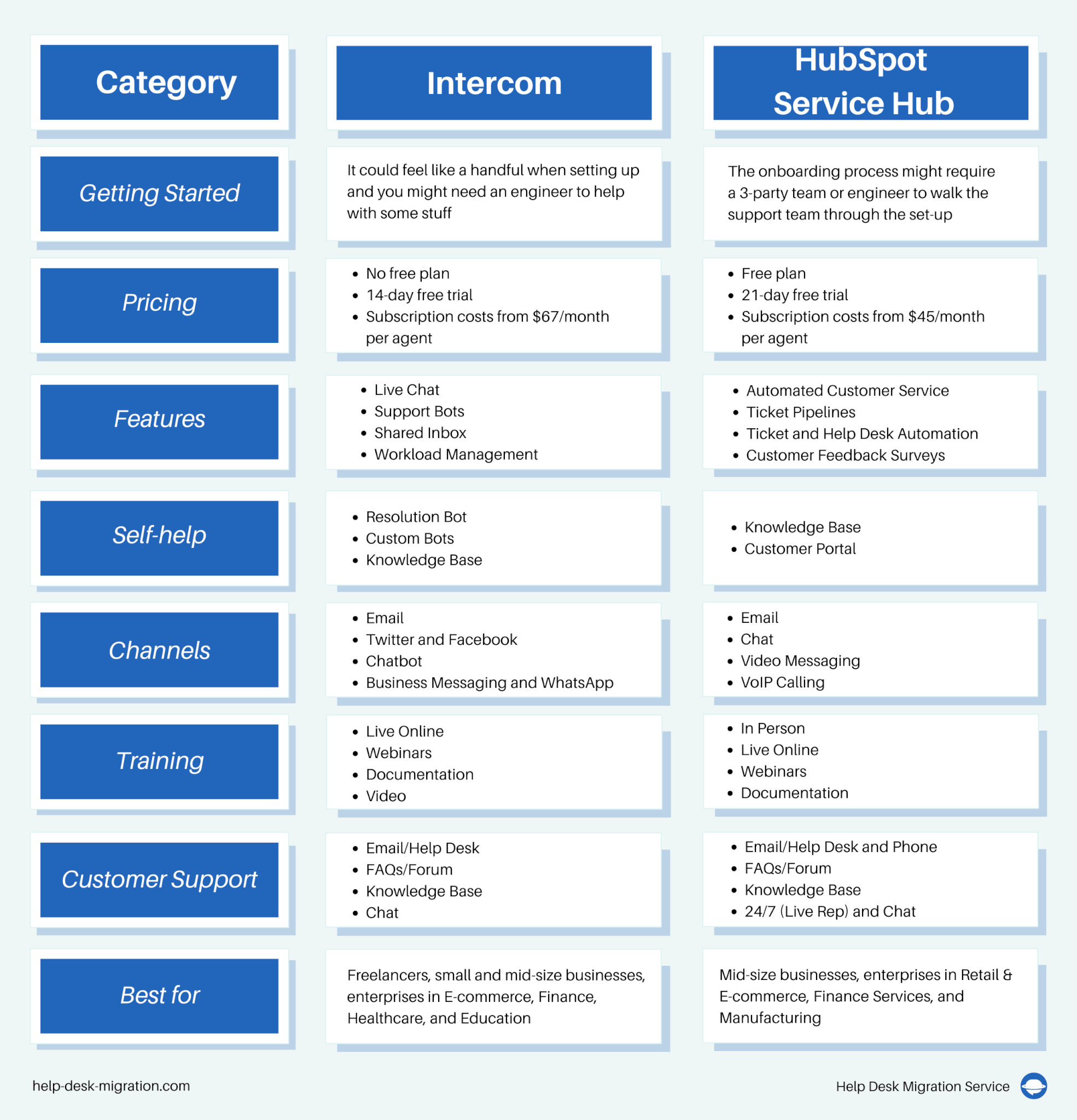 And there you have, time for us to decide which between Intercom vs HubSpot is the better system for your money and how Intercom holds up. And the answer is, Intercom holds up very well but Service Hub is the more refined system. Even still, if you think that Intercom will work for you, there is a free demo and a free trial mode that you should absolutely give a try. The tool is being worked on every day and we are positive that it will grow into something remarkable. In any case, you can also take advantage of the Intercom and HubSpot integration and make use of both tools in one place.
But that's all we have for today's HubSpot vs. Intercom comparison. If you need help moving your data to or from any of these tools, be sure to let us know. Our expert will contact you as soon as possible for all the details and we'll get you started in time. Thanks for joining!
Frequently Asked Questions
They are both suitable for customer support service but Intercom has integrated products to include every team on the platform. HubSpot Service Hub, on the other hand, is also a tool for marketing automation.
Yes, HubSpot and Intercom integration is possible if you install the HubSpot app. This way users and their conversations from Intercom can be sent to HubSpot automatically.