Freshdesk vs Salesforce Service Cloud looks like an opportunity with purpose, right? Customers keep us on a never-ending treadmill of expectations and requirements that they want to experience at the present moment. A well-equipped help desk platform is a way out for small businesses and large enterprises. Yet the question is what is your choice - Freshdesk or Salesforce?
Over the years, many help desk systems went out of business. Some solutions shut down due to competition, others - due to changing focus. Yet, through all industry shifts, such companies as Freshdesk vs Salesforce Service Cloud survived.
These two enterprises have some of the best features in their tools, and each of them understands what makes excellent customer service even better. But, how to choose between two titans? Let's compare Freshdesk vs Salesforce to find out.
Freshdesk vs Salesforce: How It Started?
Both help desks have been on the market for quite some time. And during this time, they have managed to take their respective places in the customer service Olymp. However, how did they develop? Or what was their main purpose? Let's figure it out.
Freshdesk in a Nutshell
Freshdesk is a cloud-based ticketing system developed by Freshworks. Since the beginning, the company has established a reputation for being affordable and functional. And for good reasons, too, the owner of Freshworks used to work in Zoho Corporation (then known as AdventNet). Later, Freshworks began its existence due to one comment about how the Zendesk prices are high. With all this in mind, Freshdesk started work on its help desk, and after a long development cycle, in 2001, the company released its first iteration of Freshdesk.
Since the tool launched, it has evolved multiple times and has added a few vital features. Aside from ticket management, users have access to live chats, an expanding knowledge base, and a reporting tool. Also, as part of the suite, you get access to many different dashboards. You can customize them, adjust the size, and even stylize them if that's your thing. Last but not least, you have a reporting tool that gathers all kinds of analytics, from burnout rate to customer satisfaction; you have it all. Looking at it from any Service Cloud vs Freshdesk perspective, it's clear that the desk went through an exciting path.
Salesforce in a Nutshell
Based in the U.S., the Salesforce Service Cloud started 20 years ago and has developed a wide range of different service desk products, including Work.com, AppExchange, and Community Cloud. Over these years, the company not only refined its main product, Salesforce but created excellent working conditions for its employees.
Like in our Freshdesk review section, we can't stress enough how well Salesforce is maintained and how fast its features are. Everything is seamless and of high accuracy, whether ticket rerouting or expanding the dashboard. In addition, the company clearly understands what their customers want as we couldn't find any non-exclusive feature missing. Another critical point about Service Cloud is that it has a mobile app that you can sync with the desktop solution.
Also, as a bonus, Salesforce Service Cloud has support for canned responses. A canned response is an automated message system that gathers data from your archives to present a solution to a similar or exact issue.
What Are Advantages and Disadvantages?
When it comes to features & integrations, both Freshdesk vs Salesforce Service Cloud got a few tricks up their sleeves. The scope ranges from language support to user interface. And that's just the tip of the iceberg. But does it mean they have no cons?
Salesforce
In brief, Salesforce has a few caveats that developers might fix. But generally speaking, the tool is more than reasonable. You get a ton of integrations, a quick dashboard creation process, and support for multiple languages right from the get-go. Here's a more detailed look at both the pros and cons:
Pros
Seven languages are supported right from the box
Dashboard creation is fast
Version control
Preview functionality
More than 100 different integrations
Supports all currencies
Cons
Does not support Windows Mobile
Not suitable for work with freelancers
Lack of live support
Starting price is high
No absence management feature
Lack of access control
No automatic lead distribution
Freshdesk
All in all, Freshdesk is good. The only gripe we had with it is that it does not have a lot of languages, limiting its use outside of English-speaking countries, and the lack of a dedicated budgeting tool. The URL customization option is also excellent, and the survey system gets the job done with no problem. Here's how the pros stack up against the cons:
Pros
Available on all devices (including mobile platforms)
Lots of dashboard customization options
Monitoring capabilities
Detailed performance reports
Good survey system
URL customization
Countless integrations
Cons
Only five languages are supported
No budgeting tools
Lack of business intelligence feature
Convoluted campaign planning tool
Inaccurate collaborative forecasting
Incomplete customer history
In Brief
Looking at Freshdesk vs Salesforce, it's obvious that they are designed with different objectives in mind. Salesforce has more to offer for enterprises like over 100 integrations or support of all currencies. On the other hand, Freshdesk wins over due to aspects like availability on all devices or rich customization options with pricing lower than Salesforce. Yet, it lacks more advanced features.
What Are Similar Functions in Freshdesk & Salesforce?
As mentioned above, Salesforce Service Cloud and Freshdesk are built with different goals in mind. However, it doesn't mean they have no similar features.
Knowledge Base - You simply set up a self-service Help Center so your customers can find answers to their questions. This feature is available in all Freshdesk plans but is missing in Salesforce's Professional.
Customizable reports and dashboards - This feature allows users to make more informed, consistent decisions with real-time custom dashboards and reports. However, Salesforce designs its reports on pipeline data.
Ticket routing - Both platforms include this feature but under different names. However, they function the same: assign tickets to the available agent in a group.
Sandbox - Freshdesk and Salesforce allow you to create a secure test environment where you can try out new features and integrations without compromising your live account. Freshdesk has just one option for Sandbox while Salesforce includes two variants: Developer Sandbox and Developer Pro Sandbox.
Social Customer Service - Present in all plans, this function lets you create tickets from social messages. Freshdesk supports integration with Facebook and Twitter. As for Salesforce Service Cloud, it integrates with Twitter, Instagram, Facebook, and YouTube.
Freshdesk vs Salesforce: Exclusive Features
This section will cover exclusive, refined, and beneficial features that cannot be found elsewhere. Remember that covering all of them can be a tough challenge, hence why we will focus only on a few of them.
Salesforce
Precise dialog titles in created records - The neat thing about Salesforce is that they want to make everything seem natural, and this is precisely what this little feature brings to the table. For instance, when you create two record types, small and large, and assign them to an account, it will be reflected in the dashboard and the "Create" dialog. This provides more context and makes managing much faster and more accurate.
Highlights Function - Aside from dashboards, Salesforce Service Cloud can create a compact layout on a per-object basis. In other words, you can literary highlight critical windows, phrases, dates, etc., and display them on top of everything. This functionality was first introduced in Salesforce Mobile and is not available in the main desktop version. And speaking of availability, you can use it in any tab you want.
Apply filters to report chart elements - As the name suggests, you can assign any filter to any report chart. This can also be applied to the backend and represented in the front end. In other words, if you would like to show/hide certain information on the front end, you can apply this functionality.
Duplicate Salesforce Pages - This feature might come in handy for those who want to test certain things and see how they would look on an actual page. And those of you who don't have time to play with custom layouts can pick from a wide range of already pre-made pages. However, you can only clone your homepage, record page, and email app page.
Freshdesk
Increased efficiency via shared inbox - Among the massive list of features, this one is the most useful one out of the bunch. Not to discredit the rest of the functions, they are helpful in their respectful right; this minor feature allows you to unify all agents by providing them a shared inbox where all queries, requests, and questions gather automatically 24/7. And it's not just your local team; everyone who has a Freshdesk account can access this shared inbox.
Ticket SLA management - With Freshdesk, you can set these expectations using Service Level Agreements. Essentially, this allows you to notify your customers of what to expect. The good thing is that it's not limited to a single config file. You can assign different expectations for different departments, agents, and tickets.
Advanced reporting system - Aside from traditional reporting, Freshdesk users can also use an advanced system that is way more robust than the usual one. This advanced system allows you to filter out things such as agents, ticket type, and SLA cases, as well as it can group data from different departments and different channels. With this kind of reporting, it would be much easier to streamline your work as bottlenecks will be identified much faster and with higher accuracy.
Team Huddle - If one thing sets the Freshdesk from the rest of the competition, it's the Team Huddle feature. In a nutshell, Team Huddle is a collaboration system that lets you invite third-party colleagues, partners, and freelancers. Thanks to the native robust integration system, you can connect to anything. This lets you eliminate the need to switch between different chats, messengers, emails, etc. It's very convenient, and you don't have to ask your partners to use a dedicated app.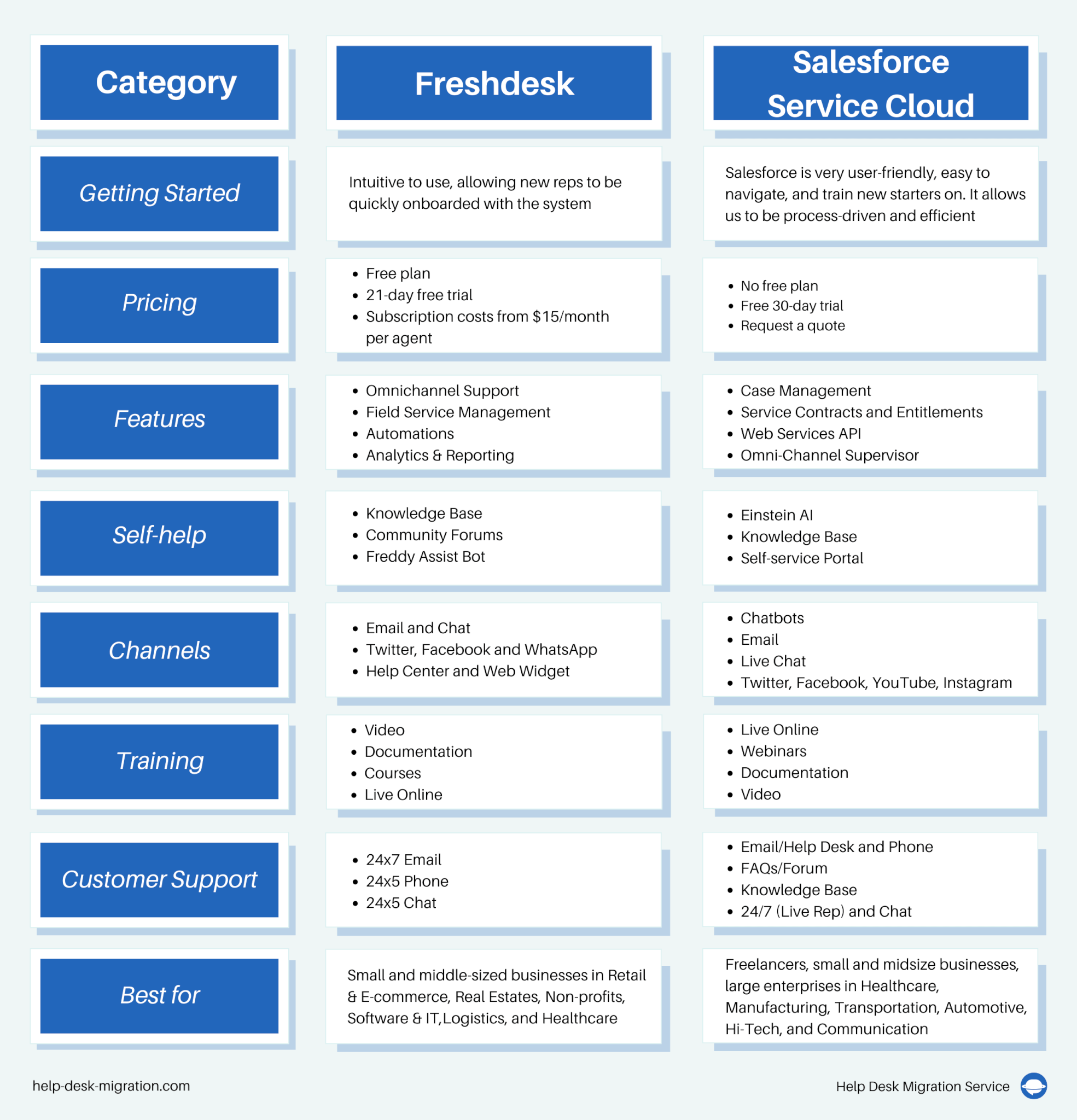 How Much Do Freshdesk and Salesforce Cost?
When it comes to pricing, both service desks have a myriad of different options to choose from. Let's start with Salesforce. The company offers four tariff plans, namely Essentials, Professional, Enterprise, and Unlimited. The starter pack costs $25 and can go as high as $75. With this package, you get customer support and a complete CRM system for up to 10 users. The higher tariffs start at $150 and up to $300 and with them, you get basically everything you might ever need. These include unlimited sales and service support, as well as a fully customizable CRM system.
Now that we covered Salesforce, let's have a look at Freshdesk pricing options. Unlike Salesforce, Freshdesk has four different options, including a free variant. The free version is basically a stripped-down version of the Growth plan. However, the Growth package is a pretty good combination of price and performance. With it, you get access to a bunch of automation options, collision detection, and the ability to set business hours. As for the premium options, you have the Pro and Enterprise options respectively. These can range from $49 to $79 and feature basically everything from SLA, IP whitelisting, and even HIPAA compliance.
What Customers Say About Freshdesk vs Salesforce?
Genuine feedback is always a good way to go when you choose between two help desks. Real customers can give you up-to-date information than nicely described features. Let's see what users have to say about Freshdesk and Salesforce Service Cloud.
Figure 1: Salesforce or Freshdesk reviews
Review website

Freshdesk

Salesforce

Getapp

Freelance/Small/middle-sized/large business
Functionality 4.3/5
Overall review 4.5/5 (2,407 reviews)
1,390 Positive reviews

Freelance/Small/middle-sized/large business
Functionality 4.3/5
Overall review 4.4/5 (534 reviews)
481 Positive reviews

G2

Freelance/Small/middle-sized/large business
Functionality 8.8/10
Overall review 4.4/5 (2,612 reviews)
1,681 Positive reviews

Freelance/Small/middle-sized/large business
Functionality 8.0/10
Overall review 4.3/5 (1,593 reviews)
779 Positive reviews

Capterra

Freelance/Small/middle-sized/large business
Functionality 4.3/5
Overall review 4.5/5 (2,407 reviews)
1,390 Positive reviews

Freelance/Small/middle-sized/large business
Functionality 4.3/5
Overall review 4.4/5 (534 reviews)
481 Positive reviews
What Should You Choose: Salesforce vs Freshdesk?
So, Salesforce Service Cloud is less practical for small to middle-sized solutions due to its massive number of functions and high price tag. However, large and enterprise companies might find this help desk an ideal solution.
On the other hand, Freshdesk is the one when it comes to freelancers, small and middle-sized businesses. It combines robust features, affordability, and ease of use. Freshdesk has everything you need to run help desk operations efficiently and smoothly: knowledge base, SLA management, and automation.
Whatever choice you make: Freshdesk or Salesforce, you can always start off with a free trial or migrate a sample of your data with the Help Desk Migration service.