Raise your hand if you've thought about Zendesk pricing recently? Are you looking for an alternative? We feel you and come to the rescue with an executive's guide on help desk software prices.
Customer service software is an essential tool in delivering personalized service. But it can be expensive. Companies can spend up to a third of their whole budget on service teams, including the software.
This is why we've decided to compare the pricing options of 7 top players in customer service. In this post you will find out:
Who offers the best value to money;
Which industries each vendor serves best;
How much the software costs, in the end.
Let's get going, shall we?
Zendesk
What Companies Use Zendesk?
Zendesk has the largest share of the customer service market. It is greatly popular among Computer Software and IT companies. However, Zendesk is also used in retail, education management, and financial services.
Although Zendesk is considered quite pricey, most of its customers are small businesses (up to 50 employees) based in North America, UK, and Australia.
Zendesk Pricing
Zendesk used to offer some of its products as a freemium. Until 2021 you could use a basic version of Guide, Chat and Talk for free. However, in 2021 the company has come out with all new pricing. Now, you can choose between Foundational support and Zendesk Suite.
The foundational support comes in three tiers: Team, Professional, and Enterprise.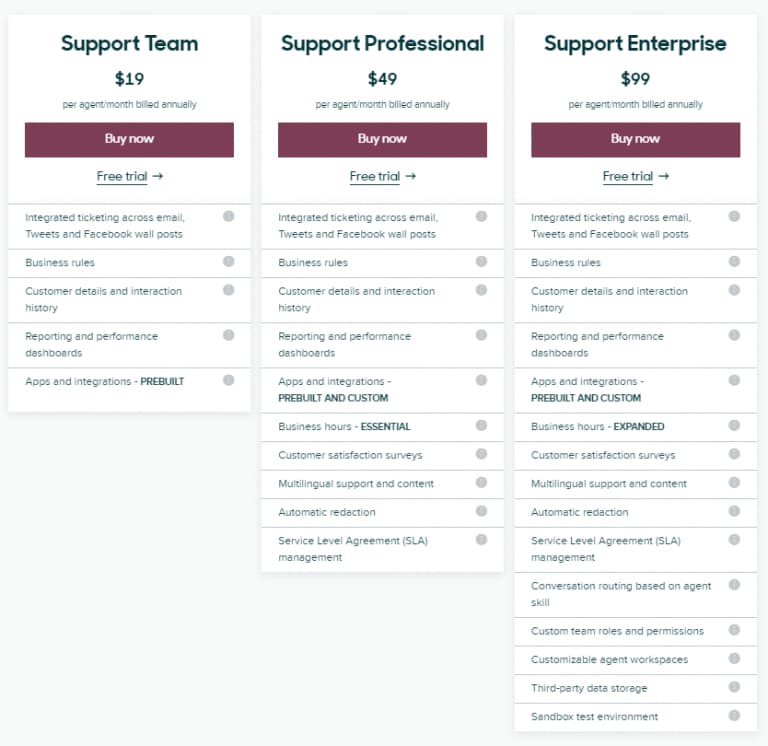 The goal here is to give you tools to manage tickets and optimize the workflow. Foundational support does not include a help center and live chat functionality. You will either need to purchase it separately or update it to a Suite.
Speaking of Suites, Zendesk offers you four packages: Team, Growth, and Professional.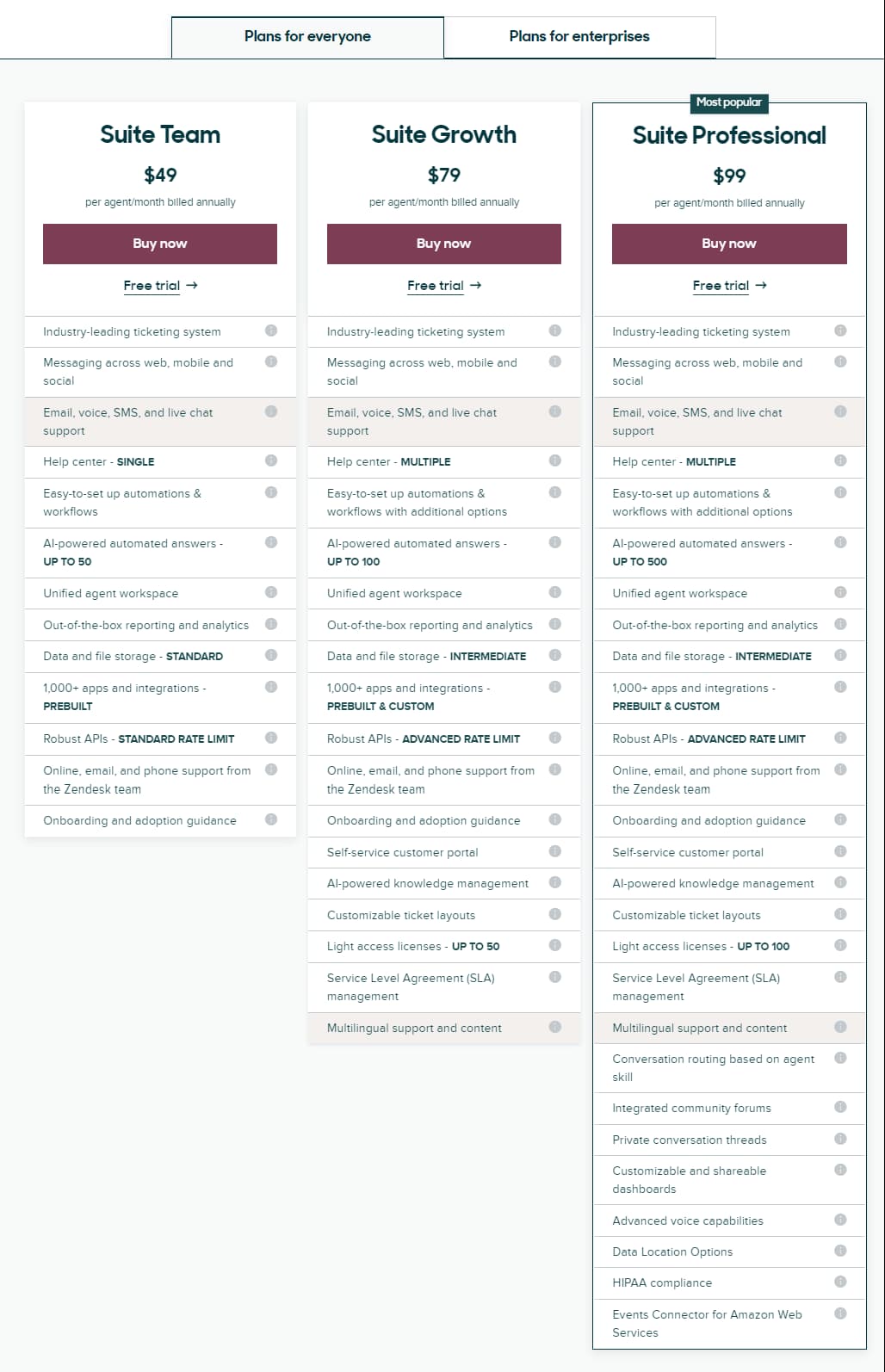 Each tier offers email, live chat, social, and help center functionality. They are pretty jam-packed, so it's safe to say that whatever you choose, you get a good offer.
Lastly, to cater to the need of enterprises, Zendesk also has Suite Enterprise and a custom enterprise plan.
How Much Can Zendesk Cost Eventually?
Let's meet Bill. He works at a real estate agency, and they want to start using Zendesk. The agency wants a branded help center, live chat, and integration with their other tools.
To customize your help center, you need to get Suite Growth which costs $79 per month/agent billed annually.
Considering that the agency employs 5 customer service agents, including Bill, Zendesk would cost them $395 per month. Per year you would have to pay $4,740.
On top of that, the agency will have to spend some more on a custom theme. Pre-built custom themes retail anywhere from $99 to $950.
What makes Zendesk the champion of customer support is its Professional Services. Regardless of the complexity of your operations or how many changes you need to make, the team of CX experts is ready to help you find the right approach. That includes launching, customizing, onboarding, and even moving customer data from any help desk to Zendesk. Generally, pricing depends on the number of channels and services, starting from $8K per channel.
But if your business needs are limited to transferring data to Zendesk from another solution, consider Help Desks Migration. This automated migration service charges you for the number of migrated records, going from $39. Not only can you import the customer database to Zendesk, but you can also consolidate any help desk or service desk instances.
Freshdesk
What Companies Use Freshdesk?
Freshdesk is the most popular with Computer Software and IT companies. The company does have clients in other industries like retail, education management, and healthcare.
Freshdesk has a significant customer base of smaller companies (10-50). However, it also has a fair share of medium-sized companies (50-200 and 200-500 employees).
Freshdesk Pricing
Freshdesk offers five pricing plans, each with botanically inspired names. The cheapest plan is, naturally, the Sprout plan, which gives you free, single-channel support for an unlimited number of agents.
The most expensive plan, by contrast, is Forest. It's available as either a single channel option or an omnichannel solution that integrates with email, phone, and more.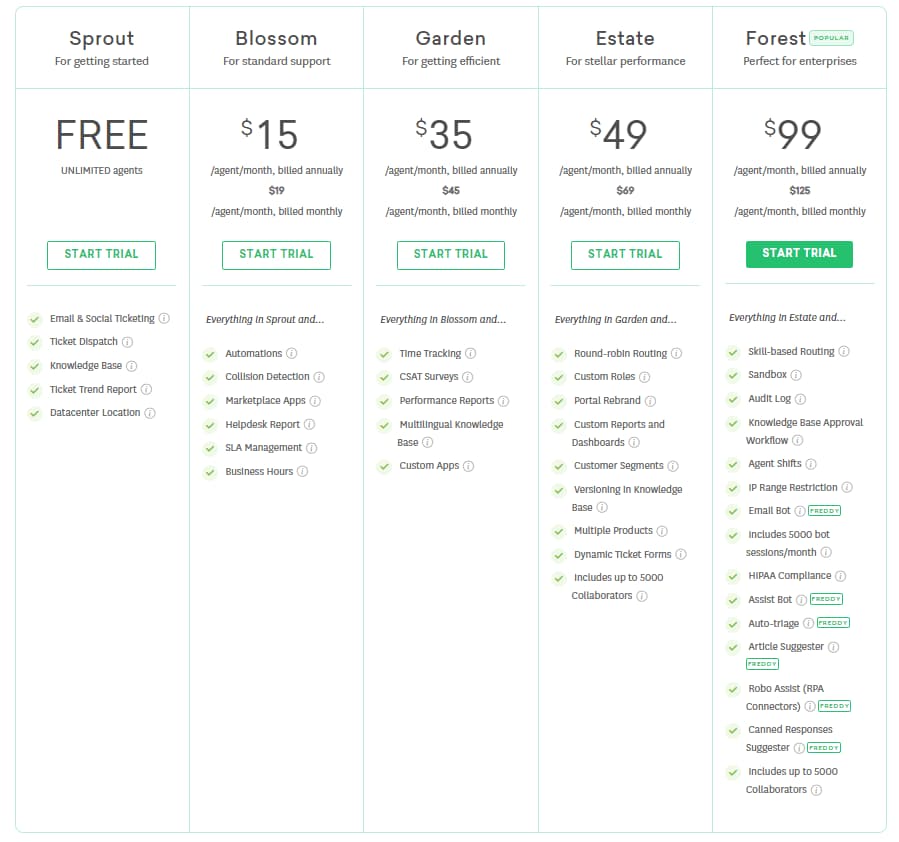 How much would Freshdesk cost in the end?
Here's Stacey. She wants to start using Freshdesk to run customer service at their company. Stacey decided to get the Estate plan since it has custom roles, portal rebranding, and automated ticket routing. She has 12 reps on her team, including herself. Thus, Freshdesk would cost $588 per month as per the annual contract.
It worth mentioning that Freshdesk doesn't have any hidden fees.
Intercom
What Companies Use Intercom?
Aside from software development and IT companies, Intercom is vastly used in marketing and financial services. With most of their customer base based in the United States, UK, and Canada. If you look at the company size, Intercom is mainly used by smaller companies, with 1-10 or 10-50 employees.
Intercom Pricing
The pricing for Intercom is complicated and unpredictable. In a nutshell, Intercom offers two tiers: for small businesses and most businesses.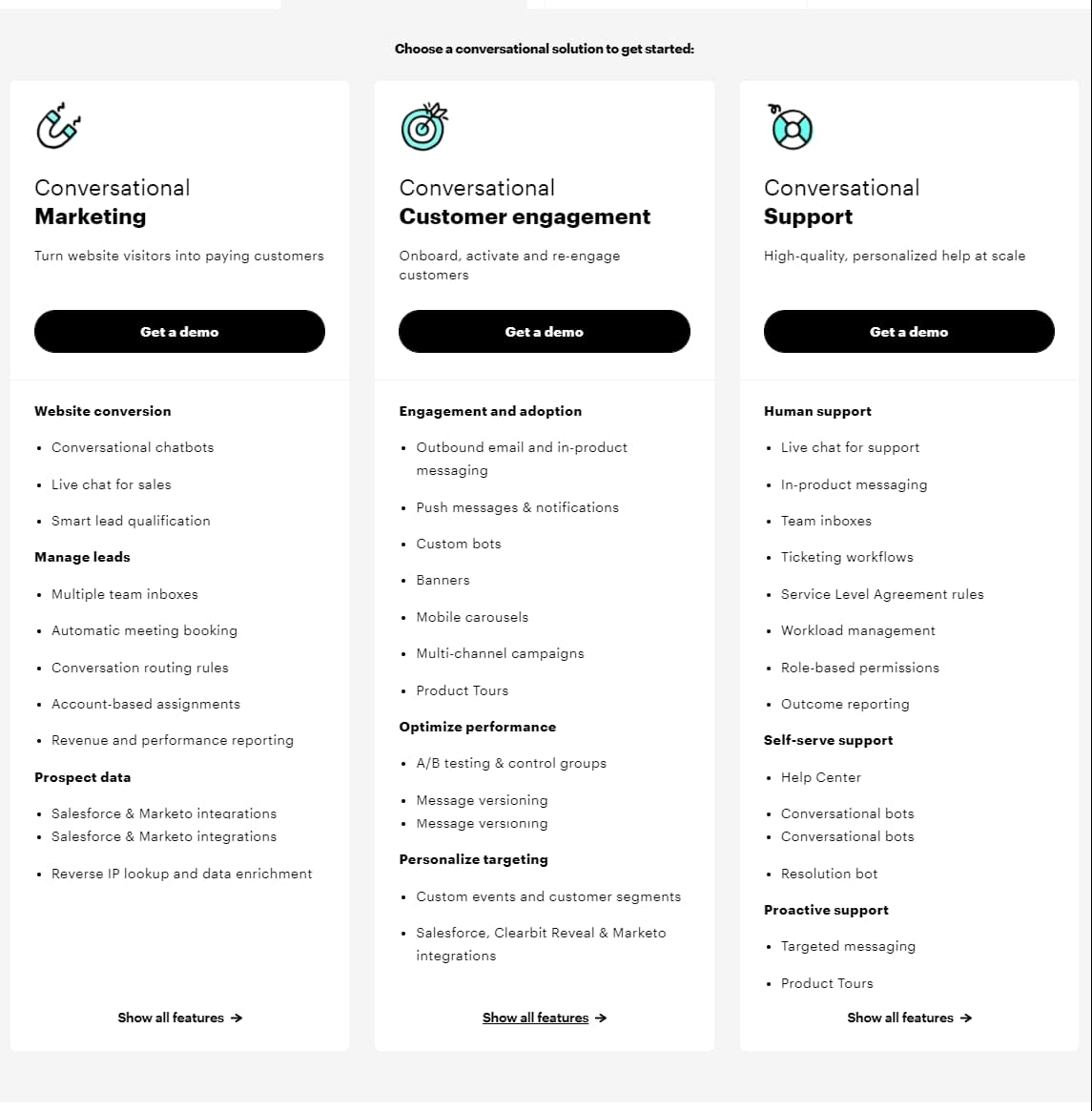 The Starter package retails for $79 per user/ month, and you only get one seat. Every additional seat will cost you $19 per user, with 25 seats max.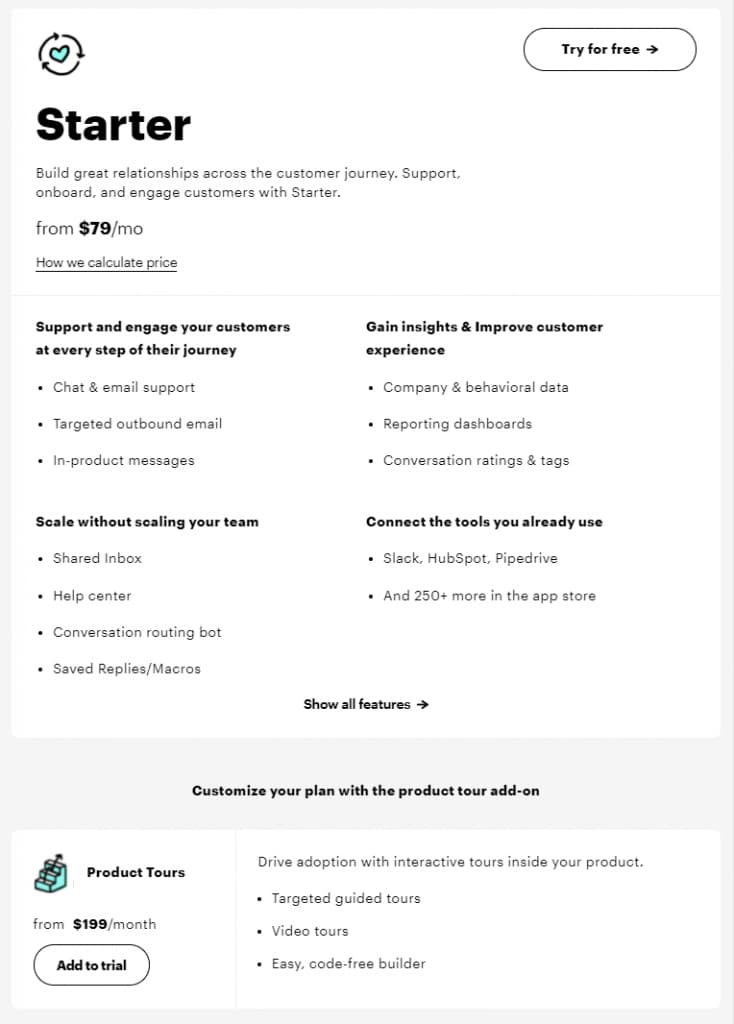 If you're a startup, you can apply for an early-stage program. Eligible startups get advanced Intercom features for $65 per user/month for up to a year.
The rest of the Intercom packages are custom and are based on the specific needs of your business. So, to get the exact price, you need to talk to a representative at Intercom.
How Much Can Intercom Cost?
Let's say you want to get a Starter package just to get a taste of Intercom. You will have to pay $79 for the first seat and $19 for every additional seat.
So, if you have 10 customer service reps, then Intercom will cost you $250 per month. And if you hit the limit of 1000 people reached per month, you will have to pay an additional $50 for every 1000 people reached.
Salesforce Service Cloud
What Companies Use Salesforce Service Cloud?
Service Cloud is vastly popular with software development companies and a little less used by IT companies. Service Cloud is also used in finances and hospital care, with 69% of their customers based in the US.
Being a more advanced system, it is no surprise that Service Cloud is used more by mid-sized and larger companies. However, they also have a fair amount of smaller companies with 10-50 employees.
Service Cloud Pricing
You will notice right away that Service Cloud is quite expensive. There are four Service Cloud Editions: Essentials, Professional, Enterprise, and Unlimited.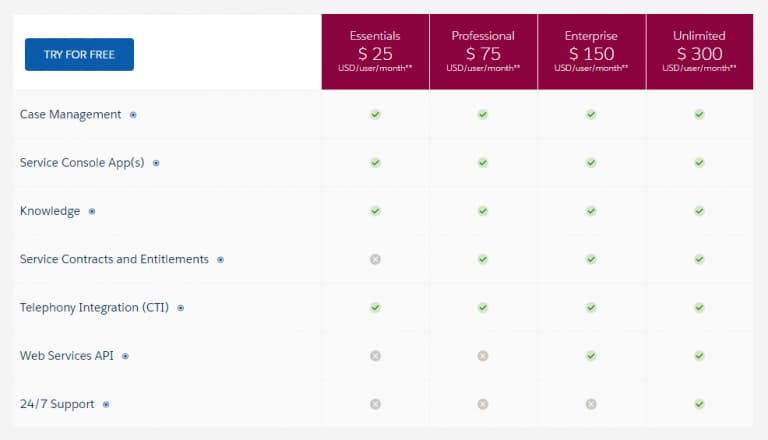 The Essentials edition allows you to manage cases, create a knowledge base, and provides agent productivity tools. The Professional plan includes everything in the Essentials and includes management of contracts and agreements. The most expensive tiers offer you API access for you to integrate your apps and 25/7 support.
How much will Service Cloud cost eventually?
Peter works at a retail company and manages a team of 20 customer service agents. The company is already using Salesforce CRM, and now they want to implement Service Cloud. Having explored the pricing, Peter decided that the Professional edition will get the job done.
This means that the company will have to pay $1,500 per month if they sign up for an annual contract. Altogether, Service Cloud will cost them $18,000 per year if the team remains the same.
However, Peter also needs to get the Salesforce Anywhere Advanced add-on to get the most out of Salesforce and Service Cloud. Retailed for $100 per user/month billed annually, the company will have to spend an extra $500 for 5 agents to use this add-on.
Eventually, the company will have to spend $2,000 every month to use Service Cloud.
Kayako
What Companies Use Kayako?
Kayako is used mainly by software and IT companies. However, it is also used in telecommunications, higher education, and Healthcare. The software is used by small (10-50) and mid-sized companies (50-200).
Kayako Pricing
With Kayako, you get to choose from just three pricing options: Inbox, Growth, and Scale.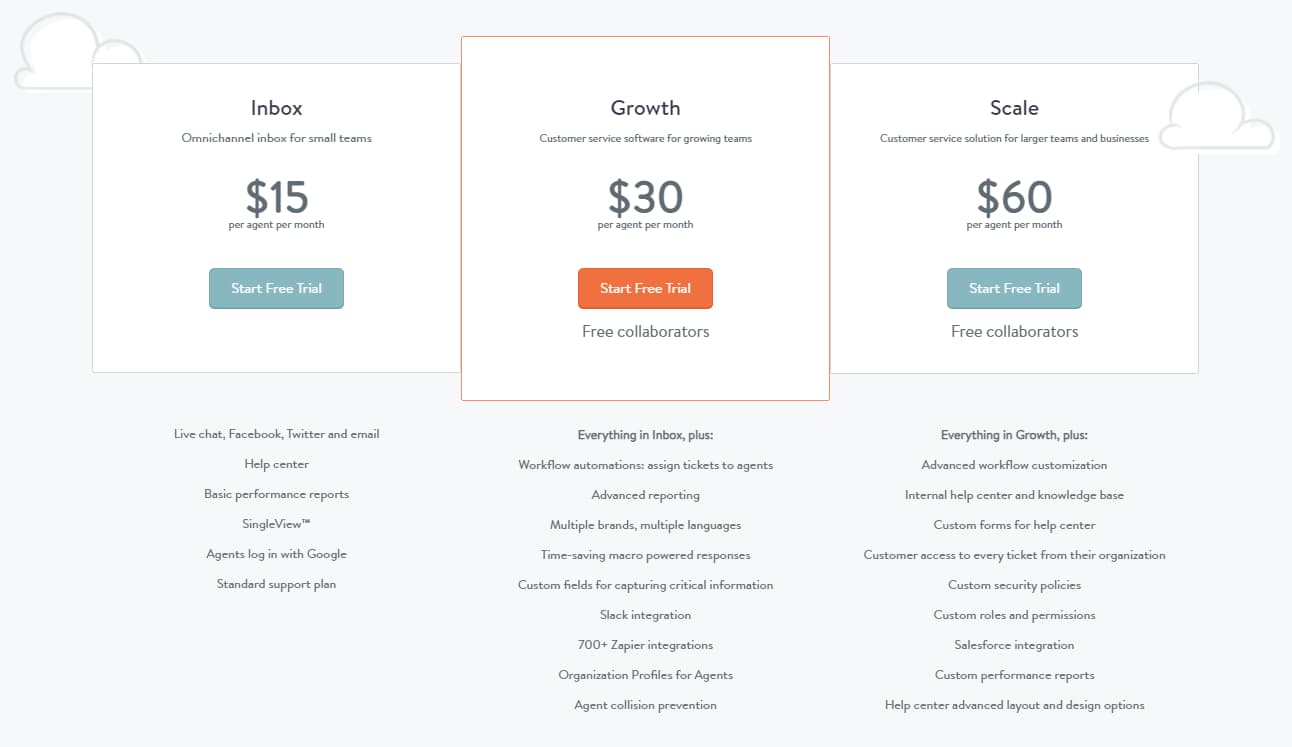 The Inbox plan offers all essential support channels and some basic performance reports. The Growth plan gives you tools to automate the workflow and allows managing multiple brands. Finally, the Scale plan provides more customization options. For instance, you can create custom roles and permissions, security policies, and forms.
How Much Can Kayako Cost Eventually?
Let's meet Molly. She runs customer service at a telecommunications company. Molly has 9 customer service agents on her team.
She decided to get the Growth subscription which retails for $30 per agent/month billed annually. Thus, Kayako will cost Molly $300 per month, including herself.
However, Molly realized that she would need to pay extra to integrate Kayko with other tools they're using. Kayako does not offer out-of-the-box integrations. Thus, Molly will have to pay an additional $39 for Zapier.
Help Scout
What Companies Use Help Scout?
Help Scout is used by Computer software and Internet companies, and IT companies. Help Scout is also popular in marketing and retail. And because Help Scout is HIIPPA compliant, it is also used in healthcare.
Help Scout pricing
Help Scout has very straightforward pricing. You can choose from 4 tiers: Basic, Standard, Plus, and Company.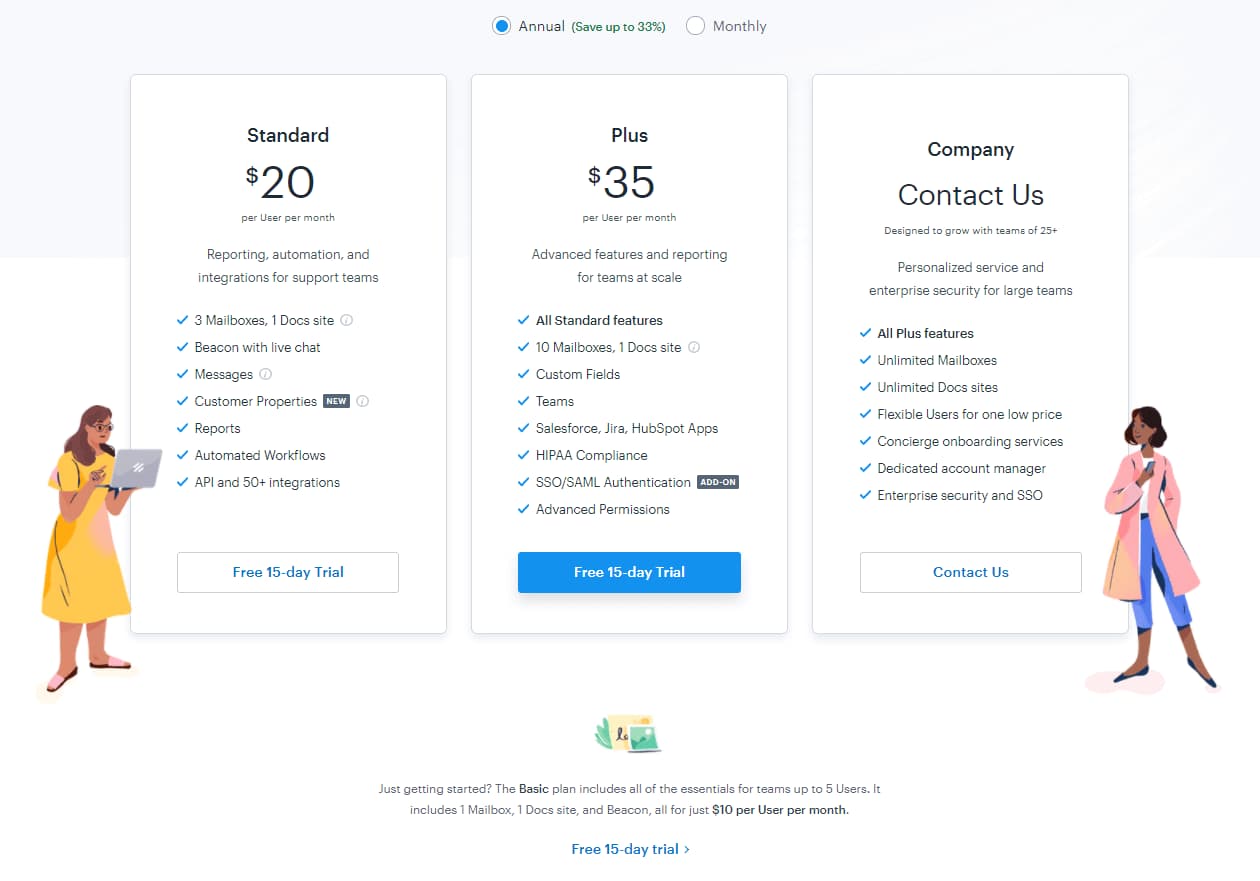 The Basic plan has all the essentials if you're just starting. The Standard plan offers some power-ups like automation and integrations. If you're looking for something even more advanced, then Plus is your choice. This plan allows you to integrate with Jira, HubSpot apps, and Salesforce. And it is HIPAA compliant, which is a must if you operate in healthcare. Lastly, the Company plan allows you to add more users for a lower price and provides advanced security measures.
If you want to get a taste of Help Scout, you can sign up for a 15-day trial.
How Much Will Help Scout Cost Eventually?
Greg is the owner of a small marketing agency. He has 4 customer service representatives on the team and wants to use Help Scout to improve their workflow.
Greg chose the Plus plan because he needs the native integration with HubSpot and custom fields. Greg will have to pay $140 to let his team use Help Scout.
Other than that, there's not much additional cost that comes with Help Scout. Greg will have to pay up if the team scales or needs integrations that are not offered by Help Scout.
Zoho Desk
What Companies Use Zoho Desk?
Zoho Desk is primarily used in IT services and software development. However, Zoho Desk is also popular among retail, computer hardware, education, and wholesale. The help desk is used equally by small (10-50 employees) and mid-sized (50-200 employees) companies.
Zoho Desk Pricing
Zoho Desk offers you four plans: Free, Standard, Professional, and Enterprise. All plans allow a 15-day trial so that you could test the platform.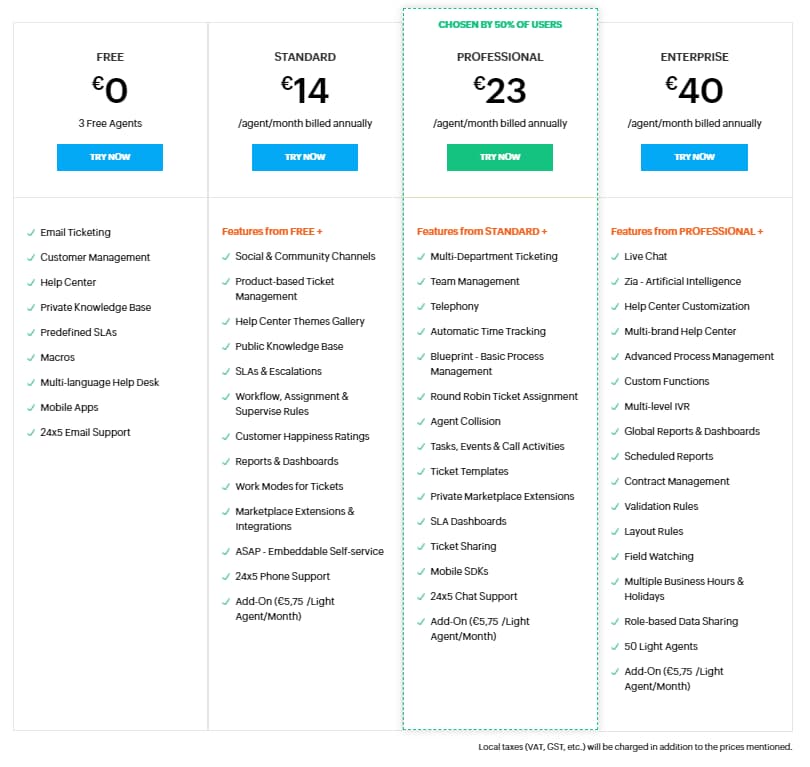 At first glance, the Free plan offers all the necessary tools to run customer support. However, you will quickly realize that there's not much you can do with a free package.
As you move through the plans, each new level adds more features to those already offered by the previous one, and by the time you get to the Enterprise plan, more than 200 features are included.
How Much Can Zoho Desk Cost Eventually?
Stephanie is an operations manager at a software development company. They decided to use Zoho Desk because they already use Zoho Invoice and some other Zoho products.
Stephanie decided to go with a Professional plan. Thus, the company will have to pay 161 euros for 7 seats billed annually. This equals about $192.
How to Migrate Your Data to a New Help Desk Platform?
Back in the day, you had to use XML, CSV, or other types of files to migrate your help desk data. And if you had the resources, you could use the API. However, migrating manually can be a lengthy and costly process for the company. We know from our experience that migrating on your own can take up to a month. But it can take only a few days, sometimes even a few hours, if you use an automated migration tool.
With Help Desk Migration, it will take you a few clicks to set up your migration. Sign up, connect your systems, choose the data you want to migrate, and run the free test. Then, when you're ready, migrate all of your data. As simple as that!
Conclusions
As you can see, Zendesk, Salesforce Service Cloud, and Intercom are the top-3 most expensive customer service tools from the list. If you're looking for something more simple, then you might want to consider other options. But remember that a lower-cost pricing plan can eventually cost you more because of poor functionality. Sometimes, it makes sense to pay more for better software.
If you decide to switch to another help desk to get a better price, Help Desk Migration is here to help you effortlessly migrate your data to a new system.