We just can't resist covering new and old help desk solutions. Over the past five to seven years, the industry evolved tremendously. Tools have changed quite a bit. What was once an exclusive feature can now be found even in starter plans. All of this is thanks to an ever-growing competition from smaller vendors.
Indeed, nowadays, small tools deliver, essentially, big features. Standardization is to blame, but who cares if the end consumer wins. It is all to the benefit of the user, which is why Dixa, a small Danish customer relationship (!) company, is so fascinating. It delivers superb functionally at a fraction of the cost.
Or so it may seem.
That's right, we are here to cover the system and verify whether the hype around the tool is justified. We'll cover the basics, the features, and try to uncover the drawbacks. We also feel that this is a special case. Recently, the Copenhagen-based Dixa raised €32.5 million to end bad customer service. We are here to put that to the test. Thus, without further ado, let's dive into our Dixa software review.
What is Dixa Software
As we mentioned in our intro, Dixa is a customer relationship company. It was built to help companies unify emails, chats, phone lines, messaging systems into one coherent hub. One of the key aspects of the system is its ability to automate repetitive and mundane work. Thanks to the included customization suite, Dixa also offers a lot of personalization to both customers and agents alike.
Finally, Dixa Software comes equipped with an incredible analytics system. Whether you need to see how well a single agent performs or evaluate the effectiveness of your service strategy, Dixa can assist you with it. All of this is powered and further enhanced by a clear and snappy user interface that has every function, every toggle, and every button strategically placed.
Core Features and Benefits
And now for the features. The system has a lot of them, but we'll be mainly focusing on those that we feel are the most important. What this means is that we'll be excluding stuff such as pre-configured templates, pre-baked automation presets, etc. as these are widely available in any other help desk system.
Features
Dixa is packed with functions, but we'd like to point out three of the most important ones. These are the built-in CRM, the Distribution and routing module, and finally, the team management system.
The Built-in CRM. While Dixa, at the end of the day, is a help desk software solution, we simply cannot skip the CRM module. It is not only capable of delivering the core feature set but has some advanced systems built-in too. The CRM can keep a conversation history, track visitors, contact recognition, and tags with notes. Mind you, these aren't the sole features you'll get access to. It is fully equipped to serve a small to medium size company. Very impressive.
The Distribution and Routing Module. As the name implies, the distribution and routing module will help you connect the many dots you have. Whether it is communication or automation, this system will get you started in no time. You can even use it to perform skill-based routing. The tool also has triggers that are based on the wait time. Finally, you'll get access to queues that you can prioritize using rules.
The Team Management System. Last but not least, Dixa offers a separate team management tool. This system is less about customers but rather the agent that serves them. The management system comes equipped with an agent prioritization tool that'll organize your ticket queue. As well as there is an agent role sub-system that will let you change and add permissions on the fly.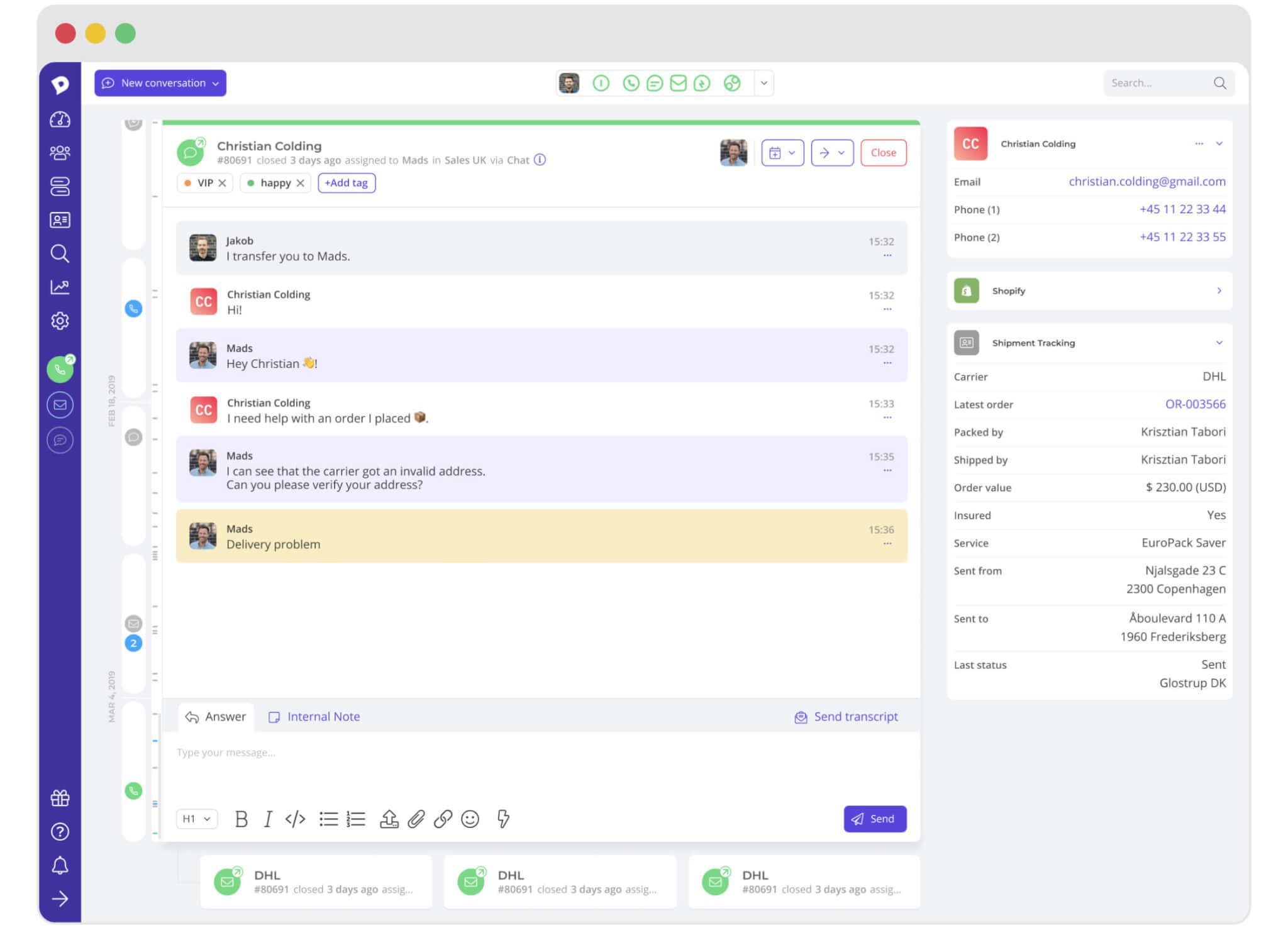 Source
Benefits
We talked about the features, let's also cover a few benefits you'll be getting when opting for the tool. And the first one is the ease of use. The simplicity of the entire tool will allow you to master it faster. Not to mention, use it more efficiently. You won't be seeing any complex transitions, extra windows as all of this is cut out. All of this leaves you in a spot where your agents can focus solely on delivering good customer service.
Another benefit of the tool stems from the fact that Dixa is a cloud-based solution. What this means is that you can use it from any point in the world on any device. And speaking about devices, Dixa is accessible on all platforms that have a modern web browser. Whether it is a phone, a tablet, a smartwatch, or heck, even a refrigerator, for as long as it is running the latest Google browser, you can use Dixa to the fullest, including VoIP calls for those curious.
The third benefit of the tool is its scalability and expandability. With Dixa, you don't just grow in size but can add more features through integrations. You aren't limited to what the vendor offers and can add stuff to the platform through APIs and tokens.
Key Drawbacks To Consider
While Dixa is incredible for what it offers, it also has a few issues that you must know about before committing to it. There aren't many of them, but those that are there might shift your opinion.
Lack of a Proper Mobile App
While Dixa Software comes equipped with an excellent mobile version of the tool, it does not have a dedicated mobile version. For many, this might not seem like a drawback, but mobile apps have come a long way. They provide more features and can take advantage of the hardware more effectively. Not to mention the fact that you will be getting push notification, screen banners, etc.
Minor Bugs
Let us be very clear, this isn't rampant. In fact, it happens rarely and only around new or very complex features. But the tool does have bugs (I mean, what tool doesn't?) that you must know about. Take, for instance, there are times when certain clients couldn't attach files, nor could they review attachments. Then there is the translator system that can behave like it has its mind. It happens at random, but it can catch you off guard, so keep this in mind.
No Auto-updates
The name says it all. Dixa can update itself over the cloud, but if there is a big update, then you have to do it manually. Not the worst thing in the world, but it is definitely annoying as similarly priced systems don't have this issue, or rather, requirement.
Tech Details
And now for our favorite part, the technical specifications. Similarly to how hardware reviewers evaluate tech, a software tech spreadsheet covers platform support, language availability, and other similar things. Here's how Dixa Software holds up under the microscope:
Table 1: Dixa Tech Details
Language Support
Pricing Options
Business Size
Deployment Method
Devices Supported
Only English
Annual Subscription
Monthly Subscription
SMB Size
Large Enterprises
On-Premise
Cloud Hosted

Windows
Mac
Mobile
Web-devices
You can tell just by looking at the table above that Dixa is still in its early stages. It has a lot of promise in that they have support for on-premise hosting from the get-go. The fact that you have to pay for multiple languages is quite puzzling as it limits the reach of the tool. The rest of the specs, on the other hand, the tool is well rounded. Good stuff!
Pricing
And now for the meaty stuff. The pricing. We know the features, we know about the benefits, and we know what drawbacks the system has. And well, spoiler alert, Dixa is quite pricey if compared to other solutions, but that is to be expected as the system is targeting bigger businesses. Here's how the pricing table looks like:
Table 2: Pricing Options
Professional $99 agent/month
Premium $139 agent/month
Platinum $179 agent/month

Email, Chat, Voice, Facebook Messenger, WhatsApp & SMS
Customer & Agent Ratings / Feedback
Smart and actionable flows for all channels
AI-based customer sentiment
Up to 5 languages
Real-time Dashboards
Core API
Analytics (Conversations, Agents, Metrics)

All from the previous plan

Conversational Assistant
Contextual Routing
Expanded Analytics
Unlimited collaboration users
Unlimited languages
Voice Providers
Enterprise SLA
Unlimited API
Guaranteed data centre location (add-on with fee)
Outgoing Webhooks

All from the previous plan

Contextual Automation
Roles & Permissions
Customized Enterprise SLA
Advanced analytics designer
As you can tell, the feature set is quite big, and the higher the plan, the more value you get. However, for our money, we feel like the Professional is not worth it. Start with Premium and gradually shift to the higher tier. Also, keep in mind that this feature list isn't definitive and can change as new functions are added. Be sure to visit our blog for future updates.
User reviews
A tradition we like to follow is to present you with other opinions. We feel that we do a good job, but we can't cover every nook and cranny and fit it in a reasonably sized article. Either way, here's some Dixa Software reviews.
Pros: A tool that is easy to use that also happens to be good at delivering flexibility. All this improves business performance, but the best part is that the tool is constantly improving, which is why it is great. We will continue to use it.
Cons: We couldn't find any major issues with the system. However, I just hope that the text options in the text to speech system would improve a bit.
Pros: The best part about Dixa is that it is a new company that isn't built on a rigid foundation. To us, the company feels more open, more flexible, more reluctant to embrace new ideas. The developers are constantly working to develop new functions.
Cons: We cannot use all the features it has. Some of them work in our case, others don't. However, this is what it means to develop a software solution.
How to import data with HDM to Dixa
We can be here all day talking about the many ways you can move your old data to Dixa Software. But instead, we decided not to waste your time with another info dump and just leave you with a guide on how you can migrate your records from Dixa using HDM service with no efforts. It is not only short but explains all the nitty-gritty details you might need to know about the process.
And there you have it. Our dedicated Dixa Software review. Suffice to say, the platform is very promising. The entire feature set is well thought-out, and the pricing isn't draconian. That being said, the tool does have its set of limitations that you might want to consider before committing. But that's all from us for now. Be sure to come back for more help desk reviews, and if you need help moving stuff, we are your best place. Thanks for joining us.