With so much buzz surrounding Kayako help desk software whether it's a good tool or not that we've decided to tackle the subject ourselves. We won't be covering each and every aspect of the tool as it would take us forever, what we will do is list the most helpful pros and the most damaging cons for you to form an opinion. Thus, without any further delay, let's see how the good and the bad stack up.
Now if you don't know what is Kayako, then it is a help desk system that is designed to help companies provide better customer support at a cheaper cost. It features a wide range of communication and automation features. It also has a live chat tool appropriately called, Kayako live chat. And that's pretty much it, now on to the pros and cons of Kayako.
Pros
We'll start with the good news cause who doesn't like the good news first. To be fair, the Kayako support suite is very impressive and each function can power-up your company's performance drastically but these are features and not benefits. Now that we got this out of the way, here are some of the most beneficial things you can expect from the tool.
Flexible Pricing System
Now one of the most noticeable benefits of Kayako is its pricing system. It is very flexible and will fit just about any budget. But it's not just pricing, it's the contents. For just $15 per agent per month, you get access to a myriad of functions, including but not limited to 600+ integrations with Zapier, email, chat, and social media support, access to a basic Help Center, assignment rules, Insights, and more. This is a lot of value for such a small amount of money.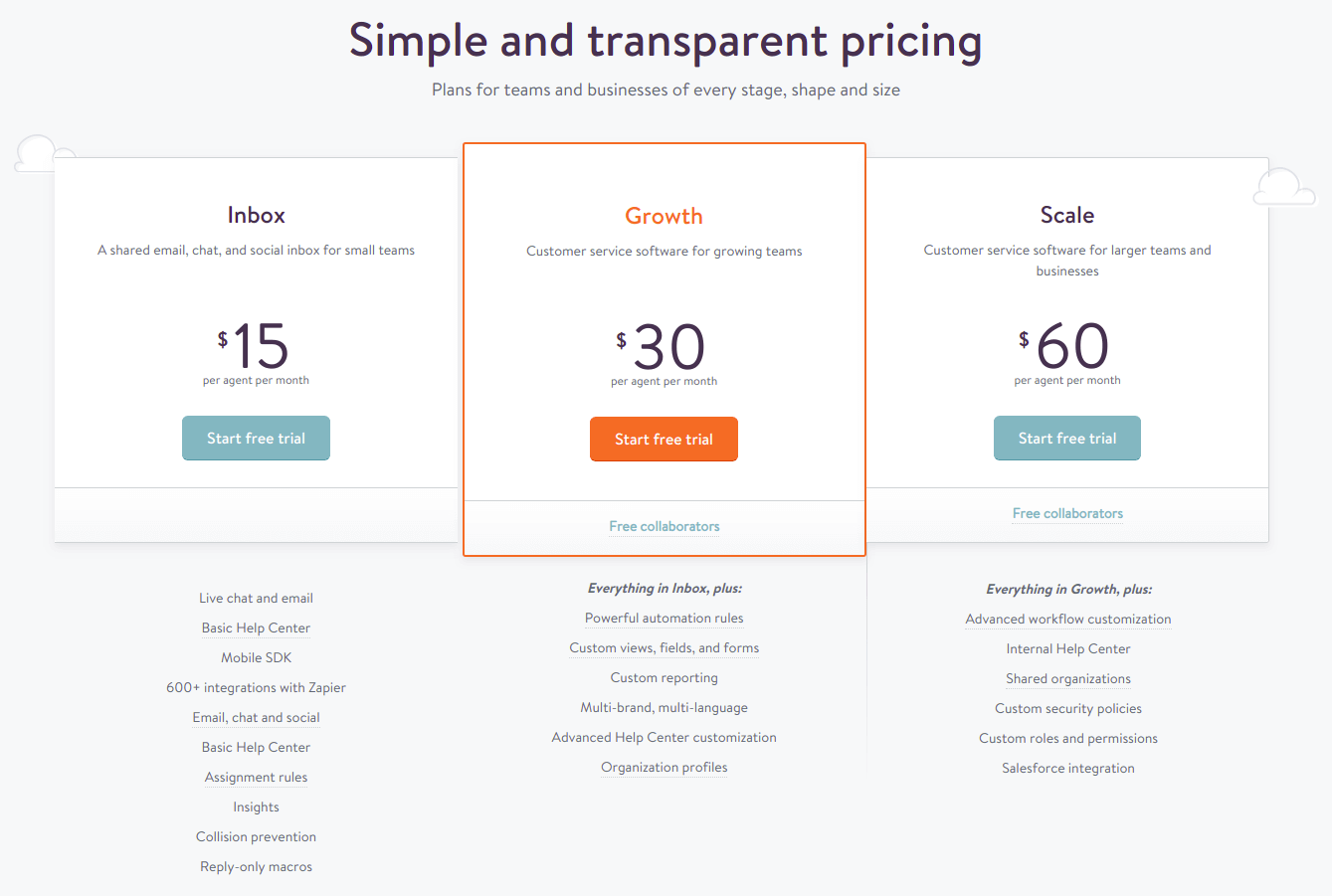 Kayako Pricing List includes 3 plans: Inbox, Growth, and Scale.
High Scalability
Next on our list is scalability and suffice to say, Kayako was built with this in mind. This is a very forward-looking help desk system that has a plethora of features that you can magnify from small business size to suit a multi-billion enterprise. Outside of features, you can install the system on your own web host, or even use a third-party hosting solution. Your only limiting factor is your wallet. If you don't have the funds to use the Scale plan ($60 per agent per month) then you'll be stuck with the set amount of features in whatever plan you are using. Other than that, it is a very powerful solution and is up there on par with the very best desks.
Accessibility
Another substantial (even cost-saving) benefit is the fact that Kayako is very accessible and is designed in a way that requires little effort from you. Indeed, from menus to dashboards, to chats, to toggles, everything is positioned extremely convenient. The design of everything is pleasing, and this goes to the mobile version as well. You can access the tool on just about any device you like and the amount of features is not compromised. Overall, you will not be disappointed.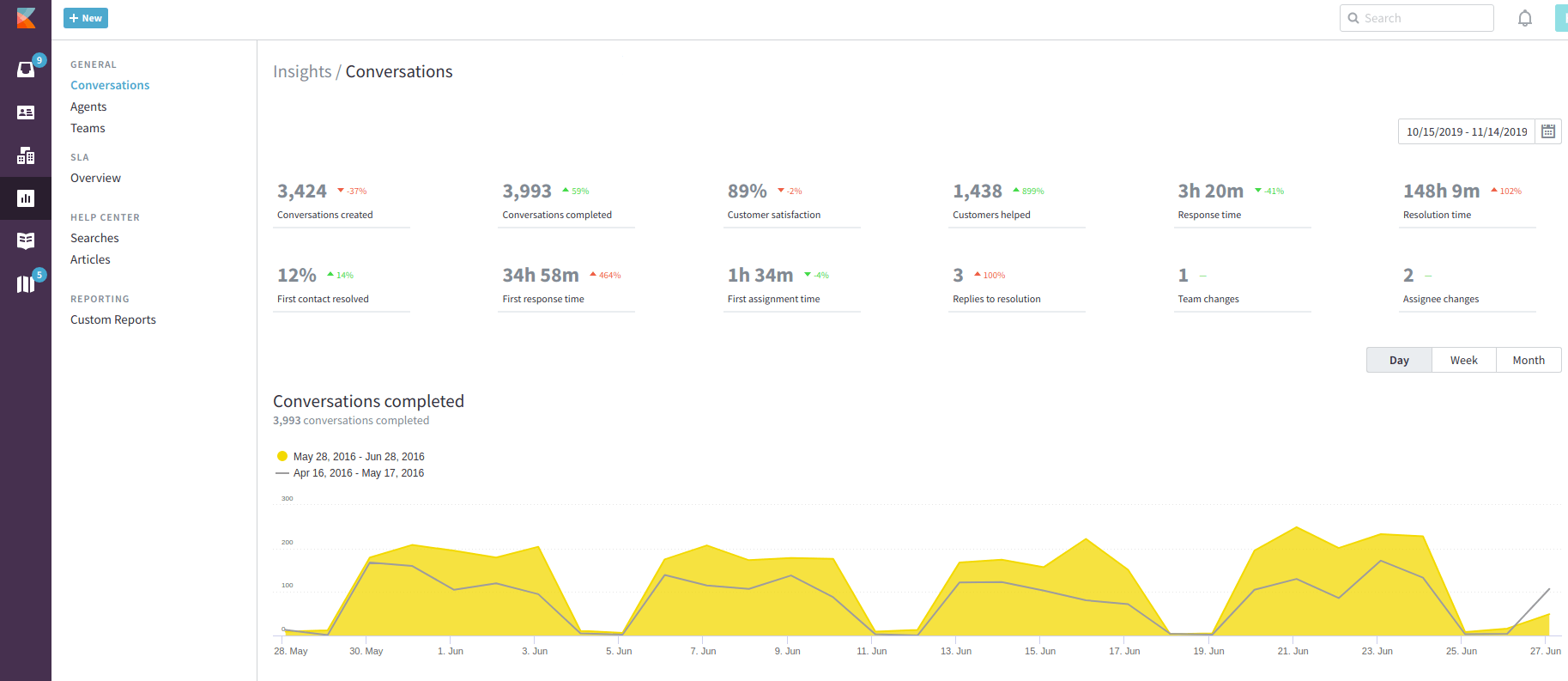 In Kayako dashboard, you can see insight built on the basis of your support data.
Cons
Alright, now that we covered the pros, it's time we look at the cons. There aren't that many of them but we did manage to find a few. But enough chit-chat, let's see how the pros and cons of Kayako stack up against each other.
Features Locked Behind A Paywall
We already briefly mentioned that your scalability is kinda limited by your plan. Frankly, the same can be said about the better features. For you to gain access to the very best the tool has to offer you must ditch the basic plan and opt for the highest bid. While it's true that there are a few good functions on lower-tier plans, it just doesn't cut it. Take for instance internal help center, it is locked behind a paywall. Now for some of you, this might not be an issue but for our money, it is quite the con. This wouldn't be such an issue if it wasn't available in competing systems.
Live Chat Is Not The Best
While it does work you have to understand how Journeys and Conversation modules operate in order to take full advantage of the chat system. Sure, the previously mentioned modules do provide benefits such as context and history, your agent must understand how to use them effectively and this can take some time. We wish it was an option or something cause not everyone can afford to put their chat on "pause".
Infrequent Updates & Lack of Localization
If you are looking for constant updates and upgrades, you are in for a surprise. Kayako doesn't do them very often. Sometimes, getting new features takes time but to put credit where credit is due, you get absolutely polished, bug-free functions that "just work". But then again, if time is of the essence, you probably don't want to wait for stuff to arrive the way it does. The last issue is the fact that the tool only comes in English. Yep, no localization whatsoever. We decided to merge these two as they aren't as big as the others. But we recognize that for some of you this might be a real issue so keep this in mind.
Verdict
And that's all we have for the pros and cons of Kayako today. We can't say that Kayako is bad, in fact, it is a very good tool. But like everything in this world, you have to give it a try to truly feel whether it is your kind of software or not. If you want to see how Kayako will handle your info though, we can help, just leave us a message and we'll get you started in no time.

Migrate to Kayako or any other help desk
A secure transition with an automated tool
Set up Free Demo