Gorgias Data Migration Checklist
When you decide switching your help desk system, be ready to make a plan. That's why our team has prepared a Gorgias migration checklist so you don't have to.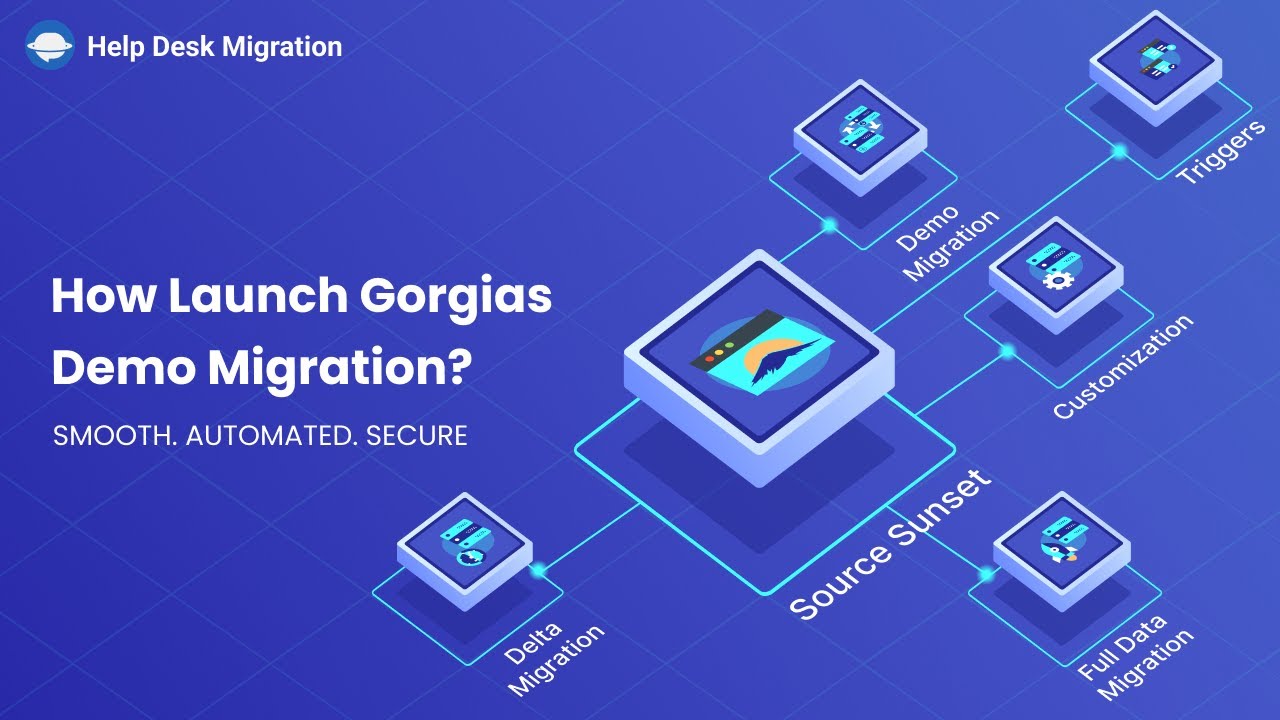 Before you start, note that Migration Wizard doesn't import the following records to Gorgias in a default migration:
Organizations
Groups
Inline Images
Knowledge Base Articles
Knowledge Base Attachments
Custom Fields
CC in Tickets
Attachments that are larger than 10 MB
If you still want to migrate the listed data, reach out to our support team.
BEFORE YOU SET UP THE MIGRATION
Note: All tickets and related data transfer similarly whether you run the Demo Migration or Full Data Migration. If some records don't migrate during Demo Migration, they won't be imported to a target platform during the Full Migration.
So, you need to check every report on migrated, failed, and skipped records after Demo Migration. If you need details on failed records, reach out to our support agents.
1. CHOOSE A DATE FOR MIGRATION
Choose a date for data migration to give yourself enough time to prepare for the transfer thoroughly. And pick up the day with the smallest amount of help-desk-related work.
2. SPEAK TO YOUR TEAM
Let your agents know about the upcoming changes so they have enough time to adjust to Gorgias. Delegate responsibilities. Your team can help you examine the Full Data Migration results.
3. CONSIDER THE SPECIFICATIONS OF GORGIAS MIGRATION
If your tickets have more than 30-40 comments, you are highly recommended to run a custom migration.
The updated date will be considered the date of the migration.
You can change the updated date of the already migrated tickets by renewing the ticket update time after the creation of comments.
4. CONSIDER POPULAR CUSTOMIZATIONS
If you have any specific requirements for data migration, contact our support team. We offer an option like
Data filtering by different criteria (creation date, tags, custom fields, organizations, assignees)
Change of the default migration process (migration of ticket events as private notes, migration of the information related to inactive users, etc.)
Migration of the information from the integrations (migration of linked Jira task ID or URL)
Adding information to the migrated data (marking tickets with extra tags, email addresses of CC users into a first private note)
YOU'RE ALMOST READY
1. DISABLE RULES
To avoid changing ticket statuses during migration, disable rules in Gorgias before starting migration.
Go to Settings > Rules > check what rules are 'On'> disable them by clicking the toggle.
2. FIND ACCESS CREDENTIALS
When initiating your Free Demo, you need admin access credentials to the source help desk and Gorgias.
Here is a list of data you need to connect Gorgias to the Migration Wizard:
URL: URL of your company's Gorgias account.
Email: Settings > REST API > Username (your email address).
API Key: Settings > REST API > Password (API Key)
3. RUN YOUR DEMO MIGRATION
Test the service with the Free Demo Migration. Migration Wizard transfers a sample of data to Gorgias so you can check records on a platform and figure out whether you need some adjustments of the default workflow.
Sign in to your Migration Wizard account.
Connect your source and target platform.
Choose the data you want to import.
Match agents.
Map tickets.
Select automated options.
Initiate your Free Demo Migration.
Note: You can edit your Demo settings and run test import to Gorgias several times. But note if you have the same setting, then results of the second, third, etc. Demo will be the same.
AFTER THE DEMO MIGRATION
1. CHECK THE RESULTS IN GORGIAS
Once your Demo Migration is complete, check the results and download reports on migrated, failed, and skipped records.
What to look at while you are checking migrated records?
all the comments got migrated, and the authors of the comments correspond in your source platform and Gorgias
the tickets are assigned to the correct agents
the customers and the attachments migrated correctly
Note: Check the integrity of imported attachments. Go to your destination platform and download them to see if they were transferred properly.
For more details, read a detailed guide on checking the results of demo migration in Gorgias.
2. REQUEST A CUSTOM DEMO
If you tried our one-time Demo Migration and still need to test specific data importing, you can request a Custom Migration, and our team will set up a tailored Demo. Contact us to discuss your requirements.
BEFORE THE FULL DATA MIGRATION
1. CHOOSE YOUR MIGRATION OPTIONS
During the Full Data Migration, you can work on your source help desk. However, Migration Wizard won't migrate any data updates or new records appeared during the transfer. To import these records, you can apply Delta Migration. Or the second option is working with Gorgias with disabled Rules.
As the Full Data Migration runs in cloud so you can check the progress from time to time or wait for our team to contact you.
2. START THE FULL DATA MIGRATION
As soon as you click on Start, the Full Data Migration begins only begins if:
The payment has been confirmed. Pay in advance, especially if you have a definitive time when you want to start. Or schedule the migration to run automatedly based on that timing.
You've agreed to the provided checklist. Go through each point, and check the corresponding box.
3. DON'T CHANGE ANYTHING
Resetting API key or deleting the source data can cause your data migration to fail.
AFTER THE GORGIAS IMPORT IS DONE
1. EXAMINE EVERYTHING
When the Full Data Migration is complete, you still have a job to do. First, inspect if everything migrated correctly. According to the service SLA, you have five days to check the results until your data migration gets archived.
If you can't find some records, check if you have chosen the right search filters for all tickets and any period. If the problem remains, drop a line to our support team.
2. SET UP A NEW PLATFORM
Enable all the Rules you had to turn off before the migration process
Redirect email forwarding
Switch on all communication channels