Technology revolutionizes industries, and customer support is no exception. With the rapid rise in innovation, companies are on their toes to get that digital transformation into their workflows. Frankly speaking, if the strategy fails, no help desk platform will make your business succeed. So, if you have done your homework, and know what tools you need, let's go down to ServiceNow vs Zendesk comparison.
If you want to outline a rough difference between these two business management solutions, then here it is:
ServiceNow focuses more on the IT management industry and provides ITSM and asset management, business workflow automation, and app development.
Zendesk delivers multi-channel ticket management, ITIL standards, workflow automation, self-service, and analytic options.
However, let's make a quick overview of ServiceNow and Zendesk to better understand each tool.
ServiceNow Overview
ServiceNow is a workflow automation solution uniting multiple business functions like process management, case management, HR, support, and security. With a primary focus on the IT space, it reached the level of enterprise service management platform for a range of other industries, including banking & financial services, professional services, and manufacturing.
Source: ServiceNow
ServiceNow delivers a wide selection of pre-built ITSM tools that can break down into 5 categories: IT Service Automation Apps, IT Business Apps, Project Portfolio Management, Shared Service Apps, and ITSM for enterprises. With the automation apps, you can put on pilot the following processes:
Incident/problem management
Asset management
Configuration management
IT cost management
Change & release tracking
Service catalog with different types of products
Another benefit is the access to complete project management, planning and scheduling, task assignment, and tracking.
Zendesk Overview
Zendesk is a leading customer service platform that enables companies to provide an exceptional customer experience. It offers a robust ticketing system, cross-channel support, email management, and other tools for businesses of all sizes across hundreds of industries. In addition, Zendesk's capabilities are constantly expanding and now cover the critical service management functions, including asset management, self-service portals, tracking problems, trouble tickets, and changes. Zendesk adheres to the best ITIL practices to deliver a superior support service.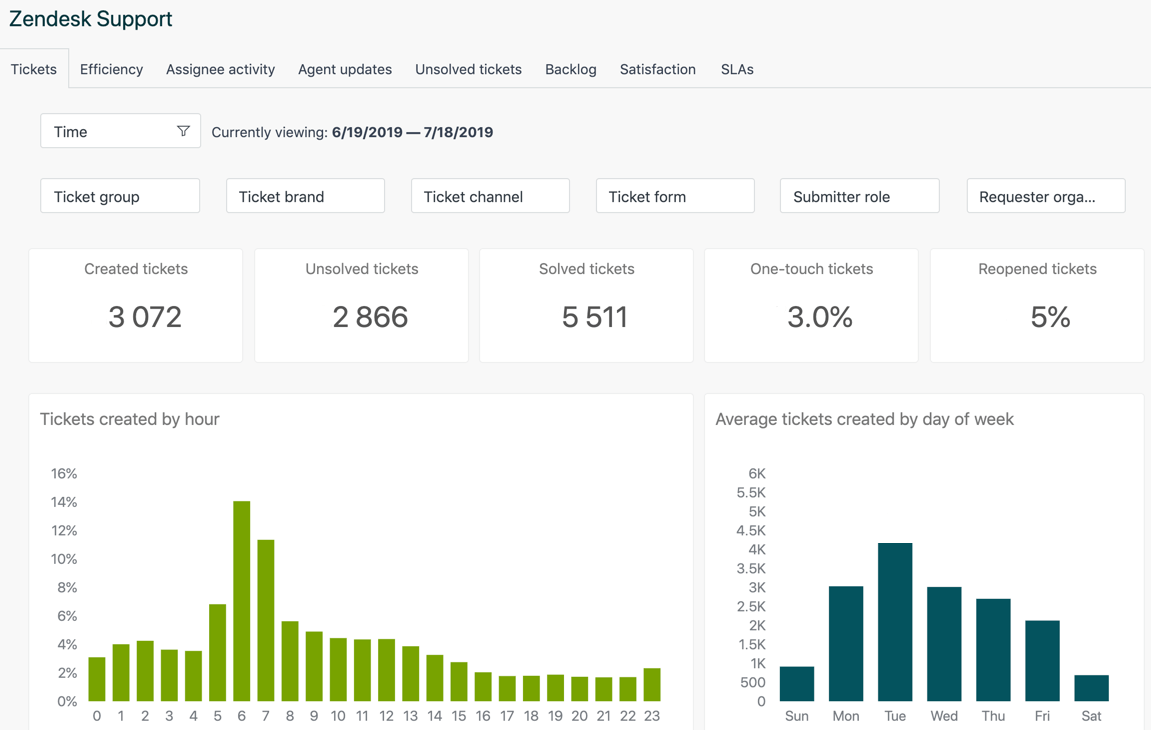 Source: Zendesk
Overall, Zendesk provides you with such benefits:
Help desk automation
Agent collaboration
Macros
Real-time data
Custom views
SLA management
On top of that, Zendesk has a massive marketplace with third-party integrations and applications, including mobile apps.
ServiceNow vs. Zendesk Comparison
Now, let's run through ServiceNow vs Zendesk similarities and differences. First off, you need to decide what tasks the help desk software handles. ServiceNow comes out to be a part - an IT service management app - of a business framework that automates and builds custom workflows. Also, ServiceNow goes with built-in chat and phone support. But the app isn't a pure standalone platform.
Talking about Zendesk, the vendor offers ITIL certified service desk management. Still, the functionality proves to be more oriented towards product support.
Learning Curve
If you compare ServiceNow vs Zendesk interfaces, getting along with the ServiceNow dashboard may be complicated. The jam-packed menu turns out to be less useful and comprehensive.
ServiceNow works only in the cloud. While Zendesk provides native apps for Android and iOS devices. So if you want your support team to resolve tickets on the go, Zendesk can make it happen.
Let's step aside from the user interface. The cold hard fact is that working with any platform may become challenging and you need help from a vendor.
Zendesk enables email, live chat, or phone support 24/7. And the more expensive your subscription, the more help options you get. Plus, there is a customer portal, Zendesk Guide knowledge base, webinars, training, and certifications for admins, agents, and developers.
As for ServiceNow, you get access to customer community, knowledge base, and documentation. You can also get trained and certified on how to set up and use the vendor's apps.
Pricing options
The comparison of the initial price and further maintenance costs may be eye-opening for you. But that is a bit hard to provide. Why? Well, ServiceNow doesn't offer numbers for their pricing. They say the cost depends on your industry type, company size, a stage of your business growth. Still, they ensure that their packages are flexible and will be tailored to your unique requirements. Drop them a line to get a custom quote.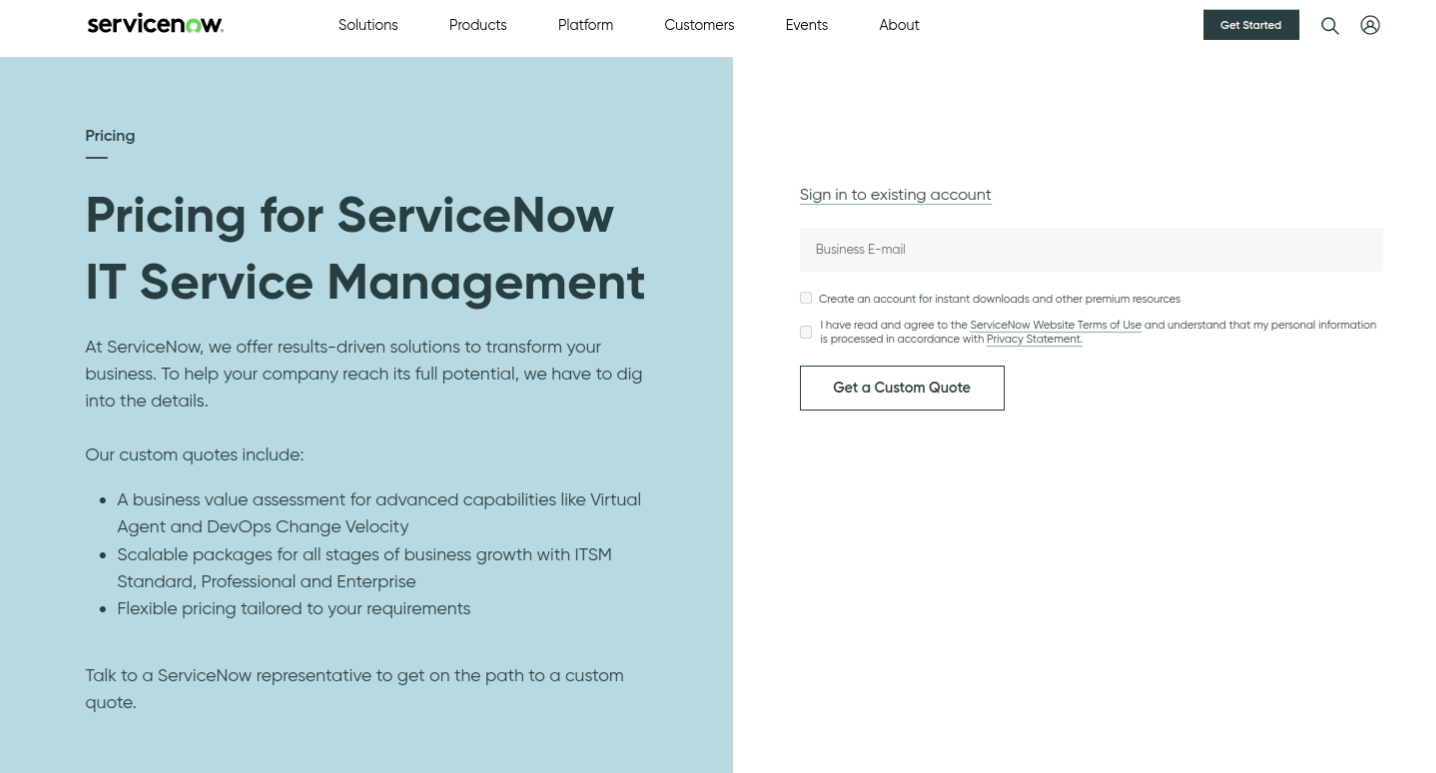 Source: ServiceNow
Zendesk Support starts from $19 use/mo if you want to pay monthly. There are three pricing packages with a growing number of options and features in each. This application works as a multi-channel ticketing system. And the live chat, phone support, and knowledge base tools are free in Lite versions for all Support plans.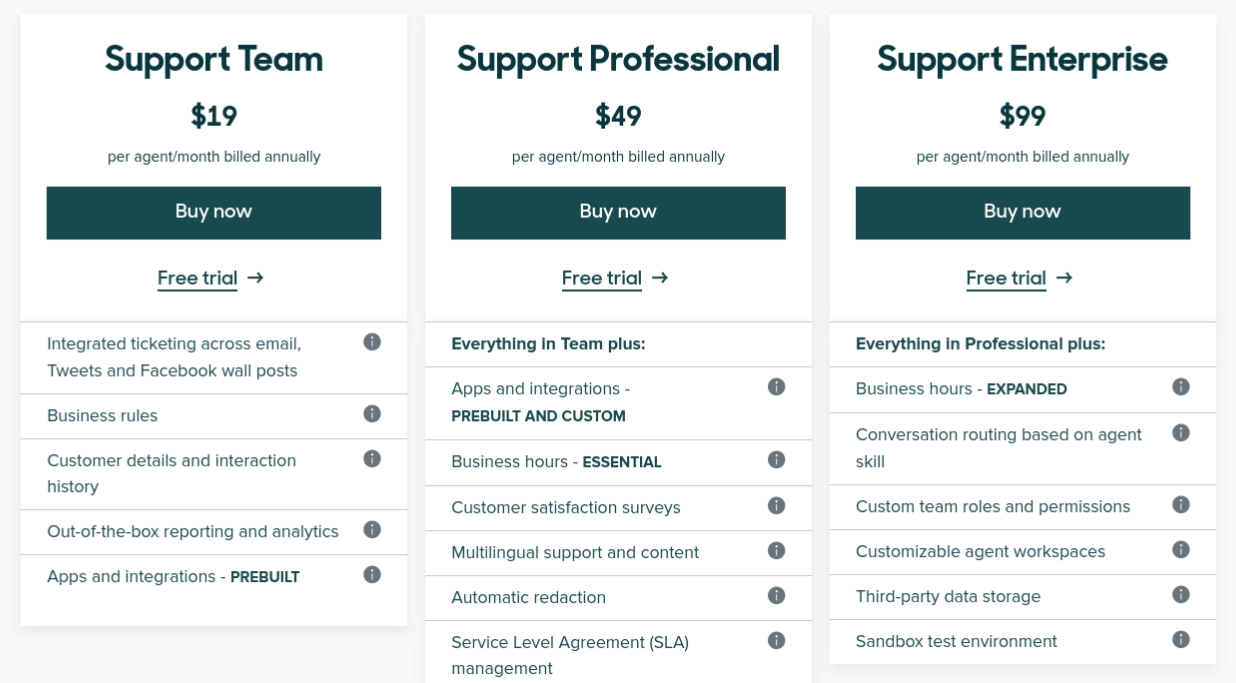 Source: Zendesk
Note that Zendesk Chat, Zendesk Talk, and Zendesk Guide have separate pricing.
But, the price for Zendesk might increase if you choose Professional Services. It's a set of varied services focused to help you set up an instance, make a smooth transition from legacy products, or transform the CX operations. And it all comes with a price starting with $8K per 1 channel.
If you want to migrate customer data from another help desk to Zendesk, choose Help Desk Migration. You just pay for the migrated records, going from $39. Whether you want to consolidate Zendesk instances or other ticketing systems, you can do it all with Help Desk Migration.
Integrations to Use for Customer Service Improvement
Companies apply many business apps and tools, including back-office systems. That's why the open API and integration capabilities impact the choice of the help desk platform.
ServiceNow Store provides the Now Platform Apps (nearly 219) and Integration (nearly 326.) These tools will help you to manage and improve your business in HR service delivery, business management, operation management, service management, security and risk, service management, software lifecycle, and others.
In Zendesk, the integration capabilities depend on the subscription. All plans, apart from the Essential plan, have access to public apps and integration from the marketplace. The Professional, Enterprise, and Elite enjoy building private apps and integrations.
You can get apps to advance analytics and reporting, collaboration, productivity and time-tracking, email and social media, IT and project management, knowledge and content, survey and feedback, telephone and SMS, eCommerce, and CRM.
If you have ever thought about Zendesk ServiceNow integration, you can perform it manually or entrust this procedure to integration solutions. Wonder why you would need such a combination? Say your company includes two large teams: customer service and developers. With ServiceNow Zendesk integration, you can streamline ticket resolving by proper task distribution. In addition, the developers can use ServiceNow for agile project management and tracking issues.
In contrast, customer service agents can use Zendesk to manage support requests and transmit data about bugs and issues to the development team. Another use case for ServiceNow and Zendesk integration is the collaboration between the sales teams and designers. The first gathers customer demands, while the second implements these demands into their projects. Thus, you can improve your support management experience and company culture in one go.
Zendesk vs ServiceNow: What's Hot and What's Not
Help desk platforms are about multitasking and using technological advancement to process enhancements. Here is a brief comparison of the main Zendesk vs ServiceNow features:
Account management in both apps has a customer account and contact management. Thus, with Zendesk, you can manage accounts for individual customers, while ServiceNow allows you to add or change customer locations and addresses.
ServiceNow has built-in product and asset management options. You can manage multiple services and products, handle asset lifecycle, track purchased products, asset location, ownership, and the like. With Zendesk, you can get these capabilities only via integrating third-party apps.
In contrast to Zendesk, you can get a service contract and entitlement management with ServiceNow. Due to these options, you can define the entitlement for product, account, asset, or contract. ServiceNow offers service contract management for all customers. Besides, you can create a set of unique conditions for every customer and manage every stage (creation, approval, activation, and expiration.)
As for the communication channels, ServiceNow lacks social media integration. So, you can't offer your customers support via Facebook or Twitter. Zendesk, in its turn, offers social media and email integration with your account, so you can get all customer interactions gathered into one place.
The knowledge base opportunities are quite similar in managing content, categorization, and access for departments or groups. But with Zendesk, you can also import your articles as Google Docs.
Last but not least is case management. Both ServiceNow vs Zendesk provide ticket views, assignment, and routing, SLA and escalation management, automation, and workflows. And you can set access rules to displaying tickets for agents or groups.
In Zendesk, you can have light agents. If you have experts that can fix issues or problems, you can add them as light agents without buying a separate license for each one. Yet they can only view and leave private notes on tickets.
Another benefit of Zendesk is for the support agents. Thanks to macros, your team can create a set of pre-defined answers to common questions and share them with colleagues too. And the guided mode will ensure that reps are playing fair and don't hand-pick tickets.
Final Thoughts
There are many aspects to compare out there; you got a brief coverage of the most important of them. Now you evaluate the difference in Zendesk vs ServiceNow pricing policies, features, and integrations. If you need feedback from real users, check through reviews on trusted recommendation sites. Either way, a great help desk platform is a thoroughly tested platform. In case, you have doubts - run a 14-day Zendesk trial or request a demo from ServiceNow.
And when you decide to migrate your help desk data to a new platform, you can always contact Help Desk Migration for an automated switch.
Frequently Asked Questions
ServiceNow focuses on IT Service Management, app development, and business workflow automation. On the contrary, Zendesk is largely oriented toward multichannel ticket management and self-service.
Yes, you can integrate Zendesk with ServiceNow using such apps as Automate.io, SyncSnow, and more.
Since ServiceNow offers custom quotes, you cannot compare Zendesk vs ServiceNow pricing. According to some reviews, ServiceNow implementation costs the same or more.