Are you looking for a Zendesk alternative but find the proposition somewhat underwhelming? Then, you aren't the only one. In today's market, new platforms are introduced every day but not all of them can match Zen's technical prowess. Yet, one platform position itself as the best alternative to Zendesk money can buy. Is it actually the case though? Or is it all just words?
To find out, we've put the tool under the analysis machine. That's right, we've tested all aspects of the system and aligned them against Zendesk to truly find out if this is the case. So, join us as we discuss all the features the platform has to offer and define whether or not the tool can match Zendesk. Let's get started!
Kustomer Overview
Let's start our Kustomer vs Zendesk analysis with a detailed overview of Kustomer. So, long story short, Kustomer position itself as a new kind of help desk system, a tool that doesn't follow typical help desk conventions. Firstly, it aims to deliver high-quality functions at a reasonable price point. And, unlike other vendors, Kustomer parent company strives to bridge the gap between advanced and simple features. Yes, the development team of the tool wants to simplify customer service by simplifying the complex features all while leaving room for scalability. Currently, the tool is used by companies such as Glovo, Slice, and Ring among others and is aiming to expand its reach and feature suite.

Feature Set
Outside of having usual stuff such as a knowledge base system, a reporting tool, and analytics the tool has a wide range of unique features that you can use to boost your odds. As the name implies, the system is oriented at your install base. By combining purchase data and activity feed, you will have a holistic view of your key users from top to bottom. In other words, your agents no longer will have to guess what went wrong and what might fix the issue. The tool also promises control on all possible levels meaning your customers will always be able to solve problems they might have.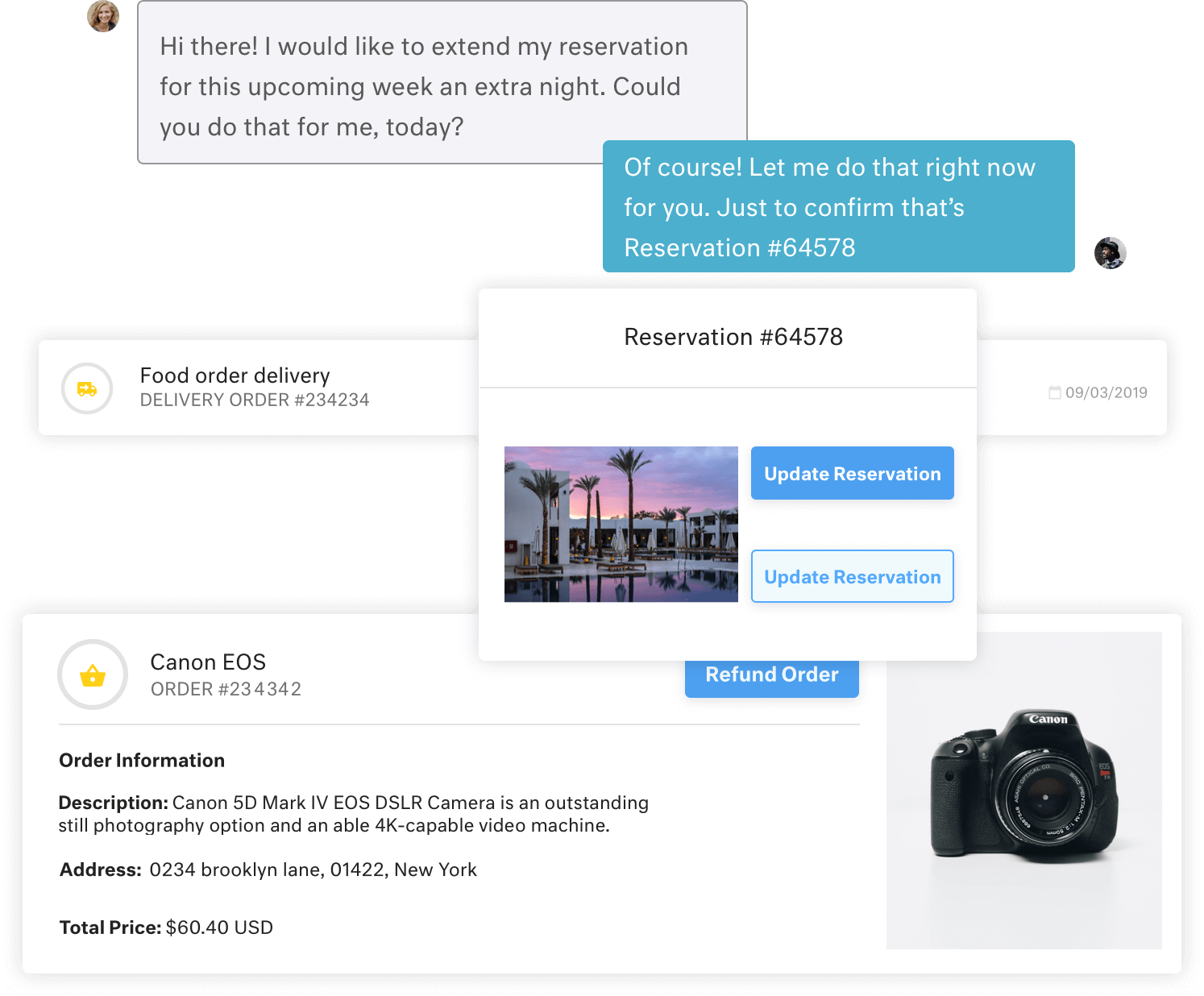 Provide more personalized support having all the necessary info about your customers in a holistic timeline view. Source: Kustomer
But that is not the whole story as the tool promises true omnichannel capabilities. Yes, with Kustomer, you can give your agents the freedom to switch between all your internal and external channels during a conversation with your customers, as well as between agents. Then there's the fact that your staff will always have instant access to all social media profiles, SMS data, chats, and emails. The system also offers a bunch of integration options which means you aren't limited to what is present in the stock. As long as your platform supports API calls, you can connect the two to further enhance functionality.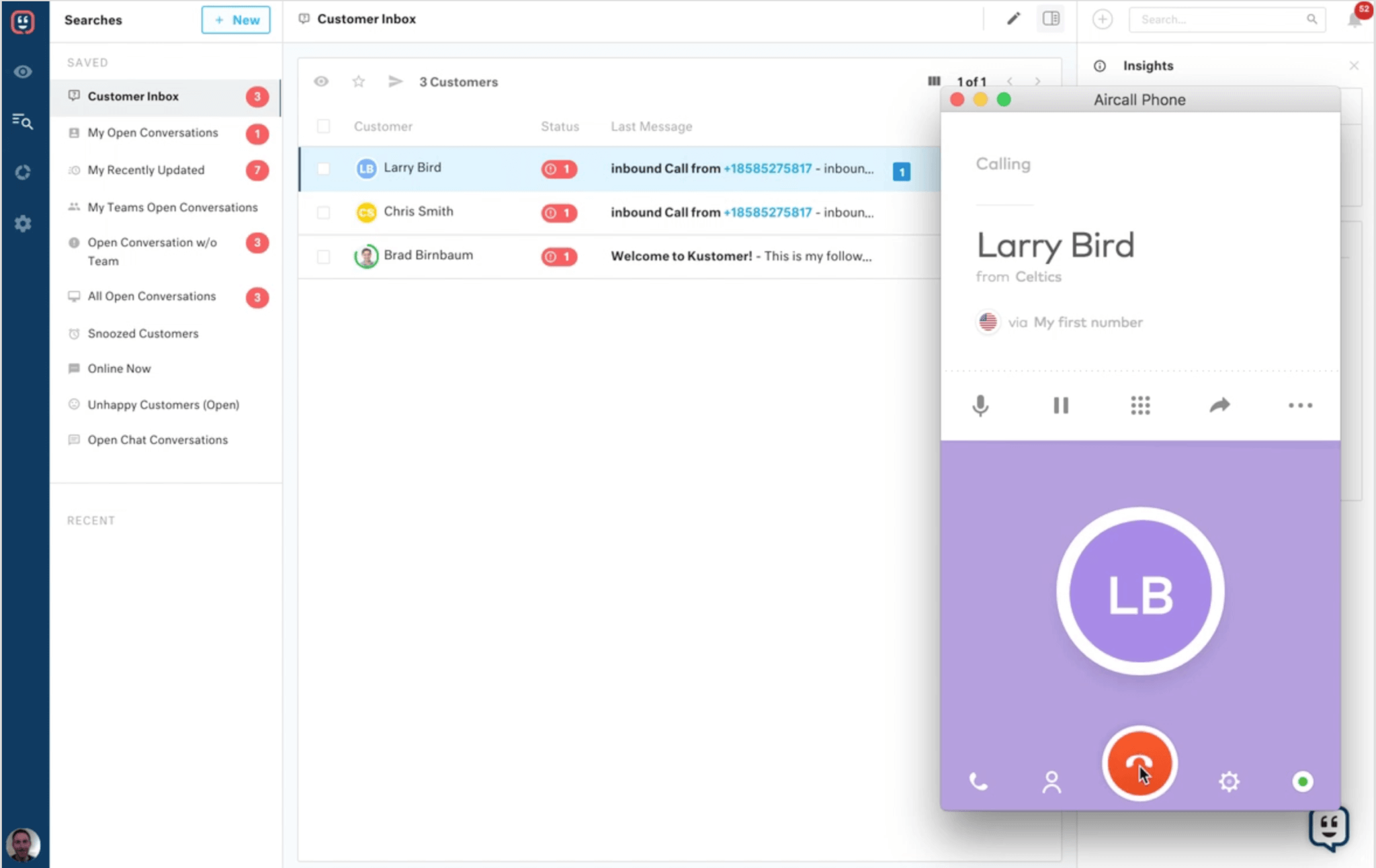 Kustomer dashboard showing all ticket view and the number of updated conversations in each. On the right side - Aircall feature that enables calling your customers through a cloud system that provides you with a customer context. Source: Kustomer
Also as part of the feature set is the Intelligent Automation module. The system allows you to build branchable multi-step workflows that you can implement on just about any level of your company. Whether its finance, HR, or technical operations, you can eliminate mundane work and allow your people to focus on things that matter the most. You can also set up a self-service portal that can be fully operated by the automation tool, pretty neat. We mean, why waste time scrolling a ton of articles in your knowledge base when a robot can do that.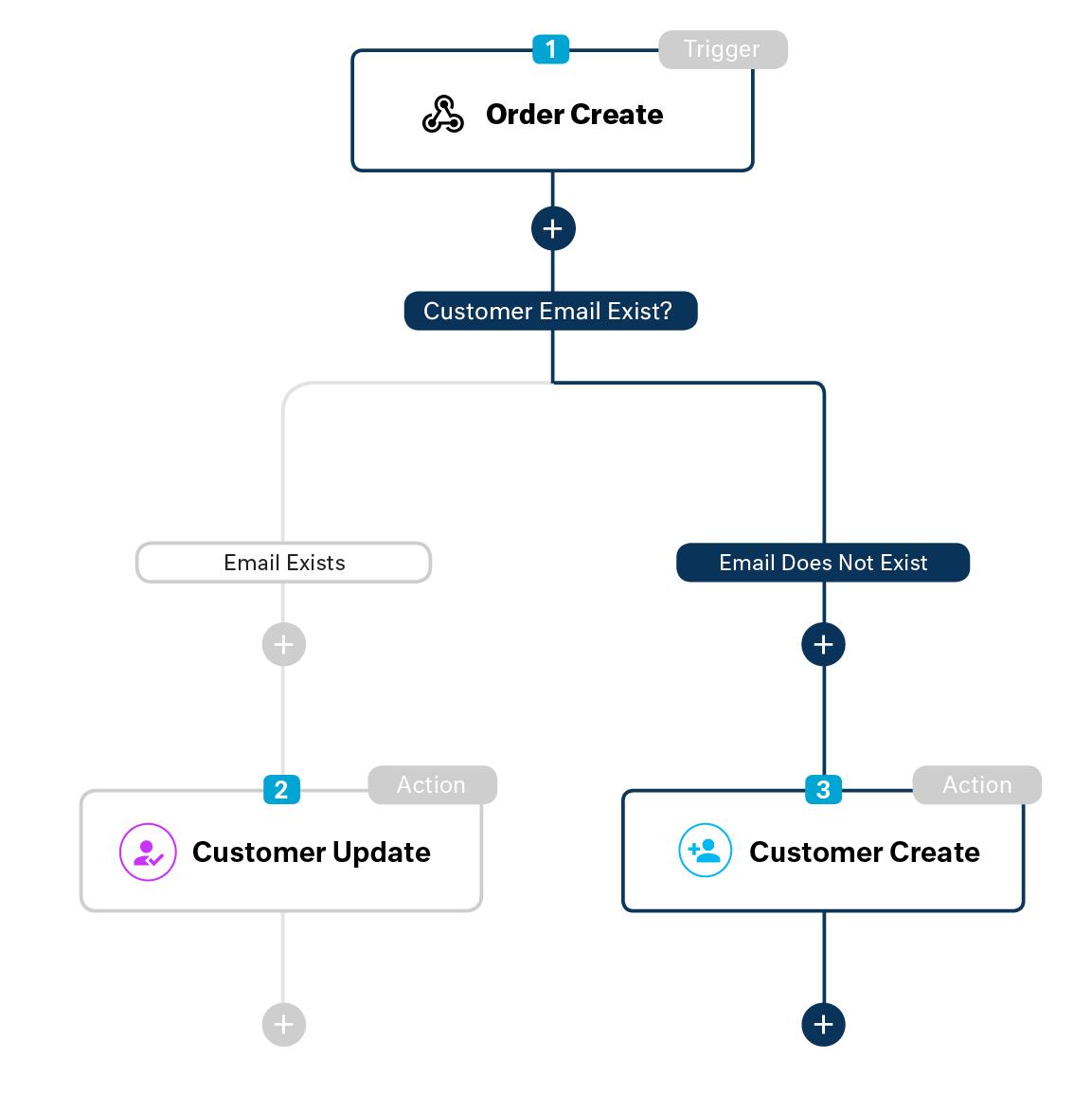 An example of multi-step automation rules you can create in your Kustomer workflow. Source: Kustomer
Pricing
Now the tool isn't exactly cheap. In fact, it is quite the opposite (hence why we stacked it up against Zendesk, more on that in a bit). The company offers two distinct plans dubbed, Enterprise and Ultimate. Let's take a look at both in a table as that way you will have a better understanding of their value.
Price Table
| | |
| --- | --- |
| Enterprise $99per month, per user | Ultimate $169per month, per user |
| Email, Chat, SMS, Social, Self-service | Everything in the enterprise plan |
| Custom Reporting | Unlimited Collaboration Users |
| Proactive Service | SAML Single Sign-On |
| Multilingual Support | Real-time Dashboards |
| Multi-step, Branchable Workflow Engine | Extended API Rate Limit |
| Voice Provider Integrations | Live Agent Auditing |
| Actionable Integrations | Sandbox Access |
| AI-Based Sentiment | Enhanced Routing |
Zendesk Overview
Continuing our Kustomer vs Zendesk review, it is time we take a moment and discuss Zendesk. Now the reason we picked this particular platform is that they are quite similar in terms of features, as well as pricing. Anyway, if you don't know what Zendesk is, it is a dedicated help desk system that features a myriad of features that can help you improve service level quality. In addition, it can be used in virtually any business model and can fit just about any business type. Currently, Zendesk is used by companies such as Squarespace, Gympass, and Bolt to name a few.

Feature Set
Zendesk has a ton of features but it is best known for delivering amazing omnichannel capabilities. Sounds familiar? Yes, it is like Kustomer in this regard. But what separates the two is the quality of the supplement functions. Unlike our previous platform, Zendesk packed its omnichannel module with an amazing admin panel. Whether you want to report something or consolidate a vital point, managing is easy with the admin system. Then there's the integrated interface system. It allows for a better context, faster and more efficient interactions, and less repetition. But most importantly, it is something your customers and agents will love alike.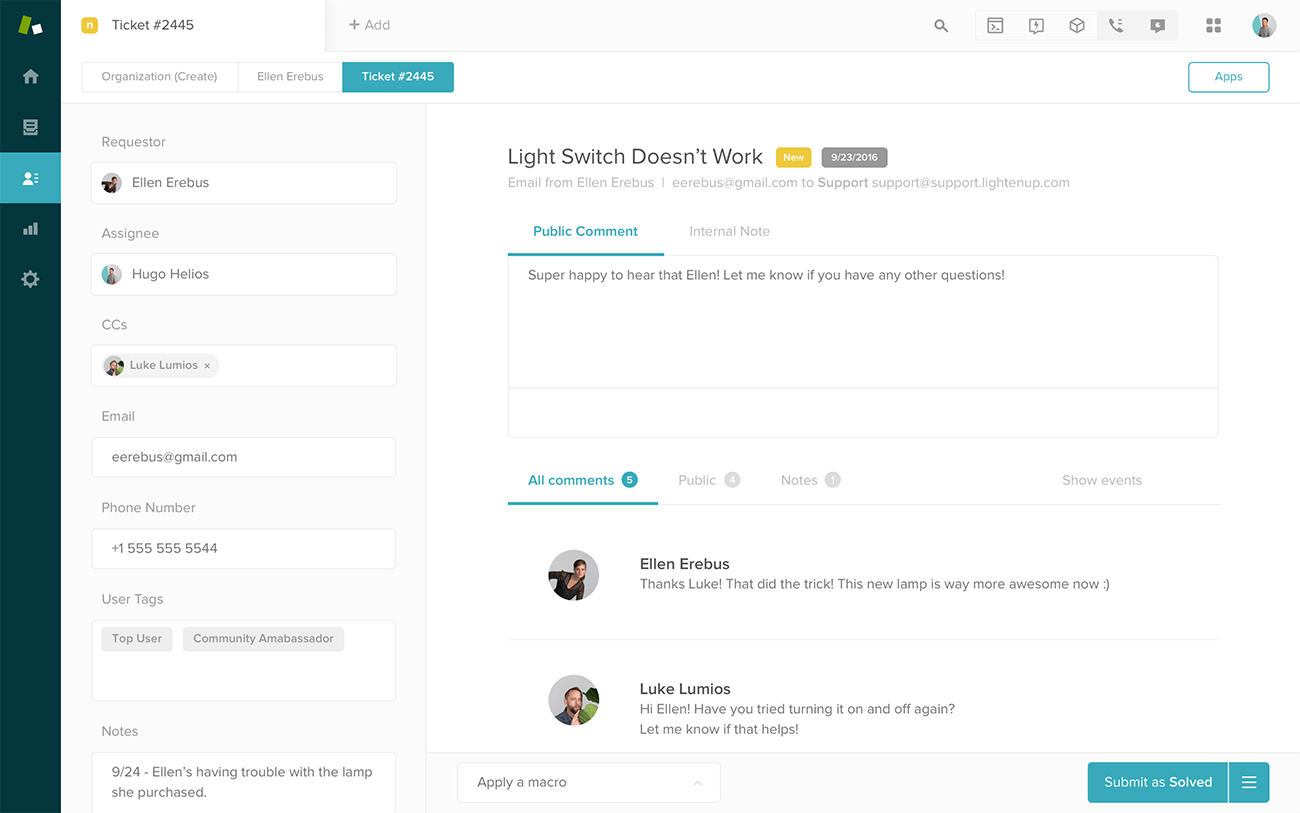 The way service agents see a support ticket containing the info on the customer and the issue. Source: Zendesk
Another function that is worth mentioning is the Guided mode. While it is not a dedicated automation system, even though it uses its engine, it allows for speed up responses as it aligns tickets based on urgency and difficulty. Yes, Zendesk understands the context of the ticket and will automatically determine it's difficulty by looking at historical data. Moreover, if you couple this function with the Business rules (it allows for skill-based routing) and you got yourself a really solid helping hand.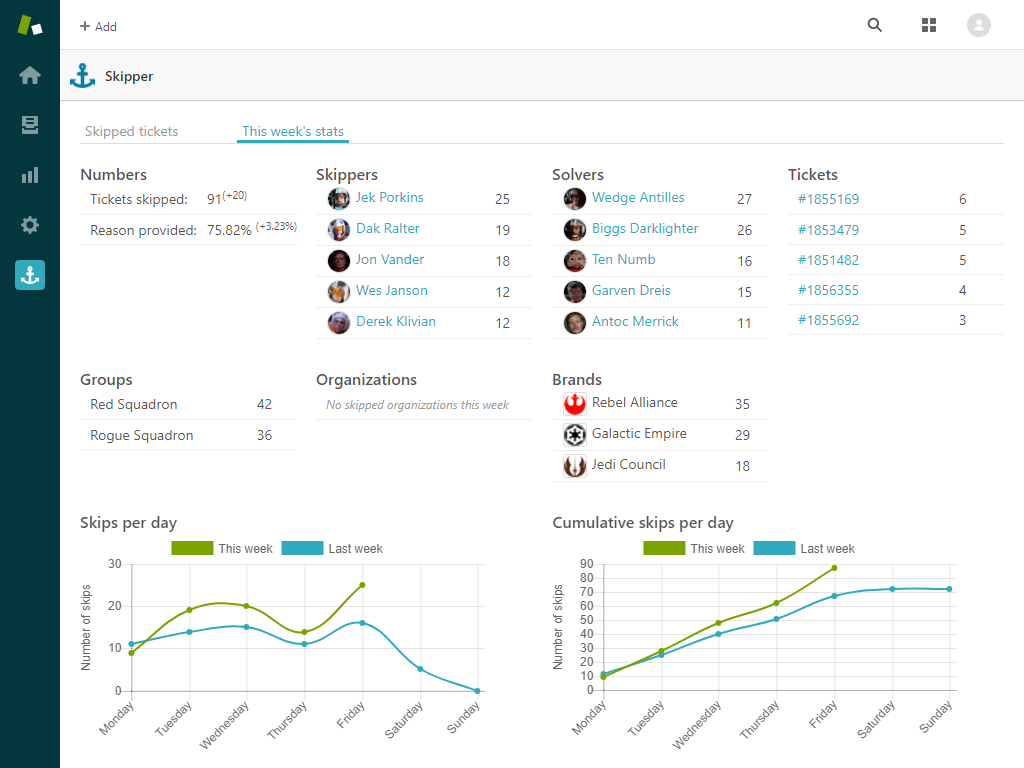 If you enable ticket skipping in the Guided mode, you will also be able to see the statistics on this function for each day or week. Source: Zendesk
Lastly, you have the Dynamic Content module. If you operate on a large scale (i.e in multiple countries), chances are your agents do the translation work manually using a third-party system. While it can work in the low season, it will surely crumble when the influx of tickets doubles. Why waste time and customer patience when everything can be adapted automatically? This is what Dynamic Content is all about. Above all, you don't have to do the middle-man work. A pretty convenient system that can also be improved as more translations are done.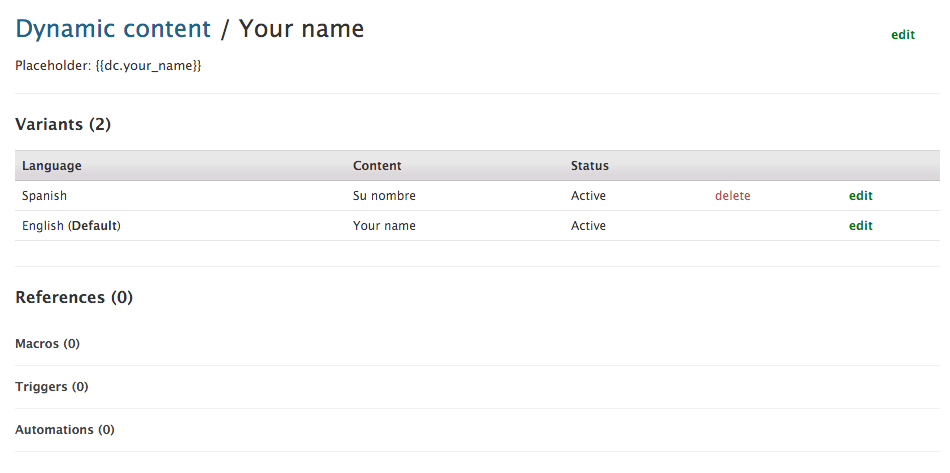 When you create a Dynamic Content item, you can add several variants of each piece and edit them according to your needs. Source: Zendesk
Pricing
To keep up with price parity, we've decided to use the top tier plans as they are not only identical in terms of pricing but even share the same amount of functions. So, let's take a look at each plan separately.
Price Plan
| | |
| --- | --- |
| Enterprise $99 per agent, per month | Elite $199 per agent, per month |
| Multiple ticket forms | Unlimited light agents |
| Skills-based routing | 99.9% uptime SLA |
| Satisfaction Prediction | 1-hour service level objective |
| Contextual workspaces | Advanced encryption & security |
| Multibrand support | Data-center location |
Which One Is Better?
Now that we're finished with our Kustomer vs Zendesk comparison and know what each tool has to offer, it is time we ask the question, which one is the better option. And the answer is not as obvious as it might seem because each tool is great in its own right. Both of them have advantages and disadvantages so we suggest that you are better off testing them manually.
Just like people, your business is unique and requires a custom-tailored approach, hence why we suggest that you move all your data to each platform and give it a shot. And in case you don't know how to move your stuff, we can help you out. Just leave us a message and we will make sure you are all up and running. But in the meantime, that is all we have for today. See you in our next review.

How about data migration to Kustomer or Zendesk?
Seamless data transition in a few steps!
Set up Free Demo