There's never enough productivity, is it? Companies are always on the lookout for powerful tools that can boost their performance without sacrificing quality. After all, there's no such this as fast and of high-quality. Some things have to be reduced in favor of speed. Yet, that is not always the case. Sometimes all you need is a helping hand, or more specifically, a help desk.
That's right, help desks systems are great. They offer so many helpful features that neglecting them would be a crime. Today, we will take a look at both Zendesk vs Connectwise Manage and see what they have to offer. We'll see which one is worth the investment and are the benefits big enough to necessitate a transition. So join us as we take a look at both systems, outline their capabilities, and see their good and bad sides.
Zendesk vs Connectwise Manage — A Brief Overview
Now before we jump straight into the details, let's take a moment and learn about the tools, their capabilities, and performance. That way you will not only understand the benefits of each but will have a better time learning the enhancements. We'll start with Zendesk as it is the more popular of the two.
Zendesk
Zendesk is a powerful help desk solution designed to provide fast, effective, and accurate customer support. It has a myriad of features that aim to ease the work of your agents all while maintaining positive feedback from your install base. It features a superb analytics system that is further improved by the reporting tool. With Zendesk on your side, companies can automate many aspects of their work, as well as ease the process of controlling multiple brands and channels. Currently, Zendesk is being used by big-name companies such as Slack, Shopify, and Tesco to name a few.
Connectwise Manage
Previously known as simply Connectwise, today, Connectwise Manage is a business process automation system that enables your company to sell, service, and support operations in a streamlined and efficient manner. The main objective of the system is to make both internal and external operations better through a set of automation options. The tool can be hooked to multiple platforms including social media platforms, CRMs, help desk solutions, and others. It is widely used by both large and small businesses and is considered to be among the better tools out there.
Zendesk — The Good News
Now for the part, you've all come here for. So the first thing that comes to mind is the fact that with Zendesk, you can provide better customer support, or more specifically, more involved customer support. Yes, Zen can help out your install base in a number of ways. Whether it's through a knowledge base or via email, there's enough flexibility and power to cover all popular means of communication.
With Zendesk, you can route user requests from across all channels and automatically convert them into tickets. This will make the process of handling complex work less tedious as you don't have to manually gather complaints and reorganize them into issues.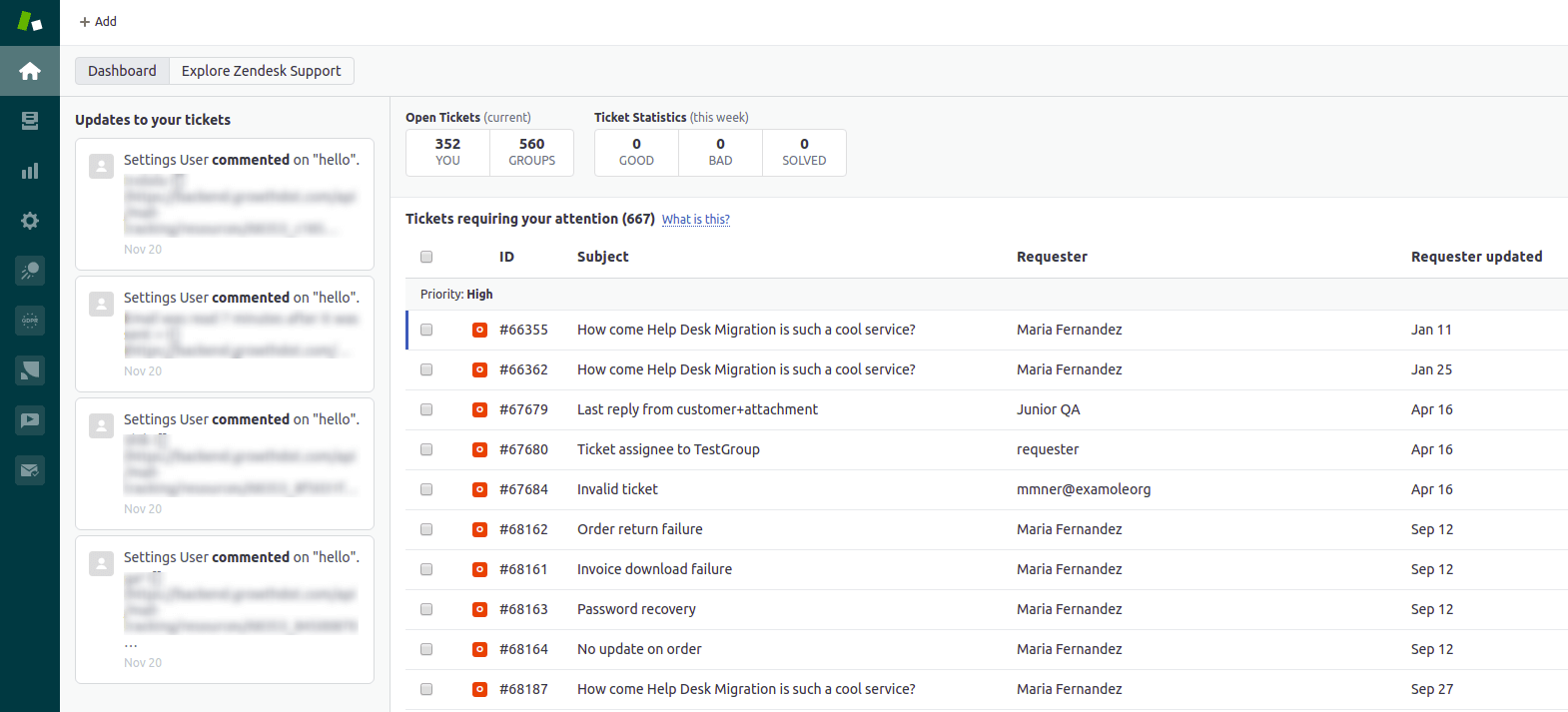 Zendesk Dashboard, where all the customer requests from different channels are gathered and sorted out.
Another substantial benefit stems from the fact that once you start using Zendesk, you can automate a ton of things. From mundane things like autocompleting emails to complex restructuring of data, Zen's automation module does wonders. The only limit can be your ability to set it up correctly, and even then, the user interface of it is so simple that creating complex workflows is a breeze. This will free up hands and will allow you to put emphasis on things that only the human brain can solve.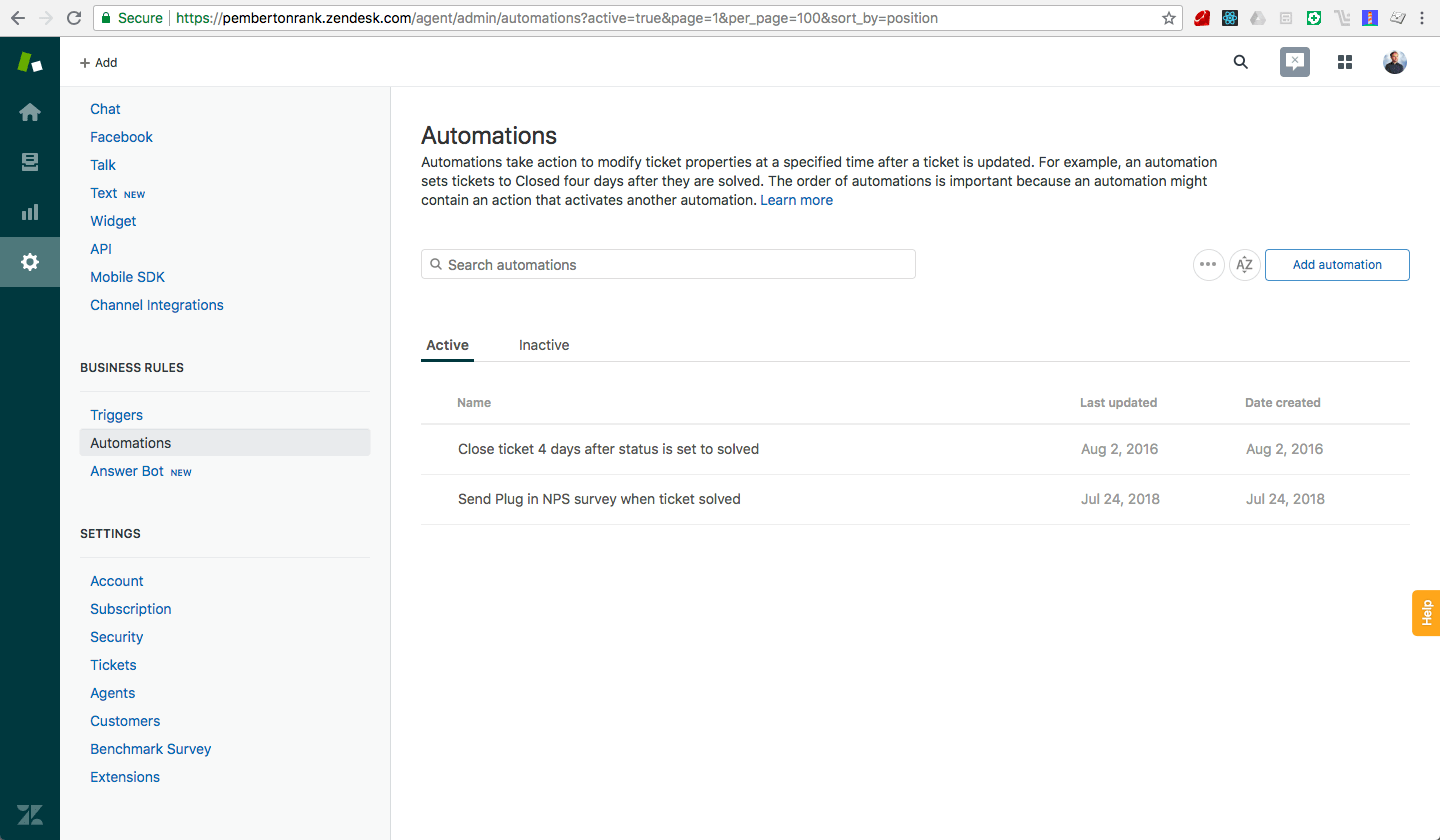 Viewing and modifying active automations in Zendesk. Source: Plug In Useful
Lastly, there's the Contextual Workspaces system. Why waste time creating and filling out space details when a system can do that for you. Yes, with the system, you can automatically create contextual workspaces that are related to the issue at hand. The main value of these automated workspaces is that they gather all your ticket info, macro sets, and even apps into one convenient hub where your agents can manage things.
Zendesk — The Bad News
Now that we know the good, let's take a look at the bad. There aren't many cons but those that are there can turn off some of you. Now the number one that comes to mind is the somewhat restrained analytics module. While you can set up certain parameters but they are mostly related to where the system gathers data. You cannot create a per-form report setup. Similarly to analytics are SLAs. If you have people working different hours/days of the week, the blanket settings become irrelevant and useless since you cannot set up SLAs on a per-form basis.
Another issue with Zendesk is its pricing. While we can't say that it will cost you a fortune to start using the tool, it will cost you a penny if you plan on using the more advanced functions. Some of you might reason that this is the case with most other tools. And we will say that there are tools that offer multi-brand support on lower-tier plans. To Zens credit, their features are very polished and they rarely fail, hence why most of them are locked behind a higher tier.
Connectwise Manage — The Good News
With Zendesk under the belt, it is time we look at Connectwise Manage features. The number one function that many users cite is the Effective Time-entry management tool. To put it simply, it allows your staff to record work time much more effectively as they are no longer confined by a set of rules. Connectwise Manage allows you to set up as many activities as you want, as well as it allows you to track how much your employees spend time on issues at hand. You can access this feature via the mobile application, meaning your staff doesn't even have to be on sight.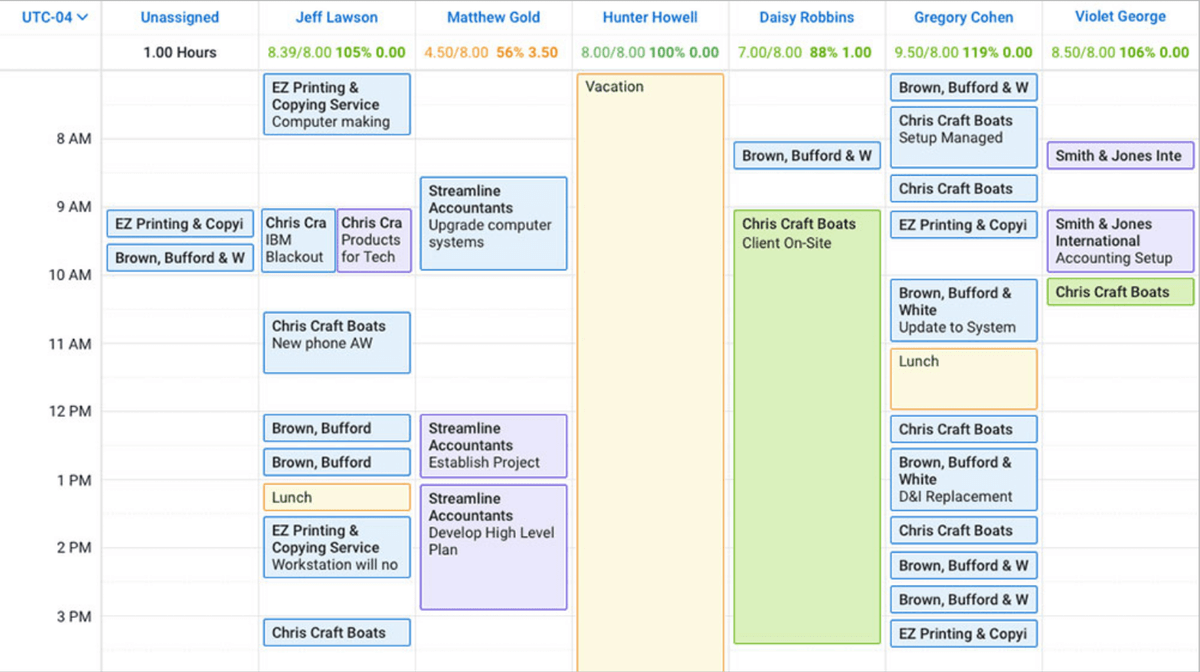 The daily schedule enables you to view and plan the activities for certain agents on a definite day. Source: GetApp
Next is the Connectwise Control app. What this system allows you to do is connect to your customer's app, website, and whatnot to provide better, more accurate support. This is perfect for people that sell a complex service or product. After all, there are things that cannot be explained orally or in written form. If you feel that sometimes you have to show your customers where to go and what to do, the Control app is the best tool for it.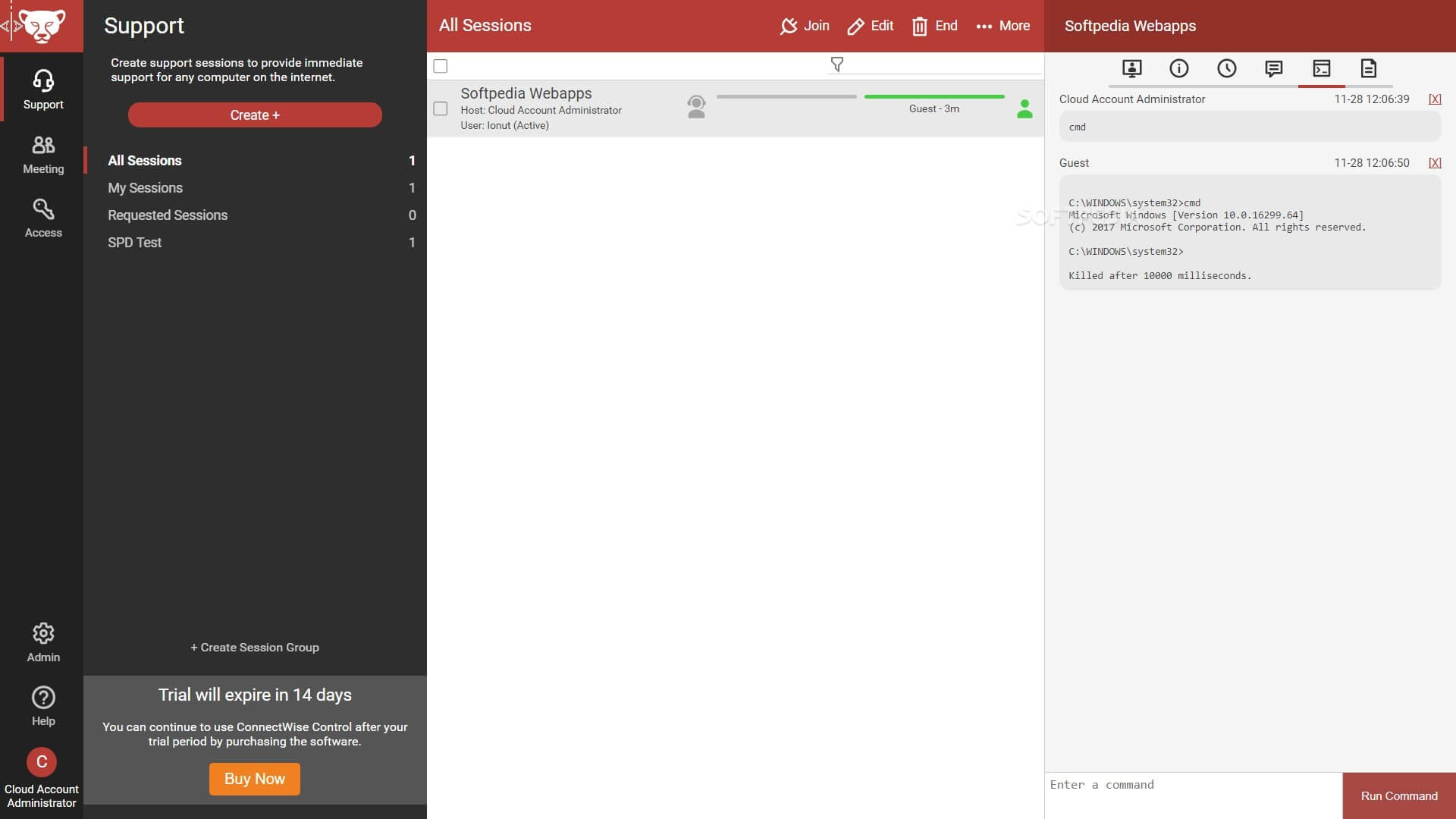 The dashboard of the ConnectWise Manage Control app, where you can view your last sessions and set up the new ones. Source: Softpedia
Last but not least, there's the Service Health tool. It helps you understand what services are underdelivered and issues your agents face when providing them. It helps you make a strategic decision through a set of factual data such as ticket details, resolution time, and team performance. Think of it as a feedback/analytics system that you can use to exactly pinpoint what is wrong with your products/service.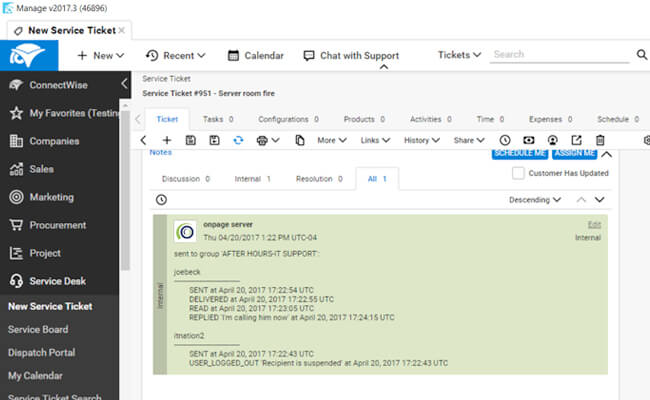 Viewing the gathered data on the Service Ticket. Source: Software Portal
Connectwise Manage — The Bad News
Just like all tools, Connectwise Manage is not perfect and has its own set of flaws that you have to do a workaround or solve through a separate app. One such issue, though, can only be solved through trial and error. Yes, Connectwise Manage might seem simple on paper but the UI/UX is in need of a drastic revision. Not that the tool is bad or anything but sometimes finding features and toggles takes more time than it should. We hope the parent company is working on it and we will get a more refined experience soon.
Next is the dedicated mobile application. While it is functional and pretty stable, it feels as if it is disconnected from the main system. Data traversal is slow meaning that changes aren't instant and some features are missing or half-baked. True, the company is working on it and it gets better with every update. But it would be better if some features remain in the beta stage till they are perfectly usable.
Bottom Line
After tinkering with Zendesk and Connectwise Manage, we've come to the conclusion that both tools are good. Zen is the more polished system but it is also the pricier option. Connectwise Manage is good for startups and will prove to be invaluable in a place where every working minute counts. Regardless of your choice, you will get a nice system. And there's no real reason to worry that you'll be missing out something. If you feel like you are ready to transition to any of the mentioned systems, we have a nice tool that will help you move all your data effortlessly. No coding, no files, no strings attached. Be sure to drop us a message to learn more.

Move to ConnectWise or Zendresk seamlessly.
Use an automated data migration tool.
Start Free Demo