There was a time when the amount of help desk solutions was scarce, and those available weren't exactly hot stuff. But these days are long gone. Now there are hundreds of different systems that can boost your work. But which one to go with? On one side, you have veteran tools; on the other, fresh ideas, but your budget can only go so far. Indeed, picking the best help desk software for a small company can be a hassle.
Hence why today, we will cover what platform will work best for a small company, as well as what issues it can solve. There are many help desk systems, but we will focus only on the most popular options. Thus, sit tight, grab a pen, and start taking notes.
Why Do Small Businesses Need a Help Desk System?
Customer retention is an urgent need of small businesses that want to grow or at least stay afloat. For that, they need to deliver an excellent customer experience, right? Yet, tight budgets and other limits make small businesses use a shared inbox to deal with customer inquiries. As a result, they face crucial challenges, including
Low response time
Complicated workflows
Inefficient team collaboration
Help desk software helps small businesses handle those issues by centralizing all help desk data into one place and providing tools for cohesive teamwork. Read on and learn the best help desk software features.
Related reads: How Free Ticketing System Can Improve Your Сustomer Support on a Budget
What A Help Desk Software for Small Business Should Do
The core purpose of help desk software is to organize and simplify help desk processes, including customer request processing, reporting, team collaboration, and self-help management. So you can have all these tools in one place and don't need to switch between different apps and spend money on those.
Let's dive into more detail about the benefits of help desk software for small businesses.
Multi-channel support
Help desk software lets customers contact you from their preferred channels. All requests arrive in a single queue, so you don't need to switch between channels manually.
Professional customer support
Automated ticket routing means quick responses from the right agents and indicates high-quality customer service. That's what each customer expects, right? Looking and acting professionally helps you build strong relationships with your customers.
Increased team productivity
Ticket statuses, delivery tracking, and shared tickets cut off repetitive work and let support reps stay efficient. Some help desk solutions provide canned responses so agents can answer typical requests immediately.
Are There Any Good Examples?
Help desk tools for small businesses are numerous, so we've picked the most popular options perfect for small companies of different industries. To provide the whole picture, we've reviewed their prices, features, and ease of use.
Related reads: How to Choose an Industry-Specific Help Desk System
ServiceDesk Plus
ServiceDesk Plus is a service desk tool designed with simplicity and accessibility in mind. Every corner of it has hundreds of hours of thoughts behind it, meaning that everything feels seamless and fast. Also, you won't be stuck for days on end configuring the tool as it has a specialized wizard to guide you through.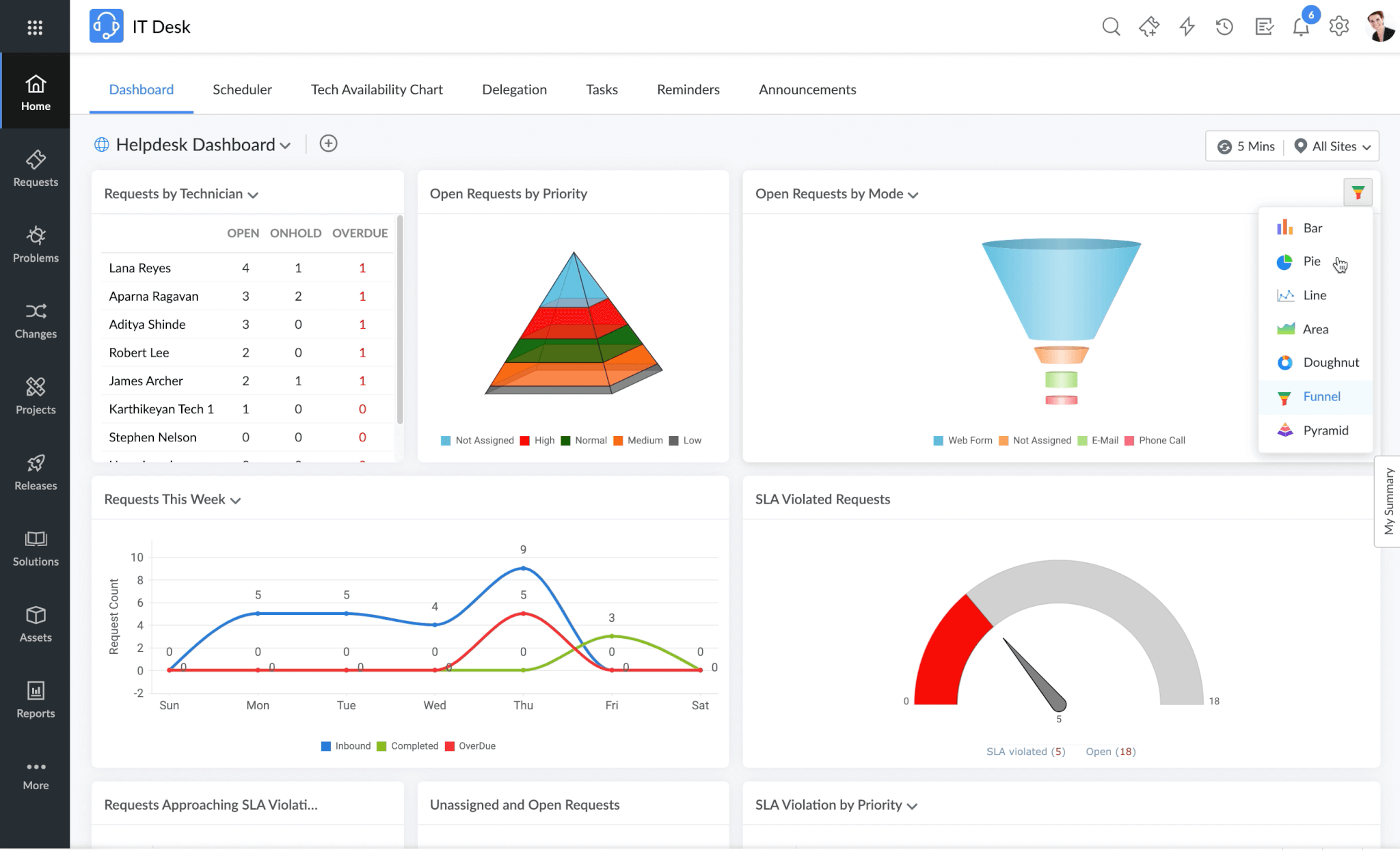 Source: ServiceDesk Plus
Yet, the main feature of the tool is the CMDB module that helps you keep track of all hardware and software used in the company. With it, you can easily track software subscriptions as well as visualize the dependencies between software/hardware.
The tool does not have a specific price tag, and you will have to contact the vendor yourself, but if we had to guesstimate, we'd say it's around $20 agent/month, which isn't that expensive. You can head over to their site and schedule a demo in case you are interested.
Zendesk
The next one on our list is Zendesk, and what better way to describe this tool than by stating the obvious? It's great. Like really great. The first thing you will immediately notice is that it has a very sleek UI, and all the features are pretty easy to understand.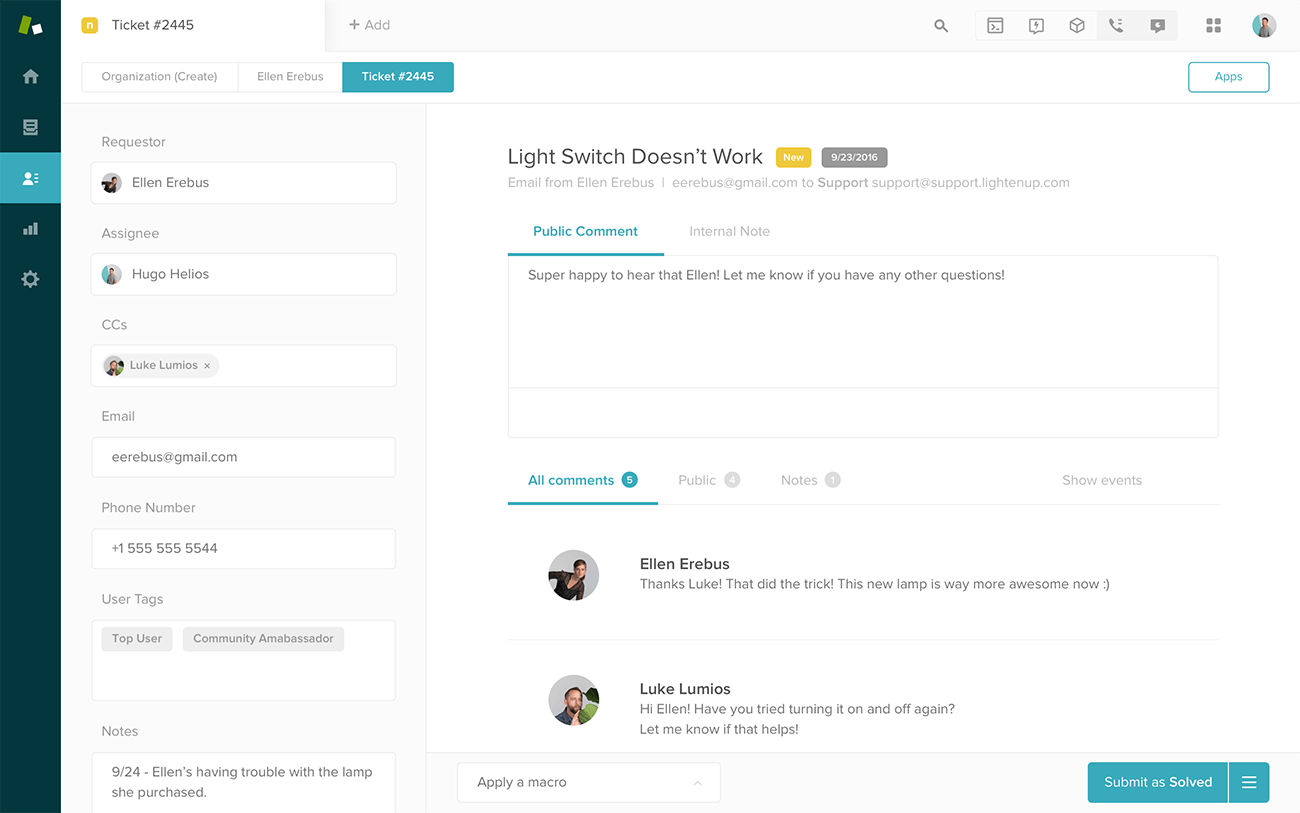 Source: Zendesk
Among the most prominent feature of this small business help desk tool is its ability to pair with practically anything you like. Be it traditional emails or SMS notifications, it can synchronize with everything. Another exciting feature that sets this software for small businesses is the number of self-serving options.
Also, Zendesk has a drag-and-drop automation system. With it, you can easily set up simple automation flows, and in case you need more complexity, all you have to do is visit the advanced settings. If you've been looking for a nice automation platform, this is the best help desk software for small businesses.
The key downside of the tool, however, is its price tag. The starter plans don't really offer that much in terms of features, whereas the mid-tier plan (which has everything you will need) costs $49 per user/month. If you can afford this tool, we suggest you do so, as it's great and gets updated frequently. Also, just like our previous entry, it has a free plan for you to try.
Related reads: Help Desk Migration Checklist: Essential Steps You Should Take
Freshservice
Freshservice is a combination of good quality and nice feature quantity. It's a very nicely rounded system that has a few unique features your business will surely make use of. First off, you get multichannel support straight out of the box. This means that you won't need to handle 12 different browser tabs with different accounts, as everything will be in one place that we like to call the hub.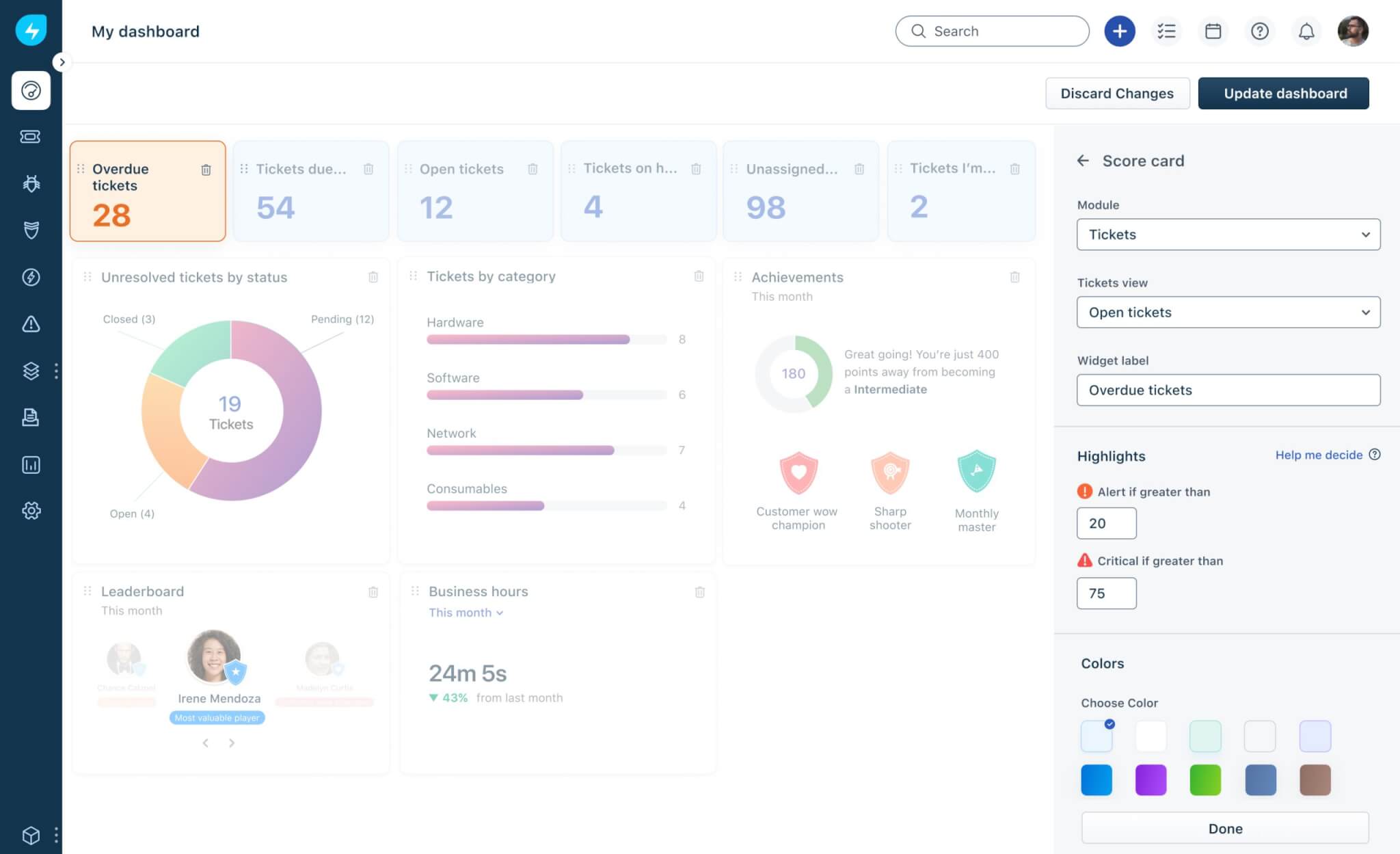 Source: Freshservice
Another cool feature of Freshservice is that it has a native app for both iOS and Android. Our previous entries also had apps, but they were not as feature-rich as Freshservice offerings. Indeed, with the mobile app, you can perform a wide range of tasks and even set up a few automation options. It's still in development, and we are positive that the company will add new features.
The tool costs $79 agent/month for the mid-tier plan. It has everything we've mentioned above, as well as adds an advanced security module, contract management, and enhanced analytics. As for the starter plan, it has basic functionality and costs $19 agent/month.
Freshdesk
Not to be confused with Freshservice, Freshdesk (although they come from the same company) is a really decent help desk software for small businesses. It incorporates everything you come to expect from a help desk and adds a few unique features that are not only helpful but, once used, become essential. One such feature is Predictive Support. It helps your agents answer different questions by pulling info from case history, knowledge bases, etc.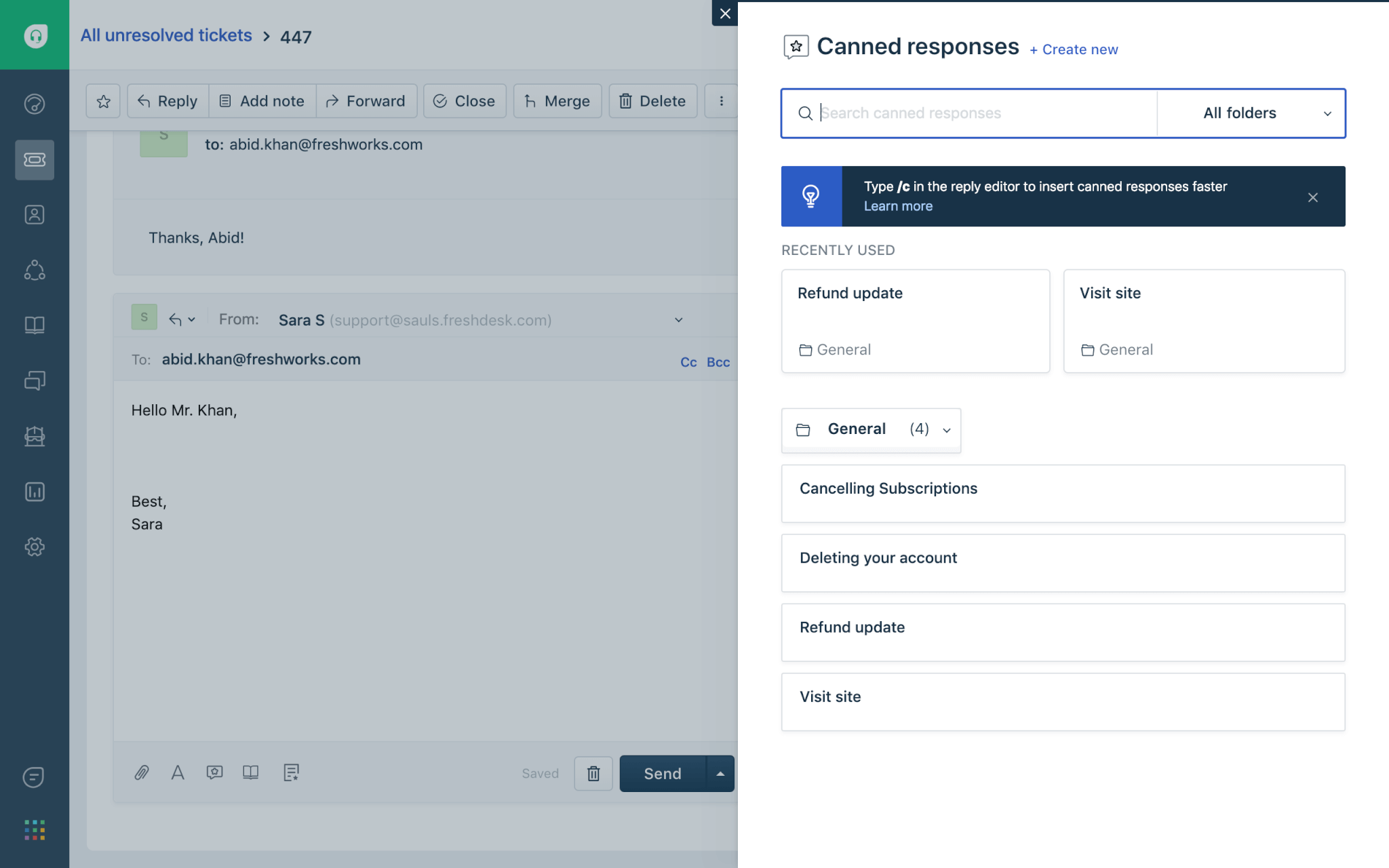 Source: Freshdesk
Also, users get access to the Omniroute system that auto-assigns incoming emails, calls, and chats to your support team based on their workload and capacity to handle the issue.
Among the wide range of functions this tool has, the multichannel help desk is perhaps the best. It allows you to synchronize information between a number of resources and compile it into an easy-to-read dashboard. Also, you can customize this dashboard to your liking as you can move, remove, or outright delete anything you want from it.
To leverage all the benefits, a mid-tier plan is recommended. The plan is $49 agent/month, with everything to get you started.
However, Freshdesk also offers a free plan so you can take your time to get to know the tool.
Help Scout
Simple in design, Help Scout has been the go-to tool for many small businesses thanks to it being one of the most reliable systems out there. Unlike other systems on our list, Help Scout does not support large businesses and will work best in smaller teams. All this is clearly reflected in the functionality of the system and its features. And speaking of features, the tool has true multi-brand support. This means that if your business has multiple products, you can easily manage them with the system.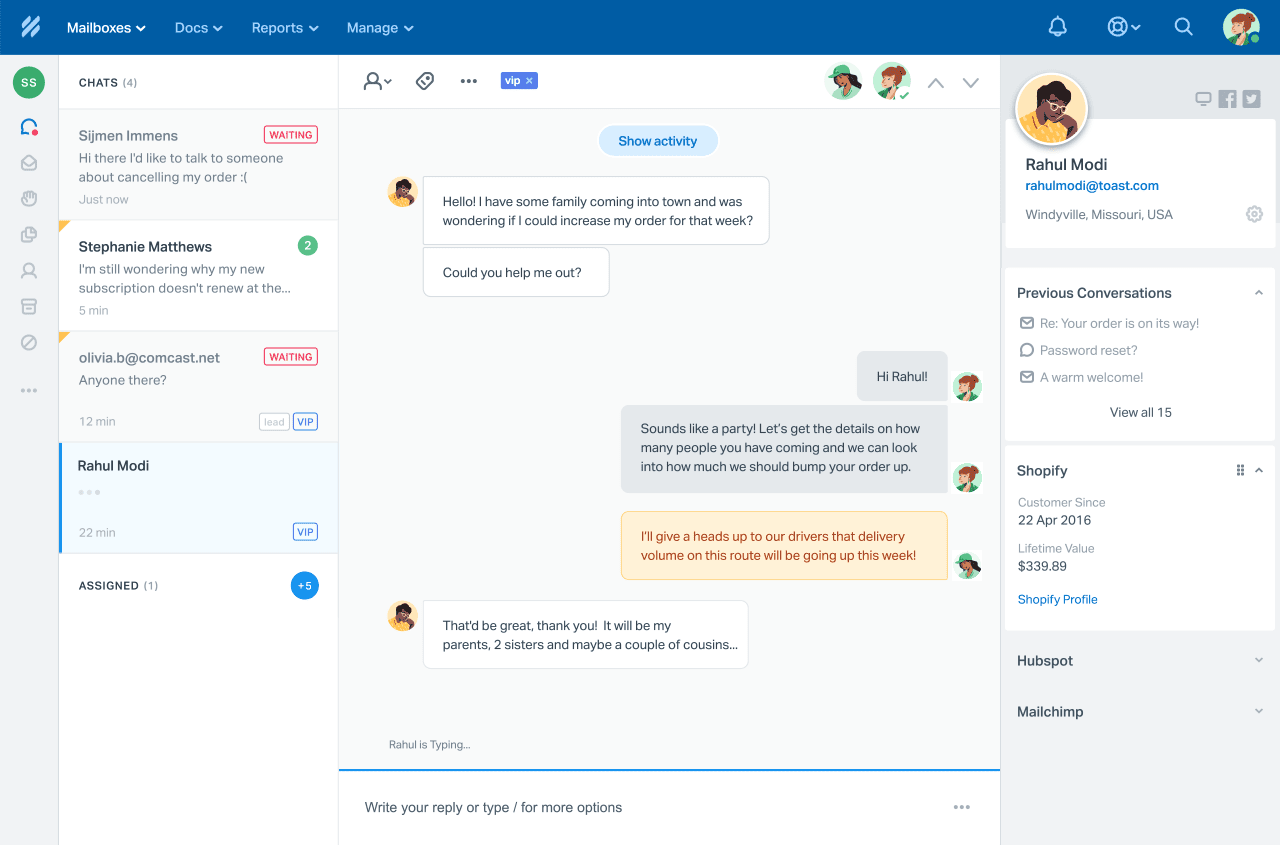 Source: Help Scout
Another cool feature the tool has is the live chat system dubbed Beacon. The idea behind this chat is to help initiate self-service among customers. It achieves this by providing customers with instant access to the information center. The tool is integrated into the mailbox and can be accessed by clicking the icon. The pricing on the system is also on the positive side of things. For just $20 agent/month, you will get access to automated workflows, satisfaction ratings, and more things.
Kayako
The last one on our list is Kayako. The system is good for both small and large companies as it is very scalable. No matter what operation you perform with this tool, you can scale it with Kayako. The UI is made in a way that will easily serve hundreds of different agents, and the best part about it, it won't slow down in terms of performance. You won't get ugly stutters, nor will you see severe slowdowns.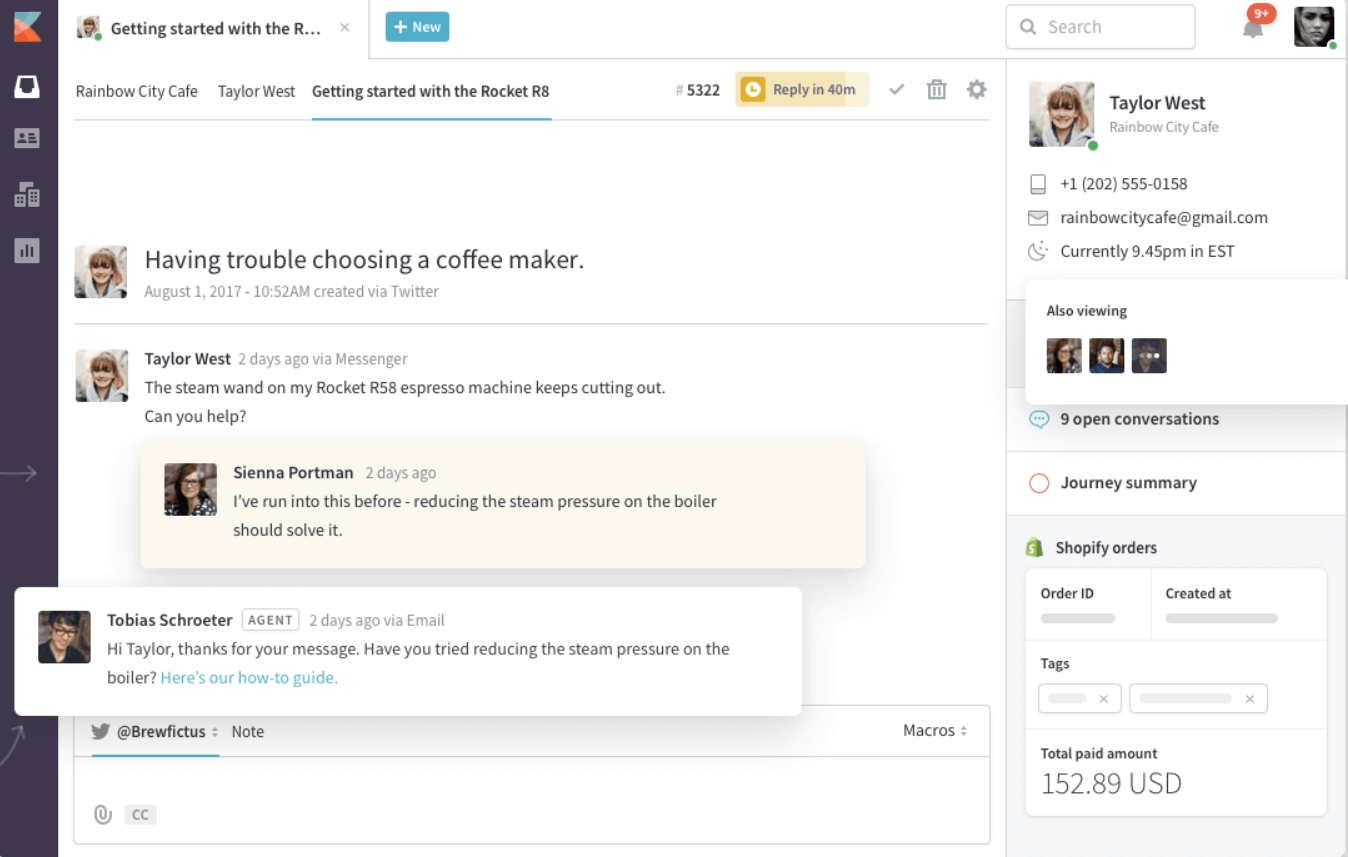 Source: Kayako
But the main takeaway from the tool is that it has a small module called Journey. The module allows you to see what your customer did on your website, what kind of products they were viewing the most, and what prompted them to hit "buy.'' This is a handy system for smaller companies that don't have a massive budget for a dedicated analytics team.
Kayako does not require any installation, and you don't have to be afraid that something might go wrong and you lose all your data as it's cloud-based. This tool has an ever-expanding knowledge base and can easily integrate with Twitter, Facebook, and other social media platforms.
The pricing is also spot on, only $30 agent/month for the upper-level plan. We suggest that you give it a try, as the outcomes are totally worth it.
Related reads: 7 Help Desks that Address the Needs of eCommerce
HubSpot Service Hub
If there's one company that knows how to work with small businesses, it's HubSpot. Their Service Hub solution is one of the most robust tools ever. From proper customer support to high-quality updates, this business help desk software is simply great.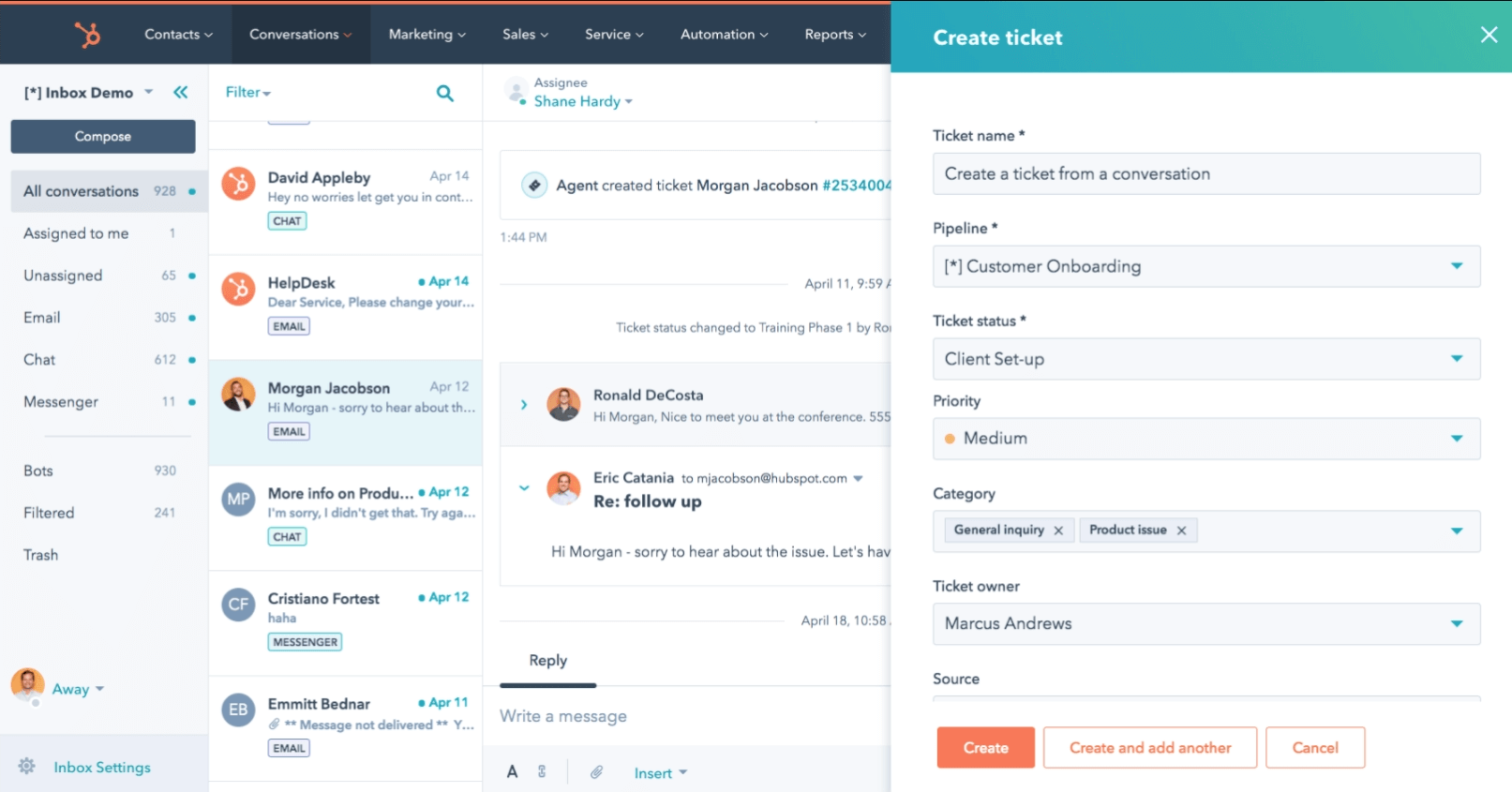 Source: HubSpot
Featuring a set of standard tools such as educational resources, help documentation, and training programs, this help desk software for small businesses was made with users in mind. Indeed, users can access all this information from anywhere. It's not tied to a specific location or device.
Another cool thing about this business help desk software is that it comes in two variants. As you might have guessed, HubSpot offers free and paid versions of the tool. The difference between the two is minimal, but there are a few cool features that are available in both plans. Give this one a try, it's pretty great.
Zoho Desk
This help desk was basically built for small businesses. Support agents are able to increase productivity, customers can get a timely response in the access channel, and managers can track data on performance. You can set up the whole system the way you see fit, as well as automate a plethora of mundane tasks so that your team can focus on more important things.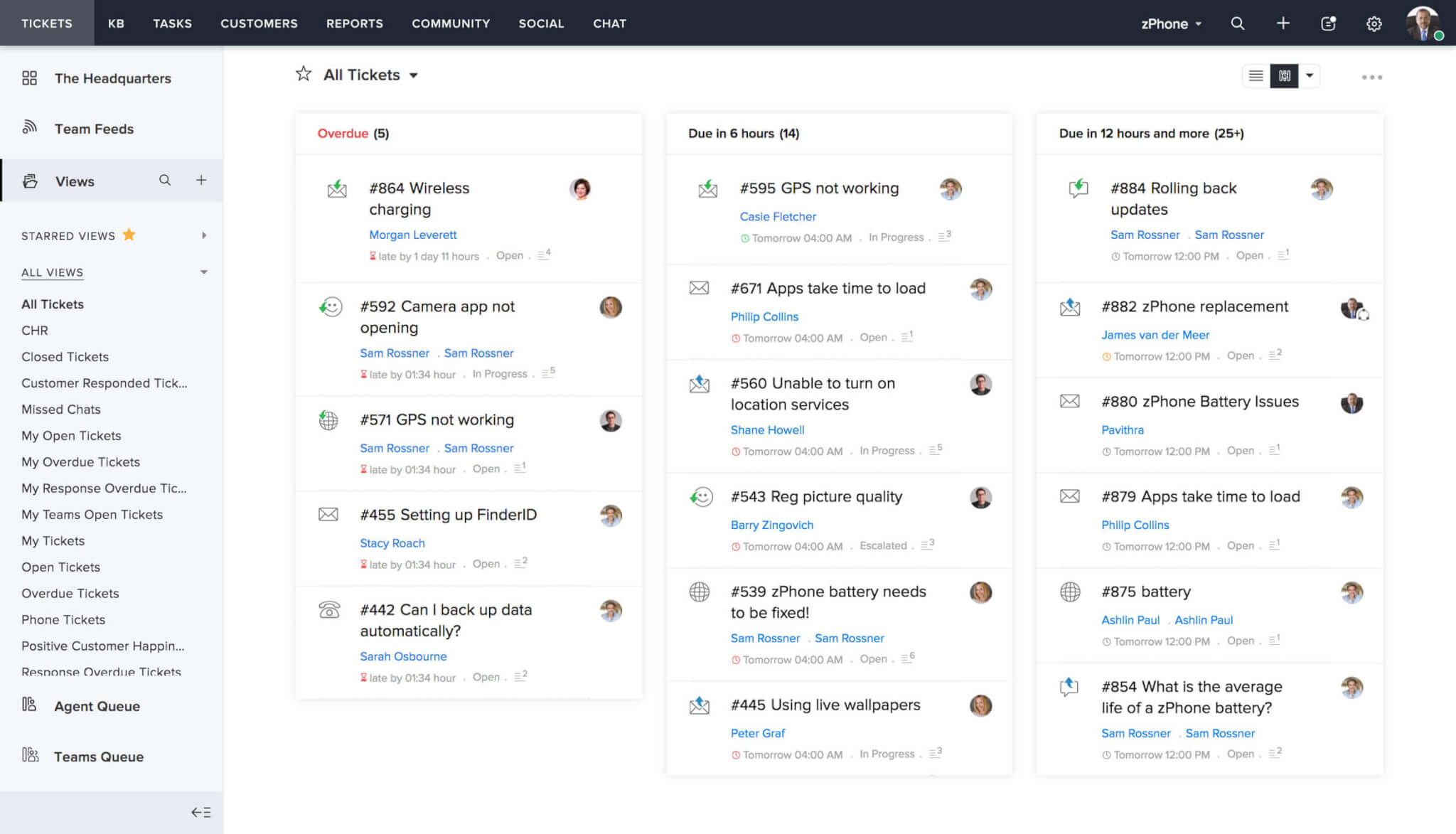 Source: Zoho Desk
Yet, what sets this software for small businesses apart is that it can output a wide range of metrics. Indeed, it can track performance, burnout rates, and even potential sickness. This will help you plan everything in advance, as well as develop creative strategies that will push your business to new heights.
Last but not least, out of all the business applications we've seen, this one is unique as it offers Zia. For those of you unaware, Zia is a context-driven, advanced AI system that can handle a huge range of issues. Since it bases on machine learning technology, it can easily adapt to any business model or workflow. The only downside to this product is that it's a premium feature, and it's still being worked on. But if you feel like this will help you, we suggest you give it a shot.
Final Thoughts
These are our picks for what we think are the best tools for small businesses. They have everything a basic help desk system has and offer specialized features to help you grow. If you plan on moving to one of the above-mentioned tools, be sure to leave a message, as we can help. We have years of experience behind our backs, and we know our way around said tools.