When markets shift, businesses are forced to quickly pivot and adapt to minimize fallout. And the changes in eCommerce go with lightning speed, so customer service quality can improve or drop the bottom line. Let's find out why eDesk meets the eCommerce needs and how to switch your current help desk tool.
Why Should eCommerce Business Change Their Customer Support Software?
It's a common misconception that a strategy doesn't need fixing when it is not even broken. So if you start seeing three points:
a growing pile of unanswered queries ending with eventual customer dropouts
your team is complaining about a lack of hands and taking too long to solve a request
lack of full transparency—you don't know who handles what
It might be time to start shopping for new eCommerce help desk software to take your communication and customer relationships to another level. If customer service directly affects your sales, then good help desk software is something you should definitely invest in. Is eDesk a good choice for that role? Yes. And here is why.
What Is eDesk?
eDesk is one of the leading eCommerce helpdesks that integrates with the world's leading marketplaces, social channels and webstore platforms. Through an easy-to-use platform, eDesk connects all your customers' support data and intelligently matches it with relevant transaction information required for sellers to provide five-star customer service.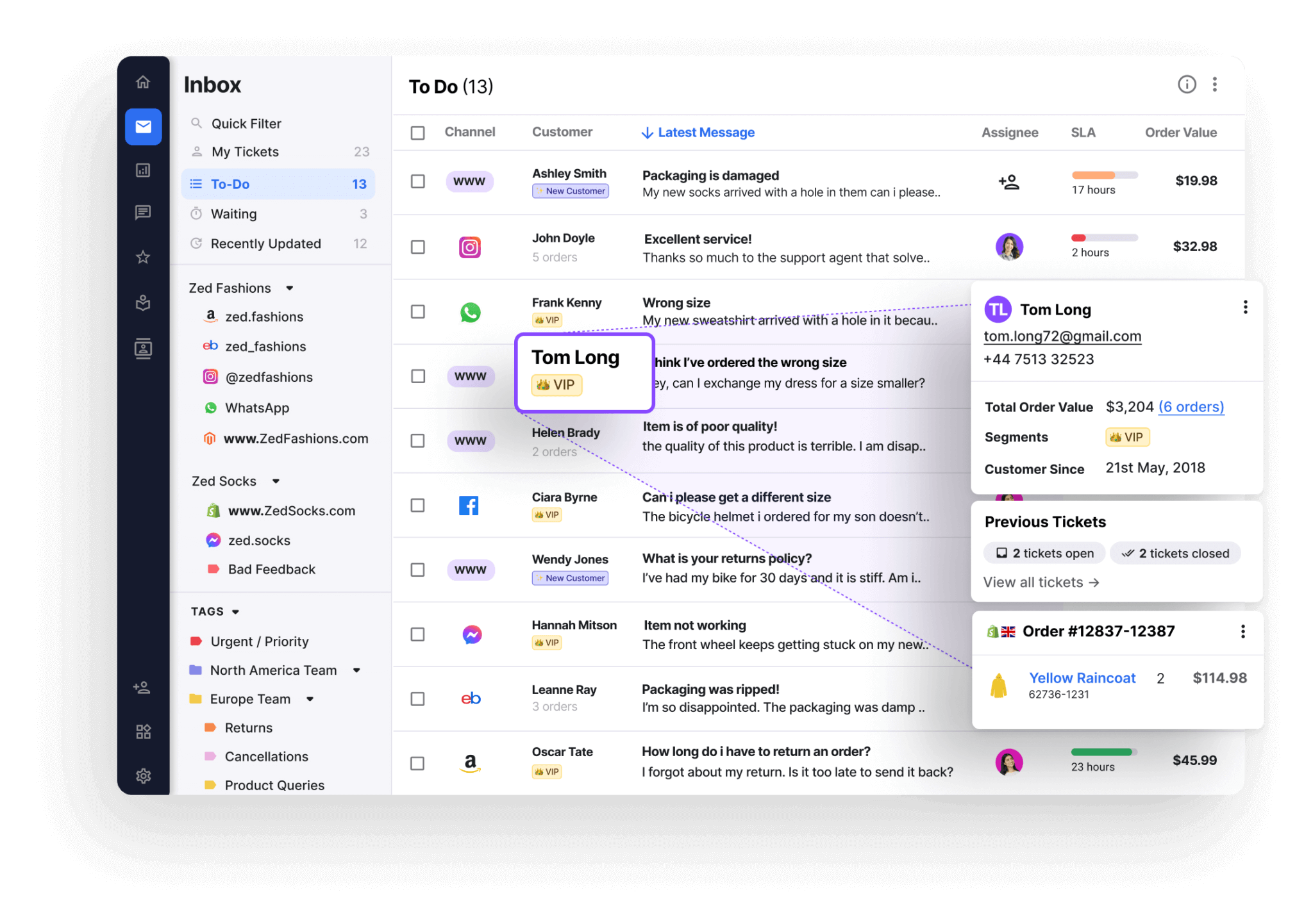 Source: edesk.com
Without a doubt, every eCommerce business strives to understand audience demands and behaviors to continue meeting their expectations. Using eDesk, you will shrink from complexity and facilitates customer support by
delivering fast and accurate customer service from one place: centralize conversations in smart inbox, embedded order data, customer view and segmentation, automations & AI, auto-translation, order/customer data-driven smart tools (inbox, templates, rules, snippets, etc.)
driving growth through: proactive conversational support, channel expansion, better insights, feedback and reviews automation.
easily integrate with the seller's existing eCommerce stack: 250+ integrations, eCommerce API, exceptionally responsive onboarding, success and support teams.
What Companies Choose eDesk as a New Customer Service Help Desk?
eDesk works with clients around the world and in a variety of verticals. And among the top verticals, you can find:
Automotive
Fashion & Beauty
Homeware
DIY
Electronics
Gym equipment
he choice to migrate to eDesk has lived up to the expectations of many companies that
sell on multiple channels
wanted to replace multiple tools and logins with one secure solution
wanted to have a scalable solution to support their peak times and future growth
Why Should You Choose eDesk?
When reality comes crashing down (as it always does,) you should check the eDesk features and opportunities before 'getting your help desk data packed' and ready to move. Check the eDesk features—and decide which will help you drive performance today, and prepare for the challenges of tomorrow.
Smart inbox. With email and general help desk systems, you may spend precious hours creating tags and filters to organize tickets for your team—but eDesk combines rich order data and query types to group similar tickets together. So your tickets are tagged, and your support team focus on solving them faster.
Centralized dashboard. Manage customer support from all your sales channels with one intuitive dashboard.
AI. Send personalized responses to all customer queries in a single click. eDesk's artificial intelligence analyses customer queries and delivers a pertinent response, and your support agents reply in seconds.
Templates & snippets. Use eDesk's customizable message templates to answer customer queries in two clicks. With the eCommerce help desk's snippets, your customer service team respond faster as the key details, such as customer name, order details, delivery address and more, are added automatedly.
Auto-responder. Your peak and out of office hours won't be a burden anymore. With eDesk, your support reps will fulfil customer expectations with timely automated responses. So none of your customers will be left waiting.
Auto-translation. If you are running your retail worldwide, consider the eCommerce help desk like eDesk—it helps you scale without hiring multilingual support agents. Using auto-translation, your team can communicate in every language.
Full order details. View full order details within every support ticket, by linking eCommerce management platforms such as Channel Advisor, Linnworks, BrightPearl and Skubana to your eDesk account.
Insights Powerful built-in reports help you analyze, understand and share key metrics about your support team, your customers, products, and sales.
Feedback & Reviews. No matter where you sell online, positive reviews increase conversions and help product visibility. eDesk lets you automatically turn every online sale or great customer interaction into a review request.
eDesk Migration Made Easy with Our Migration Wizard
We know from experience that alongside the excitement of getting a new help desk platform, there are lots of effort, time, nerves, and expenses on data migration. The uncertainty of just how you will be dealing with records mapping, downtime, and timing.
Good things come in the forms of clouds: shade, much-needed rain, data not stored on your computer, SaaS help desk like eDesk, and data migration tools like Help Desk Migration. We have got experience in switching eCommerce help desks.
Recently, Help Desk Migration has teamed up with eDesk and in a partnership, we'll make your switch to eDesk as smooth and easy as possible.
Besides, the Help Desk Migration service offer:
Quick automated data migration
Rich mapping to choose a proper place for your records
Built-in custom options to add ticket tag(s), move inline images, skip or preserve attachments, and others. Thus, the amount of these options depends on your migration pair
Run a custom migration for a hand-picked list of your records free of charge
Delta migration ensures you have no downtime during the migration process
The Migration Wizard is flexible in adjusting the default process
Our support team are ready to help you out and answer any questions you may have. Plus, we can help you out with
Custom Demo migration that may include nearly all your specific requirements
Personalized Demo run on testing platforms for you to see how to set up the Migration Wizard, rub a Demo, and check the results
We can land you a hand with data migration planning
In the concierge migration, we'll take the heavy lifting of setting up, running, and checking the results of your Demo according to your requirements—you'll need just to hit the "Start" button
With Help Desk Migration, you'll speed up making your team and eDesk a well-oiled, efficient, and constantly improving customer service machine.
eDesk migration setting is easy and simple to do even if you consider yourself a not-so-tech-savvy person. Start with registering an account at the Migration Wizard, and start creating your test migration. Let's say you want to move from Freshdesk to eDesk—this is how to set your eDesk migration.
Start with connecting your eDesk to the Migration Wizard. Either move from or import to eDesk: you need to provide your email and password. Double-check your account got admin rights on the eDesk instance; otherwise, your data migration will fail.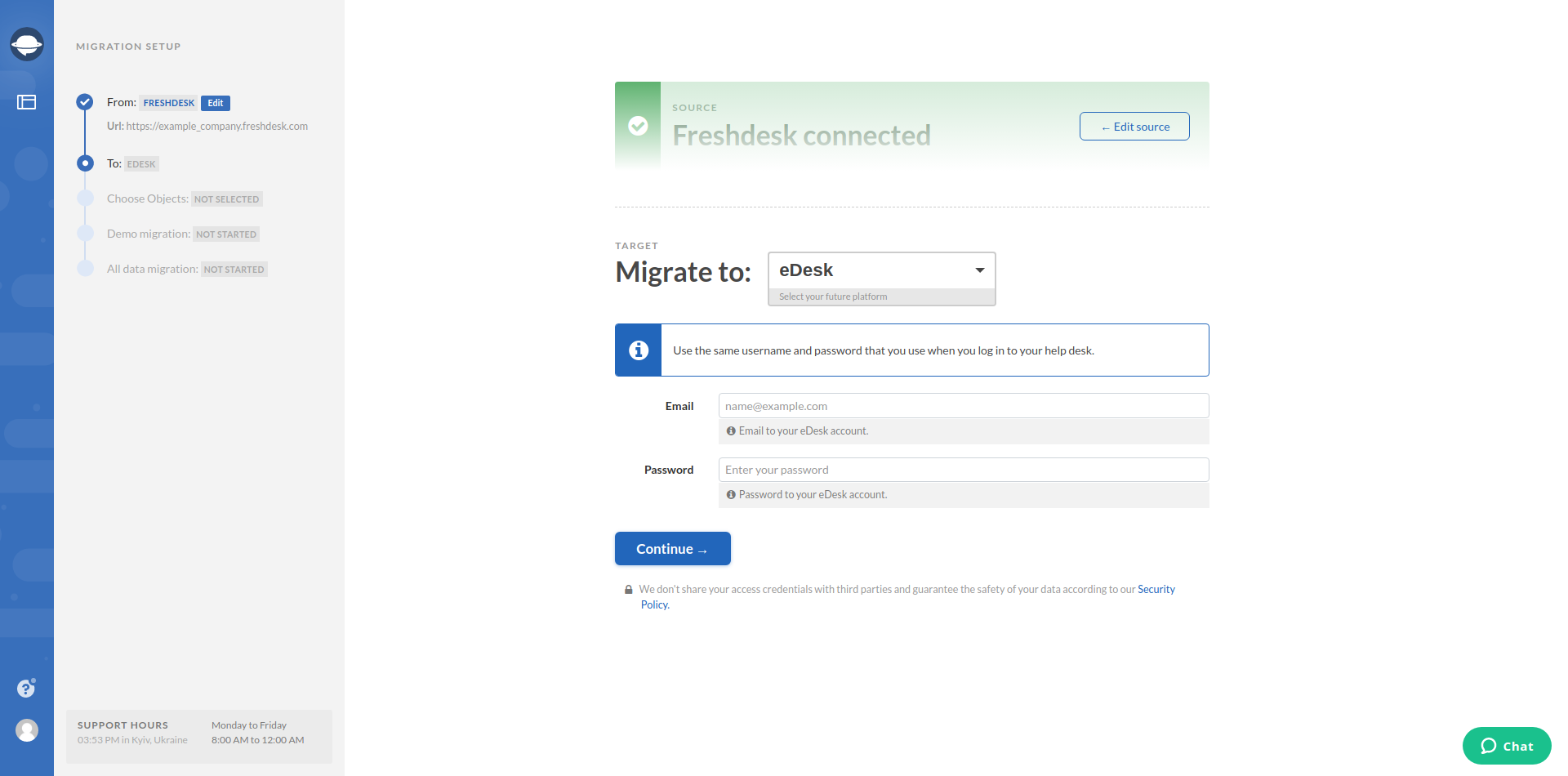 Then choose the eDesk channel you want to import your Source data, and click "Continue."
If you want to migrate your Source records into a different eDesk channel,
contact our support team
to learn more details.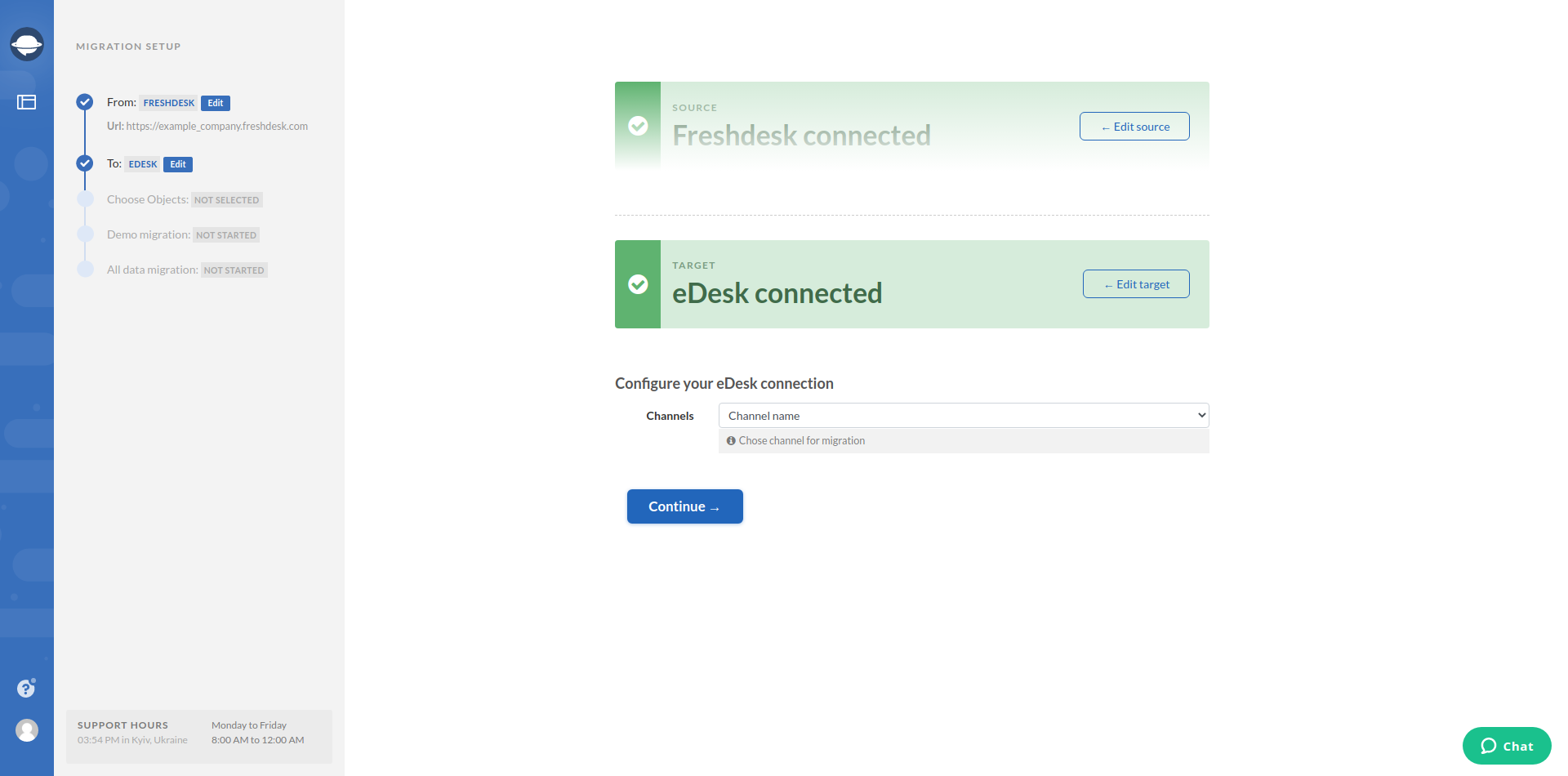 Now you choose the data objects you want to move: agents, contacts, and tickets.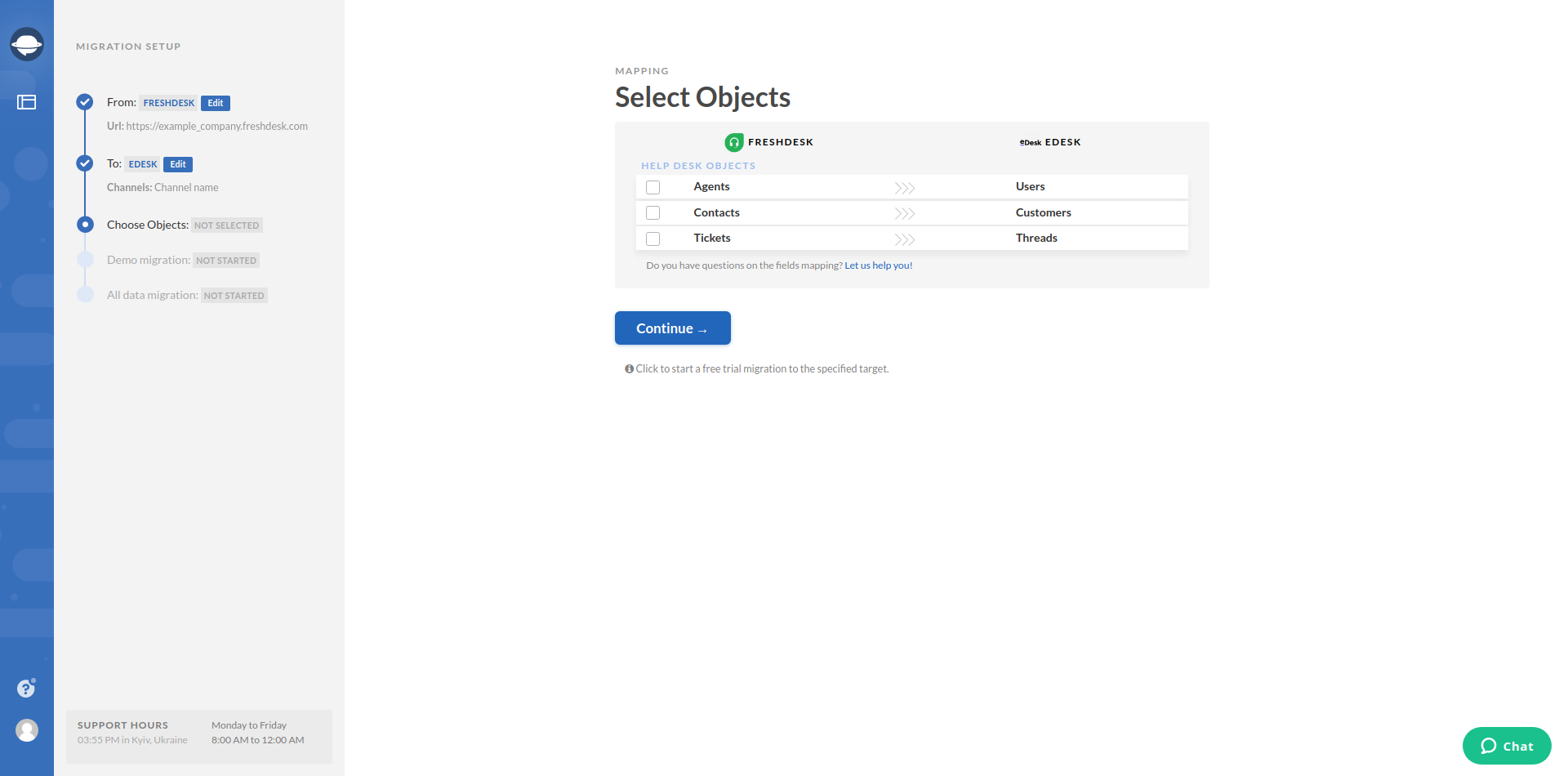 The next step is where you map your records between the Source (in our sample, its Freshdesk) and the Target—eDesk.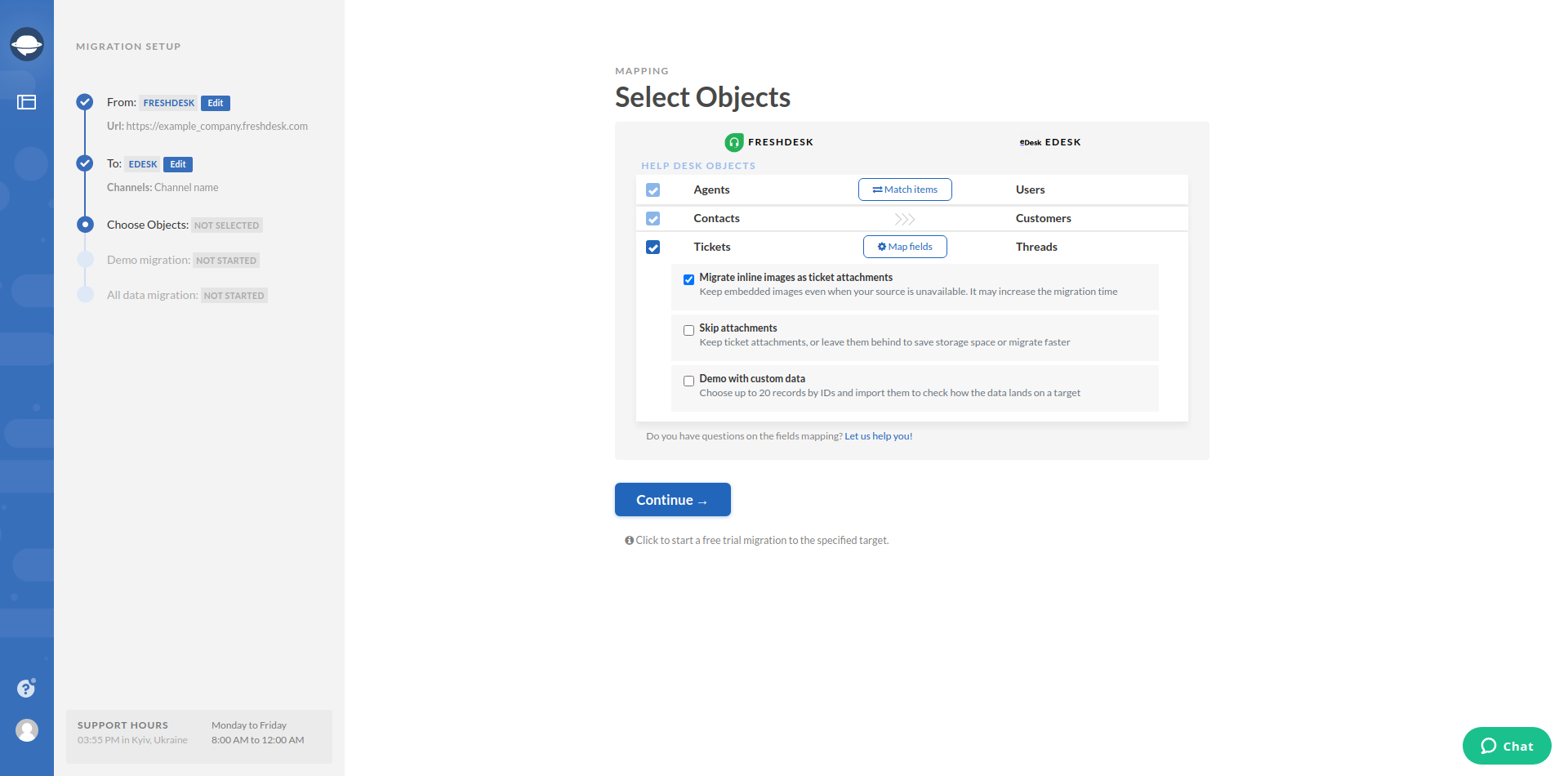 Besides the default data mapping, you can choose any suitable for you built-in option:
Migrate inline images as ticket attachments
Skip attachments—we transfer them on default
Demo with custom data—just insert the handpicked ID of the records you want to migrate
So your setup for Demo Migration is ready to go.
Once it's finished, you get the estimation of
records available for migration
records migrated in the Demo
records that were skipped/failed. in our sample, we got none. Thus, such records may appear; so be sure to check the reports in detail.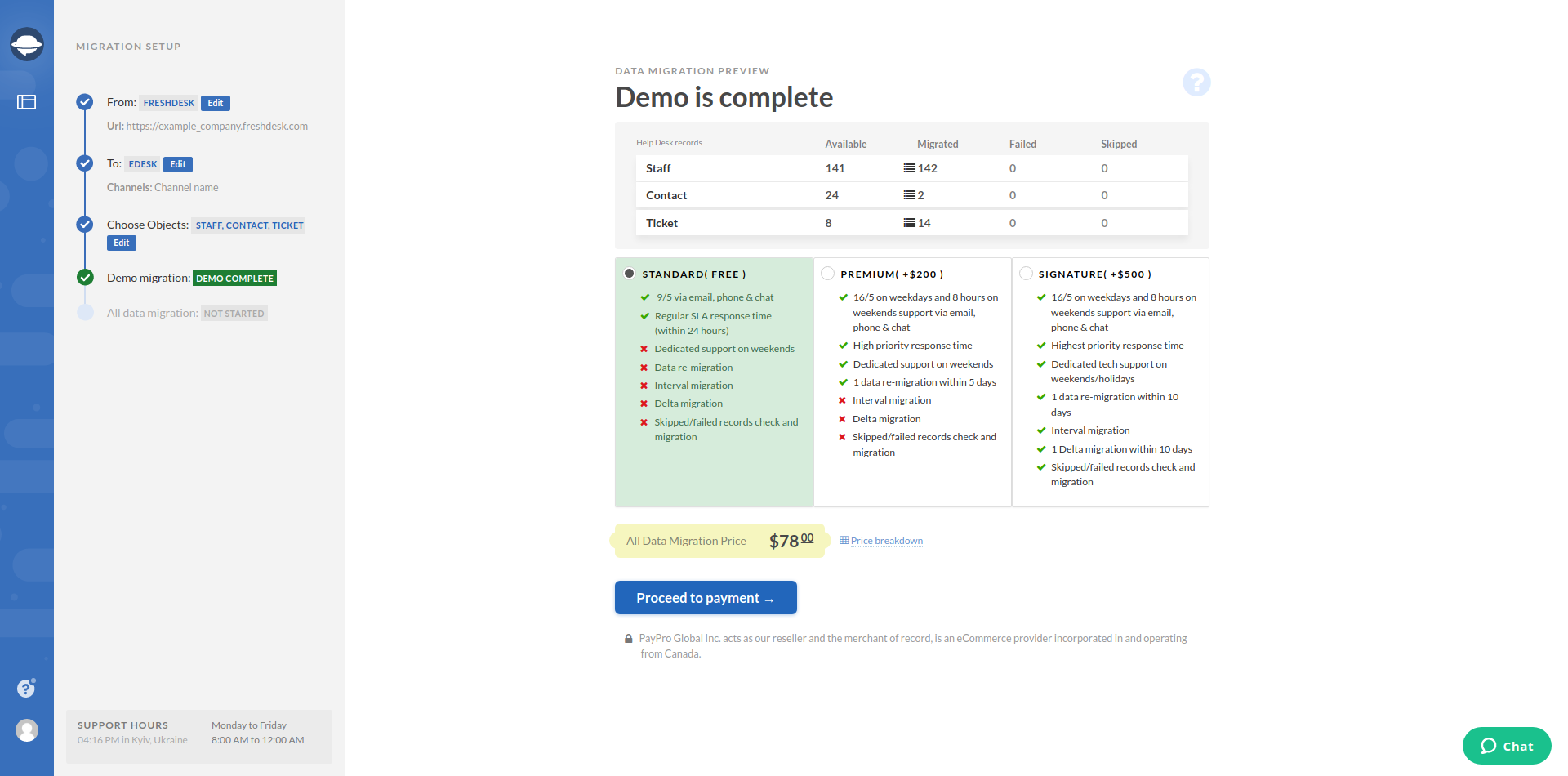 Before starting your Full Dat Migration, you can choose a support plan: Standard is free, while Premium and Signature provide extra options for extra fee.
Transparency matters a lot, and the cost of the data migration should be clear as well. To know what you are going to pay for, check the Price Breakdown.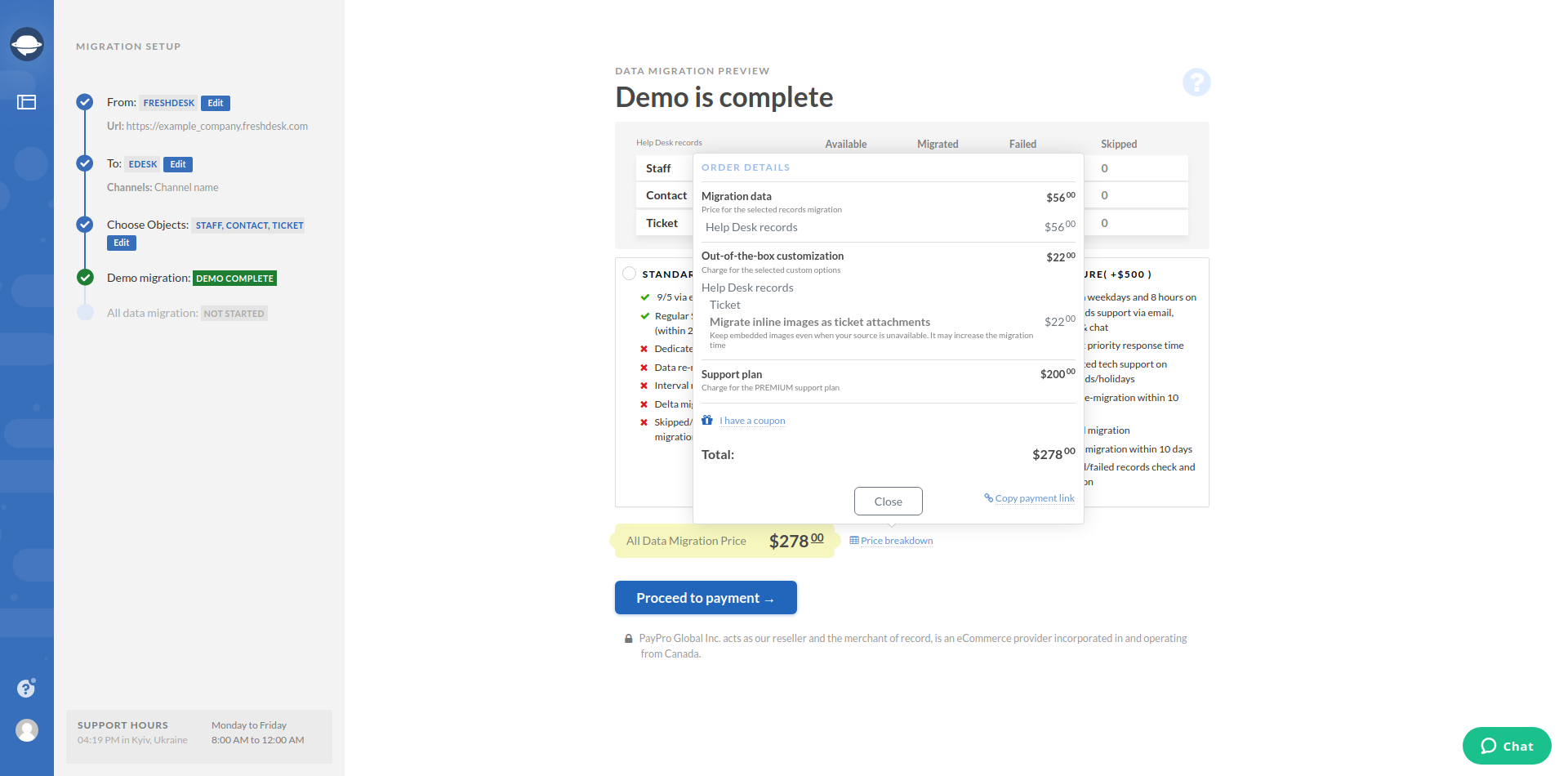 eDesk looks like the eCommerce to meet your business needs in outstanding customer service. Then a painless eDesk migration with the Help Desk Migration service will add some flair to what is, in many cases, a boring, tedious process.