Continuing our HelpDesk comparison streak, today we will be stacking the newcomer, HelpDesk, to another oldie, Zoho Desk. Long-time readers will know that we were pretty impressed with Zoho's offering but how does the new contender compare? Where does it fit? And what are the key drawbacks? All this and more in todays HelpDesk vs Zoho Desk overview. Let's get started!
Scope of the Review
As usual, before we begin any review, we'd like to point out what aspects we'll be covering and what will be omitted. This allows us to focus on the most important parts of the tool, as well as help avoid information that is considered to be "obvious".
Thus, for today's HelpDesk vs Zoho Desk analysis, we will be looking at the primary objectives of the system, what are the unique features, and what size of organization each tool will benefit the most. And as a side note, we won't be looking at all features, only at the ones that are considered to be helpful in a large capacity. Now onto the tools.
What is HelpDesk?
As the name suggests, Helpdesk is a helpdesk software solution that aims to deliver a simple user interface, a set of powerful functions, and an affordable price tag to the masses. It has all the standard functions you might ever need from such a tool, as well as it packs quite a few that are specifically designed to cover an intricate problem.
Features
So, the number one feature that we would like to talk about is the Team's system. Now what it does is it allows you to assign a specific type of ticket to a specific division of your company, or more appropriately, to a team, in a fast manner. Now on paper this is simple and nothing to scuff about but when you apply scale and high volume, suddenly this feature is amazing.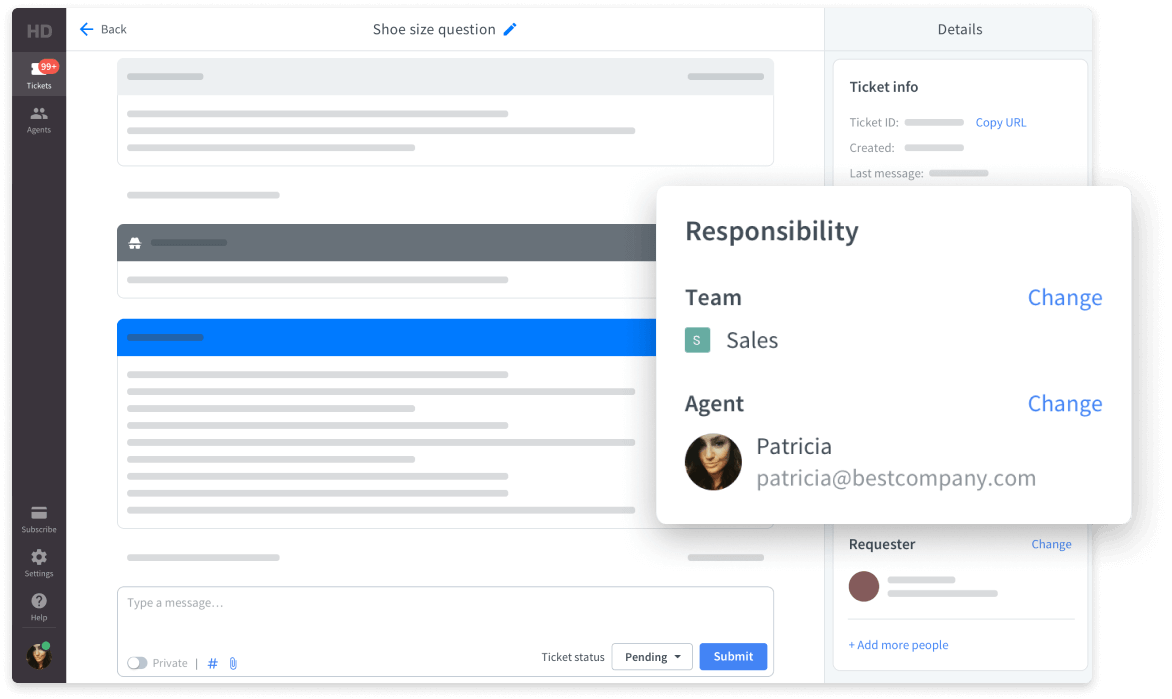 Another notable system is Ticket Satisfaction. This feature gathers your customer opinions about ticket responses and forms it into a highly detailed report where key metrics are clearly visible. This function will allow you to improve all your services and brand loyalty in a more accurate fashion since you will know exactly where to go and what to do.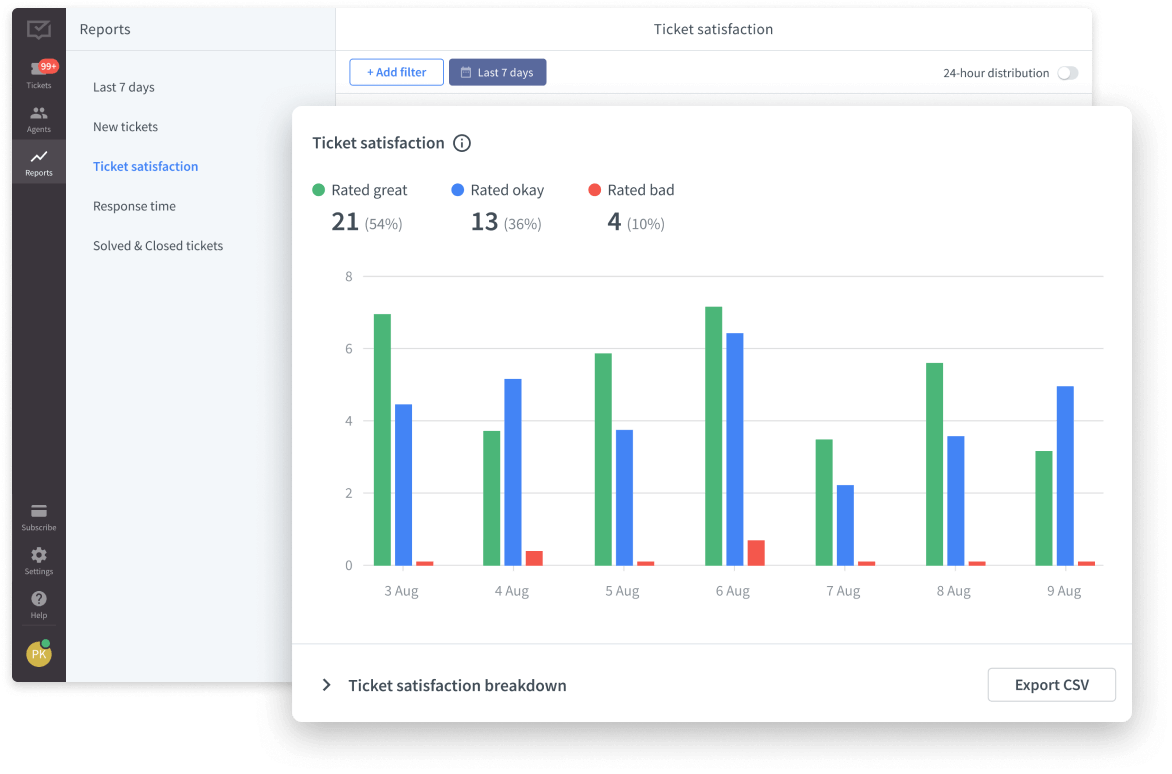 Last but certainly not least, we loved the Ticket Heatmap feature. It is a sophisticated analytics module that allows you to see when your customers need your help the most. It visualizes data in a graph-like view where you will easily spot peak times, meaning you will be able to assess the load effectively.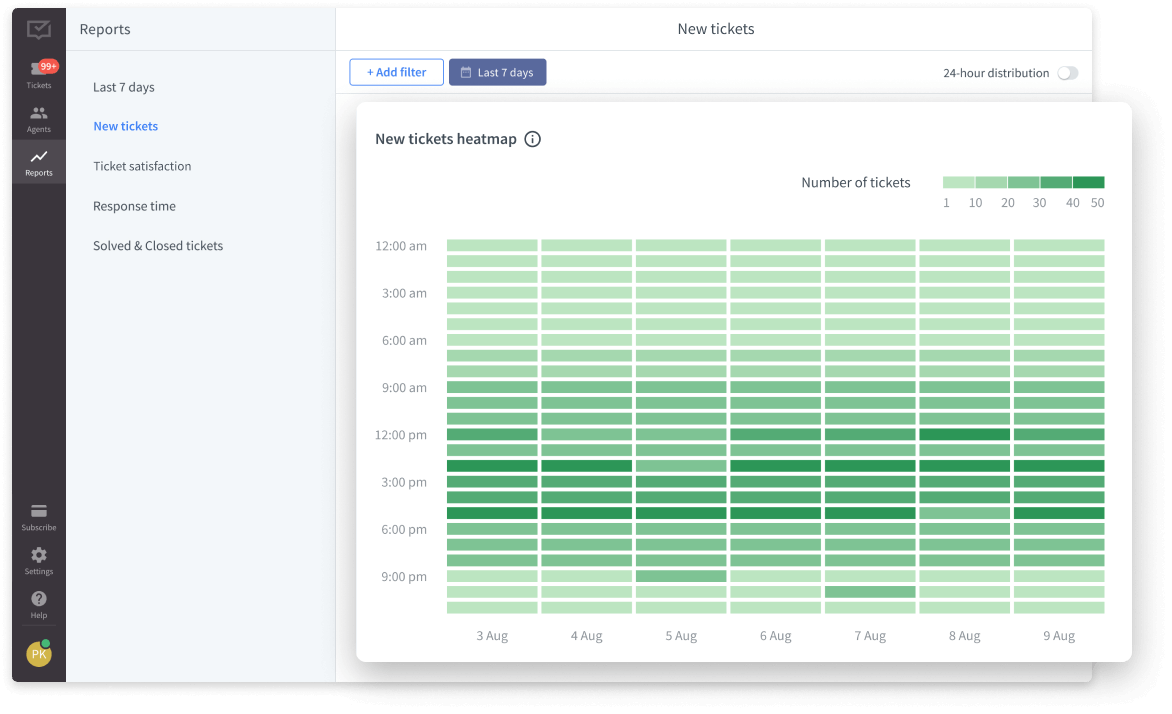 Size Compatibility
At glance, HelpDesk might seem like a perfect fit for medium-sized businesses, and for the most part, that is correct. However, there are a few things that hold it down from entering the larger market (not that the current one is small).
It does not have a ton of automation options, and the lack of certain integrations does make it less attractive to multi-billion dollar corporations. Even so, the tool is very polished, constantly updated, and frankly, quite cheap (more on that later). If you are a small to a medium-sized company, HelpDesk will do the trick.
What is Zoho Desk?
And now for Zoho Desk. So, long story short, Zoho Desk is a dedicated customer support system that has a strong emphasis on automation and AI. Its core mission is to make all your operations easier and your focus on the customer more accurate. It is a highly flexible system and can be adapted to just about any industry.
Features
As a customer service tool, the very first thing we'd like to talk about is the Multichannel Ticketing System. As the name suggests, it allows you to gather tickets from across a wide range of sources. Whether it's your social media profiles or a custom-built solution, you can gather data into one hub which will allow you to streamline work much faster.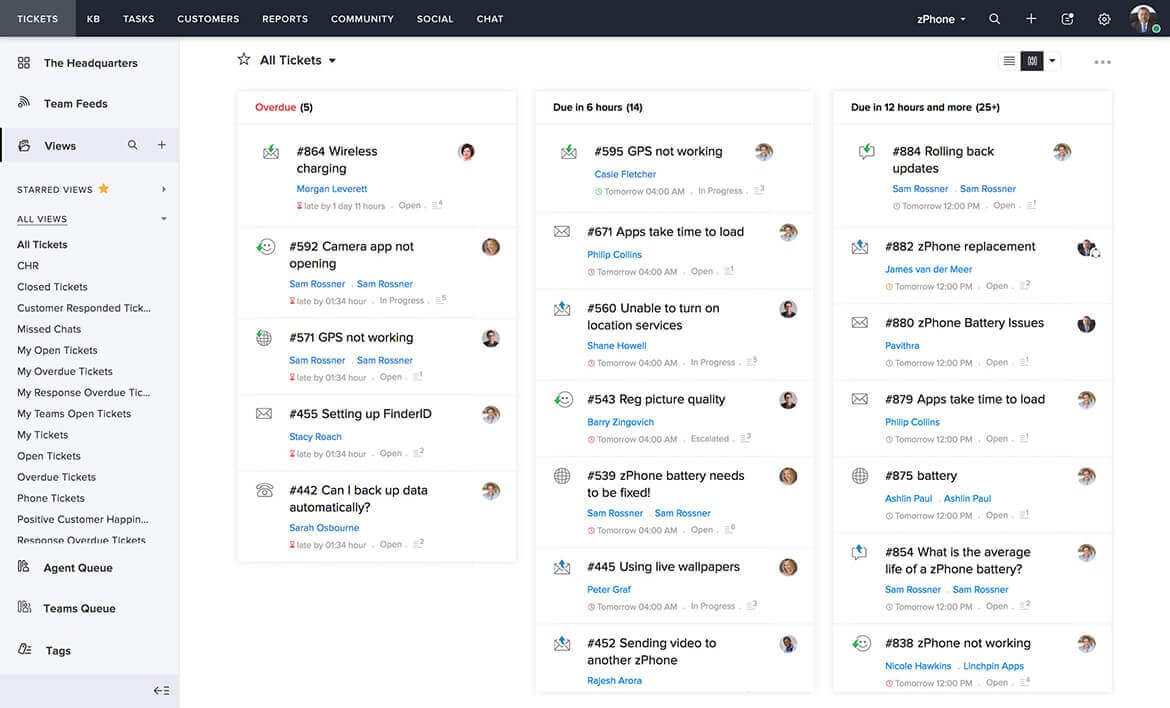 Next on the list is Zia. It is an AI support software that is context-aware, or in other words, it can read and understand what your customers want from you. The more it works, the more intelligent it gets. It can answer common questions, provide recommendations, and even close/open tickets. You can also integrate it into a live chat for even more productivity.
The last function we'll cover is Blueprint. As you might have guessed, this is a process automation system designed for people that don't know a thing about programming. Yes, to use the automation suite of the tool, you don't need to know any programing language as everything is presented in a flow-chart-like manner. Just connect one variable to another and call it a day.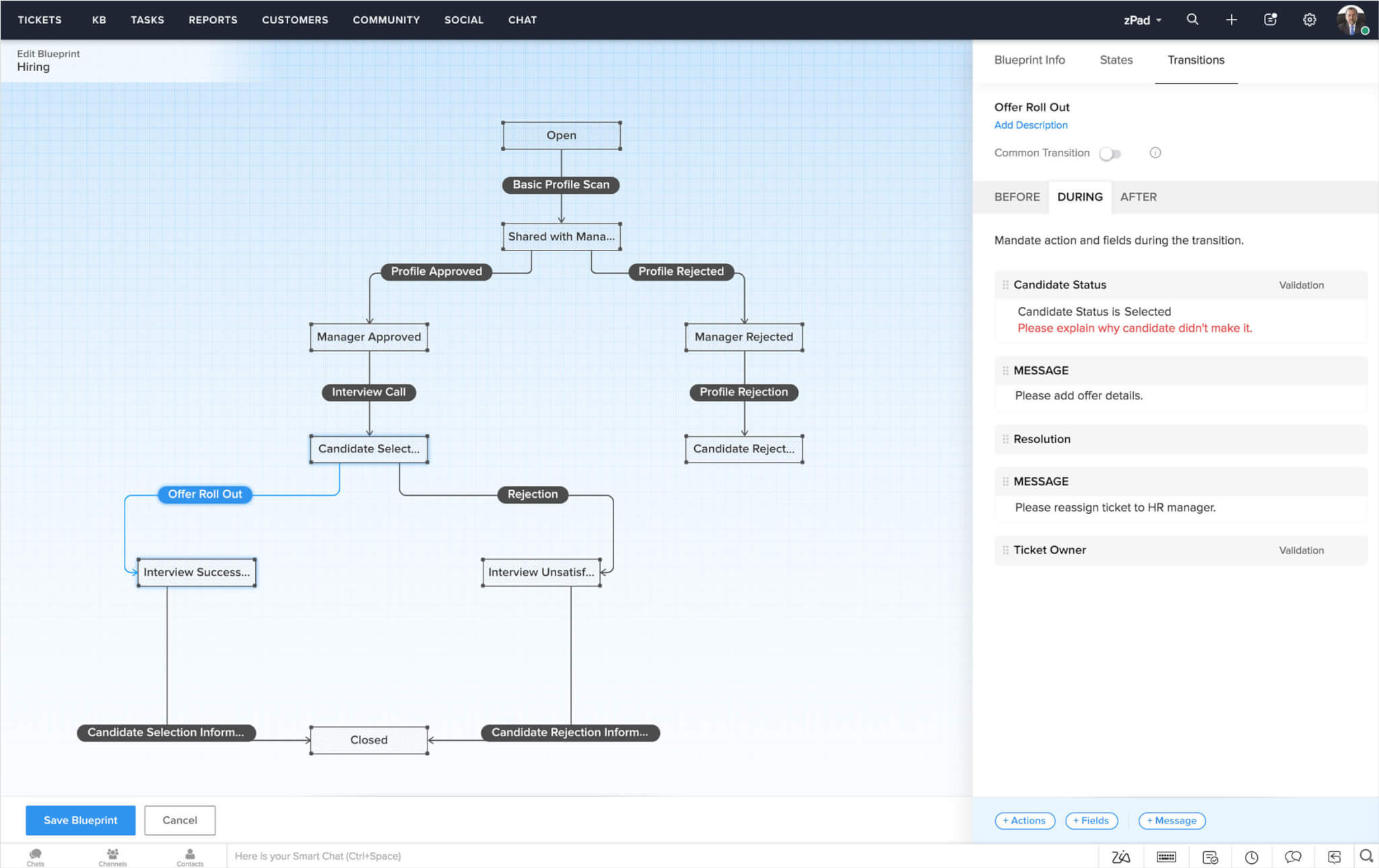 Size Compatibility
Now Zoho Desk is clearly built for enterprise-level companies. It not only scales excellently but has enough "horse-power" to accommodate just about any amount of users and visitors. Furthermore, there are a ton of seamless integrations and it even supports multiple languages.
You can still use the tool in a smaller organization but you won't gain much as all the powerful things are locked in higher tiers. Yet, if you are absolutely positive that your company will get the most out of the system on lower tiers, get it as you can scale it.
Pricing
As you already noticed, one tool is for large-size companies and the other is for smaller teams. Objectively speaking, both are excellent systems and whichever way you go, you won't be disappointed. For now, it is a matter of pricing and nothing more. Here's how both systems stack up:
Figure 1: Pricing Differences
Zoho Desk Pro €20 user/month
HelpDesk Team $19 user/month

Automatic Time Tracking
Blueprint - Basic Process Management
Round Robin Ticket Assignment
Agent Collision
Ticket Templates
Multi-department Ticketing
Team Management
Private Marketplace Extensions
SLA Dashboards
24x5 Chat Support
Add-On (€5/Light Agent)
Ticket Splitting
Mobile SDK

Teams
Multiple mailboxes
Automated assignment
Superior analytics
Customization
LiveChat integration
Email channel (shared inbox)
Unlimited free Viewer accounts
Limitless ticket history
Collaboration mechanisms
Basic reports
Ticket rating
24/7 chat support
Both systems offer a wide range of features and they do have a pretty similar price tag. We suggest that you carefully study each function and put up a list of "must-haves" and "must not" to see which system is the most compatible for you. If unsure, you can also ask for a free trial or demo to see how things operate from within.
Verdict
And there you have the HelpDesk vs Zoho Desk comparison. This one took quite some time to complete but we are happy with the results. Each tool is good and they aren't really comparable as they aim for different things. If you couldn't decide which one you should go with, then we hope our analysis would prove of some use. But in the meantime, if you already know what system is for you but need help migrating your old stuff to the new home, we can help. Just write us a message or give us a call and we'll get you running in no time.
Frequently Asked Questions
Zoho help desk is cloud-based software that helps you control your customer activities efficiently. The platform allows you to assign, set up, and track alerts easily. Plus, you can customize your account and improve customer experience with a wide variety of features and integrations.
Zoho Desk is used by companies primarily situated in the United States with 10-50 employees.
Migrate to HelpDesk or Zoho Desk now!
Automated. Secure. Fast.
Try free demo