Twilio Flex is a relatively new cloud-based contact center platform. As the name implies, it is part of Twilio – a company that provides cloud-based services that help businesses upgrade their communication systems without having to invest that much in hardware than most contact centers require. Today, we'll be reviewing Twilio Flex to see what it's all about.
What is Twilio Flex?
Twilio Flex is a cloud-based contact center meant to help medium and large businesses manage their communication with customers. Twilio Flex is omnichannel, highly-customizable, and fully programmable. You can choose from such channel as:
Voice – can be used in 180 countries with PSTN support
VoIP – Can be embedded in web and mobile apps
SMS
Chat
Facebook
Line
WhatsApp
+ Add your channels using the API
As well as make every element of the contact center work for you by adjusting the agent interface, conversation routing, reports, etc.
Other Benefits of Using Twilio Flex
Aside from the channels that you can deploy and customize, these are some of the strengths of the software.
1. Twilio Flex User Interface
The user interface of Twilio Flex can be navigated by anyone with ease. However, true to its nature of programmability, every element of the UI can be customized. A business can add components for the agents or even add buttons for customers. Each customization can be used to link to new channels or perform functions such as generating reports on agent performance or show customer satisfaction. All of this allows you to enhance all your contact centers without the need to restructure anything.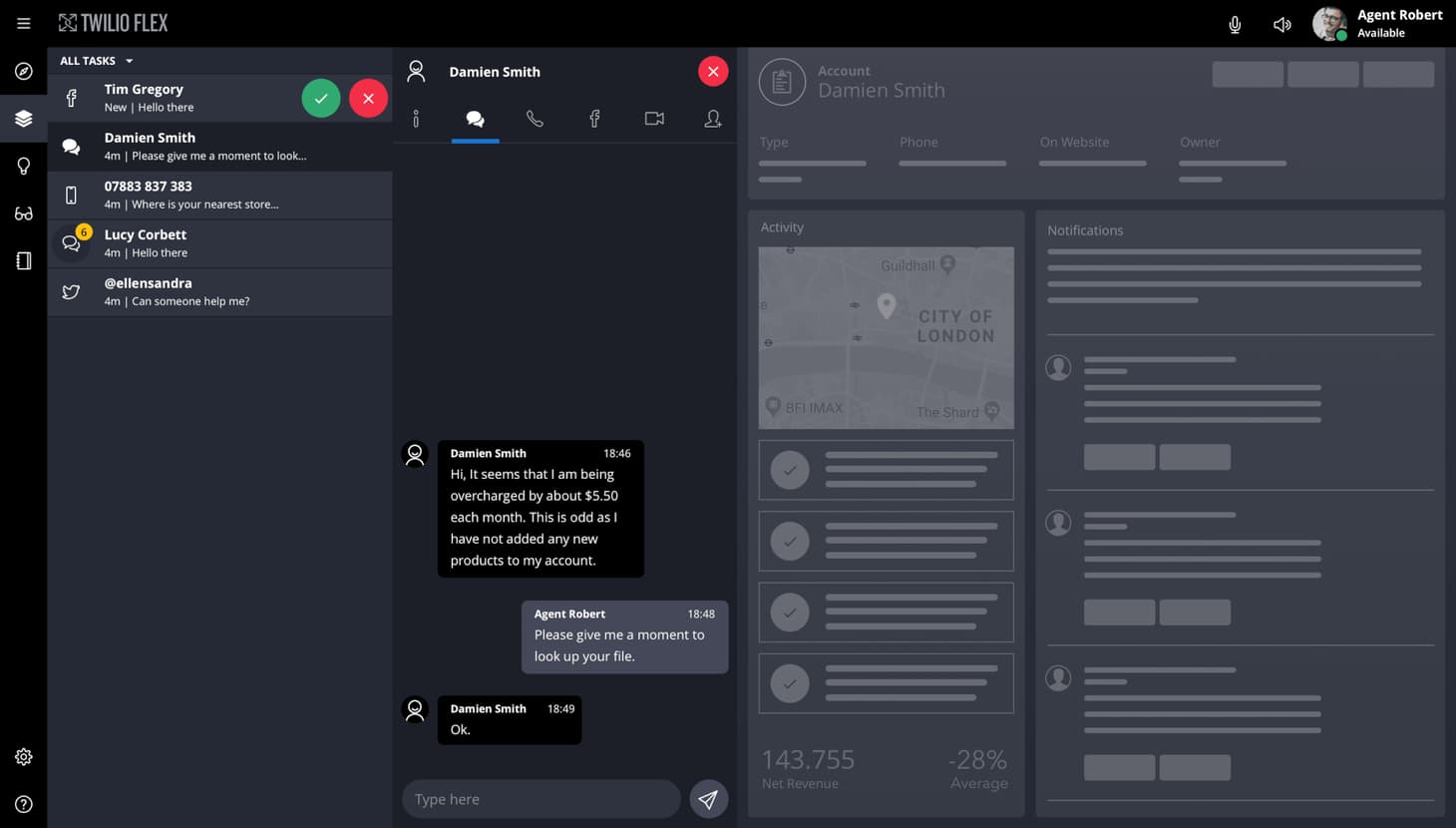 Twilio Flex agent dashboard. Source: TechCrunch
2. Drag-and-drop Application Builder
As previously stated, users with no to little coding know-how can program or customize Twilio Flex. The WYSIWYG or drag-and-drop builder is easy to use. It can create virtually any type of application inside the Twilio Flex environment without the need for coding. This will cut work times as agents won't have to wait for developers to come up with customized applications.
3. Integrations
Using Twilio API you can connect Flex with other necessary apps. The list includes but is not limited to:
Salesforce
Zendesk
Workforce management apps
Customer relationship management apps
Workforce optimization apps
Analytics apps
The API is so versatile and Twilio Flex promises it can be integrated with almost every third-party app out there. This opens up endless possibilities for your contact center as no architectural dependencies hold you.
4. Contextual Intelligence
Twilio Flex also gains a lot of upgrades via the Twilio platform. Machine learning (ML) and artificial intelligence (AI) are a couple of those. Twilio uses Google's Natural Language Processing Capabilities (NLP) to create Twilio Understand. Understand uses ML and AI to gather contextual data for better comprehension of the needs of Twilio customers. The titular contact center software also uses Natural Language Understanding (NLU) and voice recognition.
All three plus the AI infrastructure in Twilio Flex translates into better services via advanced speech analytics. However, Twilio charges an additional fee for speech analytics.
5. Twilio Flex Autopilot
From the contextual intelligence comes Autopilot. It is the conversational AI of Twilio Flex. You can use Autopilot to build bots, interactive voice responses (IVRs), and apps for Alexa and Google assistants.
Autopilot aims to take care of frequently asked questions. However, it can do so much more than that. For instance, it can support a natural conversation and hand off the tasks that require attention from a human. It transforms your contact center into a help desk-like system.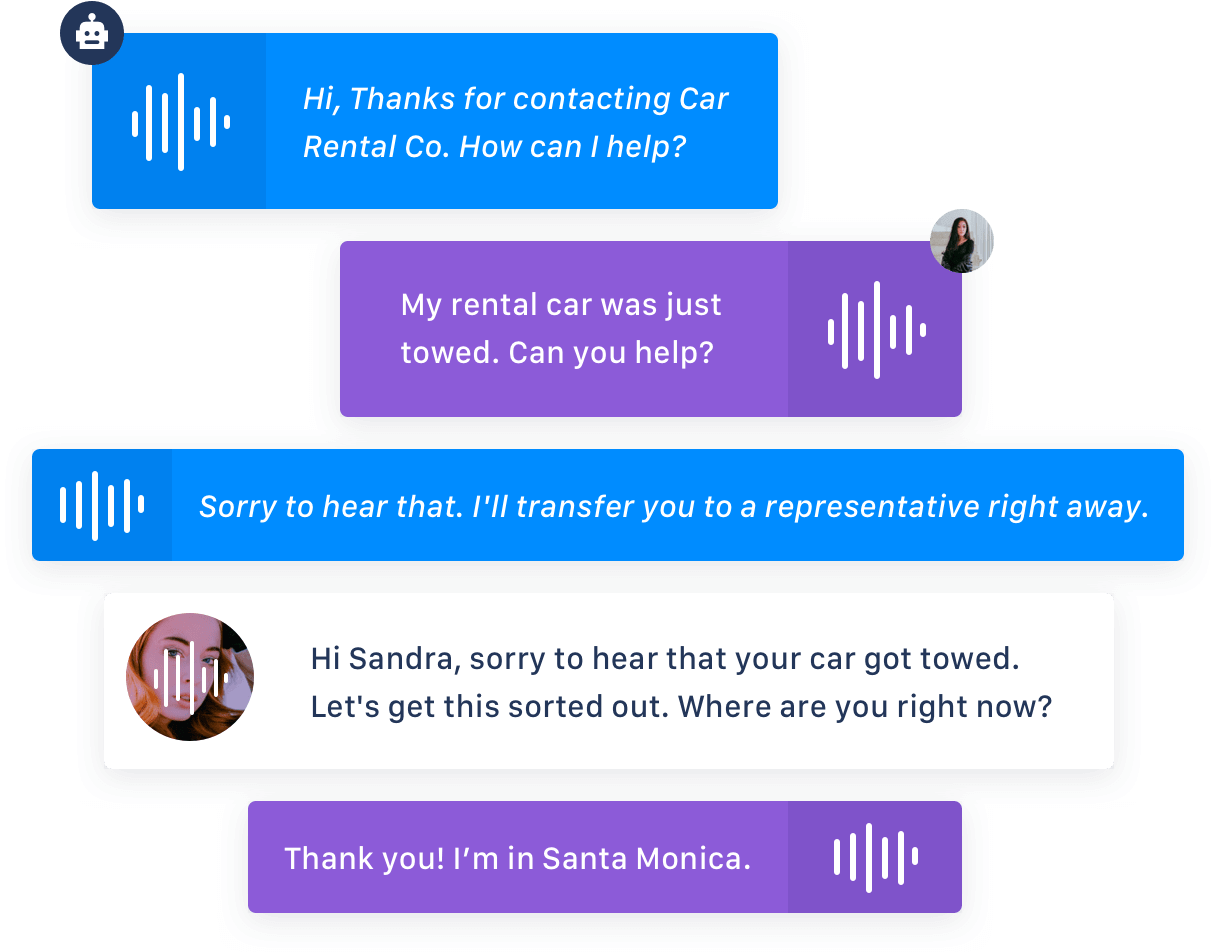 Twilio Flex Autopilot
6. Twilio Pay
Businesses can also use Flex with Twilio Pay. Provide a secure payment channel for your customers with just one line of code to activate the service. Process payments over the phone while keeping credit card information safe.
7. Omnichannel Conversation Integrity
An omnichannel approach is now a requirement for almost any app in the customer service industry. Twilio Flex promises integration between the channels at all times. An agent will be able to follow a conversation from one channel and take it to another contact center without losing track of the main query.
8. Analytics on Real-time Interaction Data
Twilio Flex can give you complete control over contact center interaction data. A real-time stream of everything happening in your contact center can be viewed by a supervisor desktop and admin desktop. Catch any negative feedback and appropriately train agents on the fly.
Twilio Flex Pricing
Twilio Flex has competitive pricing that is sure to entice business owners. They offer several subscription plans that will fit anyone's pockets. There are two main ways that the company charges customers. There are the per hour base and the named user pricing per month.
Free Twilio Flex
Price - $0
The free Twilio Flex plan gives you 5,000 hours of use. Deploy Twilio Flex, start creating dashboards and channels, and use almost all of the features of the cloud-based help desk software. However, you won't be able to use workforce optimization (WFO) and self-hosted UI. Still, a 5,000-hour demo is already very generous considering that one month is approximately 730 hours. You can have one agent use up the 5,000 hours for up to 6 months with 24/7 operation times. For a team of 5 agents, they can use it for up to one month, more if you operate 8 to 12 hours a day.
Active User Pricing
Price - $1 per active user per hour
This pricing plan accommodates your business needs. You can distribute 6 to 8 working hours in a day to simulate a 24/7 operation or scale it to 24/7 on peak seasons. Here are some calculations of the costs.
8 hours a day / 1 active user x 20 days (Mon to Fri) = $160
8 hours a day / 1 active user x 30 days (Mon to Sun) = $240
24 hours a day / 1 active user (every 8 hours) x 20 days (Mon to Fri) = $480
24 hours a day / 1 active user (every 8 hours) x 30 days (Mon to Sun) = $720
Advanced speech analytics = +$0.25 / active user per hour
Essentially, this pricing plan is great for a business that doesn't expect a 24/7 customer service. It's ideal for those that run an 8 am to 5 pm working hours and 5 days a week only contact center. You can check out the Twilio Flex price calculator for specific costs. The prices can be scaled depending on peak season, but it will be a case to case basis.
Name User Pricing
Price - $150 per named user per month
A flat rate charge regardless of traffic spikes or volume of activity for one named agent, supervisor, or admin. The flat rate gives you a predictable pricing plan so it will be easier for you to estimate the costs.
8 hours a day / 1 active user x 30 days = $150
24 hours a day / 3 active users (every 8 hours) x 30 days = $450
Advanced speech analytics = +$40 per named user
Cost-wise, the named user pricing might be cheaper in the long run even with the flat rate advanced speech analytics price tag. Again, consult the price calculator on the Twilio Flex website for a detailed costing.
Who Can use Twilio Flex?
Weighing the costs and services provided, one might say Twilio Flex, as a programmable contact center, is ideal for small businesses. However, Twilio says their target is businesses that need more than 1,000 agents. On-premise contact center software is often expensive as you need to pay for hardware and the whole software plus the per-user price. Twilio Flex offers an intuitive and highly customizable pricing plan that might fit your budget more.

Pros and Cons of Twilio Flex
Positive Reviews
Most favorable reviews about Twilio Flex focus on the software as a whole and the price. The number of channels, customization, and price points is a game-changer. Users love that they can start from scratch and build their contact center system at a price that's cheaper than most services claiming the same benefits.
Negative Reviews
Perhaps it's high customization is a double-edged sword. Some users warn of creating bugs while customizing Twilio Flex. This could lead to some problems like Zapier integration problems, SMS not showing up at all, sub-menus can act differently, and more. While Twilio Flex contact center can be used by non-developers, it's still a good idea to let devs do the tinkering.

Overall – Is Twilio Flex Worth It?
Twilio Flex is worth a try. With a free fully functional demo, you can decide on your own if it's worth the price tag. Besides, you have the backing of a company with a bevy of products at your disposal. The dedication of Twilio to always innovate is also a big plus, as evident by the fact that it is fully programmable. This ensures that you will get updated software for as long as you're using it.