If you are using Salesforce and can't seem to find how on Earth you are supposed to migrate knowledge base articles, then you are not alone. The process is not at all easy for us users, that is why we took this matter into our hands. That's right, we took the time to study the ins and outs of the system and we have not one but two way you can migrate your knowledge base articles. Thus, without any further delay, let's dive into the two methods.
Using the Native Implementation
Now, this is a tricky one as it involves that you use a completely counter-intuitive option, the translation menu. You've heard us right, to start exporting your current articles, you need to head over to the "Export for Translation" menu.
But before you begin, you will also need to verify whether you have the Manage Salesforce Knowledge, Manage Articles, and Manage Knowledge Article Import/Export permissions.
Once you ensure that you have all the necessary privileges, open the aforementioned menu, and create a translation queue by picking the articles you'd like to export in the Article Management tab. This will take you to a separate dialog box in which you will have to specify in which language you want to translate your article. What you have to do is go to the Setup from which you have to go to the Export Articles for Translation menu in the Quick Find box.
You will then have to select the queue that has the articles you are about to export. There will be two options, pick whichever you like best and hit continue. This will take you to the character encoding screen and subsequently to the delimiter option. After all of this, you just hit Export and wait for the mail with the download button to arrive.
And that's pretty much it. Quite tricky to figure out on your own. And even more tricky to figure out if you are on a lower than Professional tier. That's right, this option is only valuable for people that have a high enough tier. If you don't have it and don't feel like upgrading, your best bet would be to use the API but even that comes with its own set of limitations and drawbacks.
Using Our Service
Now if the above sounds like a lot of work for you, we offer a simpler way to migrate all your Salesforce knowledge base articles. However, it is a paid option and not everyone will be willing to spend more. If you are not sure, we suggest that you skip this step-by-step section and read the benefits block to learn more.
Anyways, to migrate your Salesforce knowledge base articles, you must first head over to the migration page where you will see two fields. In the Source field, you must pick Salesforce and in the target one, you need to pick whichever platform you want to move it to (and in case you are wondering, you can also select CSV).
Once you've specified the platforms, you will need to input both your Salesforce and target platform credentials so that our tool can connect to it. Once the bridge is established, you will need to map the data you want to move. Pick the articles you wish to migrate and hit the next button. This will take you to a demo migration page. Now, this is critical as this step will make sure that your migration process won't go haywire and such.
Our tool will take a small portion of your data and try to move it to the target specified. This data is not your original files but rather a copy, meaning your articles will be fine. After the demo migration process is complete, you will be able to perform the entire migration. And that's all there is, no need to do anything more.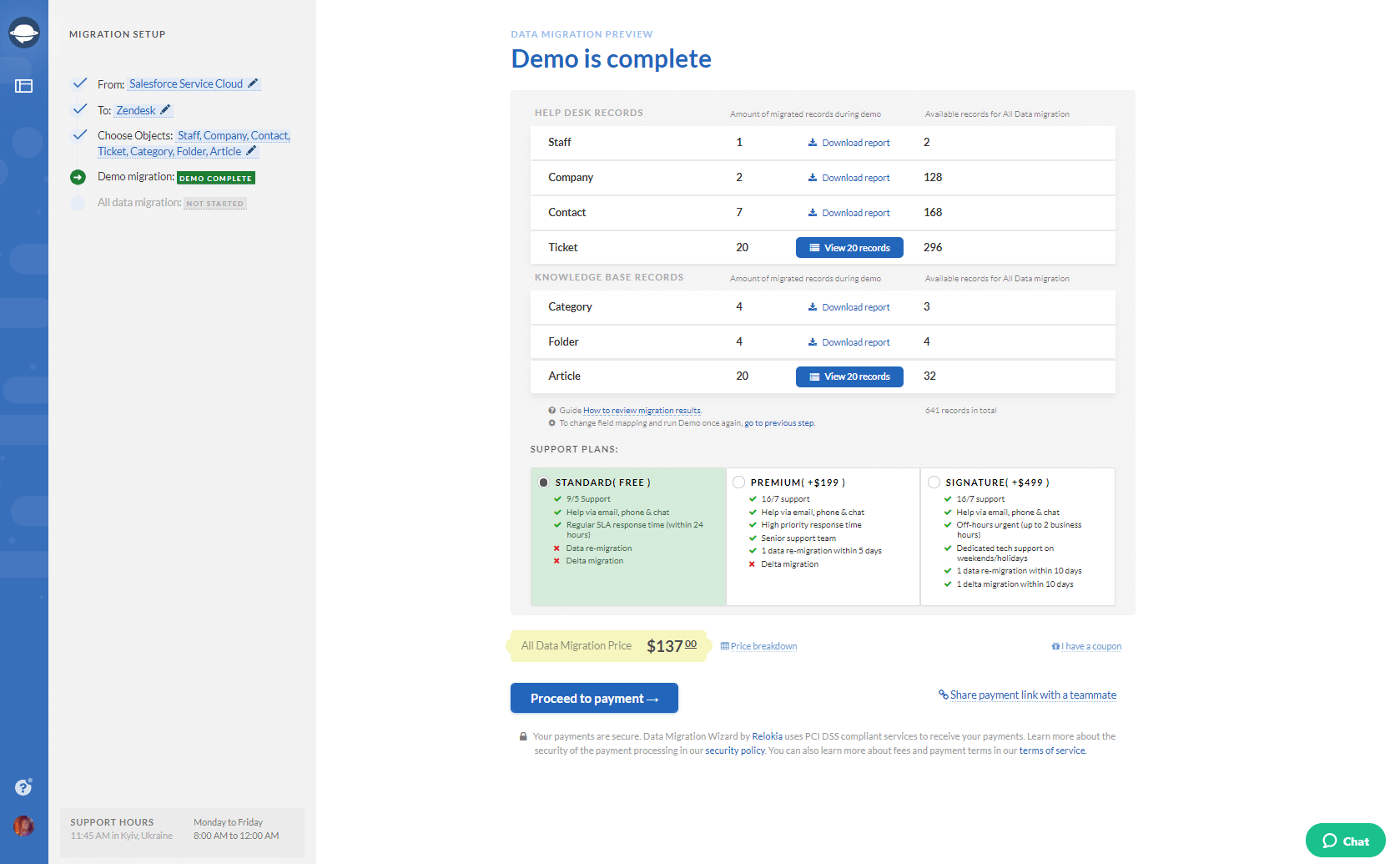 Benefits You Get With Us
If you skipped the process part, you are probably wondering what kind of benefits you can get when using our solution. There are a few of them and covering them all would take a while so we will focus on the core ones. So, first off, the entire migration cost is very affordable because you won't be paying for the labor nor by the hours. We charge our customers for the number of records moved.
Secondly, our solution is fast and does not need any extra configurations and whatnot. You simply select the data you need, map it, and hit the migration button. Hiring a freelancer to develop an API-based solution will not only take a lot of time but will be much more expensive in the long run.
Finally, you get our full support during the entire migration process. That's right, you won't be left with the problem on your own. Our technicians will be there for you in case things go south. Moreover, we also provide after-service support so in case you have additional questions, we are happy to oblige.
If you're looking for a detailed Salesforce data migration checklist - feel free to check out this article.
Bottom Line
So that about wraps things up for today. Salesforce is a complex system, for sure but the fact that it takes such a strange workaround just to export your stuff is kind of puzzling. And if you are still unsure about our custom solution, you always book a demo. After all, better see it once than hear it a couple of dozen times. To schedule a demo tour, just contact our support and we'll get back to you in no time. But for now, that's all we have for today, thanks for joining.
Migrate your Salesforce knowledge articles today!
Set up an automated data migration!
Start Demo Migration