Salesforce Data Migration Checklist
We've mentioned it, what seems now, a hundred times – data migration is a complex process that requires a ton of headwork in advance. But we're not here to frighten you with multiple steps, neither we want to discourage you by dwelling on possible struggles. You want to know how to seamlessly migrate your data over to Salesforce Service Cloud, and we're about to give you just that.
First things first, if you aren't a data migration expert, you'll probably need a third-party service that will take all the hard work upon its shoulders. Help Desk Migration fits just perfectly to that description. Our tool is highly automated, which will allow you to forget about the technical side and leave all the worries behind. Moreover, the process itself is highly intuitive and very affordable.
And of course, you will need a guide to lead you through every step of the preparation and migration stages. Well, you've got it now. This detailed A to Z plan will make your transfer to Salesforce Service Cloud ten times easier. But enough with the introduction, let's dive into the Salesforce data migration checklist.
Keep in mind that this checklist is exclusive to Salesforce Service Cloud, with all its features and limitations, and is not suitable for other platforms.
Before we actually start, we find it essential to inform that due to certain peculiarities, you
cannot
transfer certain records to Salesforce Service Cloud. We mention it right off the bat, so you can have a full picture of what to expect from the migration. So, these records are:
CC users
Groups (there are no groups at all in Salesforce Service Cloud)
Tags
Inline images
KB attachments
Before you get all upset, what if we tell you that you can still preserve some of this data upon the transfer? Yes, you've heard us right – you can have some records in a personalized transfer. Simply contact our support team to discuss the peculiarities of possible customization.
Note: When importing your Knowledge base into Salesforce Service Cloud, its dates will change from the original ones to the dates of data migration itself.
Before You Set up the Migration
So, the old help desk is not working for you anymore, and you've decided to switch to a new one. But a decision it's only a small part of the long way. There are so many other things to consider, that it's hard to even find a head-start. But worry not as we're about to discuss all the steps you should take to cut corners and be right at your goal in no time. Without further ado, let's start.
1. Choose the perfect time
You can't just open the calendar and pick the first day you see. In fact, this step has to be approached with a lot of consideration. There are a few factors that you have to remember, before sitting down to select the cut-off date.
First of all, give yourself enough time to prepare for the actual transfer. Whether it's a couple of days, weeks, or even a month, make sure not to rush anyone. It's better to take things slowly to ensure the perfect end result.
Secondly, there will be downtime during the migration process. It means that you won't be able to work on any help desk solution during the data migration. It's required to prevent any failures. Depending on the number of records you have to transfer, the downtime may last up to 24 hours. Thus, try to aim for the day with the smallest amount of help-desk related work.
Now you see why we mentioned it first. A good start – is half the work.
2. Inform your team
Data migration surely will cause a 180-degree turn to the normal work of your agents. To prevent the transfer from catching them off-guard, give them a heads-up as soon as you've made a decision and picked a date. They will have to reconsider their task priorities and start closing the necessary tickets for transfer. It is certainly not something that can be done within a few hours.
We recommend you gather a meeting and talk through your plans. Make sure that everyone who will be impacted by the transfer is invited/informed. It is perfect timing to distribute certain responsibilities. This way you will not only lift the weight from your shoulders but also increase the productivity and accuracy of work.
A tip from the HDM team: To prevent someone from accidentally logging in and continuing work on your old help desk on a cut-off date, set an extra reminder a day before. It can be an email, a calendar event, or whatever works for you the best. Just make sure, everyone knows about the upcoming migration.
Remember we've mentioned downtime? It would be great if you could inform your customers (on a blog for example, if you have one) why it's there in the first place. This way, they'll be more lenient to you during the time, as well as after, when you'll still be figuring out how to use Salesforce Service Cloud to the fullest.
3. Clean up
Do you want your data to be neat and tidy upon transfer to Salesforce Service Cloud? Then, we have some bad and good news for you. The bad news is that you will have to go through all of the data that you've compiled over the years and get rid of unnecessary records. You'd be surprised how many duplicates, unassigned ticket conversations, outdated profiles, and invalid emails you can find. You can also use the 'Last modified' filter to locate and delete data that you haven't used for years. The process is very time-consuming, but if it means that you will have an organized help desk as the end result, it would be worth it.
Tip from the HDM team: Ask your agents who deal with the data on a daily basis to go through the records and decide what to keep and what can be deleted. They certainly know what can be left behind. Plus, our service charges per migrated record, so the less entities you migrate – the less you'll have to pay.
However, the good news is that you don't have to do it all by yourself. We fully understand that you might not have the extra time or/and human resources at hand to clean up the data manually. For such cases, we offer the opportunity for automated filtering. You just tell us the criteria you want your data to be filtered with and that's it – we'll handle the rest for you. As you can see, this option requires little to no effort on your side. However, automated filtering is not free but can save hours and hours of manual work.
4. Prepare Salesforce Service Cloud for the migration
1. Create corresponding custom fields
Locating all records effortlessly after the migration is not a myth. You can experience it too if you take the time to create custom fields in Salesforce Service Cloud that mirror the ones in your current help desk. Then, during the mapping process, assign corresponding fields to each other, and that's it. To create custom fields for cases, simply click on Setup > Object Manager > find Case in the list > Fields & Relationships > New.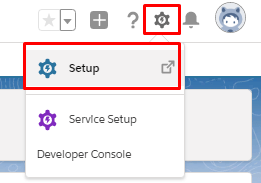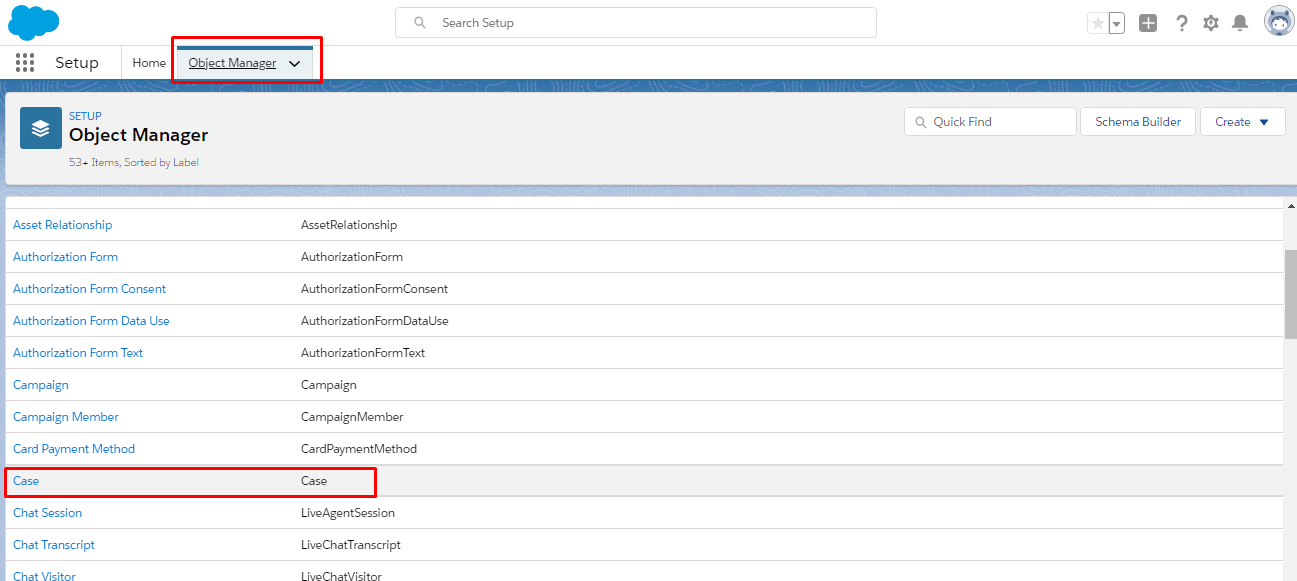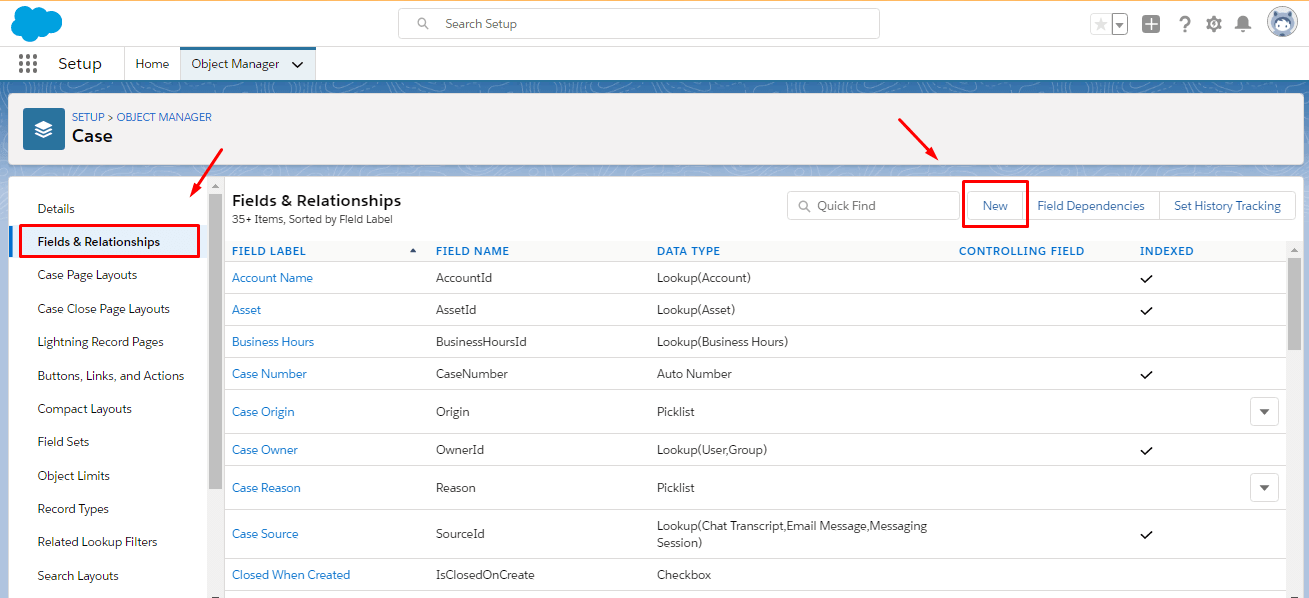 2. Add agents.
Agents in Salesforce Service Cloud have to be created with full-time agent's permissions. Moreover, agents' profiles should contain the same email as in the source platform. Keep these two things in mind, before going to Setup > Administration > Users > Users > New User.
To have all of your tickets migrated, make sure to enable 'Modify All Data Permission' for
all
of your agents. The tickets of agents without permission simply won't transfer. Check the visual
guide
for more details.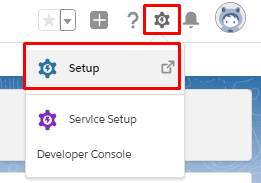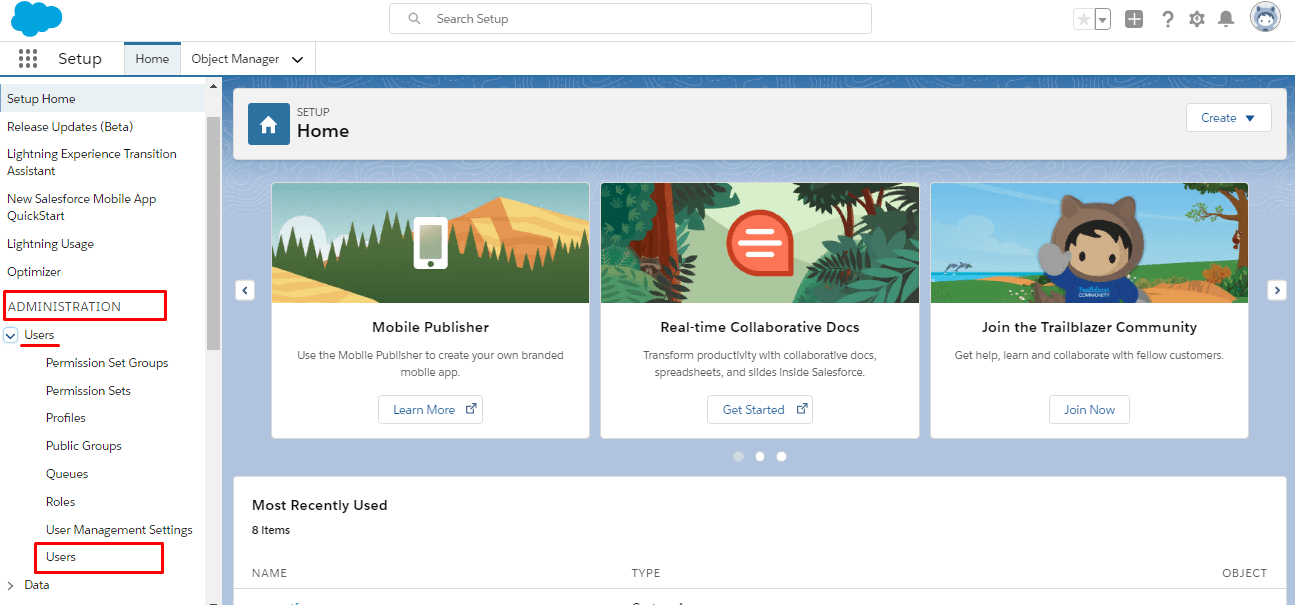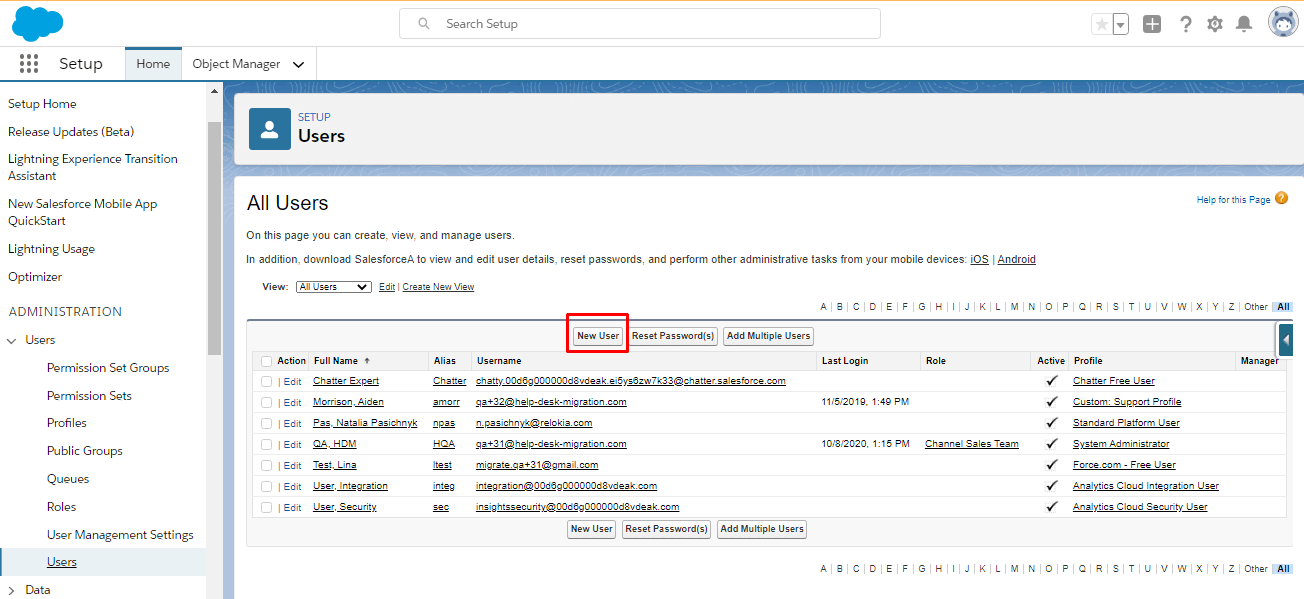 Make sure you have admin rights to both your accounts in the source platform and Salesforce Service Cloud for migration to go through.
5. Consider Salesforce Service Cloud peculiarities
Getting to know the main features and limitations of the Salesforce Service Cloud is equally important as any of the steps described here. It is beyond important to do so, to avoid any unexpected mishaps.
So, before the Full Data Migration to Salesforce Service Cloud you should know that:
We do not migrate the creation dates of emails. However, we can migrate the creation date of chatters.
Salesforce Service Cloud has a limitation for the number of attachments that can be stored for free. If you will exceed the max in the Salesforce, you will have to pay extra to store more attachments. It may cost you a pretty penny in the long run, which is why you should spend extra time filtering the necessary data. If you feel like doing it all yourself isn't worth a hustle, the HDM team can take the weight upon its shoulders and only migrate attachments starting from a specific date. Drop us a line to opt for automated filtering.
If you want to migrate specific dates, including 'Created at', 'Last Modified at', and 'Closed at', you will have to enable certain settings. Feel free to check out this article to learn how to do it step by step.
Do not deactivate end-users because we will not be able to migrate their cases.
6. Contact HDM team
After you've completed all the previous steps, feel free to reach out to our team to discuss all the definitive details of the upcoming migration. We will also coordinate your further actions, ensure that everything goes smoothly, and advise when any questions arise.
Also, that's the perfect timing to discuss the possibility of customized data migration, like the migration of CC users into a custom field, tickets filtering, or setting default agents. Keep in mind, however, that the process of migration is lengthy itself, and customization may only add up extra hours. We recommend you to contact the Salesforce Service Cloud team in advance and ask them to temporarily increase API limits (can be done by simply creating a case in Salesforce customer support).
You're Almost Ready
1. Disable notifications
Turn off Notifications before starting the migration to prevent your end-users and admins to be bombarded with numerous emails that a system will send out automatically during the ticket import. It requires just a few minutes of your time but will prevent unwanted notifications from taking place. Check out the article for a detailed guide explaining every step.
Note: If you haven't created any workflow rules yet, you can skip this step.
2. Turn off Phone Duplication
Salesforce Service Cloud has this thing called Phone Duplication, which duplicates created records. While it is a handy feature, it may interfere in the process of migration and cause a negative outcome. You should deactivate one in the 'Setup' section in settings. Also, turn off the scenario automations to make sure that the system will not damage your data.
3. Run a demo migration
People are more likely to venture to a Full Data Migration if they can experience a free sneak-peek into how things will look like at the end. That's why we offer a demo migration, which is probably the most essential step to take before initiating the actual transfer. During this short trial process, we will take twenty random tickets from your old helpdesk and transfer them over to the Salesforce Service Cloud.
The process is entirely free and will take no more than 5 minutes. If something doesn't line up properly, you can return to mapping, do the needed adjustments, and return to demo. You can repeat the trial several times if needed until you get the perfect results.
Note: Check if you're migrating into production, not a sandbox.
After the Demo Migration
1. Check the results in Salesforce Service Cloud
The demo migration mirrors the way the Full Data Migration will go, but on a smaller scale. So, after the demo is complete, we insist you take the time and see if the test portion of data migrated as you wanted it to (we kept it intentionally small for the examination not to take forever). Remember, if something didn't go as planned during the demo, the same issues are likely to appear during the actual transfer.
If you're looking for a detailed step-by-step description of how to do it, we have an explanation on our blog. We advise you to pay attention if:
all comments got migrated and if the authors of the comments are the same;
the tickets are assigned to the correct agents;
all the custom fields got migrated along with necessary attachments;
the customers and companies are migrated correctly.
Note: It's crucial to check each ticket, primarily its location and quality features.
Keep in mind that during the examination, you should not only try to locate migrated tickets but to check if their data is preserved. Only when you're completely satisfied with the outcome, proceed further. However, if you do notice something out of place, don't hesitate to contact us, so we can advise you on how to fix it.
2. Request a custom demo
If you have some tickets with more replies, attachments, or notes than your usual ones and want to see how they migrate over to Salesforce Service Cloud, feel free to request a custom demo - we'll transfer the specific ticket IDs that you want. Thus, contact our team to discuss the peculiarities of the custom demo.
Before the Migration Process
1. Keep in mind the basics
We understand that there may be several reasons for data migration. Some are simply looking for an upgrade, the others just moving separate teams.  No matter what drives you, we always advise running the Full Data Migration on a day with the smallest amount of incoming requests. If needed, you can still work on your source help desk during the transfer, however, the records created or updated after the start of the Full Data Migration will not appear in Salesforce Service Cloud automatically. If you don't want to lose that data, you can always opt for delta migration.
When it comes to the Full Data Migration, you don't have to sit in front of the computer the whole time – you can just check on the transfer from time to time or ask your agents to help you out. Our team will keep a close eye on the process of migration and if something seems out of place - we'll contact you right away.
2. Start Full Data Migration
All of your previous efforts boil down to this very moment. After you've checked everything, press the 'Start' button. Starting from that moment, all records will start to migrate one by one to Salesforce Service Cloud. Now, all you're left to do is wait. For how long, it depends on your data, especially its amount (that's why we stressed the importance of cleaning up the unnecessary records).
Note: The migration will only begin after:
The payment is confirmed. It may take some time, that's why we highly recommend you to pay in advance. This way you can start at any suitable time. Speaking about time, you can always take advantage of our 'schedule' feauture. Just give us a specific time and date and the migration will then run automatically on the timing you provide.
Agree to the checklist. To ensure you're ready to start, click on the corresponding link and open the short checklist. Then, go through each point to ensure that all requirements are met. If everything looks good, put a tick into the checkbox.
3. Don't change anything
That's it, all you're left to do now is wait and monitor the transfer process. We've mentioned it before, and we'll say it one more time – if you notice something out of place during the transfer, contact us immediately. Our agents know for sure how to handle the issue. No matter how tempting it is to try and fix things yourself, just DON'T. Any modifications on your side can lead to inevitable changes, requiring hours to be solved, whereas if you'd informed us or waited till the end, it could've been resolved within minutes.
After the Import is Done
1. Examine everything
You're almost there. However, there're still some important things that have to be done, primarily the examination of records. But, it's no longer that small portion of data that we talked about after the demo. This time, you will probably need your agents' help to cut the time.
Once again, you shouldn't only check the number of records but make sure they are readable and in place. A proper inspection right after the Full Data Migration leaves a place for a correction on our side if noticed right away (within five days after the migration date) free of charge. So, if you notice something out of place, get in touch with our team as soon as possible.
2. Set up a new platform
Enable the notifications you previously turned off and other necessary settings. Don't forget to connect support links and update internal ones in Knowledge Base articles. Now you and your team can enjoy all the benefits Salesforce Service Cloud has to offer.
Last but not the least, reforward your emails to the platform, and you're good to go.
Wrapping it up
There you have it - Salesforce data migration checklist. Your new workspace is now ready to be up and running. As you can see, you don't need to have data migration expertise in order to nail the transfer - all you have to do is trust a third-party service to help you out.
If you still have some questions about the migration to Salesforce Service Cloud, our super-friendly support team is always ready to answer all of them. Simply click on the chat icon and get to talking.
More data migration checklists here.