Google has reported updates: the G Suite legacy free version will no longer be supported starting May 1, 2022.
Let's double-check the main details quickly:
From May 1 to June 1, 2022, Google has got your back during this period. They'll smoothly migrate you to Google Workspace, so no sweat! No disruptions, just a seamless shift.
Accounts will be suspended from July 1, 2022. After this date, accounts will be suspended. But fear not! Admins can hop into the Admin console to either: a) Upgrade to a paid Google Workspace package, or b) Safely move your precious data.
Not keen on a paid package? No worries! You'll be shifted to a free alternative. Just note that some premium Google Workspace features, like multi-account management and custom email, won't be included.
If you decide to stick with Google Workspace, they'll tailor your plan based on your current feature usage. Pretty nifty, right?
Google's got your data migration covered with an export option. But be aware, it ​​might not cover all your needs.
Consider this the perfect moment to think about migrating your data to a robust help desk tool. Kickstart your financial year by boosting your customer support game!
Long gone are the days when your best tool for business communication was your email client. Today, we have a wide range of different help desk solutions that can provide the same, if not better, level of communication. And it's not just about communication, help desk systems are used in all kinds of scenarios and it is widely accepted that they are helpful in most scenarios.
Yet, to leverage the power of the tool, one must move his old data to the platform. Hence why we decided to show you how you can efficiently export Gmail emails to CSV. Why CSV?
Because it is the most popular format that most help desk solutions accept. Oh, and why Gmail? Because who doesn't use the platform. But enough of this chit-chat, let's look at the process itself.
Before you continue reading the article, take a look at how to export Gmail to CSV: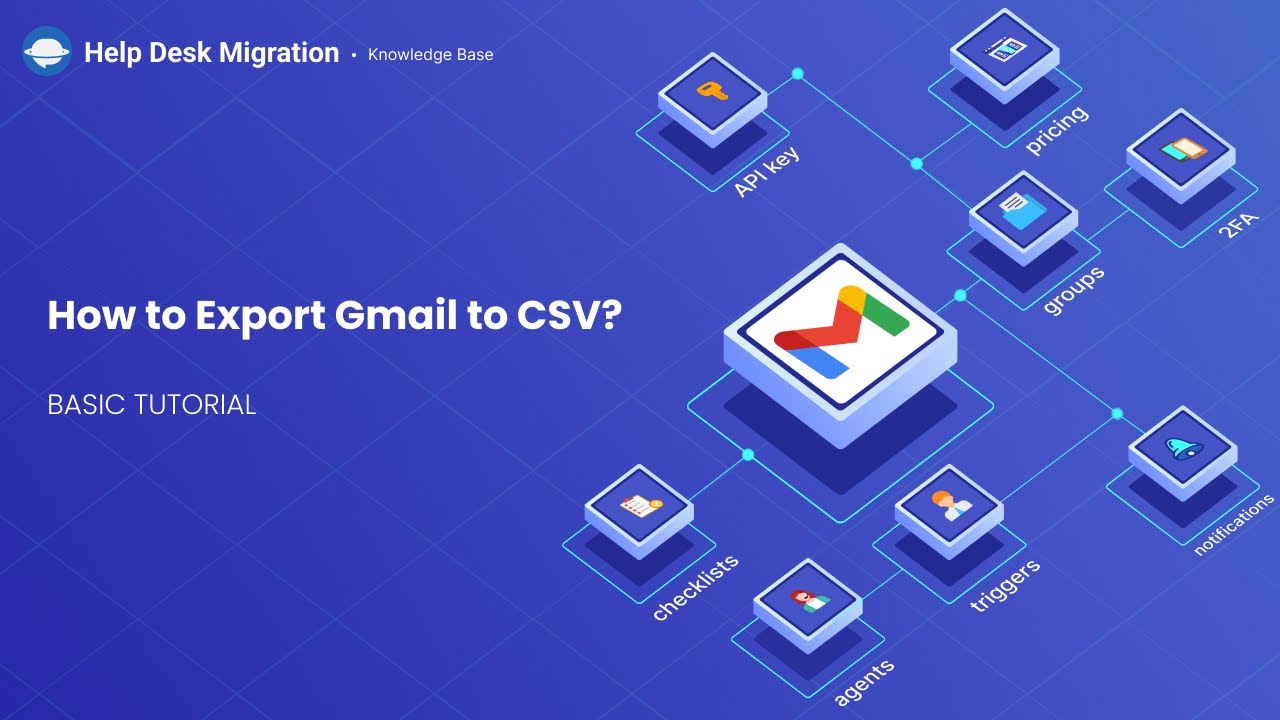 Why Export Gmail Emails to CSV
Moving Gmail emails to CSV isn't just a tech trick – it's a strategic decision. Think of it as having a duplicate of your emails right on your computer, ready whenever you need them. But what's the motivation behind it?
Secure Data Backup: Think of it as your email insurance. Exporting Gmail emails into CSV files guarantees a secure backup of your messages, safeguarding against any potential data loss. Plus, accessing these CSV files is a breeze whenever the need arises.
Optimize Storage: Say goodbye to squeezing in those 15 GB! By exporting, you're freeing up precious storage Google dishes out. The result? A speedier Gmail experience minus the lag.
Data Insight Superhighway: CSV's structured layout transforms data analysis into a breeze. Dive into your email convos, unearth insights, and see patterns you might've missed. It's like having a data microscope.
Create an Archive: Picture this: an organized vault of your email history. That's what exporting to CSV builds – a reference point for the future. No more email hunting; it's all there.
Excel Compatibility: CSV files and Excel? Perfect match. These files slide into Excel as spreadsheets, ready for your wizardry. And bonus: access them offline when Gmail's on a break.
Data Migration: CSV isn't just a static choice; it's your ticket to smooth sailing between different support platforms. Migrate email data effortlessly, leveling up your support game.
Now the question remains: "How to export Gmail emails to CSV?"
Exporting The Usual Way
Before we dive into the nitty-gritty, a quick heads-up: going the traditional route to export Gmail emails to Excel will require a bit of your time. So, give yourself a comfy time cushion. Trust us, it's worth it—you don't want to restart from square one next time, losing more precious time.
Remember, patience is a virtue. If you're just looking to export your contacts, the standard method's got you covered. But if "export Gmail emails to CSV" is on your agenda, skip ahead to the next method.
For those still onboard, the process is fairly straightforward, though a touch lengthy. First things first, make a pit stop at Gmail Contacts. Where's that, you ask? Click on the menu at the top-right corner—can't miss it!
As you land in Gmail Contacts, you'll spot a bunch of contacts up for export. Pick your VIPs, those contacts you want in the transfer lineup. Spot the "More" button (look for the trio of dots)—give it a click. And there it is, the "Export" option, waiting for your signal.
Multiple export choices await you – Selected Contacts, Groups, and All Contacts. Since you've done the selection dance earlier, go with "Selected Contacts" and keep the momentum.
Now, the tool takes center stage. It's decision time—file format selection. Why? Because not all formats play nice with everything else. Let's break it down:
Google CSV: The go-to for your help desk system needs. It's like a backstage pass for support superheroes.
Outlook CSV: As the name suggests, Outlook's special buddy. If you're in an Outlook world, this is your format match.
vCard Format: A versatile choice—works on iPhones, Android gadgets, and even smart wearables. Versatility at its best.
Remember, Google CSV takes the Unicode route for international characters. But Outlook? Not so fond of 'em. Why, you ask? Outlook sticks with its default character encoding, which leaves those international characters out in the cold.
And there you have it – the lowdown on this method.
The source of all images: Lifewire
How to Export a Single Gmail Email or Thread?
Want to stash away a single email or a whole conversation thread for later? No problem, we've got your back! Here's how you do it:
Step 1. Go to your Gmail account through your desktop browser.
Step 2. Find the email or thread that's worthy of export.
Step 3. Click on the three dots "⋮". They're hanging out on the email's right side.
Step 4. Opt for "Download message" to get the .eml file output.
Alternatively, you can click on the print symbol, "🖨️" on the email's right side. Go for "Print all" → Make a pit stop at "Save as PDF" in the destination → Seal the deal with "Save."
Things to Remember When Moving Email Messages
Relocating your email messages, whether it's via CSV files or the one-by-one forwarding method, demands some patience. Moving data from your Google Account isn't a quick endeavor, so here's the lowdown on what you should keep in mind:
Moving data is no sprint, it's a marathon. Be prepared for a journey. To stay on top of things, consider crafting a Google spreadsheet. It's not the dream solution, but it keeps the chaos in check. Plus, it lets you pause your email migration expedition and pick up where you left off.
Your Gmail account is a mixed bag. It's a treasure trove of various contact records, message specifics, and more. This is data you don't want to abandon. If your operations were closely tied to your email address pre-migration, don't let that data slip away. It's the backbone of your customer support team's efficiency.
Let's conjure up a potential situation. GDPR comes knocking, and your customers need a specific file or data type. You dive into your system, ready to retrieve it. But alas, those records made the leap to the new system with a few hiccups. Now you're in a time-consuming pickle – sifting through old emails, downloading, and finally delivering. Not fun.
This is why you want to download your Gmail account in its entirety, and this is why moving your whole email address is important. It'll save you a bunch of time, as well as not damage your service level. Moving Gmail data is a thoughtful process. Take your time, use tracking tools like spreadsheets, and make sure your Gmail account comes along for the ride. Your email history is an asset, not something to leave behind. Think strategically, save time, and elevate your service.
Exporting Using Our Tool
You might be aware that Gmail doesn't inherently offer email exports. But fear not, the story doesn't end there. There's a solution on the horizon, and yes, it comes with a price tag. Yes, for a small price, you can export Gmail emails to CSV or other supported platforms.
So, how does it work? It is quite simple. Head over to our Migration Wizard and connect Gmail as your Source platform. And grant our tool permission to view your Email messages.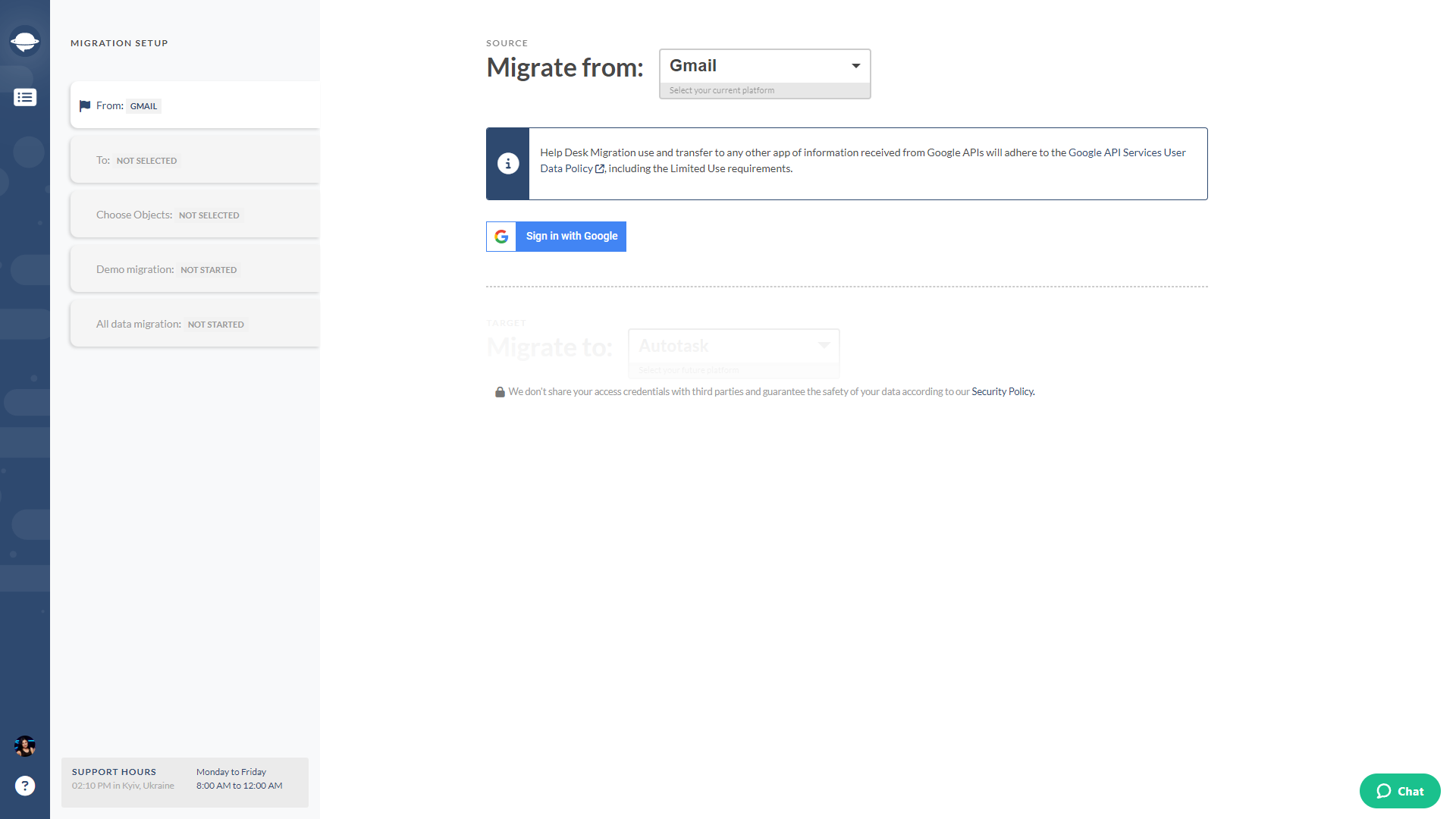 Choose CSV as your target platform. The end goal? Migrating Gmail emails to CSV format.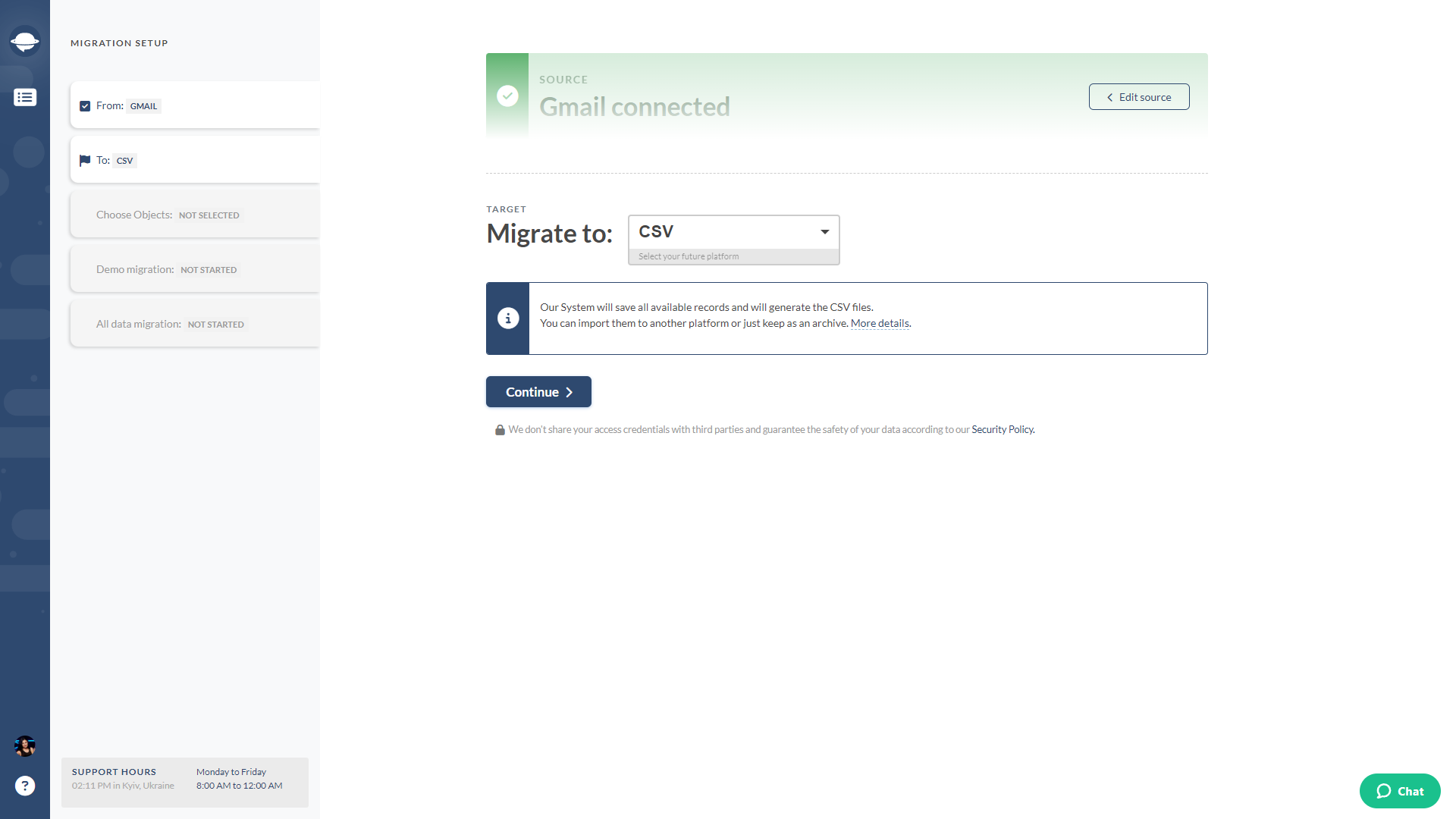 Select what Gmail data you want to move. Keep in mind, if Gmail messages are on the move to CSV, users and contacts will tag along for the journey.
As you steer ahead, map out your email fields. This ensures your data aligns smoothly during the transition. Then, hit the "Continue" button to kickstart a Demo Migration.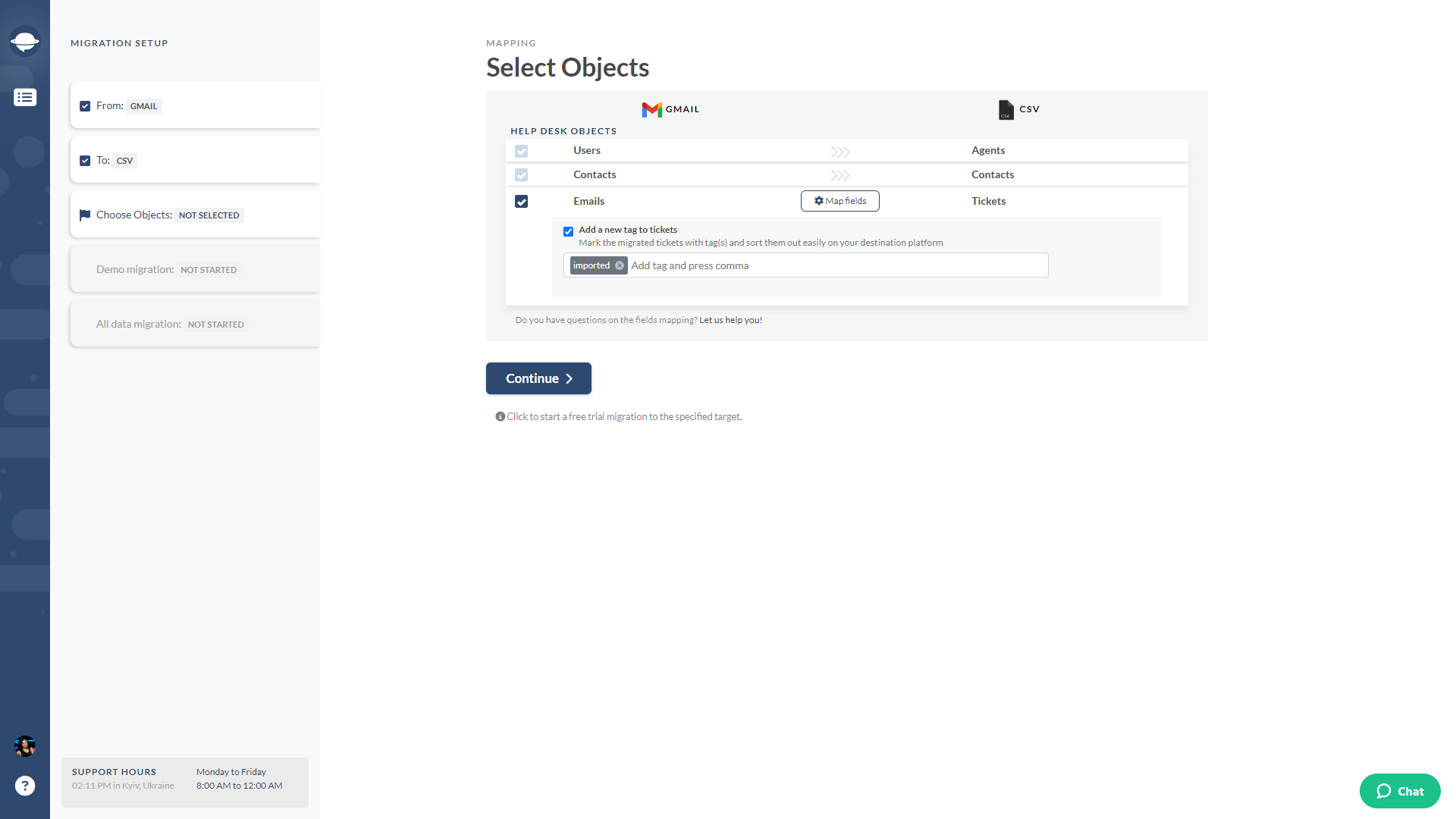 Now, it's the waiting game. The migration process varies based on your mailbox's size. And there you have it—your Gmail emails are transformed and ready to roll.
With our Migration Wizard, the Gmail export might take time, but it's well worth the wait. Your Gmail data is safely packed and good to go.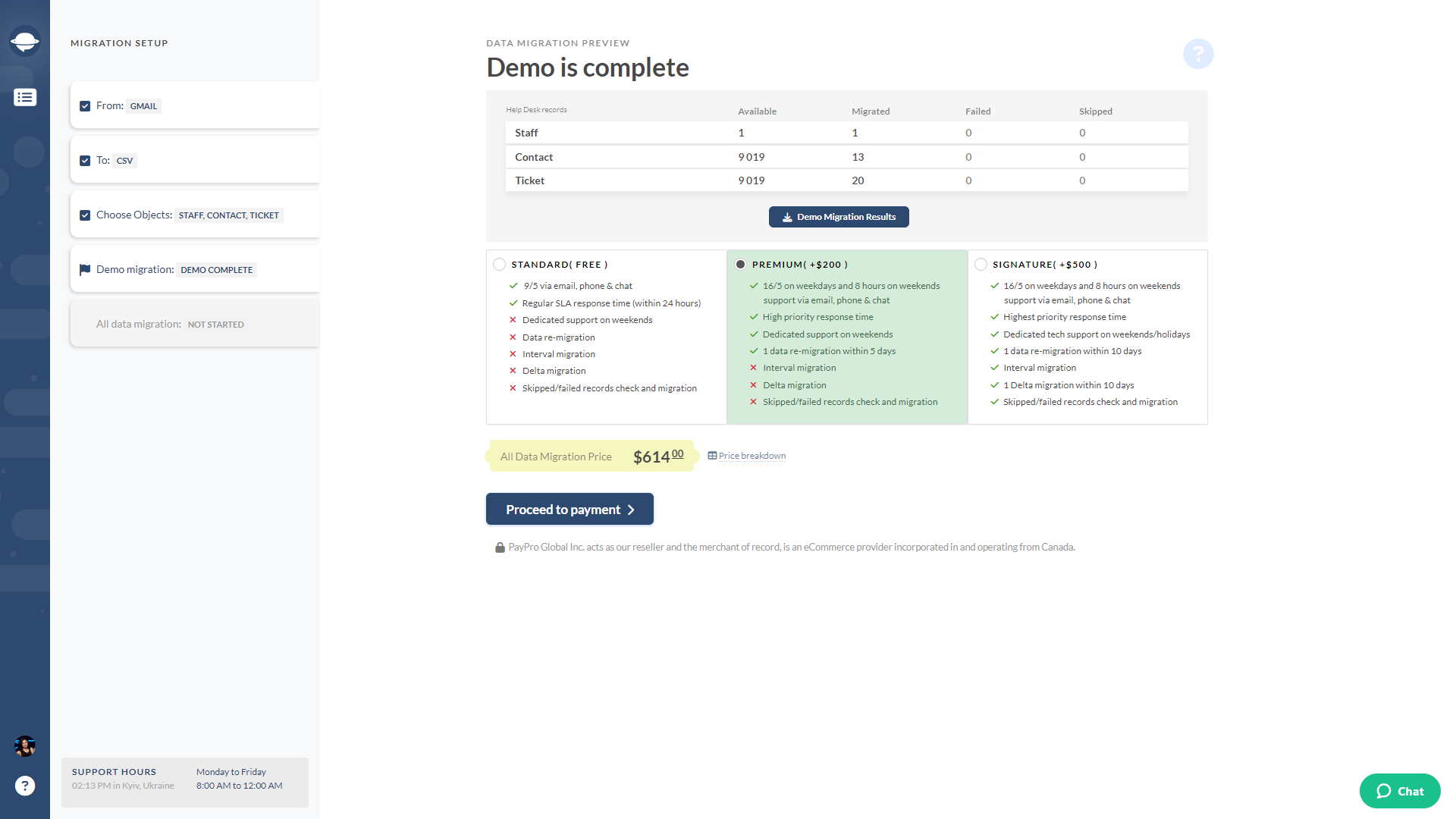 Why Should You Choose Automated Migration Service?
Help Desk Migration: Google Verified and Trusted
First, Help Desk Migration has gained Google's verification for its smooth data migration capabilities; Migration Wizard is a reliable solution for exporting Gmail to CSV. And here's the icing on the cake: your mail integrity stays untouched. We're all about making copies and sending those copies to a file – your precious emails remain pristine.
Unrestricted Platform and Format Options
Our data migration solution doesn't lock you into a corner with limited platforms or file formats. Whether you want to migrate to a help desk or need a CSV file to perform a Google Sheets analysis, our solution will move your entities with no problem.
Tailored to Your Needs
Need options? We've got them. You've got the reins when it comes to moving specific content, entire emails, or just addresses. Your migration, your way.
Pricing That Makes Sense
And here's the grand finale: a pricing system that keeps it simple. Pay based on the number of email messages you're transferring—no surprises, no sneaky extra costs, and definitely no mysterious data requirements. It's all about your records, no strings attached.
Let's Move Your Gmail Messages Together
Our journey concludes for today. As you've witnessed, Gmail's export capabilities have their limits – and rightly so, considering their platform's growth focus. But fret not, because our solution sweeps those limitations aside. If you're on the hunt for a rock-solid way to export Gmail messages to CSV, search no more.
Got questions? Don't hesitate to leave us a message. We're here to clear up any confusion, provide guidance, and offer solutions.
Frequently Asked Questions
Yes, you can download all your Gmail emails, but you can't export deleted data. However, you can create an archive to backup your data or move them into another service.
You need to open the Download your data page in the required Gmail account. Then enable Mail and choose All labels. After that, press Select labels and click OK.
Log into your account at myaccount.google.com. Then press Control your content in the personal info & privacy section. Next, create an archive in the download or transfer your content section.
Go to Google Takeout and create a new export by selecting the data you want to download. Apart from emails, you can export contacts, attachments, and groups.
You can export Google Contacts in a CSV. To do so, you need to go to Google Contacts, click Export, and choose Google CSV. To export other Google data in a CSV format, go to Google Takeout.
You can export all your emails into Google Spreadsheet by choosing the Email Address Extract option there.
You can export Gmail emails to Google Sheets with the API. Or you can import your data into CSV in Google Takeout. And then upload the files into Google Sheets.
Yes, you can. To do so, open the Gmail drop-down menu and select Contacts. Then press on the More tab and choose the Export option. After that, choose Groups and define the needed one you want to download the email list.