So we covered a ton of different tools over the past year but somehow the question of which Jira Service Management version you should use, remains open. And to the surprise of none. The tool is available in two different formats, each equally good in their own rights. So, to tackle this issue, we've decided to cover the titular cloud and server desk and see which version will work best in certain circumstances. Thus, join us as we examine the ins and outs of Jira Service Management server vs cloud. Let's get started!
General System Overview
To avoid any confusion and/or miscommunication, we'd like to briefly outline what Jira Service Management is and why companies use it. On the surface, Jira SD is viewed as one of the top-ranking alternatives to GrooveHQ. And, just like most desk cloud products on the market, Jira Service Management aims to simplify internal operations through a set of automation tools.
Whether you need help dealing with subscriptions or tracking dedicated hardware, Jira allows for it. Furthermore, the feature set can also be expanded through the built-in marketplace (dubbed as the Atlassian marketplace). Currently, the tool is available both as an on-premise and as a cloud solution.
Cloud vs Server
And now for the meat and bones of this analysis, the differences Jira server vs cloud. So, on the surface, there aren't that many differences as both of them have a pretty identical feature set but if you dig a little deeper, you will find some notable differences.
Cloud
Let's start with the cloud version as it is the more interesting one in our opinion. So, one of the key differences between the two versions is that the cloud has the ability to configure a login-free portal. What is a login-free portal you might ask, well it is a system designed to help customers get help without registering an account.
Then there's the fact that only in the cloud version you can embed a widget on a webpage. This might seem like something small but it is an effective way to interact with your customers.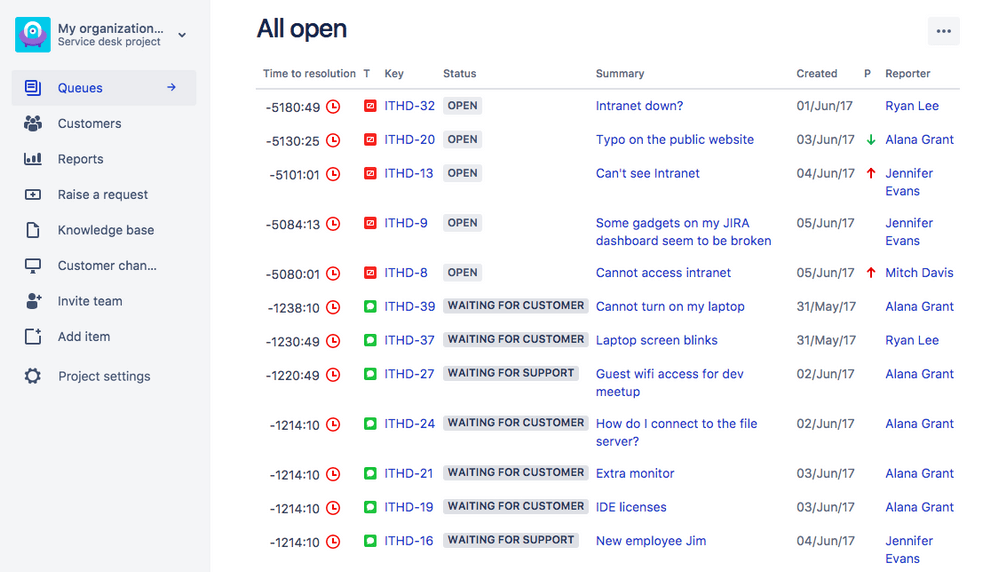 The queue of issues in Jira Service Management cloud version - Source
Moving to something more technical, the cloud version allows you to enable G Suite for authentification. Also, the cloud version allows you to adapt your customer portal by providing more language options. Last but certainly not least, the server version lacks the ability to create new issues through automation, making the cloud one far more efficient.
Server
And now let's discuss the server version. It is not as different as the cloud one but it does have a few things that are exclusive (for now at least) to server products. So, the first thing that comes into mind is the fact that the server version allows you to connect to an LDAP directory out-of-the-box. LDAP stands for Lightweight Directory Access Protocol and it is a system that allows you to find data about the users that use the server.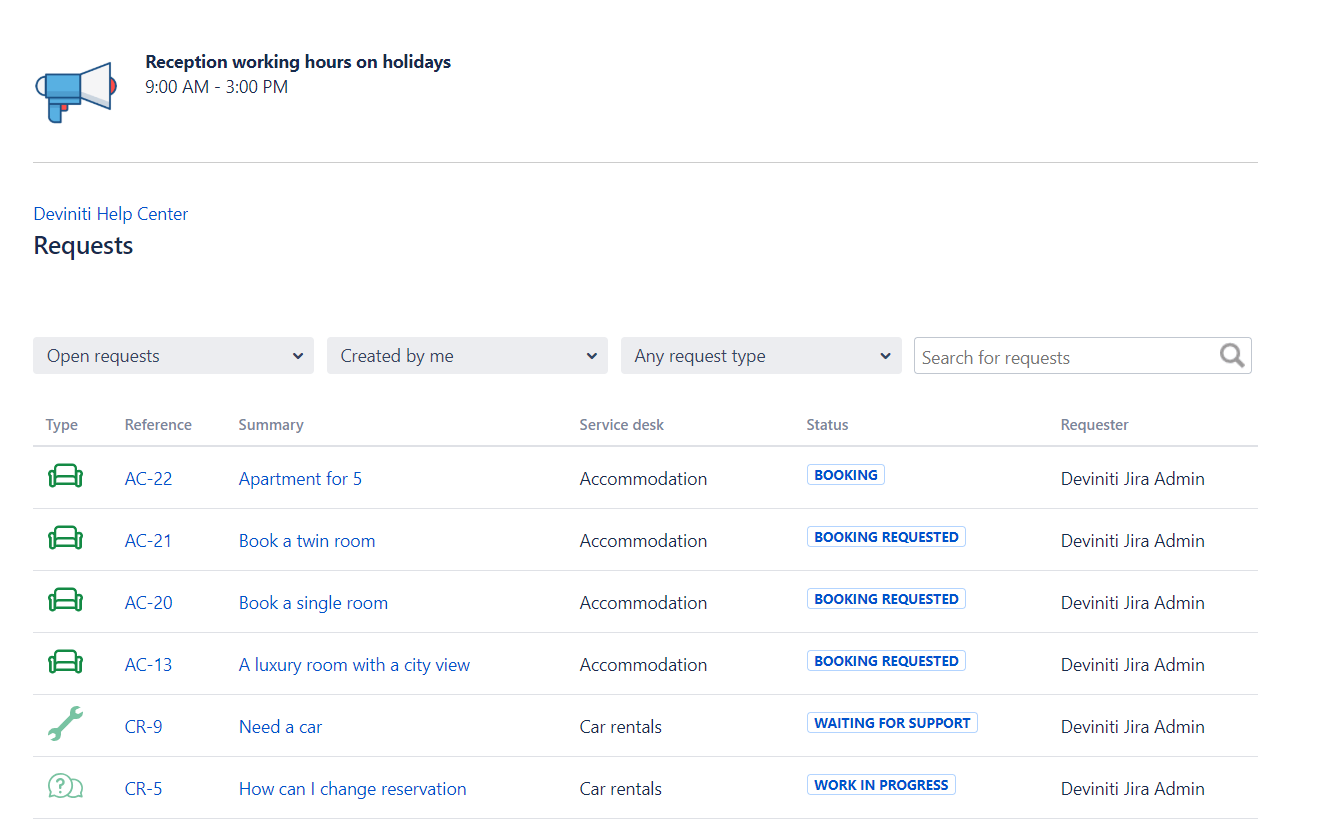 Requests list in Jira Service Management server version - Source
Next what is unique to this version is the fact that you can validate requests through an email system. This makes work a little less convoluted and more streamlined since you don't have to scroll to another system. Another benefit stems from the fact that the amount of queues per project is unlimited. And that's pretty much it for the server version of the tool so let's move to the next section.
Which is Best?
This one is tricky as both versions are meant to satisfy different types of users. So, the cloud version will work best in a small company that doesn't have, nor needs, to deal with hardware configurations, wants more mobility, and necessitates more security. The cloud version is designed in a hassle-free manner meaning you don't have to worry about upgrades as everything can be done in a matter of few clicks.
The server version, on the other hand, is built for power users. If you are looking for flexibility and tons of customization options, the server version is the way to go. It will work best in cases where locality is necessary, as well as it will prove to be invaluable for companies that have enough capacity to maintain a server manually.
Pricing
Many assume that the cloud version costs the same as the server. However, that is not the case as both have their specific pricing schemes. Let's take a look at each down below:
Figure 1: Pricing Schemes
Cloud
Server
Cloud version has a system where the price drops down as more people join your company.

However, the pricing can still be affected through additionally purchased extensions from the marketplace.

Finally, the price can also be increased if you are willing to add more security through the Atlassian Access.

Server pricing is based on a licensing scheme. Essentially, you need to purchase a yearly license that will cost you 100%.

The next license will cost you 50% of what you initially paid. The pricing will not be affected afterward.

But do keep in mind that all the maintenance expenses are posed on your budget.
As you can see, the pricing can vary drastically between the two but do keep in mind that neither is cheaper or more expensive.
Final Thoughts
So there you have it, our take on the Jira Service Management server vs cloud debate. There are a lot of differences between the two and they aim to serve completely different types of organizations. Both are viable options, yet it doesn't mean that both will work in all cases.
We suggest that you experience careful threading and pick the one you will benefit the most. And if you need a cloud migration of some sort, we can help you out. Just give us a call or leave a message and we'll send our best men to help solve your migration issue.