Over time, the help desk software you use may start hindering the productivity of your support agent and slowing down the workflow processes. This is predictable since with the growth of the customer base and their service demands, the capacity of workload also increases in its volume. Clearly, the best solution, in this case, is to switch to a different help desk solution. Here's when the data migration issues come into play.  
One such system that is relatively hard to leave is OTRS. The thing is, there is just a lack of a decent solution to export data out of it in the market. So, what we want is to show you in this article is how you can move your data from OTRS, namely tickets. Thus, let's get started now!
Using Our Wizard
So, the entire process is pretty simple. To move your OTRS tickets, you must first head over to our website. From there, be sure to do the following:
1. Select the Source platform (in our case that's OTRS).  Input the necessary credentials (here's a guide on how to find the database name) and hit Continue.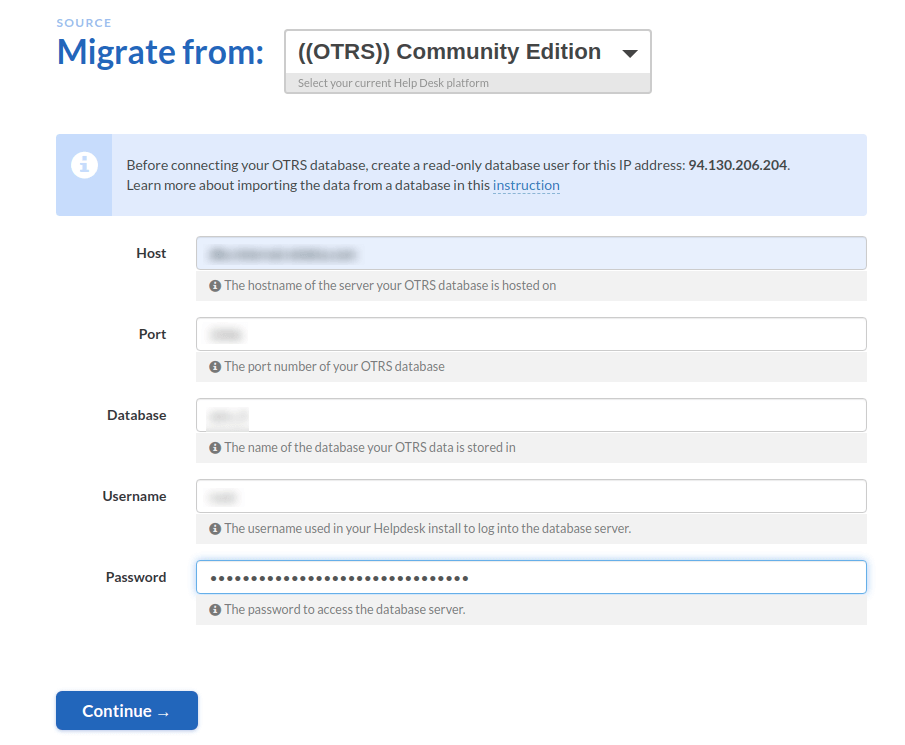 2. Then pick the Target platform and repeat the same steps.
All your data, all your information is fully protected. We employ just about every major protection system so that you can have peace of mind knowing that everything will be fine. And in case you are wondering why we need your credentials in the first place, we need our tool to have access to both systems so that they can communicate effectively.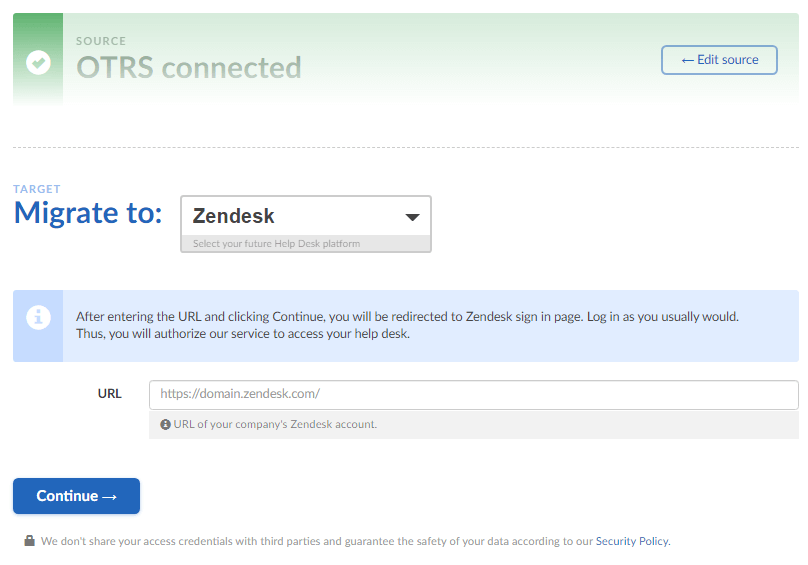 3. Pick the data you want to export from OTRS and map the ticket fields. In case you need assistance or have some questions, leave us a message  in the live chat.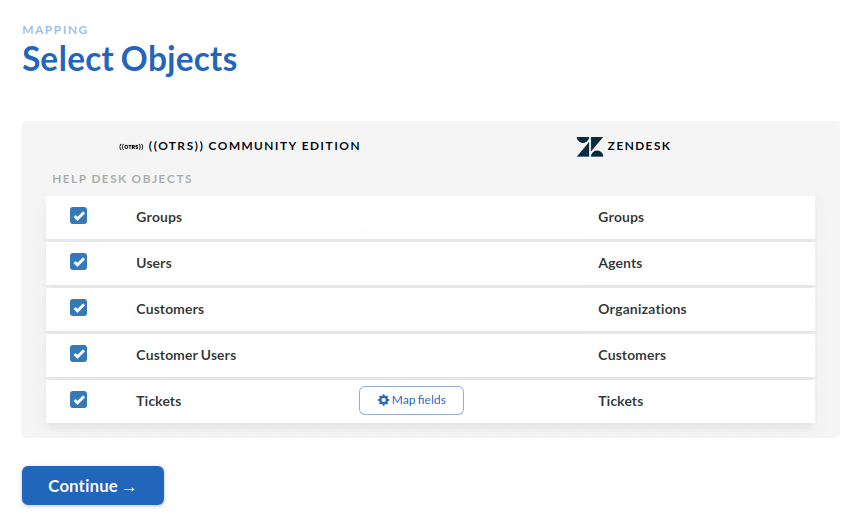 4. Begin the test export. It usually takes less than 5 minutes. Once complete, you'll be able to check a small portion of OTRS tickets in your target help desk.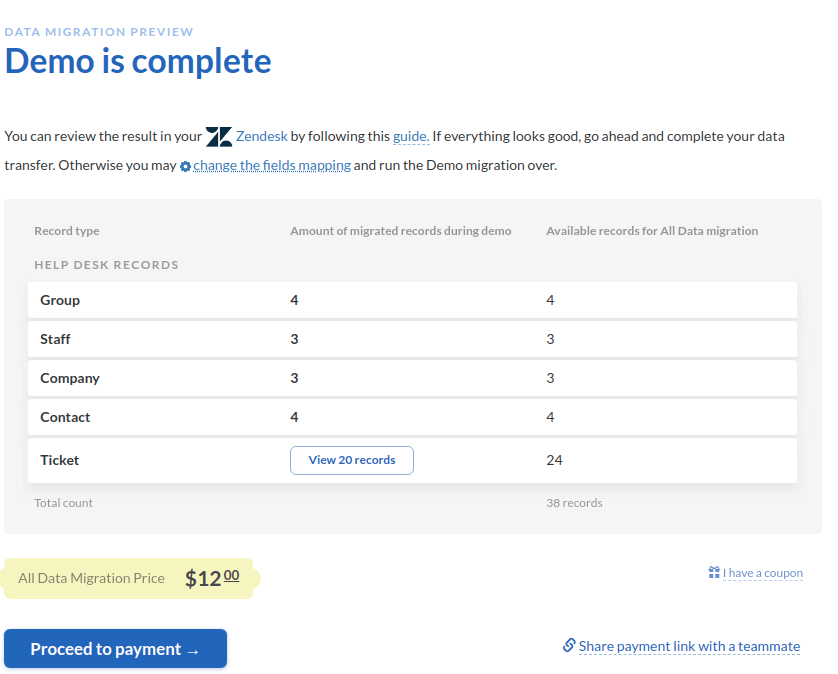 5. Log into your target help desk and find the migrated data. Check if everything's correct following this guide. If you found a flaw then shoot us a message. If everything looks great, head out to the full migration.
Pros & Cons
So, let's start with the good news, using our wizards means that you don't need to play with files, compatibilities, and other things. Yet, it also means that you'll have to pay for the migration but don't go away just yet as there's a bunch of substantial benefits you'll get in the process.
First off, the process is fully automated and does not require any kind of file shenanigans. No need to worry that your precious CSV will get corrupted or lost in the process. Secondly, you only pay for what you move. No need to worry that there are some hidden fees or extra expenses involved. You only pay for the number of records you moved.
Thirdly, it saves a ton of business time. If you are working in a fast-paced industry, you surely don't have time for things to be processed. Using our system is significantly faster, especially if you want to move hundreds of thousands of records in one pass through. And since there are no files involved, you don't need to split files either. Just select the data you want to move from the list and you are done.
Why You Should Not Use Free Apps
You could be browsing the web and see those ever-so-shiny free apps for OTRS export. They are great and all but the thing is, not really. While the free app might claim that it can move data for you, in all reality, the number of moved records will be small, to say the least. But quantity isn't even the concern.
It is the integrity and security of information that is at stake. Some free app vendors might use it to their advantage, others might use it for promotion, and the list goes on. You can never be too sure with such systems. Another flaw of free apps is that they never have any kind of mid-migration support, meaning that when things go south, you are stuck on your own.
Last but most certainly not least, before you land on a good app that can migrate at least something, you will need to do a lot of testing. This process will take days on end to complete and most often yes than not, you won't be satisfied with the results.
Let's Migrate Your Stuff
If you want to learn more about the OTRS export process or maybe you want to do custom work, just drop us a message. Our support guys will get back to you as soon as possible to discuss the details. But in the meantime, thanks for joining in and we'll see you next time!
Export your OTRS data with Help Desk Migration
Use an automated, secure, and fast tool.
Start export now