Google has announced changes: the G Suite legacy free edition will no longer be available starting May 1, 2022.
Let's cover the main points briefly:
From May 1 to June 1, 2022, Google will move you to Google Workspace for free.
Accounts get suspended from July 1, 2022 but your admins can access the Admin console to a) upgrade or b) export data.
If you don't want to choose a paid Google Workspace plan, you would be switched to a free version without premium Google Workspace features like custom email or multi-account management.
And if you choose to do nothing, Google will upgrade you to a Google Workspace subscription based on the features you currently use.
Google offers an export tool to get your data but ​​might not include everything you'd expect.
It is a great time to consider data migration to a help desk system. Start your financial year with a change for better customer support service.
It is fair to say that every business begins with email. To this day, email remains the most used form of communication between businesses and consumers.
Many have begun their customer service with Gmail and later switched to help desk software. Because as good as it is, Gmail lacks many essential features that can help you deliver excellent customer service. For instance, there's no way to delegate emails. Therefore, communication can quickly become messy. In addition, Gmail has no reporting functions, and you can't track KPIs, which is vital for teams. Most importantly, Gmail was designed for individual use.
So, you decided to start using help desk software and migrate Gmail emails to a system of your choice. We are here to tell you all about it.
In this article, we will take a look at Zendesk, Freshdesk, Gorgias, and Front, as only these four providers offer out-of-the-box Gmail importers. You will get an understanding of what data you can migrate, how difficult/easy it is, and of course, how much it costs.
Let's go!
Gmail Importer by Freshdesk
To start, you need to have a paid subscription for Freshdesk to migrate Gmail. If you're on the free plan, then you need to upgrade or figure out another way to do it.
With their native importer, you can migrate such objects as:
Read emails;
Unread emails;
Labels;
Timestamps;
Archived emails.
How to Import Gmail Emails to Freshdesk
Step 1. Go to the Admin tab and then search "Apps."
Step 2. In the Apps section, search for Gmail Migration under 'Get More Apps'
Step 3. Once you install the app, connect to your Gmail account within the app by providing the requested details.
Step 4. Choose the folders you would like to import from Gmail.
Step 5. Click on "Save & Import."
Step 6. Wait for the migration to complete and then visit the Freshdesk Tickets tab to see your tickets tagged as "Gmail Import."
Step 7. To check your current resolution time on email, head over to the Reports section and click on the Helpdesk in Depth report.
Pros and Cons of Gmail importer by Freshdesk
Pros:
It's very simple to use;
Free (if you have a paid subscription though);
You can stop the migration and restart. The app will start from where it left off to avoid duplicates.
Cons:
You can migrate emails from the last 30 days and up to a maximum of 1500 emails. One email thread is considered as one ticket;
Freshdesk does not allow attachments larger than 15 MB. Freshdesk will skip such files;
You can't migrate BCC;
Freshdesk does not keep the original "created at" time. Created time of the email is the created time of the ticket;
We had trouble connecting the Gmail account, so the chances are that this app is outdated.
Gmail integration by Zendesk
Zendesk doesn't offer an out-of-the-box way of importing Gmail emails. However, there's one thing you can do that is worth mentioning. When connecting your support address to Zendesk, you may import 50 recent emails.
How to Import Gmail Emails to Zendesk
Step 1. Click the Admin icon in the sidebar, then select Channels > Email.
Step 2. In the Support addresses section, click Add address, then select Connect external address.
Step 3. If requested, sign in to your Gmail account. Make sure the "Create tickets from last 50 emails" option is selected.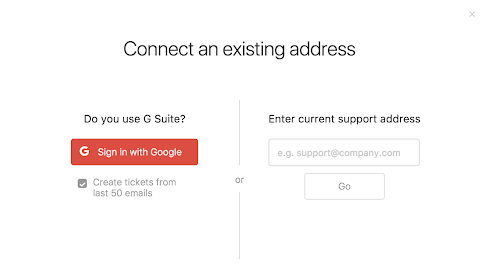 Step 4. Click Sign in with Google and follow the on-screen prompts to connect to your Gmail account.
Pros and cons of Gmail importer by Zendesk
Pros:
The process is free;
The importer migrates attachments;
Cons:
There's very little data you can import;
Emails migrate assigned to an owner of the account;
The importer does not keep the original timestamps.
Gmail Import to Front
When you connect a Gmail individual or GSuite inbox to Front, you get the option to import your historical emails. Front allows you to import up to 50 thousand recent messages.
You may import:
Emails;
Attachments;
Labels;
Created at and updated at dates;
Formatting.
How to import Gmail emails to Front
You can import emails from Gmail when you create an inbox on Front. So, go to your Front account and begin creating the inbox. Then, follow the on-screen prompts until you see this option.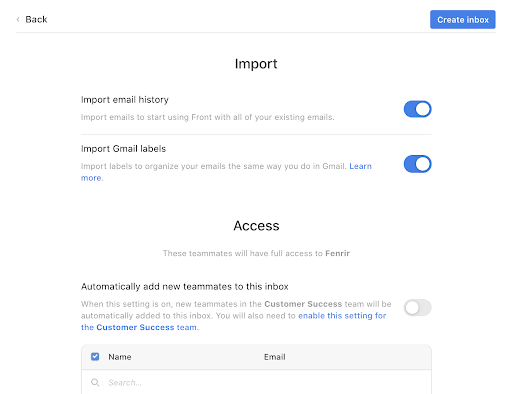 Turn the "Import email history" and "Import Gmail labels" toggles on and complete the rest of the settings. Once you click Create inbox, the import will begin.
Pros and Cons of Gmail Importer by Front
Pros:
You can import a large amount of data;
The tool is free to use;
Works pretty quickly.
Cons:
Emails migrate as unassigned tickets.
Gmail Import to Gorgias
Like Front, Gorgias allows you to import historical emails when connecting the Gmail/G Suite inbox to your Gorgias account. Switching from Gmail to Gorgias, you can import:
Emails+formatting;
Requesters;
Attachments;
Timestamps.
How to import Gmail to Gorgias
To import emails, you need to set up an integration between Gmail and Gorgias. Here's how you do it.
Step 1. Go to Settings > Integrations > Email
Step 2. Click Add email address
Step 3. Click on the Connect Google email account button and sign in to your Google account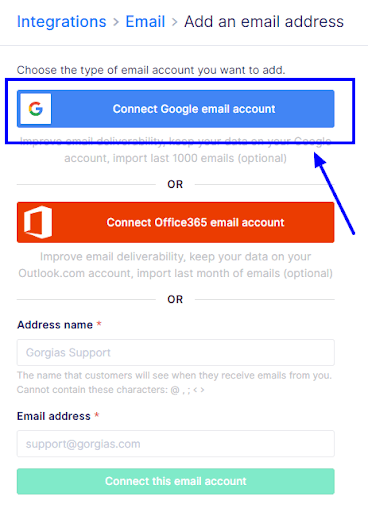 Step 4. Start the process of importing emails.
Pros and Cons of Gmail Importer by Gorgias
Pros:
Gorgias keeps the original "created at" dates;
You can import a good amount of information;
Straightforward import process.
Cons:
You can migrate only the last 2 years of data;
You can't migrate tags;
"Updated at" date is the date of migration;
"Closed at" at date is the date of the last reply in the thread.
How to migrate Gmail Emails to Any Help Desk?
What if the help desk of your choice does not offer a native Gmail import tool? The most simple way is to export Gmail emails using Help Desk Migration. Here's why.
First off, you don't need to figure out how to export your Gmail and translate whatever file you have into something that a help desk can accept. Simply log in, click a few buttons, and you're good to go. Besides, there's a chance to lose or corrupt some time during translation. Our Wizard retains the structure of your data. Last but not least, with our service you can export all Gmails emails. That way, you can easily refer to the oldest conversation history. Sounds good? Try the tool for free.
Now, of course, there are other ways of migrating your Gmail to a help desk. You can use Google Takeout and export the inbox in JSON and MBOX format. JSON is accepted by Jira Service Management, so if this is your choice then you may give it a go. If not, you will have to figure out a way to convert the data into a different format.
You can try API to fetch historical data. But, note that this method might take some trial and error. And, you need an engineer who can do the coding for you.
Before you give any of these options a go, make sure to try our tool. Rest assured that our Wizard will have your full attention.
Wrapping up
Out of all help desk providers, Front and Gorgias offer the best migration tools. So, if you're switching to Front, you're all set for quick and effortless Gmail export.
If you want to migrate to another help desk, we highly recommend you check out Help Desk Migration.