Zendesk is one of the leaders on the help desk software market. But what happens when another leader like Atlassian's Jira extends its product line and launches a help desk of its own?
Do these companies become direct competitors? How to make the best choice comparing JIRA Service Desk vs Zendesk? Let's find answers together.

Jira Service Desk vs Zendesk: The Background
Jira Service Desk was launched in 2013 as another product by Atlassian that complements popular issue tracking platform. Built with IT Service Management in mind, Jira assists businesses with incident, problem, and change management. In just a few years Jira Service Desk managed to acquire giants like Twitter, Square, Cisco, Vistaprint, Sotheby's, Puppet Labs as the customers. As of now, more than 20,000 companies have chosen Jira as a service desk for their support teams.
Source: in.pcmag.com
Zendesk has started out in 2007 and was launched as a startup by three developers. The years have passed and today over 40,000 companies including Uber, Slack, Shopify, L'oreal and others use Zendesk as software for customer service. It's possible to use Zendesk Support as a standalone or purchase the Suite to take advantage of the Guide (self-service), Talk (call center), and Chat (live messaging) functionality. Recently, Zendesk added features for ITIL practices, so that companies can focus on both internal and external services just like with Jira Service Desk.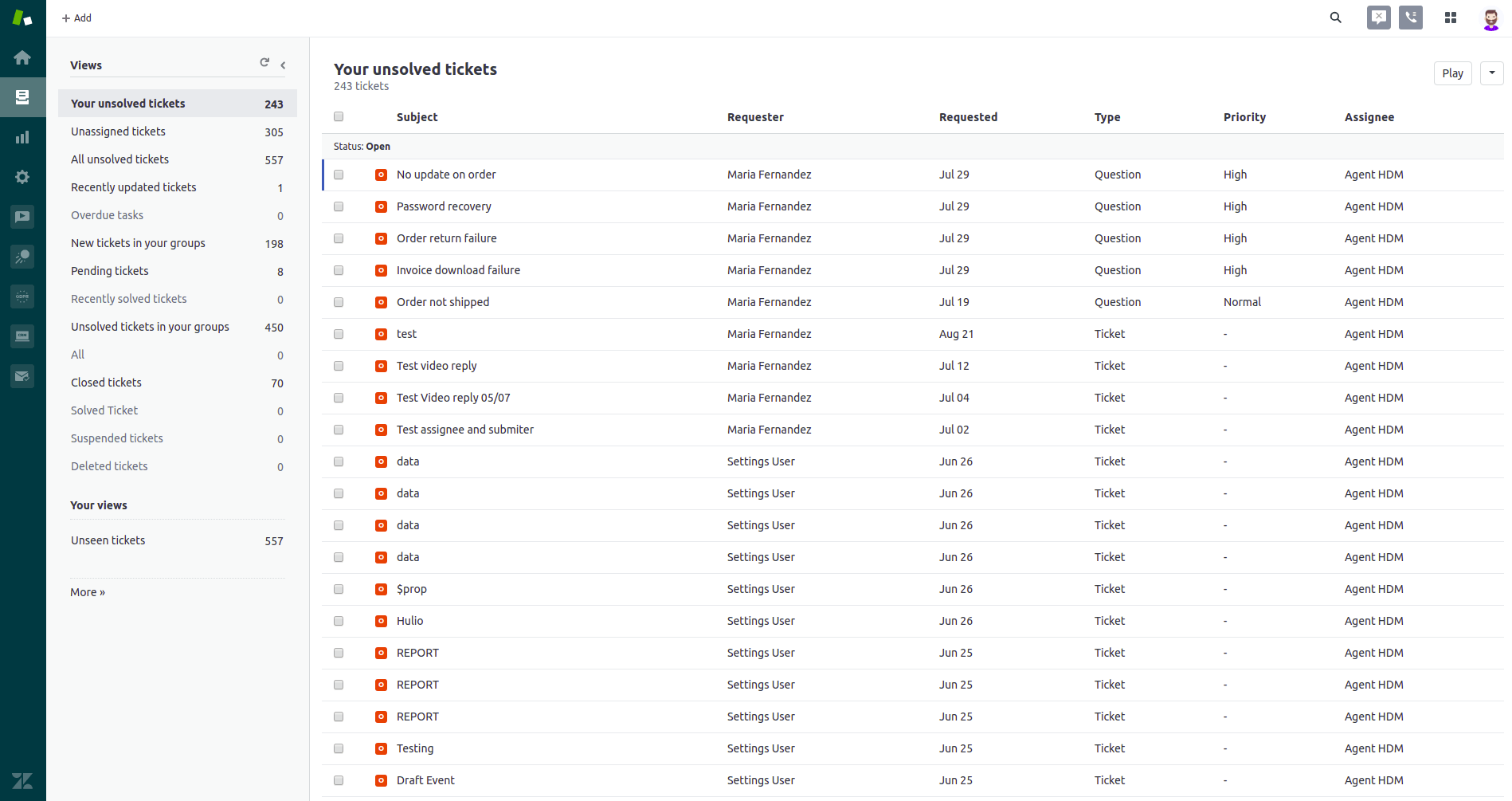 What do They Have in Common
As we are assessing two leading products it is not discussed that both have all the essential features like ticket management and run a polished UI.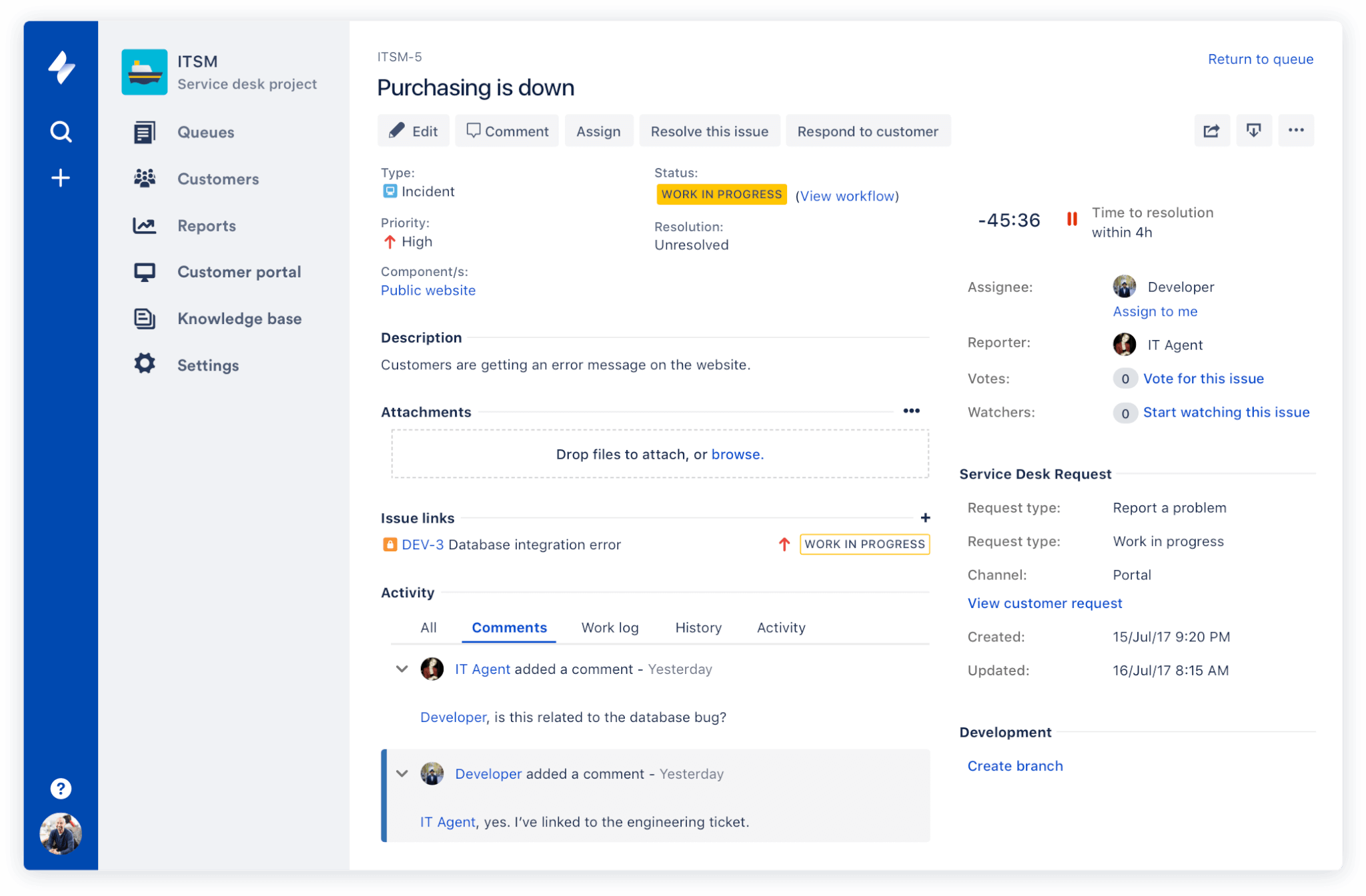 The ticket menu and possible actions for agents in Jira Service Desk. Source: IP moment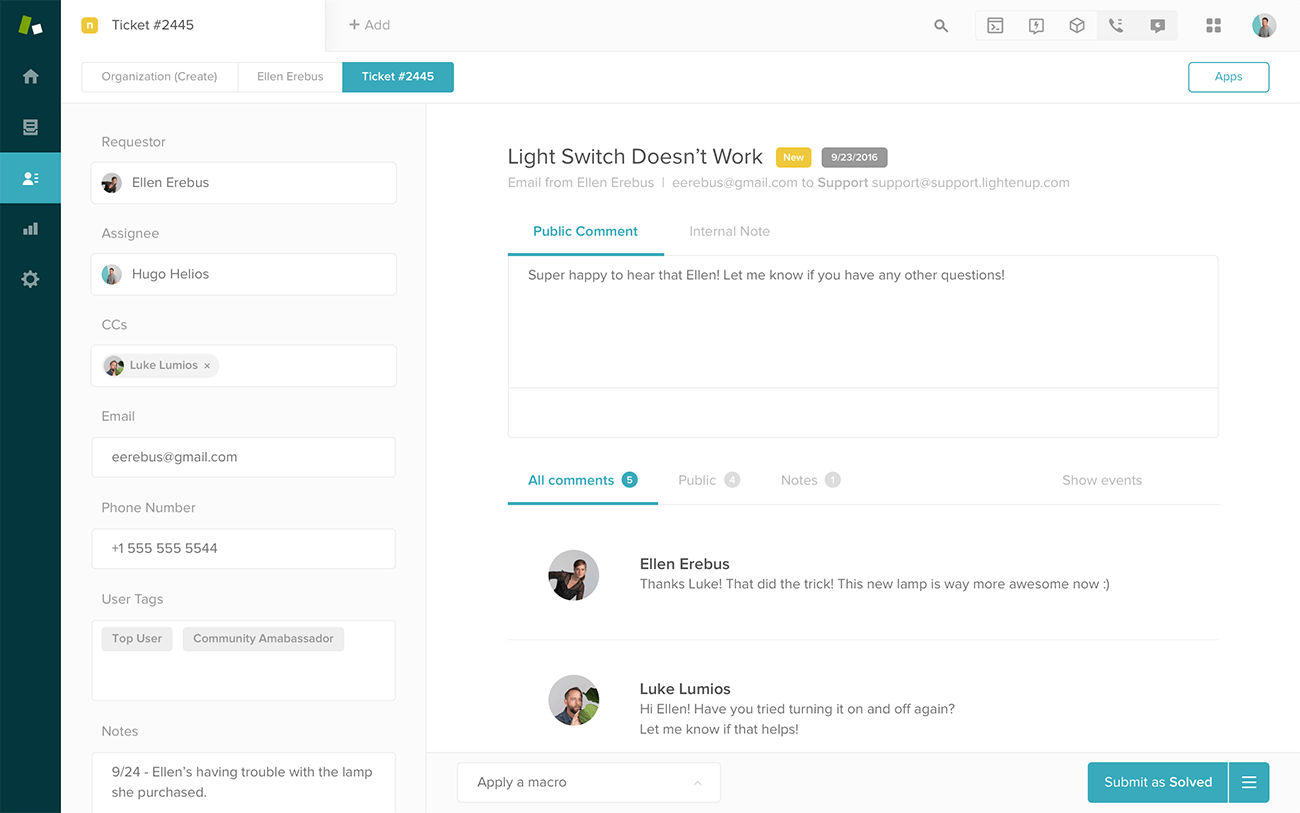 The appearance of Zendesk Support ticket with all the details on the case. Source: Zendesk
Among other features, they offer knowledge base integration which is also possible to customize according to your personal needs. In Zendesk, you'll have to purchase a separate product called Guide to be able to provide self-service options. In its turn, Jira Service Desk offers it as an integration with another product called Confluence.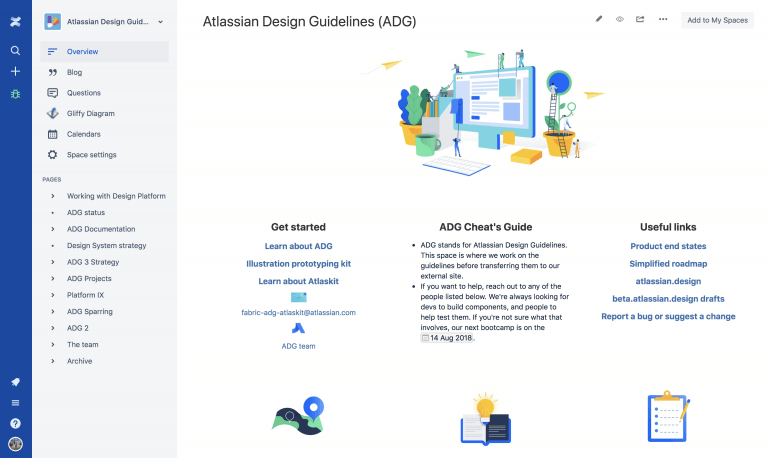 The main dashboard in Confluence for managing the knowledge base. Source: Atlassian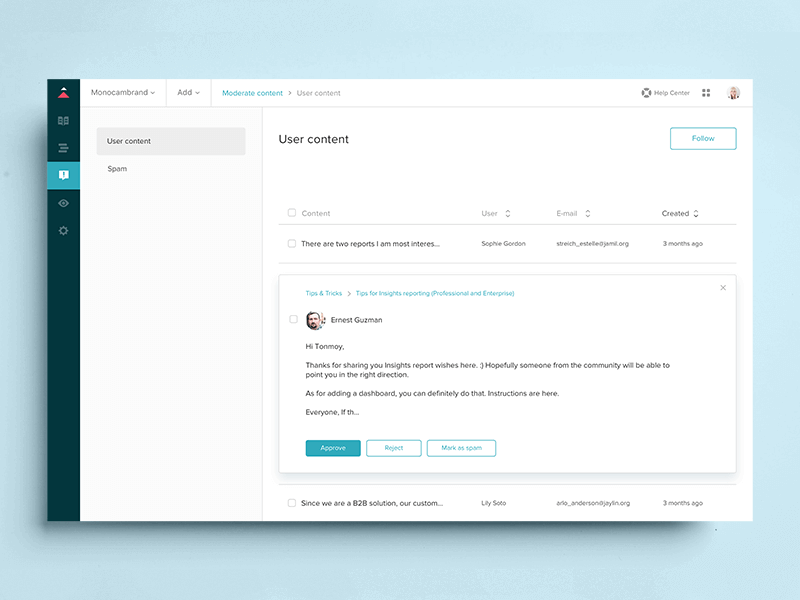 Agent interface in Zendesk Guide. Source: Dribbble
The same situation is with multichannel support. You can link any of your company's accounts from email to social media and receive customer queries right in the system. As well as you don't have to sort them out by hand or jump between thousands of tabs. Both help desks get the job done for you. Zendesk offers it out of the box starting from their cheapest plan, while Jira Service Desk as a paid integration with their partner Hootsuite.
Either using Jira or Zendesk you'll notice numerous options for your support team to eliminate mundane tasks and make the support process as automated as possible. But it doesn't mean that your customer support will become less humanlike. No, pre-defined ticket responses, customer search history, ticket prioritization, routing, and even more will only simplify a huge part of your agents' workflow.
Creating a new automation rule with Native automation in Jira Service Desk. Source: Atlassian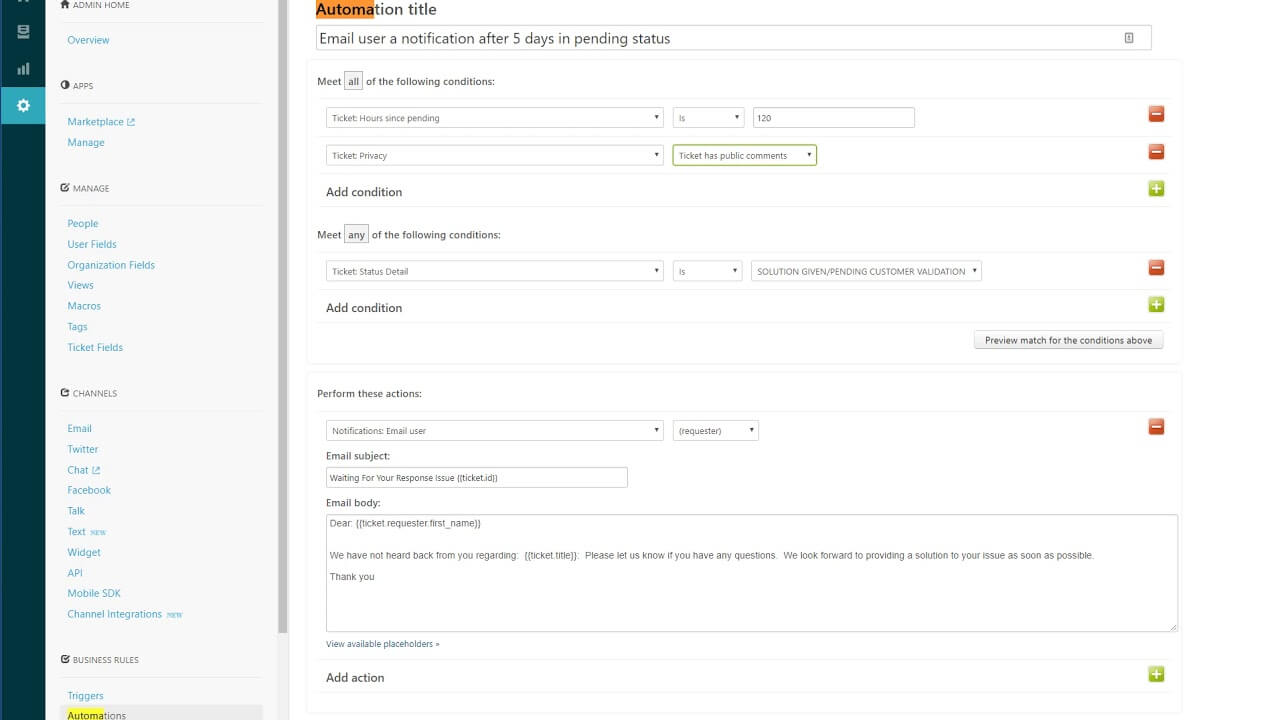 Creating a new automation rule in Zendesk. Source: Youtube
Both help desks offer wide reporting options which help your team easily identify the main trends in customer behavior and change the support approaches accordingly. Use any way you like from the available - from analytics of any part of the workflow to customer satisfaction ratings. The dashboard with all the key data will always be on hand for the analysis. Anyway, the main purpose remains the same - to assess and improve your customer service quality.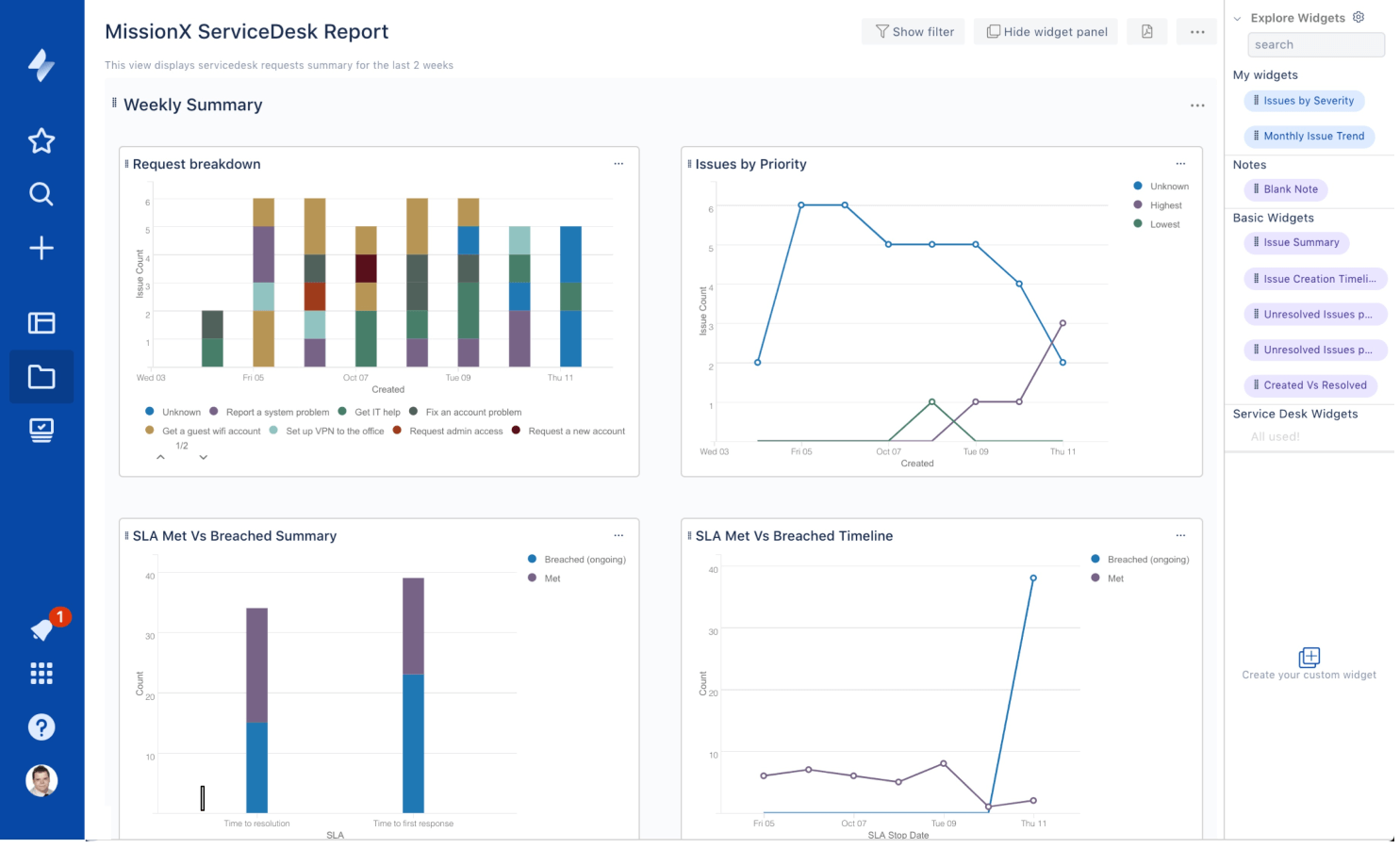 The reporting dashboard in Jira Service Desk. Source: Atlassian
The reporting dashboard in Zendesk Explore. Source: Zendesk
Another important point is the availability of SLA reporting on both platforms. Why? Because your customers should always be assured of the services they pay for. And your team should know which tasks are key at the moment. And whether you choose Jira Service Desk or Zendesk, you'll have that feature available. At any time of day and night.
Both Jira and Zendesk have extensive add-ons ecosystem. Using Jira Service Desk, you get access to 1,800+ add-ons from the Atlassian Marketplace. In its turn, Zendesk offers over 500 apps from its marketplace.
Lastly, both help desks have an open API that enables to seamlessly integrate other solutions into your business.

How is Jira Service Desk Different

Most notable features
Jira is one platform that serves the needs of development and support teams. What is more, it is a great choice for companies who already use Atlassian products. Among the features that make Jira Service Desk stand out of the crowd we would name:
Asset management options. With this feature, Jira can help you work in the most cost-effective manner by managing both your software and hardware. Agents can link assets to their requests and, thus, get more context about the issue right from the ticket.
Enterprise level data center. You can keep all the information safe from corruption and loss and don't have to worry about running out of storage space. Your data will be secure as well as compliant with any policy of your company. Moreover, Jira data center will always satisfy your needs as it scales as your company and customer base grows.
Filtering capabilities. In Jira, they enable you to set up and view custom filters. Make the workflow even more convenient using these filters you created beforehand and share them within the company or even outside of your organization. In fact, you can even create lists of your favorite filters, export the search results in many formats, and have the search results emailed on schedule.
Project management. Create your own projects and assign tasks for each team member to simplify the process, spare costs, inspire teamwork, and keep up with the timelines. Also, the project management system in Jira Service Desk is highly customizable. So, you can be sure about the max adjustment of the tools to any step of your team's workflow.
Server and cloud versions. Jira Service Desk cares about its users' comfort. So, it made the system available in both on-premise and cloud versions. Obviously, each one has its own pros and cons. But, this also gives you the opportunity to choose a more comfortable form for running your business. To trust your service desk to the professionals or to control everything yourself - it's up to you.
Pricing model
The pricing is based on the number of agents. For smaller teams up to 3 agent accounts, they have $10 plan/per agent. While for larger teams you will have to pay $20/per agent. Both plans offer equal features.
Although, Jira Service Desk is free for non-commercial organizations and open source projects.

How is Zendesk Different

Most notable features
Zendesk's flexible plans and a host of features make it an excellent tool for small as well as large companies.
For your information, here are the most prominent features:
Rich customization options. Customize almost every feature in your Zendesk account. Starting from the custom ticket views and to the own design of your knowledge base and customer portal. Everything to to give them the idea of your own brand.
Customer portal and community forum. Create and customize an in-bound customer portal and community forum apart from the knowledge base so that customers can help each other in resolving common issues. Indeed, this is a huge time-saver for both your agents and customers. For instance, it will significantly reduce the number of repetitive questions. That's because your customers can just save the answers for later.
Chatbot system. Another helping hand for your support reps is this small but extremely effective feature. In Zendesk you can set up a chatbot (as well as customize everything about it). Thus, it will resolve simplest tasks and create better customer experience using artificial intelligence.
Agent collision detection. The special system enables agents to view if another support rep is working on the issue and how they are interacting with this very ticket. As a result, your team can avoid spending time on the same task. And this is obviously a huge time saver and productivity booster.
Benchmark tool. This unique Zendesk tool enables companies to measure their success by comparing their indicators to the competitors on the market. Sounds motivating, isn't it?
Pricing model
Zendesk offers 5 plans that differ by the features available. The cheapest Essential plan with the basic features would cost $5 per agent per month (billed annually). To get access to the addons and custom themes users would have to purchase a $19 plan and higher.
Zendesk provides a free trial for the $49 Professional plan and higher.
Conclusion
As we see, Jira Service Desk and Zendesk are both strong solutions with robust features. However, each of them has its own focus and peculiarities.
Jira Service Desk offers the ability to manage not only customer requests but those from the employees as well. Even more, its combo with other Jira products creates a strong synergic effect.
Zendesk, on the other hand, is user-oriented and flexible. In its turn, it offers powerful reporting and analytic tools.
However, the best way to solve Jira Service Desk vs Zendesk dilemma is still to try both solutions yourself. So, don't be afraid to ask for an extended trial. In fact, most companies would do you such a favor. Especially if you mention that you are trying out their competitor.
And if you are looking for data migration to one of these platforms (or any other help desk system), just drop us a line and we'll make sure that to get you started right away!