Data migrated
Tickets
Contacts
Agents
Companies
Attachments
Notes
Company:
e-Core
Industry:
Information Technology and Services
Location:
Porto Alegre, Rio Grande do Sul
Type of migration:
Zendesk to Jira Service Desk
Challenge:
The company needed to migrate data for one of its clients.
Solution:
The migration was split into two parts: first we migrated closed tickets, then the rest of the data. We also developed customization so all tickets would have correct Organizations assigned to them.
Result:
The client imported all the necessary data to Jira Service Desk.
The support is amazing! Top notch customer service for sure!
Tell us about the company and your role in it
I am a Tech Lead at e-Core. We're a leading global Atlassian consulting services and application outsourcing company. We help clients providing consulting services, training, deployment and integrations focused on Atlassian products.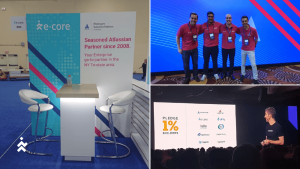 Why did you decide to switch to another help desk?
The client decided to move from Zendesk to Jira Service Desk mostly because of the flexibility that Jira Service Desk brings related to workflows and reporting.
Why did you decide to migrate data and not start from scratch?
The client's customer database is large. They wanted to keep every bit of information.
What expectations/requirements did you have when planning to migrate your data?
To be able to map fields in a flexible way and to be able to test the migration multiple times.
Why did you decide to use an automated tool and not run the migration by yourself?
We did not have the required expertise on Zendesk to be able to run the migration by ourselves.
How did you like our service? Was the process confusing at any point?
The support is amazing! Top notch customer service for sure! Other than that, I felt that the one-time full migration process was not clear enough.
What are the tips you would like to share with those who also need to migrate their data?
Pay attention to the mapping and run demos as much as needed. Only perform the full migration when everyone is aware that the migration will be performed to avoid external interruptions/issues.