If you've been using osTicket in the past, you probably already know its pros and cons. It is a good tool that is limited in certain parts. Some of you can stomach it, others might not so how do you export your stuff from the tool. After all, one day you'll grow big enough that osTicket won't suffice.
Well, this is what we will try to answer today using the knowledge base records as a template. But before we begin, spoiler alert, the process is quite lengthy so we suggest that you allocate enough time in advance. So, with that being said, let's dive into the process.
Lack of a Native Solution
Let's start with the basics and make things clear. osTicket doesn't offer a native solution to export knowledge base elements and this is a massive issue as for many, the knowledge base is like a reference book that both new and old employees use. In other words, it is pretty important and not having the ability to move your base is a rather substantial con.
Anyways, since there is no way to move your data using a native implementation, your next best thing would be to copy-paste the entire base. This is suboptimal at best and will only work for companies that don't have a large base. Yet, if you have a huge library of helpful and functional articles, complete with pictures, copy-pasting everything will take forever.
If you have a huge library of helpful and functional articles, complete with pictures, copy-pasting everything will take forever. And, if you try to use free migration apps, be aware that they might mismatch the data due to the lack of funding.
You can opt to use free third-party apps to move your stuff, however, be aware that these don't always work. And those that work might mix and mismatch data. Moreover, these free migration systems aren't always safe to use. And for good reasons, they lack the funding to establish a powerful protective system. If you have sensitive data that you wish not to expose, keep reading as we have just the tool for you.
Using the Migration Wizard
As usual, disclaimer, our tool is a paid solution so if you are not willing to spend money on your transfer, we suggest that you either wait for a native implementation from osTicket or opt to use something proven. But in any case, if you are here, it means that you really need to export your osTicket stuff.
To start using our tool, just head over to the migration page. Select the source and the target platforms. If you don't know where you'll end up using your data, you can always export data to a CSV file. After you've selected the platforms, you will be asked to provide credentials to ensure a proper transfer rate. Without your credentials, moving data from osTicket will be impossible and in case you worry that someone might intercept your records, worry not as we employ the latest and greatest security systems in the world.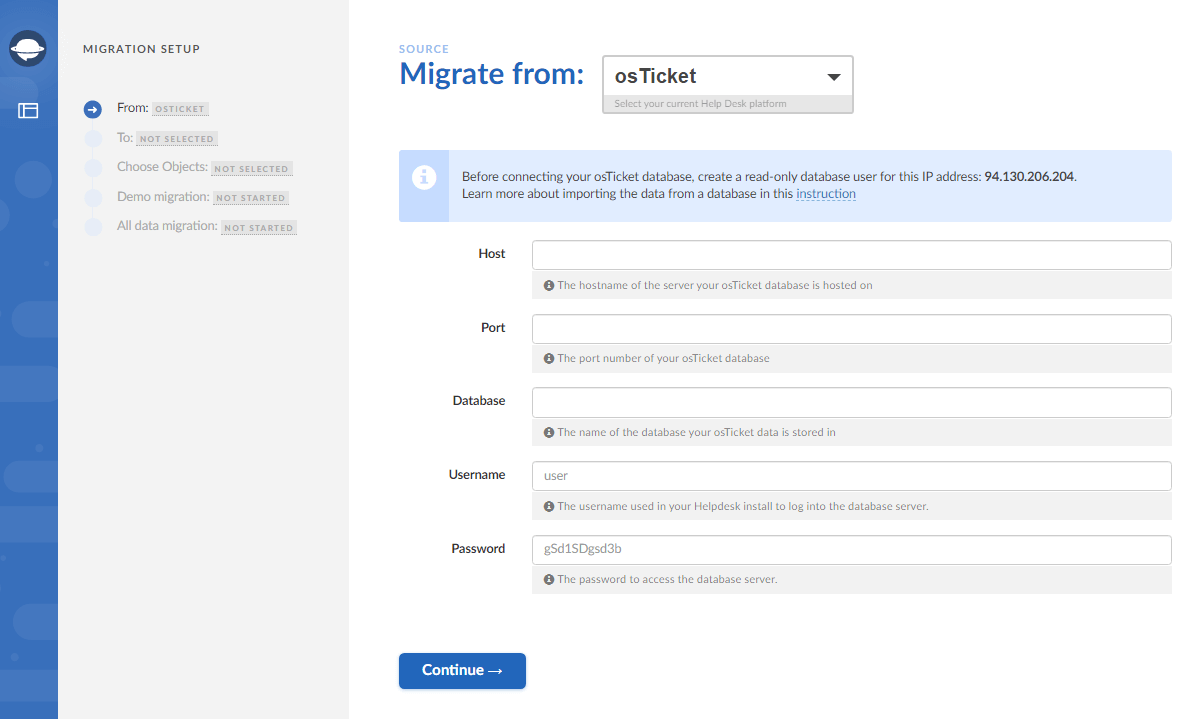 Once our wizard gets access to the system, you will be asked to select what kind of data you want to move which in our case would be knowledge base articles. The tool will then proceed to move a couple of articles (complete with pictures) to verify that nothing is wrong and that a full-blown migration process can start.
After that, we will provide you with an estimate of how much it will cost you and whether you want to move your articles. And that's pretty much it, the rest of the work is automatic.
Why Waste Time?
Indeed, why? We understand that not everyone is willing to spend money on a migration process but think about it from a different perspective. There are many benefits of using our solutions, here are a few that we deem as the most significant:
Migration is a one-time expense
You pay only for the moved records
Your work doesn't stop
Your service quality remains the same
After all, osTicket doesn't offer a proper transfer module and rightfully so, they want their customers to stay under their umbrella. Some of you might reason that hiring a software developer to create a custom solution is still possible, and it is. But here's the catch. It will be expensive, it will take time, and at the end of the day, you'll have a one-time-use product (the custom script) that you won't be able to use elsewhere.
Let's Move Your Data Together
If you are still on the fence whether you should use our solution, we offer a free demo to everyone. After all, why read it a hundred times when you can see it in action. To claim your demo just give us a call or drop us a message, we'll schedule a convenient time for you, and the rest is on us.