Custom data migration remains quite an obscure topic since there is little helpful documentation. Let's face it, help desk data transfer is a challenging task so be ready that customization won't be a mere breeze. Considering the nature of different data structures of customer support software, it is hard to test potential permutations of datasets the users have. Also, it can cause extra changes or data remapping during the migration.
Businesses tend to customize their help desk solutions to their specific needs and workflows. And that's great until you decide to change your help desk. Another example is the companies that move from on-premises infrastructure to the cloud. Their systems tend to be heavily customized in data structure and extra fields.
So today, custom data migration is rather a requirement for optimizing and transforming their business processes.
What Is a Data Migration Process?
Usually, data migration is a one-time process of moving business records from one system to another. It involves preparing, extracting, and, if needed, transforming the data. To be successful, this project requires a thorough strategy and planning.
Help desk data migration is traditionally a component of a larger business project like:
Replacement of an old software system or EOL of a used solution
Merging of two or more instances of the same customer support software
Adoption of help desk software into the business flow
Compliance with policies of acquiring company require to change a customer support solution
What Is a Migration Tool?
A migration service or software that manages the records transfer to another system. For example, the Help Desk Migration service automates the data migration between various systems, importing from database or CSV files, and exporting records from customer support systems or email inboxes.
What Are the Types of Data Migration Tools?
Companies can create their data migration scripts or apply on-premises or relevant cloud-based tools. What about self-scripted custom data migration - it serves as a do-it-yourself in-house tool that suits small projects perfectly. However, it cannot scale well. On the other hand, on-premises solutions perform appropriately when all the information is located at a single site. Finally, cloud-based data migration solutions are a good option for businesses seeking to transfer data to cloud-based destinations.
No doubt that IT professionals can build software for custom data migration. But this process may be costly and time-consuming. Besides, ensuring that all your records settle in the right places in a new help desk requires learning the specific of data structuring of both current and target customer service platforms. Therefore, applying a data migration service is a better option.
Large help desk providers also include varied services to help you launch, fine-tune, and even set up a custom data migration. For instance, Zendesk delivers
Professional Services
to help you move from separate products to Zendesk Suite.
It minimizes time and effort, but Zendesk Professional Services costs at least $8K per channel
; it might be overpriced if you just need a data migration.
Then again, you can choose a data migration tool like Help Desk Migration. It helps you simply transfer customer data from any help desk to Zendesk. Or even consolidate Zendesk instances. The migration price starts from $39 based on the number of records you want to import.
What Is a Data Migration Strategy?
Data migration strategy helps companies to cover all the steps they need to take to prepare, migrate and set up a new platform after a switch. You document processes and distribute responsibilities. That helps to oversee and detect the issues (i.e., overlooked records, mismapped data, lack of certain data types on a target system, etc.) and fix them faster.
Two of the five companies have no strategy and that
adds up more time to the duration of data switch
requires records remapping or remigrating data and additional - settings on the targeted platform (i.e., creating agents, groups, other custom fields)
extends customer support downtime
What to include in your strategy?
Changing any software is a crucial shift, and despite your industry or company size, you should
Prepare your team for the upcoming switch
Review customer requests and related records
Prepare your data migration checklist
Find the migration option
Tune your new platform
Data migration strategy is a core of the project as it shows you what are the specifics of your records and whether you need custom data migration or not. Because the internet is shockingly full of useful information, and there's a ton of stuff no one tells you. Due to the efficient data migration strategy, organizations can ensure data integrity, reduce costs, and eliminate manual effort.
What Are the Two Data Migration Strategies?
The most common types of data migration are storage migration, data migration (i.e., help desk, ITSM, live chat, project management, accounting and billing systems, learning systems, etc.), application migration, data center migration, and business process migration. Each migration type includes big bang migration and trickle migration.
Big Bang Migration Strategy
That's a global replacement of your data. Actually, it takes a bit more time than just a bang. But for users - there is a quick change when they used the old help desk and switch to a new platform. That makes the name of this migration strategy "Big Bang".
Trickle Data Migration Strategy
That's a gradual data migration with the parallel maintenance of both: current and target solutions. Basically, you run two help desk systems and import data to a new tool in small portions during several phrases.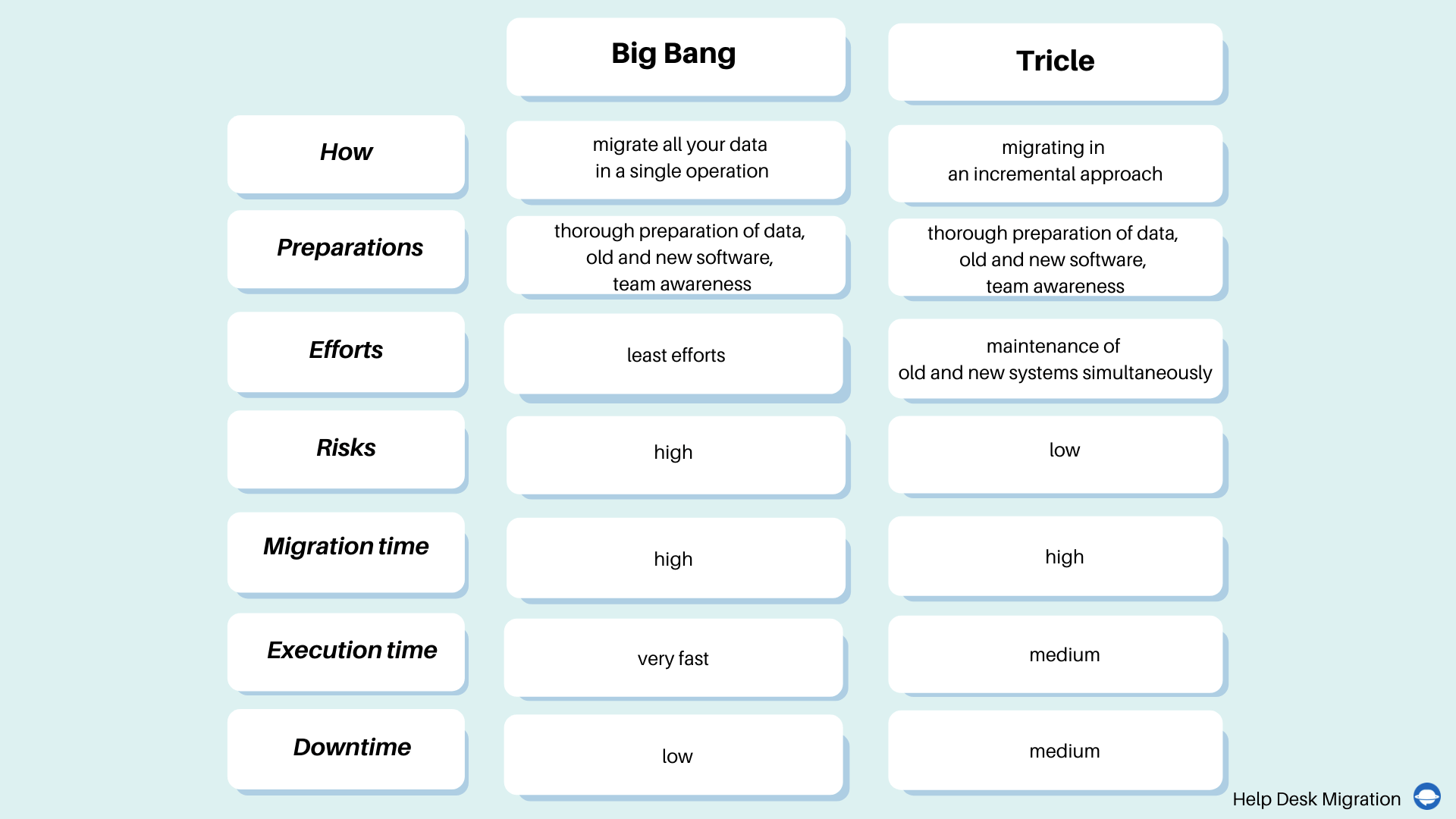 Which of the following is suitable for a custom data migration?
Big Bang. Yes, it has more risks - but that depends on your preparation process. The Tickle takes much more effort from your team who need to control each phrase and resources too.
Pro tip: staff matching, tickets mapping, and out-of-the-box custom field creation on the mapping stage.
Or a bit hybrid Trickle migration in two phases: first, move the core help desk data, and then use Delta migration to import the most recent records and knowledge base articles.
What Are the Challenges of Custom Data Migration?
Although data transfer has become a common thing, some businesses face it as a quite challenging task. Here we describe some critical challenges of custom data migration.
Data format
That's not the jaw-dropping fact: every help desk system or any other business software, has a specific data structure, field names, and values that differ from vendor to vendor. Before setting up your custom migration, check up on how this aspect is going in your case.
Deduplication
Deduplicating records in a source solution extends the migration time, impacts the data transfer costs, and takes chaos from the old system to a new one. Take time to audit your data that saves you from the mess on a new tool.
Downtime
Scary word for everyone who runs a business in real-time. Traditionally, the Big Bang strategy is supposed to have downtime. But, you already know how to move your records without impacting your workflow. (Use our service.)
History consistency
Sometimes, you can linearize migrations manually when you have two development branches connected. During the edition of migration dependencies, you may accidentally create history inconsistency. It means that you have applied a migration without its several dependencies.
How to Plan Custom Data Migration?
Custom data migration planning requires implementing some critical steps.
Prepare your current help desk data to switch
Don't be tempted to think that all your records are in place and required. Customer and business data needs a thorough audit - avoid overlooking agents or groups numbers or other data objects. Such a double-check helps to understand your data structure and ensure that everything sits where it should and not disrupt someone's work after the transfer.
Current vs future platform: what to check?
The ticketing systems and help desk software share the basic set of features to manage customer data. Thus, the internal data structure differs. Take time to compare data objects and create a correspondence map between records types. Also, if you plan to have fewer agents on a new tool, you better reassign the tickets to avoid junk after data migration.
Build workflow compliant with your migration strategy
Sounds too vague, right? The main point here is that you should sort out the related processes. Why? To keep preparation consistent and fix the uprising issues along without forgetting about them (e.g., to deal with duplicates, inactive agents, or checking custom fields on your source system, and the like.)
Conclusion
Custom data migration may present a suite of complex issues for moving data appropriately. After all, copy and paste records like a stone age in the world where digital transformation has taken a full swing. If you want to get your migration done faster with less wasted effort: invest in a data migration strategy and secure, automated migration tool to save your company resources.