Zendesk Data Migration Checklist
Data migration is almost never easy, and the complex multiple-step process that accompanies the transfer is what terrifies many the most. If the possible challenge is something that puts you off, worry no more - as we're here to help you out.
Over the years of experience, we've discovered the perfect combination that makes the process of migration as smooth and as painless as possible. The first thing is a detailed checklist covering everything from A to Z. The second is a reliable third-party service that can take the heavyweight of data transfer upon its shoulders – Help Desk Migration. The best thing about our tool is that it requires no data migration expertise on your side.
If you're here, you may have already set up your mind to migrate to Zendesk, and most likely, you did some research. However, before diving into all the data migration related details, we find that it's essential to inform you about the list of entities that
can not
be migrated to the new platform. They are:
Inline images
Links between articles (Help Center)
While you can not transfer these records during a standard migration, we always offer an opportunity for customized migration. Contact our team in advance to discuss the peculiarities of the personalized transfer. One of our best agents will get back to you and explain everything in detail.
Note: When importing your Knowledge base into Zendesk, its dates will change from the original ones to the dates of data migration itself.
Before You Set up the Migration
If you imagine the whole process of data migration, about 60% of the effort goes to the preparation and planning. You have to spend quite a bit of time during this phase, but the results will definitely be worth all the hassle. We tried to cover everything, even what seems insignificant at first glance, to make sure you're fully prepared for the migration.
1. Pick a perfect сut-off date
You can't just shoot in the dark with this one. You have to consider many factors, primarily the amount of help desk-connected workload for that day, which has to be the smallest possible. Otherwise, it can interfere in the migration process and even slow it down. You will, for sure, thank yourself later for taking the extra time.
As soon as the migration process starts, your team should work solely in Zendesk to avoid causing any data mishaps. It means that everything on your old help desk has to be closed and prepared for the transfer till that very date. Give yourself at least a week or two starting from the moment you decide on migration, so you can thoroughly prepare for transfer.
2. Inform your team
We don't mean simply getting them all hyped-up about the big transfer date, but to give them enough knowledge and time to start closing tickets for migration. If said in advance, your support agents will also try to get used to Zendesk, so the transition will not affect the working process.
Plus, it would be a good idea to distribute certain responsibilities among several responsible employees. For example, right after the migration, each agent can check all the tickets specifically assigned to them. This will ensure the high-level accuracy and faster pace of the examination.
Needless to say, you have to inform both your CEO and simple customer support reps (everyone impacted by the transfer directly). You don't have to report every step along the way, but keeping them up-to-date about the general picture would be helpful. Moreover, some of the advice and recommendations from their point of view will be irreplaceable during the preparation process.
A tip from our team: Remind your employees about the migration a day before, to prevent someone accidentally continuing working on tickets in your old helpdesk. You can send an email or create a calendar event as a reminder.
3. Do a bit of cleaning up
If you move all records as they are without a single change, you will, as a result, end up with piles of unused historical data in Zendesk. Consider going through most entities and deciding what you want to keep and what can be deleted. It will save you much-needed space, which is vital for new incoming tickets, as well as time required for migration.
Moreover, HDM Service charges per migrated record, so cleaning up the spam can significantly reduce your paycheck (and who doesn't want that?). The result you should be aiming for is to be left with data that you feel 100% comfortable moving to Zendesk.
Another tip from the HDM team - ask your agents who deal with these records every day to separate the essential items. They certainly know what can and should be left out, especially when it comes to duplicates, invalid emails, or unassigned ticket conversations.
However, if you don't have time or human resources to look through your data, our migration tool can perform simple filtering and omit certain data. Drop us a line in advance and tell us the criteria you want your data to be filtered with, and we'll do it for you.
4. Prepare Zendesk for migration
Before the migration takes place, you have to prepare Zendesk to be ready to accept the data you're going to transfer. Pay attention to these steps:
1) Create proper custom fields with corresponding 'type'. Not only will this make the mapping process easier, but also ensure you can locate the needed records in no time. Zendesk is pretty flexible when it comes to custom fields and allows customers to create custom fields for tickets, users, and organizations. However, Contact and Organization custom fields cannot be mapped on the demo with our tool. That's where an opportunity for customization comes in handy. Simply inform our team about the need to map these fields, and the agents will help you in no time. To create custom fields, go to Admin →Manage→Choose User/Organization/Ticket fields→ Click Add field.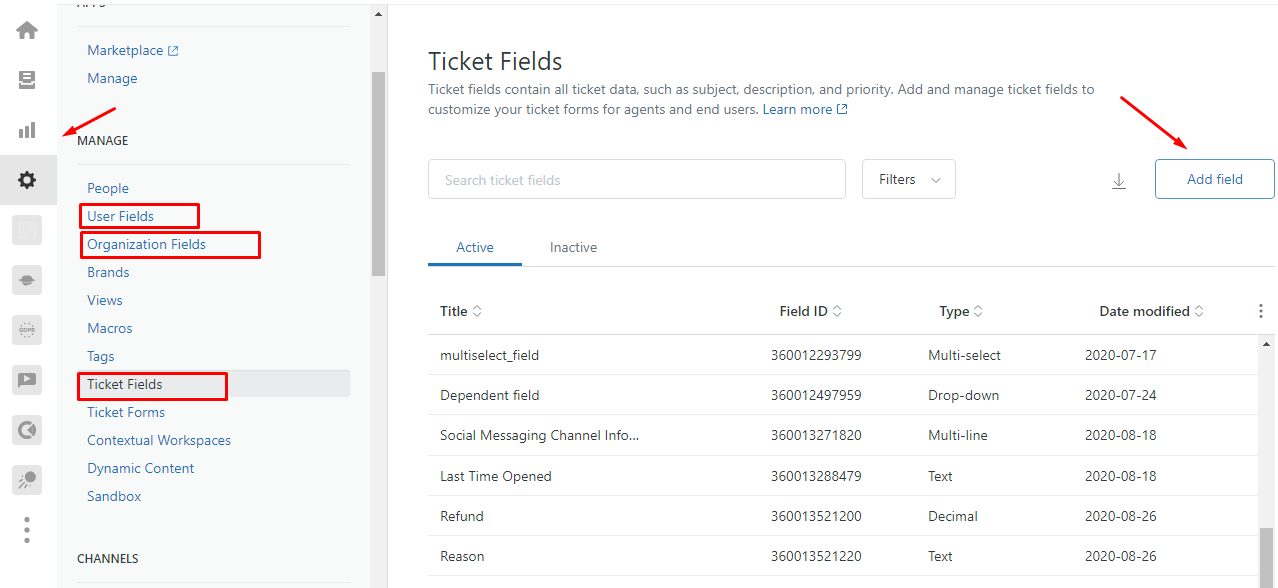 The custom fields should either have a default setting or be mapped as 'Unrequired', otherwise, the field will remain empty.
2) Setup saved replies (macros). Just as you did with your data, assess which macros you may need in Zendesk. Maybe something is not relevant anymore. So, why take up the extra space. However, shared macros (created for everyone on the team to use) is always a good choice to keep. To create macros in Zendesk, go to Admin → Macros →Add Macro.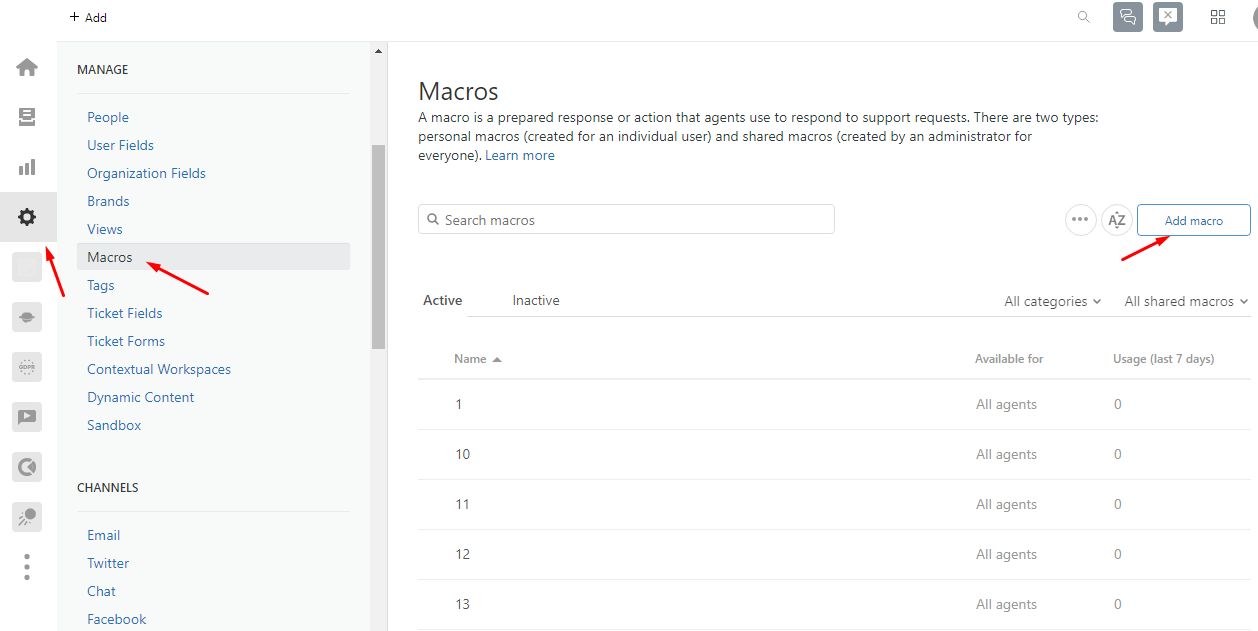 3) Agents. Don't worry about setting agents as our tool will set them automatically.
5. Study the peculiarities
Zendesk is one of the most popular help desks out there, therefore a lot of people consider data import. However, there're a lot of peculiarities that have to be taken into consideration.
It may seem like it will take you ages to handle all of them, but do not let the quantity scare you off. Zendesk is truly one-of-a-kind, and after the migration is complete, you will not regret the choice you've made. Without further ado, let's review the limitations:
When migrating to Zendesk, your suspended Contacts will change their status to unsuspended. The reason for this is that suspended Contacts cannot be the requesters of tickets in Zendesk.
You cannot migrate tickets without contacts, organizations, agents since everything is interconnected. These fields should be filled in.
After 28 days, tickets that were marked as 'Solved' will automatically get updated to 'Closed'. And after 120 days of being 'Closed', tickets are automatically archived. It happens because of certain automation settings. You can reduce the number of days until they become 'Closed', but you can't expect tickets to stay 'Solved' until you manually close them.
By default, Zendesk does not show all ticket statuses in the main menu. To view all tickets, type * in the search bar and press the Enter key. This is the only way you can locate archived tickets.
The tickets will have relevant tags assigned automatically by Zendesk based on the custom field options.
Only default language migrates by default.
Depending on your subscription plan, you'll see different agent roles on Zendesk. For example, there is an administrator role that defines everything in your account. Or, a light agent role that can leave private comments to tickets, but cannot be a closed ticket owner, etc. If you an Enterprise plan user, make sure all of your agents receive the Staff role so they can solve the tickets.
Speaking about subscription plans, each has a limited amount of agents. If you want to preserve the same number of agents you had on your source help desk, consider upgrading to a different plan. However, in case you won't migrate certain agents to Zendesk, contact our team to get their tickets reassigned.
Tickets without the agent will get assigned to a default agent in Zendesk. There are two options in this case. Firstly. to avoid any confusion you can make sure all your tickets have an assignee. The other option would be to reach out to us and configure a default agent of your choice.
You cannot store Knowledge Base Articles in categories, only in folders. If you had no folders on the source help desk, the articles would migrate to a default folder created automatically by the migration tool. While it seems not problematic at first, the consequences of spending a lot of time locating appropriate articles might be hard to bear. Also, make sure that Zendesk Guide is activated.
If you want to migrate articles to a certain brand, connect its link to Zendesk first.
By default, Zendesk is configured to block unsafe HTML tags and attributes, to ensure that your customers can safely browse your knowledge base. For example, videos migrated as a part of Knowledge Base articles are referred to as unsafe content. To display them, go to Settings>Guide Settings, find Security and check the Display unsafe content option.
There are several types of tickets, which migrate differently. Merged tickets migrate as separate ones, together with private messages. Follow-ups migrate as one ticket. However, follow-ups that contain ID can be migrated into a custom field or private note during the custom migration.
When migrating Knowledge Base articles, activate Guide in your Zendesk account.
Tickets CC field is not transferred but all the other people's replies are reflected on the ticket.
When it comes to the order of tickets during migration, your source help desk API is what controls the process and determines whether new or old tickets will be migrated first. However, our service will migrate the users first and then tickets, to maintain the user-ticket relation.
6. Contact HDM team
Okay, so after you've done everything mentioned above, you're ready for the migration. Contact our team to discuss any peculiarities and details about the Full Data Migration. Remember, there's always a place for customization, including records filtering, mapping, tagging, etc. We're quite flexible in terms of customization to the platform, so if you value your time, contact us, and we will take everything on our shoulders.
You're Almost Ready
1. Turn off notifications
Notifications can lead to both data changes and unwanted notifications. If you want to prevent that from happening, simply turn them off. It will take you only a few minutes to disable these features but will prevent all end-users and admins from receiving numerous emails. Also, turn off the scenario automations to make sure that the system will not damage your data.
To do so, go to Admin → Business Rules → Triggers → click on a Trigger and choose Deactivate.
2. Run a Demo
Instead of jumping right into Full Data Migration, we offer a free trial. During this time, we will transfer 20 random tickets to Zendesk. You're getting a unique chance to see how your data will look after migrating to a new platform. It is entirely free of charge, and you can repeat it multiple times. We strongly advise not to skip this step to avoid any surprises in the future. Make sure you have admin rights to your accounts in the source platform and Zendesk for a trial to go through.
After the Demo Migration
1. Check the result in Zendesk
Demo migration is the exact copy of Full Data Migration but on a smaller scale. It's essential to check if all tickets migrated accordingly. What didn't transfer during the demo will not transfer during the full migration. Consider checking if:
all comments got migrated, and if the authors of the comments are the same
the tickets are assigned to the correct agents
all the custom fields got migrated
the customers and companies migrated correctly
attachments migrated along with the labels
the categories are appropriately assigned (in Knowledge Base migration)
the automation rules did not update any of your demo data
We also have a detailed guide on how to check the results of demo migration to Zendesk on our website.
2. Consider a customized demo
If you have some tickets with more replies, attachments, or notes than your usual ones and want to see how they migrate over to Zendesk, feel free to request a custom demo - we'll transfer the specific ticket IDs that you want. Just contact our team beforehand to discuss the details.
During the Full Data Migration process
1. Keep in mind the basics
We understand that there may be several reasons for data migration. Some are simply looking for an upgrade, the others just moving separate teams. No matter what drives you, we always advise running the Full Data Migration on a day with the smallest amount of incoming requests. If needed, you can still work on your source help desk during the transfer, however, the records created or updated after the start of the Full Data Migration will not appear in Zendesk automatically. If you don't want to lose that data, you can always opt for delta migration.
When it comes to the Full Data Migration, you don't have to sit in front of the computer the whole time – you can just check on the transfer from time to time or ask your agents to help you out. Our team will keep a close eye on the process of migration and if something seems out of place - we'll contact you right away.
Depending on the number of records you're transferring, it may take up a whole day and even night. Data import to Zendesk moves at a speed of about 2000 tickets per hour. Knowing that number, you can roughly calculate the time it will take you to transfer your data.
2. Don't make any last-minute changes
Seriously don't. Unless you want to deal with major headaches trying to resolve numerous problems. Even the smallest alterations can cause a thousand failures and require a day to be solved. Our practice shows that most of the things can wait until after the migration is complete.
Moreover, in most cases, when you clean up your data, you simultaneously get rid of duplicates that usually cause the migration to fail. However, sometimes, these things can go unnoticed right during the Full Data Migration itself. If you spot something out of place during the migration, wait until the transfer ends. Interference in the process can lead to distorted records and, considering all the efforts put into the preparation, it wouldn't be wise to let it happen.
No data entry, including the creation of new tickets, should go into your old system during the Full Data Migration because these updates won't be migrated. To have a hand on these new tickets, you will have to either organize another migration (that costs money, remember?) or redo everything on the new platform.
3. Start Full Data Migration
As soon as you press 'Start', each record will be transferred one by one. Depending on the number of entities you have, the process may take up to 24 hours. Keep in mind that Zendesk uses UTC timezone during the migration, so you're likely to have at least a one-hour migration difference.
The migration will only begin after two main requirements are met:
Your payment is confirmed. It may take some time, that's why we highly recommend you to make a transaction in advance. Speaking about time, you can also take advantage of our 'schedule' feature - all you have to do is choose time and day and the migration will then run automatically on the set timing. Yes, it's that simple.
You've agreed to the checklist. Click on the corresponding checklist to open a mini-guide of the essential steps you should do prior to transfer. If everything looks good, put a tick in a checkbox.
After the Full Data Migration
1. Take a detailed look
If everything went smoothly during the demo migration, the chances are pretty high that the Full Data Migration would be as successful. However, it's still vital to check everything. It's important to set search filters for all tickets to find everything you might need.
To do so, go to Admin > under Manage click 'Views' > click 'Open' to see all tickets related to a certain category. This will open a list of all needed tickets.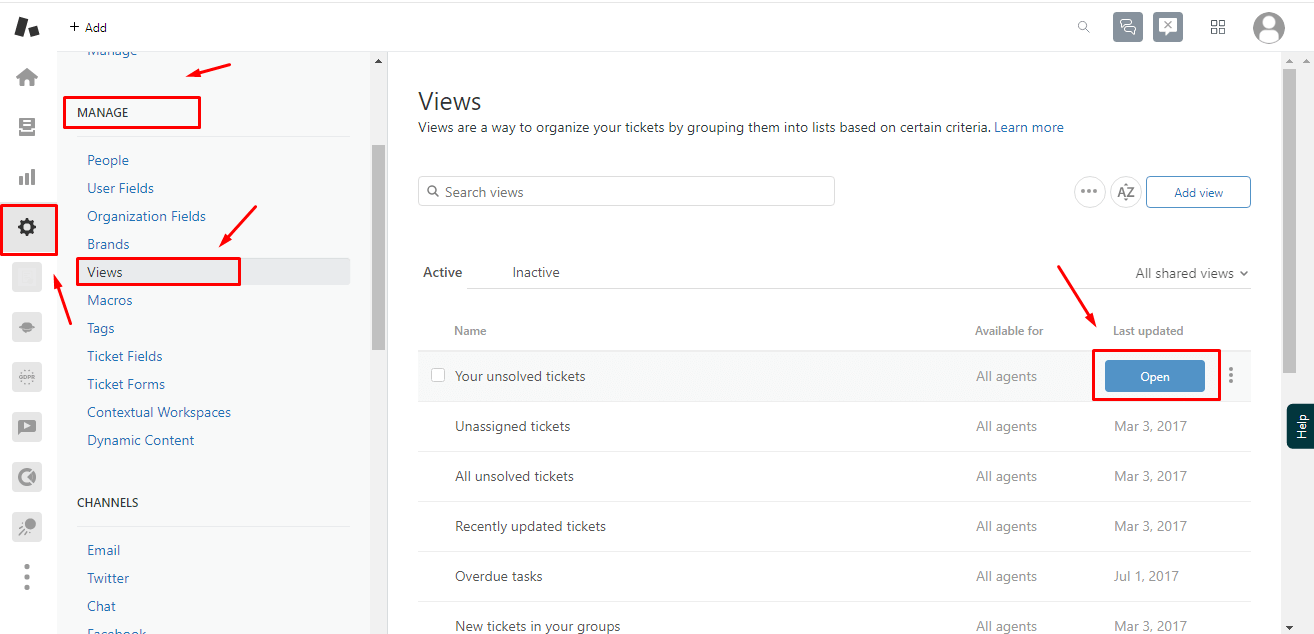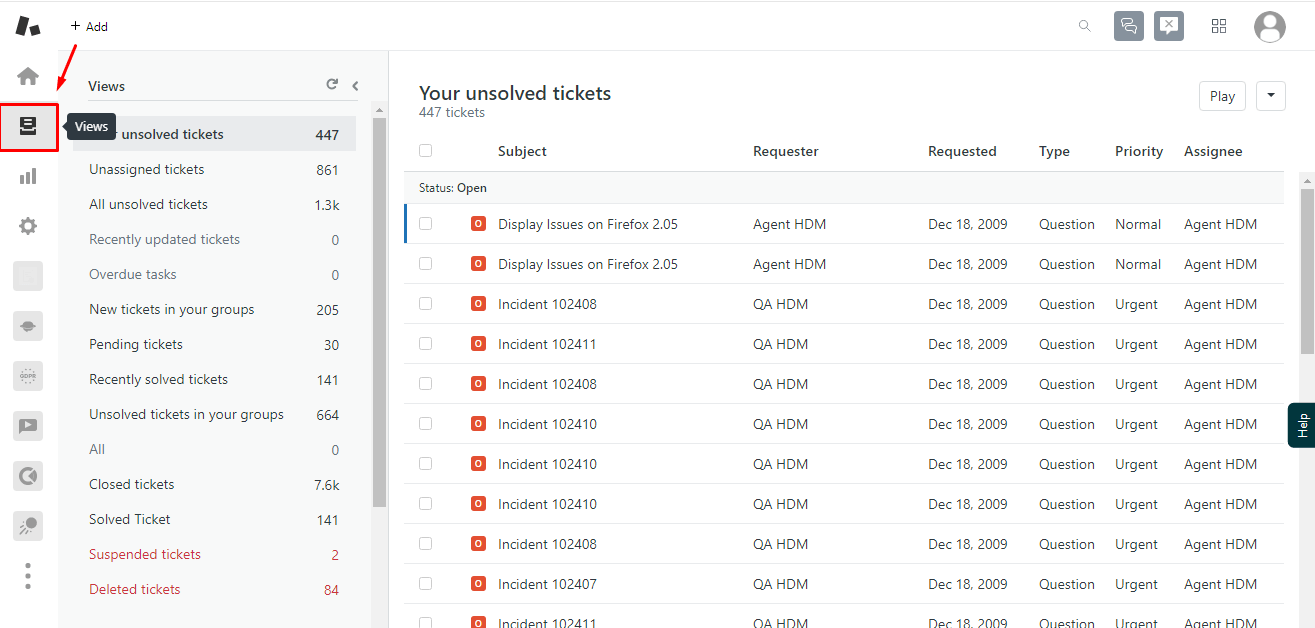 A tip from the HDM team. Type * in a search bar, and you will be able to see the number of tickets. However, pay attention to the number of records and their quality – if they are readable and in place. A proper inspection right after the Full Data Migration leaves a place for a correction if noticed right away.
2. Set up
Your new workspace is now up and running. If you want it to work to the fullest, enable all the notifications, and set necessary settings. Finish setting the platform up by updating internal links for Knowledge Base, and you're done.
Wrapping It Up
That's it. You're now ready to perform a data import to Zendesk. If you follow each step precisely, the results will, for sure, impress you. Experience the data migration of your dreams with HDM.
If you still have some questions about the migration to Zendesk, our team is always ready to answer all of them.
More data migration checklists here.