Freshdesk Data Migration Checklist
It's no secret that data migration is a complex process that many tend to put off until the transfer is inevitable. However, services like Help Desk Migration can make the transfer more pleasurable. Our migration tool is automated and can reduce the time needed to make a switch to Freshdesk. The actual migration process is simple and intuitive and requires no specific knowledge on your side.
But the automated migration tool is only half the way. A detailed checklist covering the most essential details of data migration makes the other. The HDM team prepared one for you, covering everything from the very beginning until the very end. It is exclusive to our service and covers all the peculiarities of data import to Freshdesk.

Before proceeding with the checklist itself, please take a look at the list of records that
can not
be transferred to Freshdesk:
Inline images
Solutions
Events (activities)
Forums (except the cases when you migrate between two Freshdesk instances)
Attachments to unpublished articles
Attachments with a size more than 15MB
Links between articles
Comments with the size over 20MB
If there are some records on the list you really need to migrate, but they aren't on this list or even more, not available for automatic transfer at all, contact our support team. Together, we'll discuss the possibility of the customized transfer and all further peculiarities. Feel free to ask our support agents any questions – they will be more than happy to give you answers.
Note: When importing your Knowledge base into Freshdesk, its dates will change from the original ones to the dates of data migration itself.
Before You Set up the Migration
Preparation is always the most time-consuming part of any process, and data migration is no exception. But all the efforts put in during this stage will definitely turn to perfect results in the end. This multiple-step checklist covers every nook and cranny of the data migration to guarantee you the smoothest data migration possible.
1. Pick a cut-off date
Take the time to find a cut-off date that will do a minimum impact on your usual working schedule. Based on our experience, a perfect cut-off date is usually the one, which will involve little to no usage of the help desk system (otherwise it can slow down the process of data migration). You have to be ready to dedicate a whole day to data migration because depending on the number of records you want to transfer, it may take up to 24 hours.
Note: The process can be sped up a little if you contact the Freshdesk team in advance and ask to increase your API limits.
Keep in mind that on the day of data migration, your team should completely turn off your current help desk system and work solely in Freshdesk. This will not only prevent certain failures from happening but ensure you're not missing any data in Freshdesk. Make certain you close everything you have to before the transfer takes place.
2. Discuss it with your team
Give a heads-up to everyone in your office about the significant change which will cause a 180 degree turn to their normal work. We recommend doing a company-wide meeting right off the bat, so your agents will have enough time to start closing tickets before the migration.
To lift all the weight from your shoulders, try distributing certain responsibilities among different teams. It can be as simple as filtering the data or examining the tickets after the Full Data Migration. This duties delegation will increase the productivity and accuracy of the work.
Don't forget to inform your CEO about data migration progress. You don't have to report every single step during the preparation, but keeping them up-to-date about the general picture could be of great benefit. They can give you vital tips on how to behave if something goes not according to plan.
Send an email or create a calendar event as a reminder a day before the Full Data Migration to double prove everyone remembers about the transfer. This is essential to prevent someone from accidentally continuing the work on tickets in your old help desk. Better safe than sorry!
3. Filter your data
Transferring all of your current data, which is probably a bit messy, to Freshdesk will result in the same messy data just on the new help desk (no one wants that!). Make sure everything is neat and tidy after the migration by getting rid of unnecessary historical records that only take up a lot of space. Historical data is only significant when you want to preserve interaction history with clients. But we doubt that you will need invalid emails, unassigned ticket conversations, and duplicates in Freshdesk.
A tip from the HDM team: Ask your agents who use the tickets and other records on a daily basis to go through the data and decide what to keep and what can be deleted. If you haven't used certain records in a year, the chances you will need them again are close to zero.
Another perk of detailed data clean-up is that you can save some big money. Our service charges per record, so the less data you have – the less you have to pay.
In case you don't have some extra time on your hands to look through the data yourself, we offer filtering in customized data migration. Simply tell us the criteria in advance and we'll do it for you. That will cost some extra but will save you hours and hours of manual work.
4. Prepare Freshdesk for the transfer
Just like you need to prepare your data for the transfer, you should also prepare the Freshdesk instance to receive data.
Make sure to create custom fields to locate the needed records in Freshdesk. You should recreate the identical types of custom fields you have on your source help desk. When it comes to custom fields, everything should coincide.
To do so, go to Admin→scroll to General settings→Ticket Fields→Use the drag-and-drop feature to create custom fields.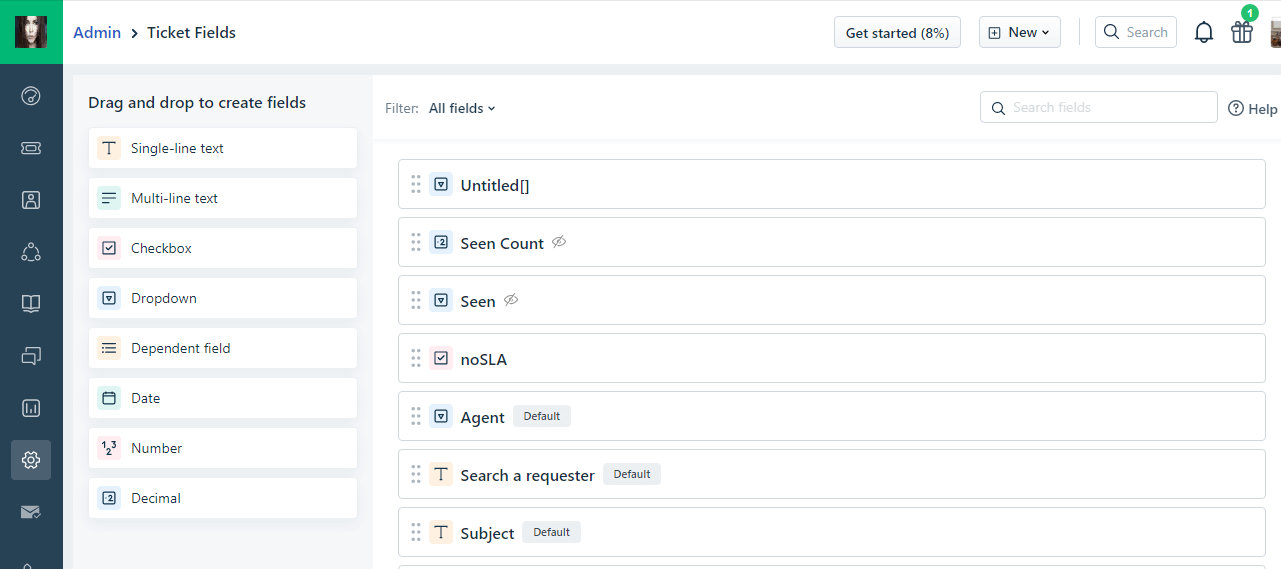 Or create custom fields when mapping ticket field values. You will see a "Add the same custom field in Freshdesk" button next to a custom field that does not exist in Freshdesk.
Select the field you want to map, click the button, wait a bit and then map field values.
5. Define similarities and differences
When it comes to transferring data from an old platform to a new one, it's beyond important to study the peculiarities of a structure to keep the integrity of your data. A simple check in advance will help you avoid any surprises after the transfer.
Before the Full Data Migration to Freshdesk, we also advise you to check the following:
If no temporarily deleted contacts are present in your old helpdesk. If these contacts aren't activated or deleted, they will all be regarded as Spam in Freshdesk.
Delete contacts of all agents that have left your company, not to take up extra space or cause confusion. Simultaneously, add appropriate licenses to the existing agents. Keep in mind, that these agents have to be full-time, not occasional.
Base64 inline images in Knowledge Base articles will migrate into attachments.
If custom Contact and Company fields are required and create ones if needed.
If you have admin rights to both your accounts in the source platform and Freshdesk for migration to go through.
6. Explore custom options
If your source help desk is heavily customized or your migration is not a standard one, you might consider getting a custom migration.
You can choose from some of the pre-packaged options like:
tagging
skipping attachments
migrating call recordings (only when importing from Zendesk)
Here's a brief description of each option:
Add tags to migrated tickets to identify migrated data in Freshdesk. Great if you're migrating to an instance that already has tickets in it.
Skip attachments to migrate data faster. Attachments can be quite heavy. If you think you don't need them further on, consider skipping them.
Migrate call recordings as ticket attachments to keep them in Freshdesk.
Need some specific custom work? Then contact us to get discuss your needs and get a full-on custom migration.
You're Almost Ready
1. Turn off notifications
Turn off Notifications, Observer rules, and Automations before starting the migration to avoid any data changes and unwanted notifications. This can be easily prevented in a few simple steps – go to Admin→Helpdesk Productivity→Email Notifications→Click on the slider button to disable Email Notifications.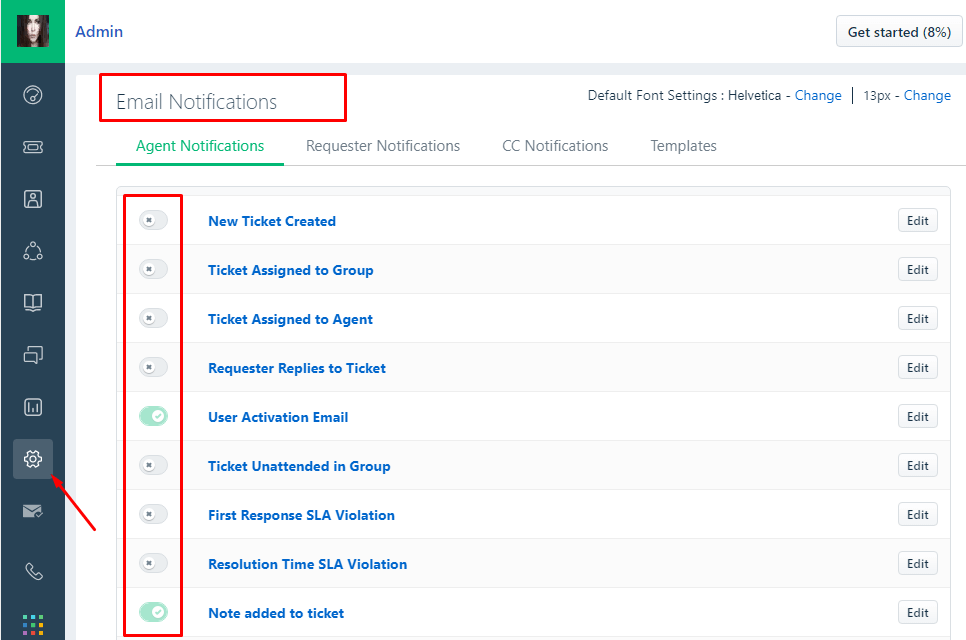 You should also turn off the scenario automations to make sure that the system will not damage your data. Go to Admin→Helpdesk Productivity→Automations→Click on the slider button to turn off Automations.
2. Add agents (optional)
Our tool is able to automatically create the agents on your Freshdesk account during the data migration process. But, if you have a limited license, you can add the agents yourself. Then, during the migration, if there are some free seats left - Migration Wizard will automatically add the missing ones. If there no more seats available, the tickets that belong to the missing agents will be mapped to a default gent.
3. Run a demo
A demo is probably the most essential step to take before a Full Data Migration. During this short trial process, 20 random tickets from your old helpdesk will be migrated to Freshdesk. This should not take you more than 5 minutes but will mirror the full process.
Moreover, you will have the possibility to see how your current records will look in Freshdesk to avoid any surprises. Sometimes, it's necessary to do more than just one demo migration, to ensure that the full migration will be perfect. That's why we allow setting up a demo migration as many times as you want.
After the Demo Migration
1. Check the results of the demo transfer in Freshdesk
Demo migration is the exact copy of Full Data Migration. It's essential to check if all tickets migrated accordingly because if something didn't transfer during the trial, it would not be transferred during the actual process. Consider the following:
if all comments got migrated with their authors preserved (keep in mind, that Freshdesk is sorting the comments from newest to oldest)
if tickets are assigned to the correct agents
if the custom fields, customers, companies, attachments, and labels migrated correctly
if the knowledge base categories are assigned properly
NOTE! It's crucial to check each ticket, primarily its location and quality features. We find it beyond important to check if no problems are present while there's still a place for corrections. Only when you've examined that the demo went according to rules, proceed further.
Check out the article on our website for a more detailed explanation of how to check the results of demo migration in Freshdesk.
2. Request a custom demo
If you have some tickets with more replies, attachments, or notes than your usual ones and want to see how they migrate over to Freshdesk, feel free to request a custom demo - we'll transfer the specific ticket IDs that you want. Just contact our team beforehand to discuss the details.
During the Full Data Migration Process
1. Keep in mind the basics
We understand that there may be several reasons for data migration. Some are simply looking for an upgrade, the others just moving separate teams. No matter what drives you, we always advise running the Full Data Migration on a day with the smallest amount of incoming requests. If needed, you can still work on your source help desk during the transfer, however, the records created or updated after the start of the Full Data Migration will not appear in Freshdesk automatically. If you don't want to lose that data, you can always opt for delta migration.
When it comes to the Full Data Migration, you don't have to sit in front of the computer the whole time – you can just check on the transfer from time to time or ask your agents to help you out. Our team will keep a close eye on the process of migration and if something seems out of place - we'll contact you right away.
2. Don't change anything
While things are in progress, what you are left to do is just wait and monitor the process from time to time. Any modifications can lead to inevitable changes and both parties will have to deal with major headaches trying to resolve it. As we've learned from our experience, most things can wait until after the transfer.
If it happens that you notice any problems - wait for data transfer to complete. Only then, you can either try to solve it by yourself or turn to the HDM team for help. Interference in the process can lead to distorted records and, considering all the efforts put into the preparation, it wouldn't be wise to let it happen.
Initiate Full Data Migration
Right after you press 'Start' the data migration will begin. Sit back and keep a close eye on the process.
The migration will only start when two main requirements are met:
The payment has been confirmed. We advise you to make a transaction in advance to avoid delays because of lengthy processing. Actually, if you have a specific time and day in mind, you can schedule the migration to run automatically based on that timing.
You've agreed to the checklist. After your payment is confirmed, you'll see a short checklist of things that should be done prior to migration. Go through each point to ensure you're 100% ready for the transfer. If everything looks good, check the corresponding box.
After the import is done
1. Check, Check, and Once Again Check
Congratulations, the migration is complete but there are still a few steps left to do. Look through everything, just like you did with the demo, but this time on a larger scale. It's clear from the name itself, that a detailed examination is key here. You shouldn't only check the number of different entities but make sure they are readable and in place.
By default, Freshdesk does not show all the tickets. To view them, go to Tickets > Filters > Apply the needed filters. You can choose to view the tickets by Date, Agents, Groups, and so on.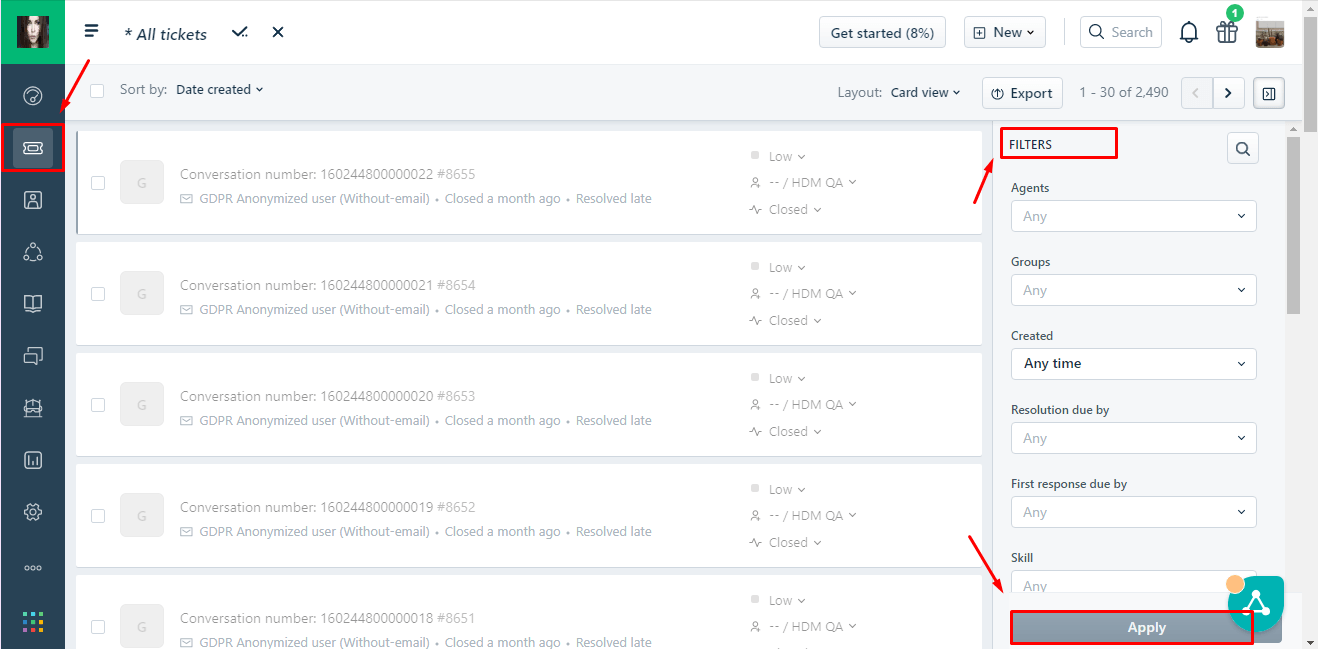 A proper inspection right after the Full Data Migration leaves a place for a correction from our team if noticed right away. If you can't locate something, first check if search filters are set for all tickets and any time period. If after this, the problem will not be solved, write to the HDM team, we will be more than welcome to help.
2. Update your links
Your new workspace is almost now ready to be running. If you want it to work to the fullest, enable all the notifications, and set necessary settings. Don't forget to update the Knowledge Base links and enjoy your new help desk.
Speaking of Knowledge Base, make sure to update your articles as well by paying special attention to attachments. Due to certain peculiarities of the platform (Base64 encoding), at some point, you'll have to reupload the images in articles, because as soon as your source help desk expires - the images in Knowledge Base will disappear. We advise you to do it right after the migration and not worry about it ever again.
Let's migrate together
That's it. We covered all steps essential for a successful import to Freshdesk. Data migration is not that complicated if you follow a detailed checklist and have a team of professionals covering your back. Moreover, if you use the HDM service, you get to save both time and money.
If you still have some questions about the migration to Freshdesk, our super-friendly support team is always ready to answer all of them.
More data migration checklists here.