A new year, a new decade, and naturally, a new HDM look at all the service desks. This time around we decided to take a moment and look at both Freshservice vs Spiceworks. However, unlike last year, we decided to change our analysis approach and look at the tools from a different angle.
What angle do you say? We want to see whether they are as futureproof as they might seem, as well as what areas are lacking in polish or feature. And if you are new to the blog (welcome by the way), we suggest that you take a look at some of our recent articles. But enough with the introductions, let's dive into the analysis itself.
The Basis of Freshservice
Freshservice, by many, is viewed as one of the most unique service desk systems out there. Not only is it feature complete (having practically everything you need to start managing out of the box) but has some of the best user support in the business. Whether you need help configuring the thing or asking about specifics regarding internal integrations, the support team is there for you. The response time is fast, the tips are helpful, and suffice to say, they are very friendly.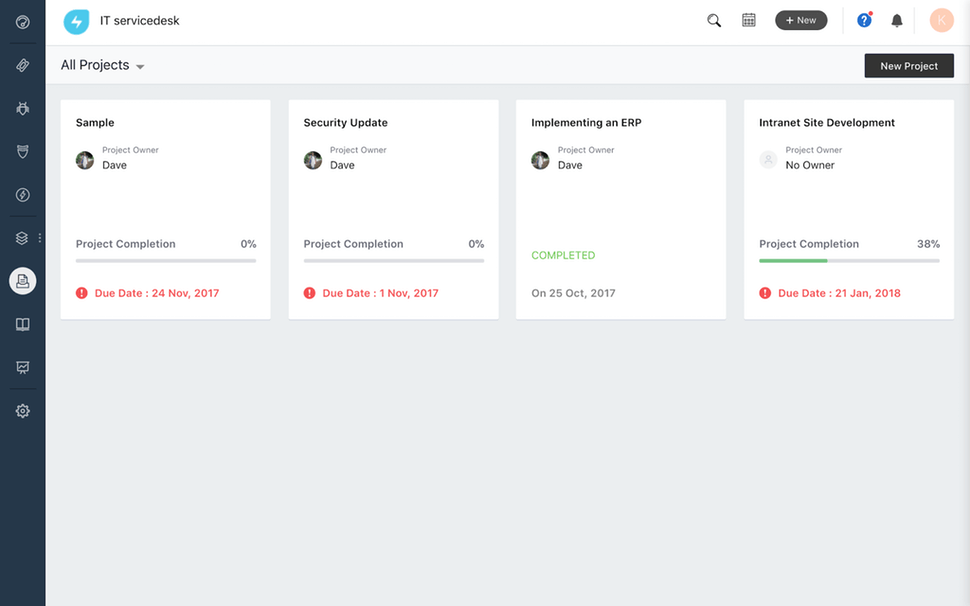 The overview of all IT project management in Freshservice. Source: Software Advice
But that is not what defines the system, in fact, it is the reliance on multiple built-in systems is what makes Freshservice so great for ITSM businesses. From incident management handling to problem & release management to asset management software. Freshservice has it all and better yet, each function is very polished and well-executed.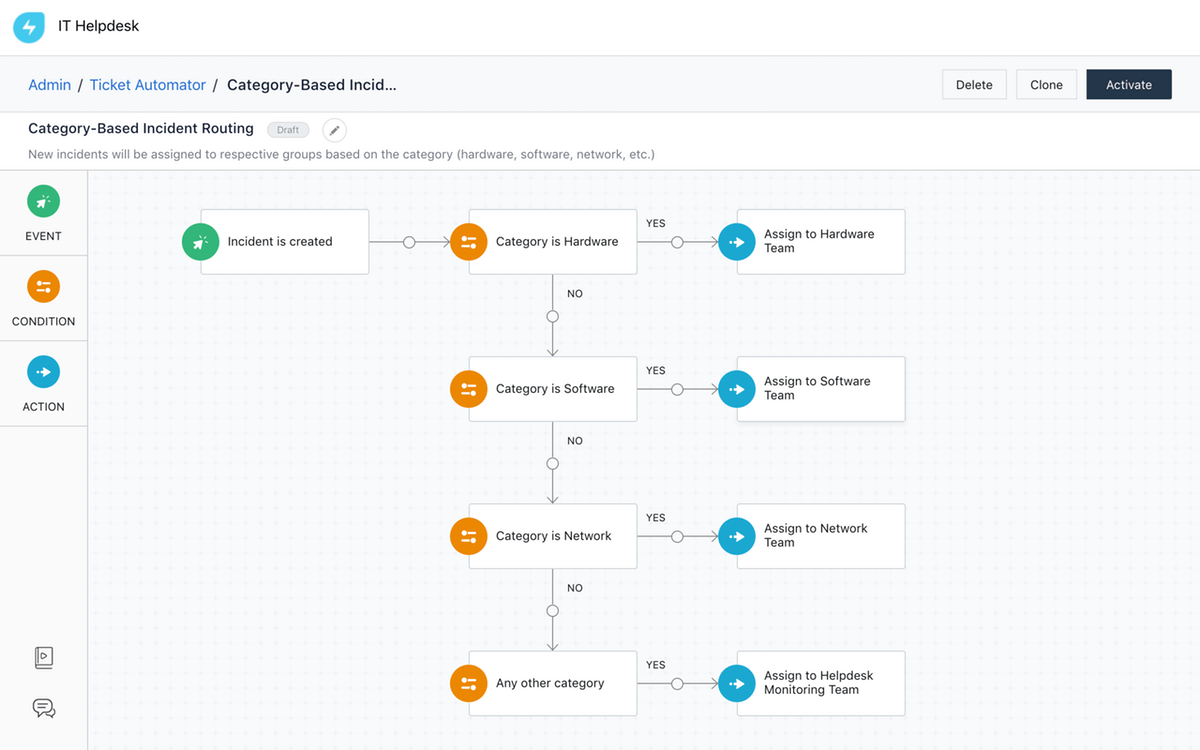 Automated incident routing to automate the internal desk processes. Source: GetApp
In essence, all of the above-mentioned features will allow you to effectively handle both software and hardware deployments much more effectively, especially if you compare them to Freshservice brother, Freshdesk. Indeed, where desk fails, service excels drastically. After all, the tool was specifically designed to help you manage internal requests and track the speed of responses.
So What Does Freshservice Lack?
As we said at the beginning of our Freshservice vs Spiceworks comparison, we will cover the bad and the ugly too. While there aren't that many things that stick out like a sore thumb, we did notice that the software register is still in Beta. Not a catastrophe or anything but it is kinda weird considering that all else is complete and works without any noticeable bugs or drawbacks.
The next issue is the fact that you need to install an individual software agent system on every system you want to collect data. To add insult to injury, you are lacking mobile device agents. That's right, you can install the said agent on Windows, Mac, and Linux but there are no signs of a dedicated mobile client.
And the last thing that is quite unusual is the fact that the system sends out a probe to scan what hardware you have on your network (i.e printers, laptops, phones). It seems to be working okay on an open network but when you take into consideration that most firewalls and routers put a heavy block on such type of interference, you are basically left with a non-functional feature and need to adapt your entire network structure to the probe itself.
What About Freshservice Security?
Security is everything these days. With so many devices connected, so much information being transferred, having a reliable security module is critical. Thankfully, Freshservice uses the same security system as Freshdesk meaning your organization info is in very good hands.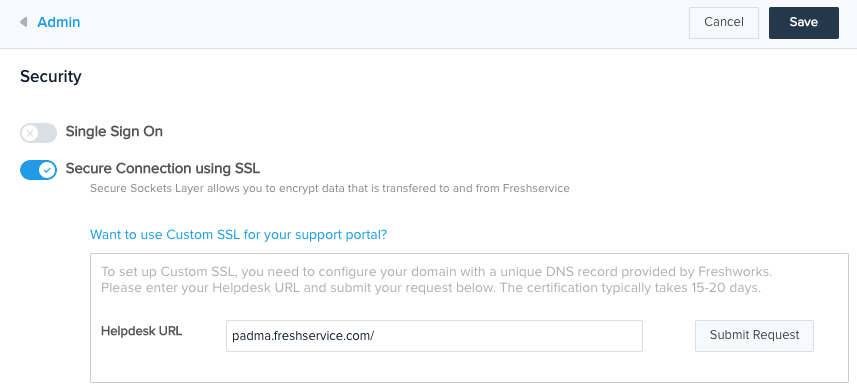 There is also the ability to set up a custom SSL for additional security. Source: Freshservice
Out of the box, the tool employs Secure Socket Layers or SSL for short. In case you need Single Sign-On, you can do that for your agents. Another cool feature of the tool is that you can force greater, more complex passwords on your staff. Instead of the typical, one capital and one numeral letter, you can ask them to make passwords that are at least 10 characters long and with more than 2-5 special characters in them. Moreover, you can set password reset frequency to ensure even more security.
Although as good as the security module is, you also need to keep in mind the following statement from the team itself:

"Please note that once you enable password policy for your account (either default or advanced), you will not be able to disable it."

So basically, if you change your pass policy, you will not be able to go back and will be stuck with the settings you've done until something changes. But generally speaking, the security system is pretty robust and will work just great in any company, big or small.
Is the Pricing Fair?
And the last part of the Freshservice block is pricing. The company offers four tiers that range from $19 to $99 agent/month. It is billed yearly but you do have the option to pay on a monthly basis, it's just that it will cost you more. Here's how each plan stacks up against each other:
BLOSSOM ($19 user/month)
GARDEN ($49 user/month)
ESTATE ($79 user/month)
FOREST ($99 user/month)
Incident Management
Knowledge BaseSelf Service PortalAutomationsStandard ReportsMarketplaceUnlimited End Users
Service Catalog
Asset ManagementCustom & Scheduled
ReportsMultiple Portal LanguagesDomain WhitelistingMultiple SLAs & Business HoursUnlimited Mailboxes100 free assets
Change, Problem & Release Management
Software License ManagementCustomizable Agent RolesAdvanced Security - Custom SSLAnalyticsContract ManagementProject Management
IP Whitelisting
Sandbox1 Hour Support SLAAudit LogsCustomer Success Manager
For our money, the best plan would be the Estate one as it has everything you need. While Forest is the top tier one, it is frankly, the same as the previous one and costs more.
The Basis of Spiceworks
Now that we've covered Freshservice, let us look at Spiceworks. So, long story short, just like Freshservice, Spiceworks is also a dedicated IT service desk system. Spiceworks has started in 2006 and proven numerous times that it is one of the best free management software solutions out there. The key idea behind the system is to provide software/hardware developers a communication channel that isn't cluttered with unnecessary transitions and support pillars.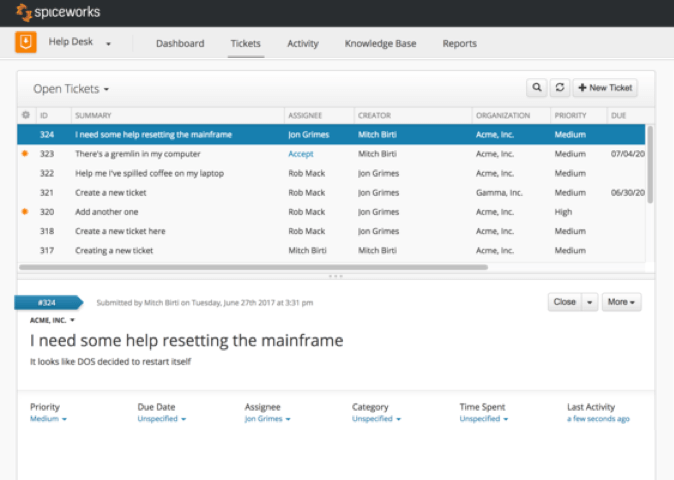 IT tickets management interface in Spiceworks. Source: Spiceworks
Thanks to this straightforward communication approach, the system allows for more direct control of both internal and external assets as nothing stands between the two. Outside of what was mentioned, the tool provides an unlimited ticket system, as well as a dedicated social element, albeit it is a tad simple.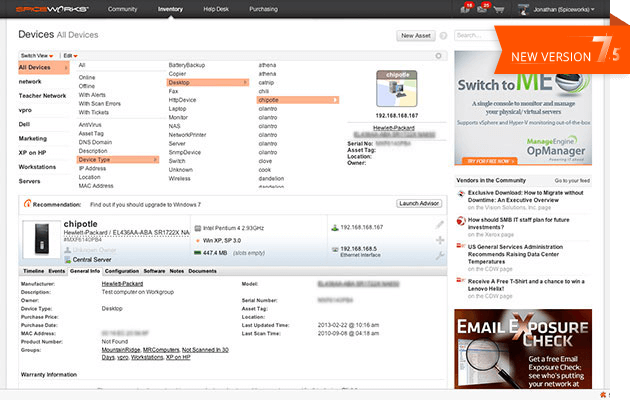 IT Asset Management interface in Spiceworks. Source: PC & Network Downloads
Last but certainly not least, Spiceworks is designed with modern network protocols in mind. What this means is that sysadmins, network engineers, and technicians can easily troubleshoot and fix issues on a modular basis.
So What Does Spiceworks Lack?
Now that you have a concrete idea of what Spiceworks is, let's take a moment and see what parts of the tool we wish the dev would improve. And the first thing that comes into mind is the fact that it is pretty hard to implement the system to an RMM system. While not a dealbreaker, it does seem weird as most competing platforms (including Freshservice) allow this just by pressing a few buttons and playing with config toggles.
Another issue of the tool (and this is quite a big one) is the sluggish console and pretty un-intuitive user interface. Take for instance the sub-ticket feature, if you link a lot of stuff to a single ticket, the ticket tree starts to look like a labyrinth at times. And then there are the ever-so-intrusive ads. Remember that this is a free solution and for it to survive in today's world. But here lies the issue, when you scan the network load, you will notice that a hefty amount of data comes from the ads themselves.
And the last thing that kinda bothers us and needs improvements is the fact that once you start getting tickets with large attachments, the database starts to be unwieldy as deleting the ticket or the attachment option is nowhere to be found. On one side it's great as you won't accidentally delete anything, and on the flip side you can't free up space.
What About Spiceworks Security?
Now for the security block, Spiceworks is perhaps the best in its class. First thing first, Spiceworks doesn't share any kind of info about you as all data is anonymized. Then there's the fact that both the Hyper Text Transfer Protocol (HTTP) over Transport Layer Security (TLS) are in play.
If you opt to use their data center, you can have peace of mind knowing that the center itself is guarded 24x7 by trained professionals. Access to said centers is also authorized strictly on a least-privilege basis, or in other words, they employ third-party companies that perform security stress tests, seek out bugs, and test things that are usually omitted during security built-ups. Finally, there's the fact that Spiceworks makes offsite backups on an hourly basis.
Is the Pricing Fair?
Fair would be an understatement in Spicework's case. The tool is absolutely free with no strings attached. You get all Spiceworks features straight out of the box and you aren't limited in agent quantity either. But here's also the catch. All this freedom is powered by ads. They might be bothersome to some of you but the company can disable them for an undisclosed amount, something to keep in mind.
Which One Is the Better Option?
This is a tough question to answer. But if you are looking for a free service desk, you can't go wrong with Spiceworks. But you do have to remember that it is quite complicated in nature and requires some prior knowledge to be able to use it effectively. Yet, if you are busy and don't have time to deal with ever-changing settings and just want a super polished product, go with Freshservice.
All in all, we suggest that you give both systems a try. Who knows, maybe Spiceworks won't be so complicated for you after all. But if you already set your mind after this Freshservice vs Spiceworks comparison, be sure to drop us a message in case you need to move your stuff to the new platform. We'll get you started in no time!