It's Intercom VS Zendesk, the battle of two well-known software in the help desk category. If you have been wondering which to choose Intercom or Zendesk, the good news is you aren't alone. That's true, businesses vary by industry, size, purposes, the software they need, a budget for that software, and the list can go on.
However, the customer service (and the ways how a company delivers it) creates a centerpiece of a brand. So, here is why a help desk platform can actually help. But if you're not familiar with them, think of the software as online human resource departments. For instance, customers and staff alike can channel messages through it. The methods that help desks use, however, are meant to cater to possibly thousands to millions of messages. Because there could be a thousand customers complaining at any given hour to all your staff having problems with business protocols. Generally, humans can't handle this volume of exchange, that's why help desk software was made.
As service desks, both Zendesk and Intercom seem to provide the same solutions to problems most businesses face. However, what's inside their hoods is different. Although some of the features of Zendesk over Intercom may look the same, the methods used to solve your problems will be different. As both their approaches will vary, you may prefer one method over the other. We'll look at several tools that businesses need such as ticketing system, team messaging, customer communication channels, and more. So, let's compare Intercom versus Zendesk and vice versa!
Intercom vs Zendesk – The Rundown
To begin with, putting help desk platforms "side by side" is a thankless job as software differs in functionality, price, and purposes. The compared vendors share a strategy of delivering their services as either separate add-ons or all-in-one tools. Intercom has Messages, Inbox, and Articles. So, all Intercom is a package of all offered tools. On its side, Zendesk offers Guide (self-support), Chat (live chat), Talk (call center), Connect (campaigns), Explore (analytics and reporting), and Sell (sales force automation) add-ons that you can buy separately or add to Zendesk Support (ticketing software).
Both solutions provide a campaign tool, live chat, and a knowledge base. But what are the differences between Intercom and Zendesk? We will compare those customer service solutions in terms of functionality and price. The odes to the "clean and modern user interface" are omitted.
Product Feature Comparison
Let's compare Intercom and Zendesk using the help desk features they have. In this case, we'll see what their similarities and differences are.
Chatting
To begin with, communication with customers is important these days. Without proper channels to reach you, usually, customers will take their business elsewhere. And, thanks to the internet, a few taps will lead them right to your competitor! Most businesses use live chats as their main customer communication channel. It is handy for both sides since users can get in touch with customer support teams via a chat widget placed right on the website.
Zendesk chat vs Intercom offers similar chat features but still has a couple of differences. In any case, if you choose Zendesk or Intercom, you get wide chatting possibilities.
Intercom
This software is no slouch as it offers several chat tools. Apart from a live chat, it has a feature called 'Business Messenger' that comes with its own AI chatbot. The AI chatbot can work 24/7, awaiting customer requests. Moreover, Intercom bots can converse naturally with customers by using conversation starters, respond with self-help, and knowledge base articles. In a way, this is similar to Zendesk chat tools. However, if you compare Zendesk vs Intercom chat in ease of use, the letter wins. Intercom Messenger is easy to customize and install. Create a chatbot with minimal coding and customize it to your heart's content.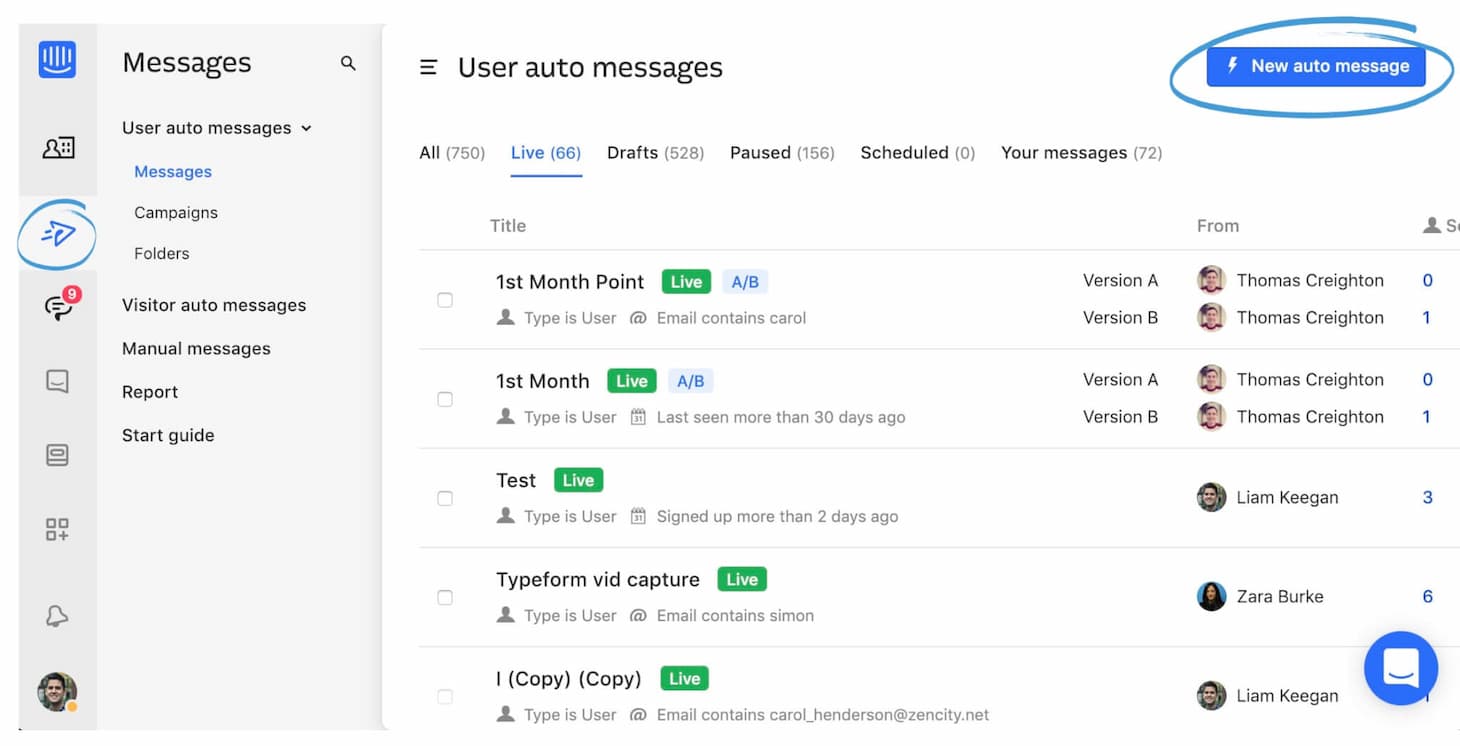 Zendesk
As a conversational relationship platform, Zendesk gives you the option of live chatting with customers via your website, mobile, and messaging. Though, if you compare Zendesk chat vs Intercom, the plugin is a bit hard to use as reviewed by customers. Installing it might take some technical skill and even when installed, could malfunction a bit. Still, the Chatbot of Zendesk Message is a powerful one. It uses artificial intelligence (AI) to assist customers through self-help options or access to the relevant articles before connecting them to your team. And this, undoubtedly, leaves your customer support agents free to solve urgent matters.
Live chat add-on provides you with personal customer communication (via the web, mobile, and messaging) without interrupting their experience. Once you add live chat to your website, your visitors will be able to reach you through the chat widget. Zendesk chat tools are available with four price tiers.
Lite, which delivers one concurrent chat, pre-chat and offline forms, chat tags, conversation rating, and 30-day chat history.
Team, which offers Lite + unlimited chats and agents, two triggers and two teams, widget customization, file sending, Zendesk Message (add Facebook Messenger and LINE), and public apps integration (on a condition you have Zendesk Support.)
Professional, which comes with Team + unlimited triggers and departments, operating hours and conversation tracking, reporting on conversations and support agents, and private apps integration (on a condition you have Zendesk Support).
Enterprise, which includes the Professional plan + roles and permissions, skill-based routing, AI chatbots, web SDK, and widget branding.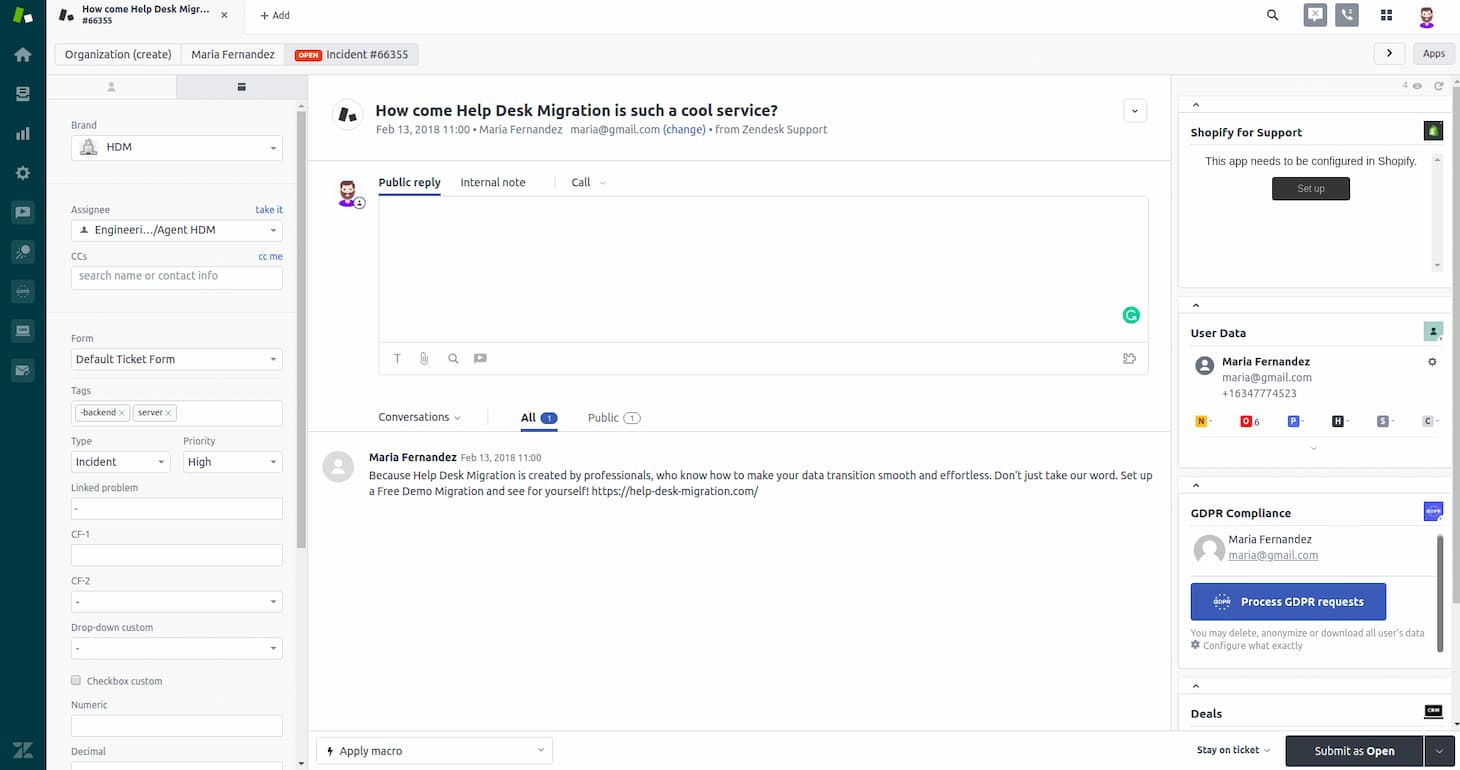 Inbox
Shared inbox is a valuable tool for support teams to communicate. Apart from team conversations, it integrates with the ticketing system. Thus, the inbox is used to refer tickets to other agents who can solve them. Therefore, a helpdesk with a good inbox can make your team efficient in solving problems.
Opposing Intercom vs. Zendesk inbox tools is a bit complicated. Intercom Inbox has features that vaguely remind Zendesk Support, but the offered package Acquire customer (Messages and Inbox) is more paralleled with Zendesk Support + Chat.
Intercom
The team inbox of Intercom has the same features as most help desk inboxes. However, it takes things a step further by streamlining their inbox with chatbots and Articles integration. It has a threefold price: a base plan + a number of seats (support agents) + a number of active people.
Essential plan includes the live chat, email, and mobile apps. Your team will have an inbox, canned replies, office hours, message triggers, and scheduling. Also, they can assign/snooze conversations, use private notes, and @mentions. Reporting is delivered to the dashboards, article search analytics, and message insights. Also, you can do CSV export.
Pro plan provides you with the features from Essential, plus you can set pages where the messenger is shown. The automation is applied to scheduling demos and lead qualification. Here the assignment rules and permissions, custom domain and email templates, task bot, and basic A/B testing are available. Within integration capabilities, you can connect Facebook, Twitter, Zendesk, GitHub, and basic Salesforce.
Premium plan does not only include the Pro set, but also provides you with advanced features like branding and customization options, SLA, custom bots, revenue, and sales performance reports.
Also, this software offers a feature called 'Business Messenger' that comes with its own AI chatbot. It can work 24/7, awaiting the query of a customer. Moreover, Intercom bots can converse naturally with customers by using conversation starters, and respond with self-help, and knowledge base articles.
Intercom comes as a messaging platform with an in-app messenger. If your business has an app, in-app messaging can be used to send messages to customers. You can use this with the push notification of the app to keep your customers in the loop of possible promos, rewards, and more.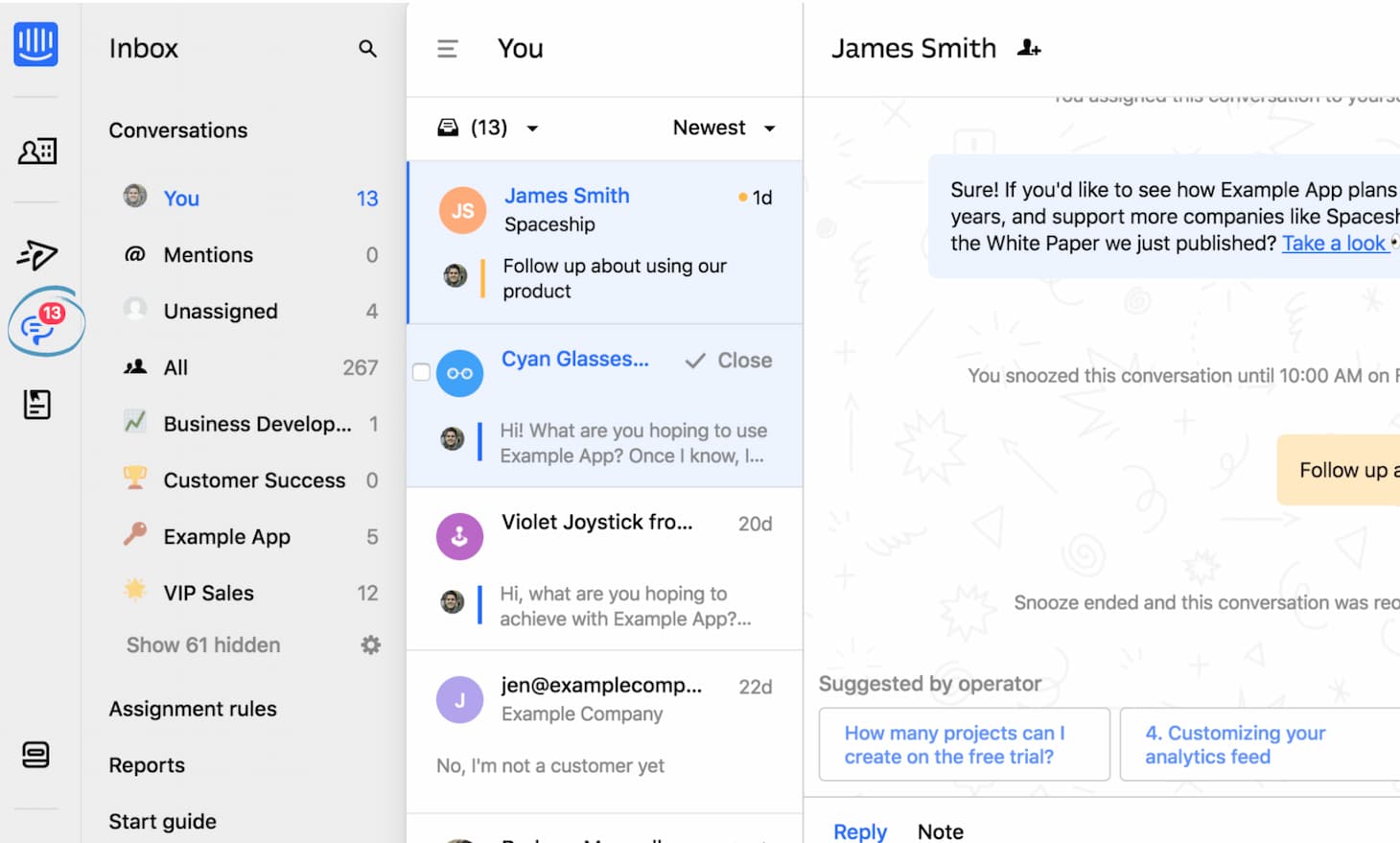 Zendesk
It delivers a multi-channel support system with customer service automation. You can set business rules, SLA, and ticket routing based on the agent's skills, language, and expertise. Zendesk also enables the integration of public and private apps. It provides a shared inbox across its many features. Each message will have identifiers so that they will be easy to recognize at a glance. As a result, you'll be able to see the sender, anyone who replied, and the dates of their interaction. As well as Intercom, it allows sharing of private notes with other support agents. There are five price tiers.
Essential plan. Here agents get options of predefined responses and translated interface. Contacts, ticket history, and contact forms enhance customer data management. The overview report shows the key data metrics.
Team plan differs from the Essential one by setting such features as custom and group ticket views, preconfigured and custom triggers, and automations. Also, you can add custom fields to user and organization fields. In addition within reporting, the performance dashboards show ticket volume, customer satisfaction, and agent performance with KPI. This price tier enables a single sign-on for web and mobile.
Professional plan adds to the Team set by adding SLA management, multilanguage placeholders in forms, CSAT, and follow-up surveys. Zendesk Explore powers the reporting. Also, this tier allows the integration of private apps. If needed, you can buy add-ons: multiple support request forms, light agents, or Pathfinder apps.
Enterprise plan. It strengthens the Professional toolset with skill-based routing and a free pathfinder app. This price tier supports multiple ticket forms, business hours, custom roles, and permissions. Here is also available a fancy feature of satisfaction prediction, machine learning model, your team can enter conversations with more context.
Elite plan. This price tier adds to the Enterprise 99.9% Uptime SLA, a disaster recovery program, and has only monthly billing.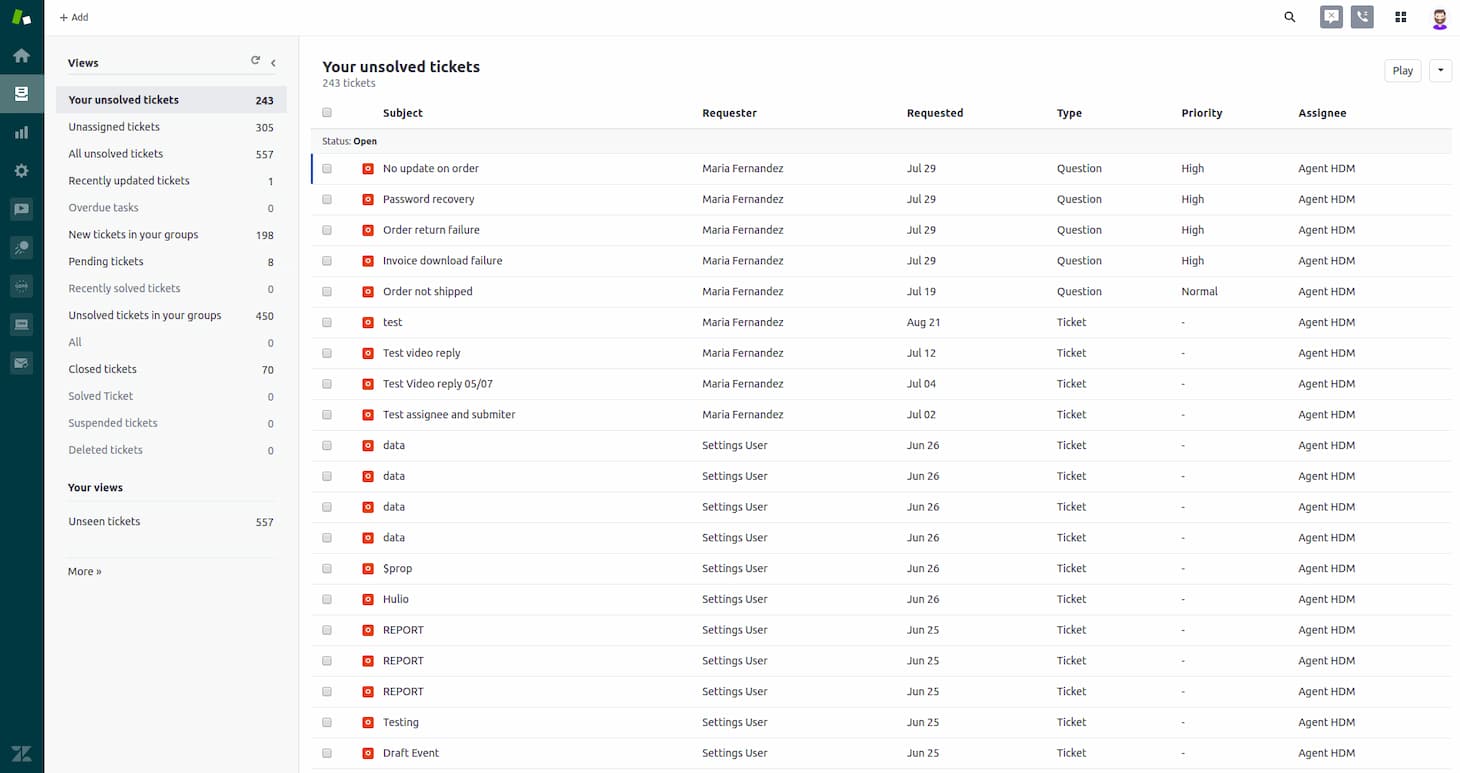 Knowledge Base Solutions
Knowledge Base is one of the self-service sections that includes articles or documents providing technical help to customers and employees. It is like an online encyclopedia of support articles. To make a comparison of Zendesk vs Intercom knowledge base features is quite tricky. So, Intercom Articles will be opposed to Zendesk Suite - in that way the contrast is (more or less) fair.
Intercom
Intercom has Articles as a knowledge base solution for self-support, as well as internal support. This feature is available on all the channels your customers use to get in touch with your brand.
Moreover, it also comes with a bot called Operator. The bot feeds customers and employees the relevant articles upon making a query. The main difference is its connectivity with the Intercom Team Inbox. This makes things faster for support teams to access information without bothering other users. Also, a customer experience form can be found at the end of each article. The answers are analyzed to help streamline the AI and can also be collated into a report for your perusal.
Support customers (Inbox and Articles) has a twofold price: a base plan + a number of seats.
Essential plan. Within the conversation, you get live chat, email, mobile apps, and SDKs. Then, as for the workflow, there are lead and customer profiles, email collector, task bots, and automated article suggestions. The agents also get inboxes, private notes, and mentions, office hours, and canned responses. Reporting is delivered to the dashboards (i.e., summary, leads, team performance), article search analytics, and message insights. Also, you can do CSV export.
Pro plan features include outbound email and in-app messaging, push notifications, custom bots, banners, and messaging campaigns.
Within the Premium plan, you can take advantage of Salesforce, Clearbit Reveal & Marketo integrations, test messages on performance using control groups, and view message history.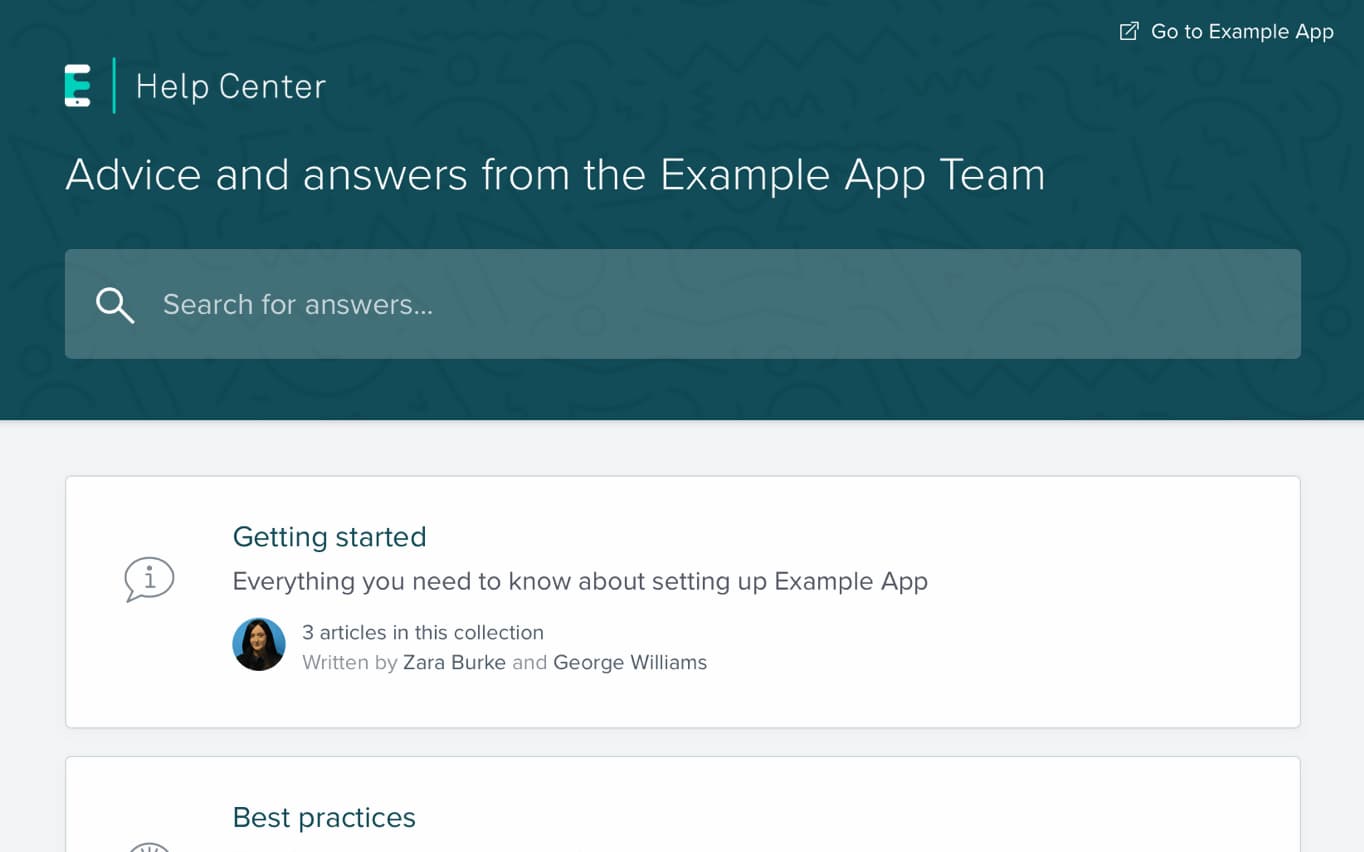 Zendesk
Zendesk Suite includes such services as Support, Guide, Chat, and Talk.
The knowledge base called Guide is a powerful feature. What makes it different from other help desk tools is the Answer Bot. This is an AI assistant that will help anyone navigate Guide by providing results as you type your query. The bot also ensures that the customer or employee will find the right article before contacting an agent. Thus, it leaves your team to solve more important customer requests.
It also comes at two pricing tiers.
Professional plan. In the Support section, you get the email and social channels, web widgets, mobile SDK, reports and dashboards, and private custom apps and integrations. Then, the Guide section delivers a community with a collaboration forum, a knowledge base for agents, Knowledge Capture App, reports and dashboards, and multilingual content (if the Support price tier offers that.) Lastly, the chat add-on offers unlimited chats, triggers and departments, widget customization, conversation tracking, chat and agent reports, operating hours, and integration with public or private apps. Intercom doesn't provide phone support, but Zendesk Suite has one. For instance, it enables automatic ticket creation, call recording and voicemail transcription, IVR phone trees, call monitoring and barging, a callback from a queue, and real-time dashboards and reporting.
Enterprise plan adds to Professional the following: support has multiple ticket forms, business rules analysis, custom roles and permissions, multi-brand, guided mode (for new agents), and customer satisfaction prediction. The Guide is enabled with article lifecycle management, content cues to identify knowledge gaps, and multiple help centers. Chat can be branded, and you get real-time dashboards, web SDK, roles and permissions, and skills-based routing. Within Talk, the tier adds monthly diagnostics and 99.95% SLA.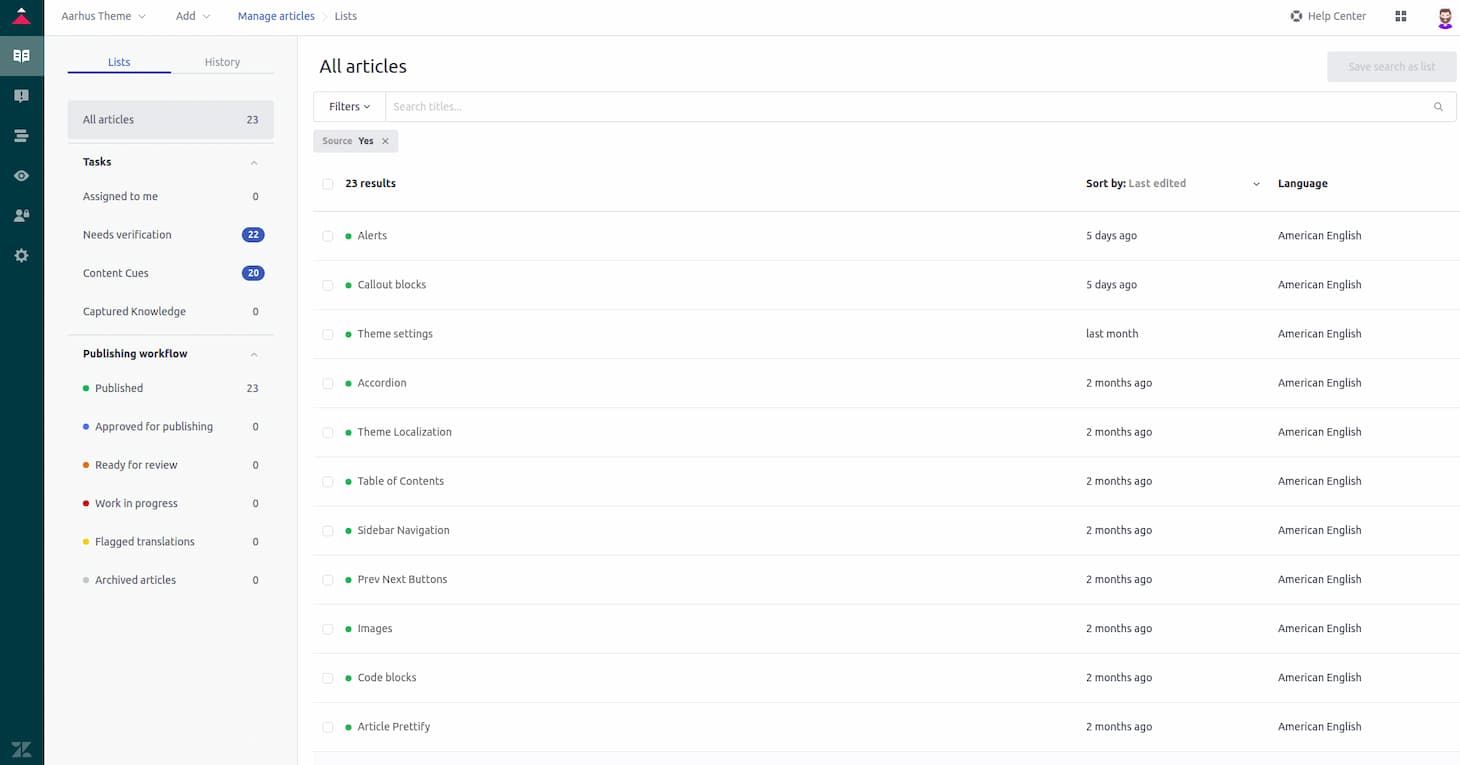 Email Marketing
An old-fashioned yet effective way of reaching out to customers by both support and sales teams. Auto-generated emails can be timed to remind customers about your company. It's a wonderful way to provide information condensed in an email. Used with caution though as mass emails can quickly turn into spam if you're not careful. Now let's compare this functionality in Intercom vs. Zendesk.
Intercom
Email marketing tools are available in Intercom. You can connect with your users via email. Later, you will be able to run basic email campaigns from newsletters, survey forms, product setup emails, and more.
Zendesk
Zendesk does not provide its customers with email marketing tools for the basic subscriptions at the time of writing. However, the add-on Customer Lists available for Professional and Enterprise subscriptions does have mass email options.
Call Center Tools
One study found that 67% of customers prefer calling an agent to help solve their query. Some help desk software provides call center tools as one of customer communication channels.
Intercom
Intercom offers call center features for your business via add-ons. Services such as CallHippo, Ozonetel, Toky, Aircall Now are just a few of many more add-ons in lieu of call center tools built into the help desk software.
Zendesk
The platform offers Zendesk Talk as its call center solution to keep up with other help desks. This feature is browser-based, so you don't need additional software or hardware.
Analytics
Feedback is important to a business. Therefore, to gauge if your chosen help desk is effective or not, you use analytics. In this case, each customer service software has a unique way of generating reports such as scheduling, the scope of the analysis, and more. Yes, analytics in Zendesk vs Intercom has surprising results.
Intercom
Analytics features Intercom has is done through add-ons such as Google Analytics, Statbot, Microsoft Teams, and more.
Zendesk
Formerly known as Insights, Zendesk now uses Explore to provide analytics to help businesses tailor their services to increase customer satisfaction.
Pricing – Zendesk vs Intercom
Now, this is where the two diverge. The Intercom vs. Zendesk pricing may be justified by the value-added services and minor features that they have for their all-in-one pricing. For example, for businesses that want just a couple of features, there are subscription packages. Each of such packages contains a set of tools from basic to advanced features.
So, to bring your overall impression closer to the truth, let's look at all of the Intercom pricing packages and try to find matching functionality in Zendesk plans to be sure that we compared all the possibilities that one could get once migrating to Intercom or Zendesk.
Intercom vs Zendesk Pricing in a Table
Intercom calculates the price based on the number of seats (users) you request. Depending on the seat type (subscription plan), users get access to different features. For example, the Messaging feature is not available in the Support plan, while Articles aren't available in the Engage and Conver plans. Unfortunately, you can't calculate the price by yourself since Intercom hid its pricing table. Though, you can sum up the price together with the Intercom sales team accurately if you contact them.
As for Zendesk, you can check the prices below and add them on your own. The only thing we can compare clearly is the considerable difference in the Zendesk vs Intercom pricing is the basic package price.
Intercom
Zendesk
Free Trial
14 days
30 days
Starting Prices
$ 65
$ 19
Basic Packages
$65/mo for 1 year (all features for select customers)
$19/mo per agent (annual billing)

Free: Zendesk Chat Lite
Free: Zendesk Guide Lite

Subscription Packages

Support: communication with clients and workload management
Engage: targeted message marketing
Convert: lead management for sales team

Zendesk Support (annual subscription)

Team - $19 per agent/mo
Professional - $49 per agent/mo
Enterprise - $99 per agent/mo

Zendesk Chat (annual subscription)

Lite – Free
Team - $14 per agent/mo
Professional - $29 per agent/mo
Enterprise - $59 per agent/mo

Zendesk Talk (annual subscription)

Lite – Pay for Usage
Team - $19/mo per agent
Professional - $49/mo per agent
Enterprise - $70/mo per agent
Partner Edition - $89/mo per agent

Zendesk Guide (annual subscription)

Lite – Free
Professional - $15/mo per agent
Enterprise - $29/mo per agent
Besides providing feature-rich products, Zendesk offers Professional Services to help you launch, reconfigure, tune-up integrations, or consolidate your Zendesk instances. And, while this offer saves up time and resources, it costs a small fortune: at least $8K per setting up 1 instance.
But, if you just need a secure and quick data transfer, opt for Help Desk Migration. Pricing starts at $39 and varies based on the number of records you want to migrate. Our team is experienced in consolidating Zendesk instances and merging instances of other help desk and service desk systems.
Reviews – Intercom vs Zendesk
Intercom and Zendesk are neck to neck in reviews from various sites such as G2, Capterra, Financesonline, and more. Therefore, they're equal in almost every category. We've analyzed a dozen of reviews to help you get an average estimate of Zendesk vs Intercom functionality.

Intercom Reviews
As a rule, Intercom reviews are positive as many users praise the interface, the ease of use, and the deployment of the software. However, some users remarked that a developer is needed to properly install the software or run the risks of problems in the future. The Intercom Messenger, in particular, performs well compared to the Zendesk alternative.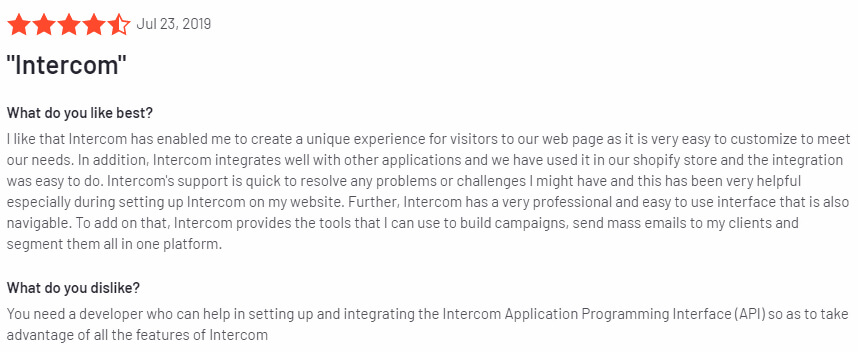 Zendesk Reviews
Zendesk has strong positive reviews especially since the software has mobile apps for access. Though some complained that it's not easy to check the tickets using the apps. Because it's something they believe the developers should fine-tune. However, the most common complaint is the pricing of some features.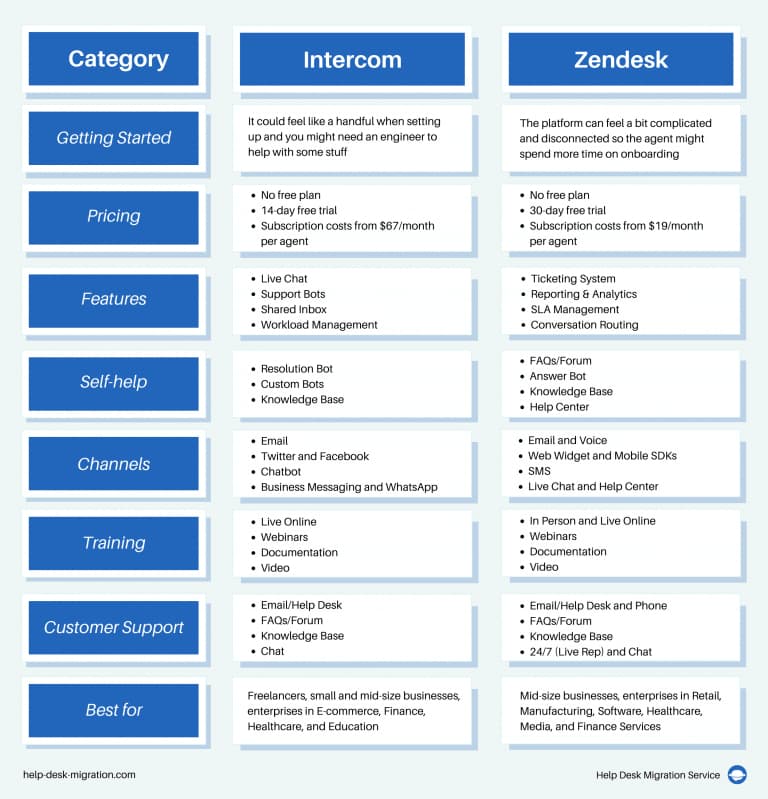 What's the Verdict?
Overall, there is no easy way to choose Zendesk vs Intercom for customer support, you need to compare a lot of features to meet business tasks. No wonder many ask: is Intercom a replacement for Zendesk? Though, it looks like Zendesk offers more functions and support options in the price tiers than Intercom. Nevertheless, either Intercom or Zendesk can be beneficial from multiple perspectives, but mostly it depends on the goals you want to fulfill.
Frequently Asked Questions
Zendesk stands out as a champion of customer support due to its easy-to-use work-frame, many useful add-ons, and features in all tiers.
You can integrate your Intercom and Zendesk accounts. So it will transmit the live data on the users and what they are doing in your app. You can convert the Intercom conversations into Zendesk tickets. This option is useful for those who are looking for a smooth switch from Zendesk to Intercom.
Sure, Intercom allows you to create articles and deliver a bot that answers customer questions with specific articles and resolves issues faster.
They have similar features, but Intercom has lots of features and tools that better integrate each other. However, Zendesk has more advanced support capabilities.
Yes, you can replace Zendesk with Intercom as both platforms have a rich set of features and integrations. Both platforms are targeting large enterprises.
Intercom is better designed for smaller companies and teams, while Zendesk is suitable for large companies to skyrocket customer support. In addition, Intercom offers omnichannel inbox, robust reporting, and automated workflows.