russian terror bombing on the 229th day of Ukraine's fight once again proved that this terrorist state aims to destroy us and literally wipe us off the earth.
Ukraine stands against the terrorist attack
This terrorist attack was prepared beforehand - it's hard to believe that the explosion of the Crimean bridge could provoke them - as they set several waves of missiles from the Black Sea and the Caspian Sea by Tu-95ms and Tu-22m3 aircraft. And 17 Iranian-made Shahid UAVs were launched from Belarus territory.
84 russian missiles were launched against Ukraine, 43 were shot down by our Air Forces. They also launched 24 Iranian "Shaheds", 13 were shot down. The terrorist state used Kh-101, Kh-555, Kalibr and Iskander missiles, and the S-300 and Tornado missile systems.
What were the russian terrorist targets?
They targeted our cities and civilians, critical infrastructure such as power stations, thermal power plants, transformers and bridges, and cultural and educational facilities.
What cities have been affected?
The explosions and strikes were recorded at a critical infrastructure facility in Kyiv, Kharkiv, Odesa, Dnipro, Lviv, Khmelnytskyi and Zhytomyr, Ivano-Frankivsk, Ternopil, Sumy, and Poltava regions. That led to power outages in cities and towns throughout Ukraine – no electricity and hot water.
Who can rejoice at strikes on such objects and such land? We are dealing with terrorists.
Video source: Telegram V_Zelenskiy_official
Did this brutal bombarding scare Ukrainians?
Ukraine cannot be intimidated. We united even more instead. Even during the air raid alert hiding in the shelters, Ukrainians continue to support our Armed Forces and donate to the charity foundations that help our Armed Forces to fight back our land and make the victory day come faster.
Stand with Ukraine and help us to defend our homeland, people, and democracy from russian terrorists. Donate to Serhiy Prytula Charity Foundation or Back and Alive.
One of our latest donations was to Serhiy Prytula Charity Foundation on RAM ІІ UAV for the Armed Forces of Ukraine. Yesterday, russia expected us to be intimidated, but all Ukrainians got really angry.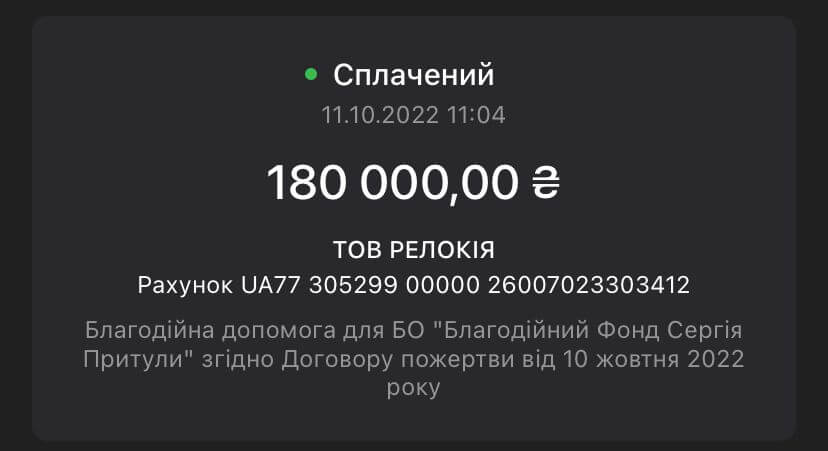 How does Help Desk Migration work?
We work with data and care about every security-related aspect. We run our process on AWS servers that are located in Germany. So even if some outages happen in our office, the migration services work properly. Yet that may impact the speed of our customer service response. Suppose our support reps respond to you a bit later than you expect it, don't be too tough on them.
Today, the 230th day, russia again attacks Ukrainian cities and villages. But we're united, believe in the Armed Forces of Ukraine, and keep working–each on one's own front.
Support Ukraine! Stand with Ukraine!
Glory to Ukraine! Glory to the heroes!