24.02.2023
February. The year of invincibility.
The shortest month in the year has become the longest. It is going along with the full-scale invasion of moskovits and their terrorist attacks on our beloved homeland. On February 24, millions of us made a choice.
🇺🇦 A blue and yellow flag instead of a white one.
🛡️ Facing the enemy, not fleeing. It's our homeland, we have no other home.
🗡️We chose resistance and struggle: some of us became servicemen and servicewomen in Ukraine's Armed Forces, while others kept working and supporting our Armed Forces.
This is a year of our invincibility. We are going through pain, sorrow, cold, electricity cuts, deaths… And at the same time, we found the faith and unity of Ukrainians and found out that we have so many partners and real friends who helped us with weapons for our warriors and shelter for those who lost their homes.
We live, work and write these posts thanks to our warriors—those who are alive and those who, unfortunately, are no longer with us—for their courage.
We keet donating to ComeBackAlive and Serhiy Prytula Charity Foundation—those charities foundations help the Armed Forces of Ukraine since the beginning of the russian aggression. If you have an opportunity, support our defenders!
The Ukrainian servicemen who defend us all on the frontline are number one. It is thanks to our defenders that Ukraine stands strong, fights and lives. And thanks to the Armed Forces of Ukraine, we'll become free again!
Glory to Ukraine! 🇺🇦 Glory to the heroes! Ukraine will win! 💙💛
Ukraine Keeps Standing Against the Terrorist State - October 11, 2022
russian terror bombing on the 229th day of Ukraine's fight once again proved that this terrorist state aims to destroy us and literally wipe us off the earth.
Ukraine stands against the terrorist attack
This terrorist attack was prepared beforehand - it's hard to believe that the explosion of the Crimean bridge could provoke them - as they set several waves of missiles from the Black Sea and the Caspian Sea by Tu-95ms and Tu-22m3 aircraft. And 17 Iranian-made Shahid UAVs were launched from Belarus territory.
84 russian missiles were launched against Ukraine, 43 were shot down by our Air Forces. They also launched 24 Iranian "Shaheds", 13 were shot down. The terrorist state used Kh-101, Kh-555, Kalibr and Iskander missiles, and the S-300 and Tornado missile systems.
What were the russian terrorist targets?
They targeted our cities and civilians, critical infrastructure such as power stations, thermal power plants, transformers and bridges, and cultural and educational facilities.
What cities have been affected?
The explosions and strikes were recorded at a critical infrastructure facility in Kyiv, Kharkiv, Odesa, Dnipro, Lviv, Khmelnytskyi and Zhytomyr, Ivano-Frankivsk, Ternopil, Sumy, and Poltava regions. That led to power outages in cities and towns throughout Ukraine – no electricity and hot water.
Who can rejoice at strikes on such objects and such land? We are dealing with terrorists.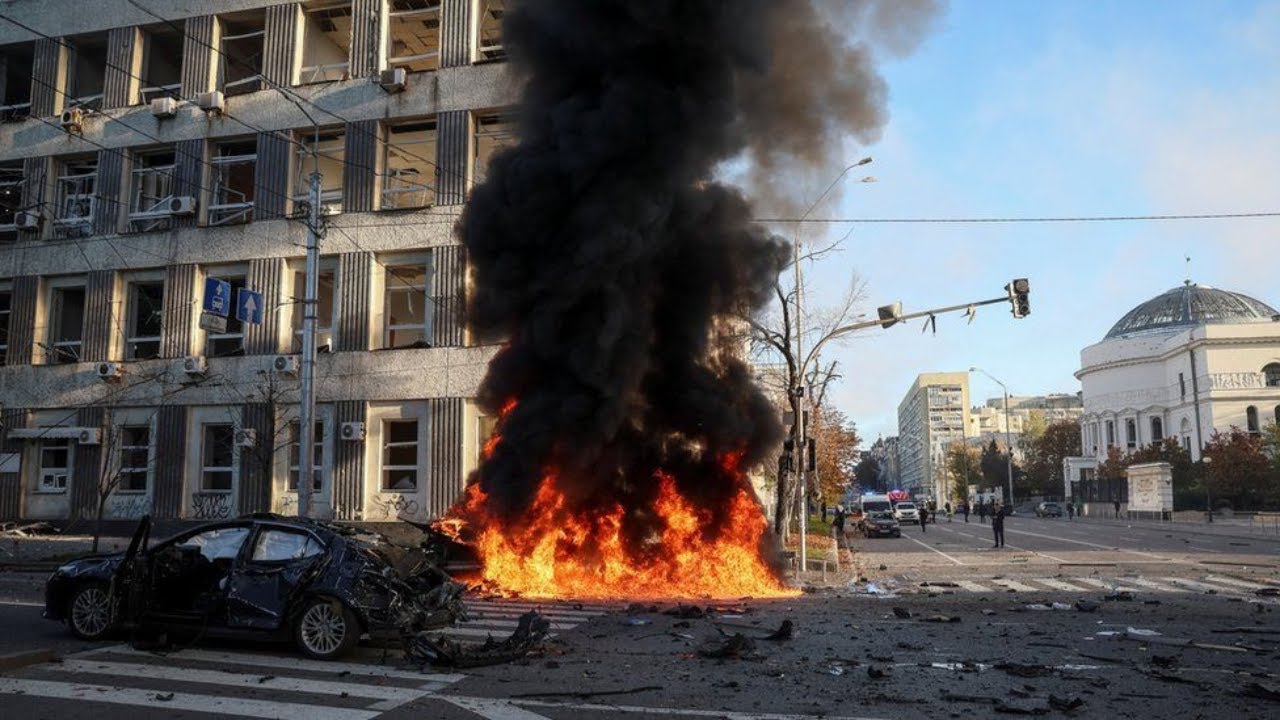 Video source: Telegram V_Zelenskiy_official
Did this brutal bombarding scare Ukrainians?
Ukraine cannot be intimidated. We united even more instead. Even during the air raid alert hiding in the shelters, Ukrainians continue to support our Armed Forces and donate to the charity foundations that help our Armed Forces to fight back our land and make the victory day come faster.
Stand with Ukraine and help us to defend our homeland, people, and democracy from russian terrorists. Donate to Serhiy Prytula Charity Foundation or Back and Alive.
One of our latest donations was to Serhiy Prytula Charity Foundation on RAM ІІ UAV for the Armed Forces of Ukraine. Yesterday, russia expected us to be intimidated, but all Ukrainians got really angry.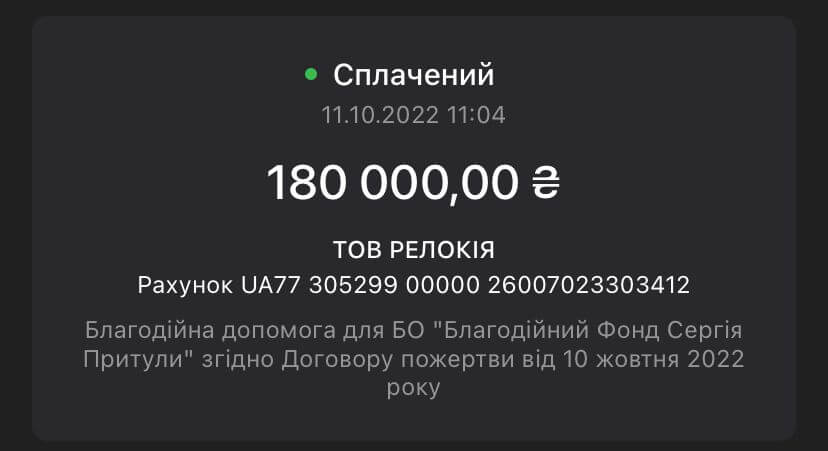 How does Help Desk Migration work?
We work with data and care about every security-related aspect. We run our process on AWS servers that are located in Germany. So even if some outages happen in our office, the migration services work properly. Yet that may impact the speed of our customer service response. Suppose our support reps respond to you a bit later than you expect it, don't be too tough on them.
Today, the 230th day, russia again attacks Ukrainian cities and villages. But we're united, believe in the Armed Forces of Ukraine, and keep working–each on one's own front.
Support Ukraine! Stand with Ukraine!
Glory to Ukraine! Glory to the heroes!

Update: March 29, 2022
A quick update about our working hours: the Help Desk Migration team keeps working to our business hours as strictly as possible. If it happens that our agents don't respond fast enough, it might be because of the air raid siren.
The full-scale russian invasion changed our life, but we didn't get used to living in wartime. Our people get more united and devote all their energy and time to defend our Ukraine. We're also working on telling the truth about what's going on in our motherland because russian propaganda machine keeps lying and fabricating "news".
These times also showed how many friends we and our country have around the world. They help us with sanctions, weaponry, humanitarian aid, they give shelter to those who had to flee and became a refugee. We are grateful for everything.
But the occupants have 10x tanks, 22x planes, 8x artillery more than Ukraine has. They are shelling our hospitals, schools, universities, kindergartens, theaters, and architectural monuments, they are killing our people – men, women, and children. We need military aid to defend our land, defend democracy – so we keep asking our partners and friends to support Ukrainian Armed Forces. Those guys prove to be superheroes and they need support to give a good fight to the occupants.
Don't stay aside! Support our Ukrainian Armed Forced by donating to a special account of NBU!
Everything will be Ukraine!

Update: March 4, 2022
The bad news is that the russian occupants continue to bombard our peaceful cities and towns. Many civilians – including kids – are murdered and injured. The russian occupants destroy schools, hospitals, and people's homes with missiles, cluster bombs (which are forbidden by Geneva Conventions).
Worth of all, russian terrorists are trying to cause maximum damage to Ukrainian critical infrastructure, civilian infrastructure, and ordinary people. This night they started a large-scale tank attack directed against the Zaporizhia nuclear power plant.
The good news is that the Armed Forces of Ukraine bravely fight the russian occupants and do their best to protect our people and land. We are united like never before – people help each other, support those who are injured, those who have lost their homes. We believe in our Amry – only they can save us from russian terrorists.
As for Help Desk Migration, our team keeps working and doing the best we can to support our people and our Army. We encourage our customers and partners to help us by raising funds for Ukraine's Armed Forces. We tell people around the world about what's going on in our motherland – in order to fight back russian propaganda.
Don't stay aside! Support Ukraine!
Everything will be Ukraine! 🇺🇦
Update: February 28, 2022
The russian occupants continue their air-ground offensive operation against Ukraine. The enemy continues to insidiously shell our cities and civilians: over 350 Ukrainian lives were lost (including 16 children). Russia actively shares fake information about the Ukrainian Army, but all Ukrainian soldiers are at their battle positions and give the occupants a good fight.
Our Armed Forces of Ukraine are bravely fighting for our land, freedom and democracy. Our people stand against the occupants' tanks. The whole country fights against the russian invasion.
Here at Help Desk Migration, we keep working and provide you with an automated data migration service. Our army do their job, we do our job. Up to this moment, we work according to our service hours.
Many of our customers and partners supported us not only by kind words and prays, but also by donating to a special account to raise funds for Ukraine's Armed Forces opened by NBU and non-profit organizations like Come Back Alive. We appreciate your help.
We appreciate the help and support of the world.
Everything will be Ukraine! 🇺🇦
Glory to Ukraine! Glory to the heroes! Ukraine will win!
These days all eyes are on Ukraine, and it is not uncommon to see news about the russian invasion that turned out to be not just a threat.
Help Desk Migration is located in Ukraine for those who might have no idea about it. It's one of the most beautiful countries in the heart of Europe that at this moment fights for its own freedom.
What's Going on These Days?
This morning, February 24, 2022, Russia started a full-scale invasion of Ukraine. This is a war.
The Armed Forces of Ukraine bravely fight with the Russian invaders. We believe in Ukrainian Army! We support Ukrainian Army!
The last three months were pretty tough for our country because of the pressure from russia: more than 190 000 troops are massed on Ukraine's borders. The russian-backed separatists attack our territory and kill our people every single day.
Russia started its hybrid invasion 8 years ago by annexing Crimea and occupying Luhansk and Donetsk regions. World leaders' efforts for a diplomatic solution to this situation don't have expected results and go in vain.
On February 21, 2022, the president of the russian federation recognized the independence of the so-called "LPR" and "DPR" - the temporarily occupied territories of Ukraine. This violates Ukraine's territorial integrity and directly threatens our freedom. And it's a violation of the Minsk agreements.
How Does Help Desk Migration Work?
To our customers: our migration service works as usual – quickly and securely. Your data is safe. You can read here about how we approach SaaS security. But we're getting prepared for any changes and circumstances. That's why we ask you to be patient if the response time of our support service will be changed.
Many countries express solidarity with Ukraine - help us and pray for us – and implement sanctions against russia. As the Ukrainian company and patriots of our land, we had long ago come to a decision:
We have banned access to our websites for users from russia.
We do not provide any services or tools for companies based in russia or owned by russians.
This situation is not about money. This is about our lives and the freedom of our country. We hope you understand and support our point.
Stand with Ukraine
Ukraine and its people have been part of the European culture for centuries. We have the right to live free and in peace in our own land. So instead of spreading panic, we support the Armed Forces of Ukraine.
Our company keeps helping our army our guardians and donating to a special account to raise funds for Ukraine's Armed Forces opened by NBU and non-profit organizations like Come Back Alive. We also ask our friends and customers around the world to stand by us and with us.
Please support the Ukrainian army if you want to help Ukraine against russian aggression. You can donate to a special account to raise funds for Ukraine's Armed Forces or non-profit organization Come Back Alive.
We support the Armed Forces of Ukraine. We believe in the Armed Forces of Ukraine.
Glory to Ukraine! 🇺🇦 Glory to the heroes! Ukraine will win! 💙💛