How to Restore Deleted Categories in Zoho
If you're planning a migration from Zoho Desk and want to move all the Categories, including deleted ones, to your new help desk, you simply won't be able to do it. We can only migrate actual records from Zoho Desk. That's why you'll have to restore them first, and only then move on to your migration.
Restoring Categories is a simple task and now we'll tell you how to do this in a few clicks:
1. First of all, login to your Zoho Desk account.
2. Then, enter the Recycle Bin where all the deleted records are stored. To do so, click on the Setup button.

3. In the options available, find the Recycle Bin under DATA ADMINISTRATION column.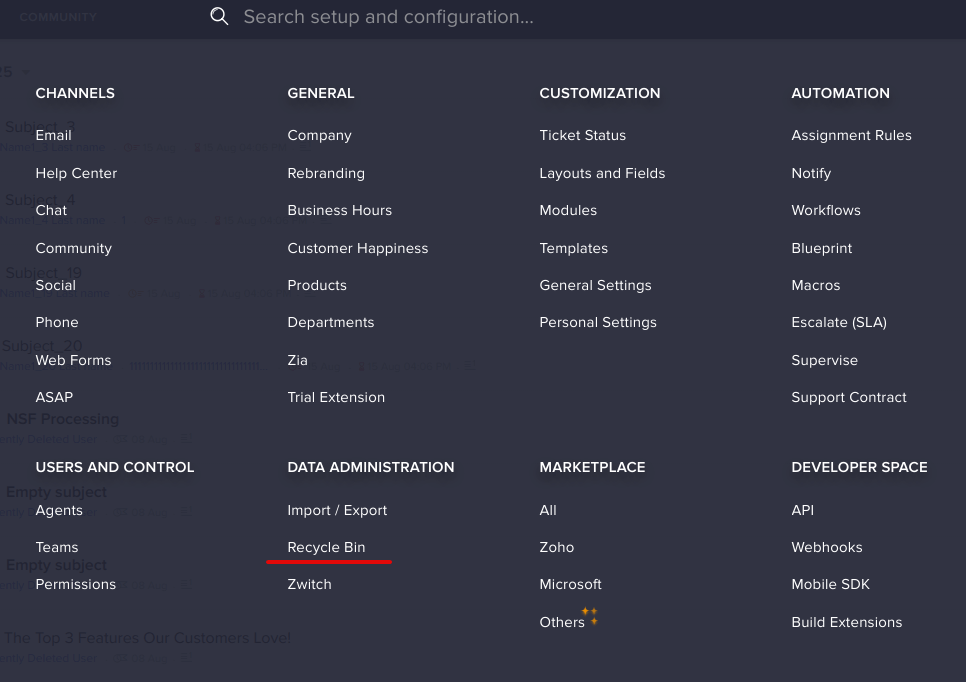 4. Now, you can view all the deleted data from your Zoho Desk account.
Note: All records are stored in Recycle Bin only for the period of 60 days! After this time, they will be permanently removed.
5. To restore any record from the Recycle Bin (including Categories), check the boxes next to the necessary fields.
Note, that in Zoho, records are restored together with the parent/child data connected to them.
6. Good job! Now our tool will be able to move all the necessary Categories for you.