How to disable two-factor authentication in Front
If you have two-factor authentication enabled Front App, you will have to disable it in your account before the migration. To do it, you have to follow the same way as when enabling this function:
1. Log in to your Front account, click your profile picture, and then Settings.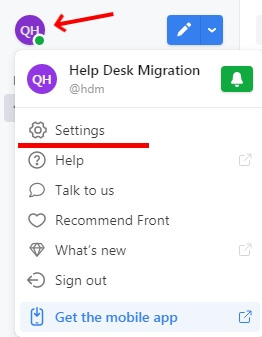 2. Go to the Profile section and choose Two-factor auth.
3. Shift the blue toggle against the Enable Two-factor auth field.
4. You will have to provide the password from your Front account again to confirm that you want to disable the Two-factor authentication. Then, click Disable 2FA.
Now that you have the Two-factor authentication disabled in your Front account, you can get back to your data migration.