How to check the result of Demo Migration for Zoho Desk
Once your Demo Migration to Zoho Desk is completed, you will see the table summary of the data that was moved. The summary contains the number of migrated test portions of data along with the downloadable CSV reports and the 'View 20 records' button. The reports contain the IDs of transferred entities.
To start, download one of the reports to see the records list with all the records IDs that were used for the Demo from the source database and respective new IDs in Zoho Desk. Try to locate and examine each record in your new help desk. The report file will look like this:
To examine the tickets, click on the 'View 20 records' button. This will open another list with IDs that are fully clickable. Go through each ticket and check if everything along with Type, Source, Status, Priority, Custom fields, Requester, Agent, and Tags migrated as needed. Repeat the same process for Knowledge Base articles.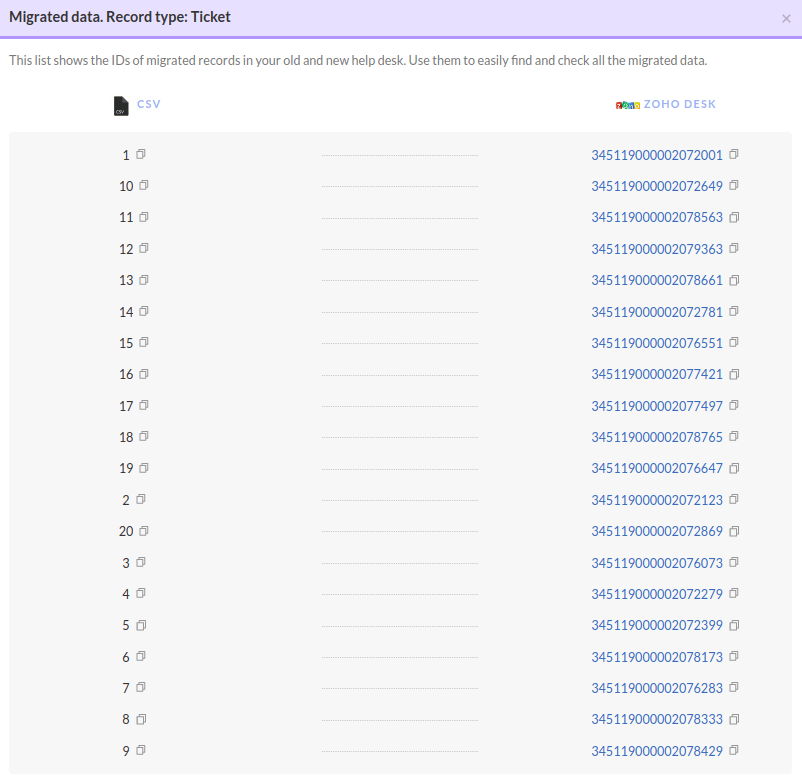 Additionally, when migrating your Knowledge Base, check the statuses of the articles. If the result is satisfying, you can start the Full Data Migration.
Note that all the data transferred during the trial migration will be removed automatically from Zoho Desk before the Full Data Migration. This will make sure no duplicates in your help desk afterward.
When the Full Data Migration ends, you'll see a similar table with similar downloadable reports. Make sure you give the same effort and time to examine everything to get the best experience working with Zoho Desk.
Have any questions? Our support team is always ready to help you - just leave us a message.