Groove Data Migration Checklist
Have you ever caught yourself thinking about making a switch from your current help desk solution to a more powerful one, but then immediately ditched the thought, because of how complicated the process of migration is? Truly, data transfer is something many people tend to put off, which is not surprising considering the amount of effort that has to be put in.
With Help Desk Migration, you don't have to postpone the desired transfer nor you have to deal with the technical side alone. Our service makes it possible to migrate the data to virtually any help desk with little to no effort on your side. Sounds appealing? That's only a small part of all the benefits we can bring to the table. The list also includes high-level automation, intuitive interface, affordable pricing, constant agent support and so much more. Plus, you only pay for what you migrate – nothing less, nothing more.
But, we're not here to talk about ourselves. We're here to help you handle the migration process to ensure the best possible experience and results. To do so, we've put together this checklist. It covers all the essential things you should and shouldn't do before, during, and after the migration. And, if followed precisely, it can help to mitigate the possible risks. Without further ado, let's dive into the Groove data migration plan.
Keep in mind that this checklist is exclusive to Groove, with all its features and limitations, and is not suitable for other platforms.
Before we jump into the checklist, we'll start by mentioning all the entities our tool cannot migrate to Groove. This way, you will get a full picture of what to expect from the migration. So, the list of entities that are not available for the migration includes:
Organizations
KB attachments
Custom Fields
CC in Tickets
As you can see, all of the core data can still be preserved when switching from your current help desk to Groove. However, if you see something on the list that you'd really want to have, feel free to contact our support team and discuss the possibility of personalized transfer. Our agents will then look deeper into your case and see what we can do to help you out.
Note: When importing your Knowledge base into Groove, its dates will change from the original ones to the dates of data migration itself.
Before You Set up the Migration
An important part of every data migration is the preparation stage, which works as a basis for the successful import outcome. This part is quite lengthy, but when executed precisely will guarantee a smooth transfer. With nothing else left to say, let's start.
1. Choose a date for migration
While it sounds like something that shouldn't be your first priority, the day you will choose to migrate the data on may have a direct impact on your migration. To make the right call, you'll have to consider a few factors, and combining them into a single day can require a lot of discussion and time. Thus, it's important to start your 'migration journey' with this step.
Give your team enough time to prepare. It's your team who will have to do the lion's share of work when it comes to the preparation and it's important not to rush them. There are a lot of things you'll have to do (which we will mention later) and it's important to take it slow to ensure the integrity of your data is preserved.
Be ready to face downtime. The downtime (the time when your Groove account will be unavailable for use) may last up to 24 hours, depending on the amount and quality of data you want to import. We recommend aiming for the day with the smallest amount of help desk related work possible to minimize the loss.
Now you see why we mentioned it first. A good start – is half the work.
2. Speak to your team
As soon as you'll make a decision about the data migration and pick a cut-off date, we recommend gathering a meeting and inviting everyone whose work will be affected by the upcoming transfer. A good decision will be to think of key points you would like to talk about, in advance. It's important to understand that your agents will see a 180-degree turn to their normal workflow right after the end of the meeting. From that point and on, they will have to close tickets before the transfer, filter the existing data, and more. Remember, the sooner you give notice to your team – the better.
Don't forget about delegating responsibilities. It can be anything that will take a bit of weight off your shoulders and ensure better accuracy and productivity.
A tip from the HDM team: Set a reminder a day before, to prevent someone from accidentally continuing work on your current help desk. It can be an email, a group call, a calendar event, or whatever works for you the best.
It's your customers who will experience the inconvenience of the downtime first-hand. If you have a blog, it would be great if you could inform your clients about why there will be downtime in the first place. This way, they'll be more lenient to you on the cut-off date, as well as after, when you'll still be figuring out how to use Groove to the fullest.
3. Clean up your data
Let us have a guess – you've been using your current help desk for quite some time now and the data on it is far from being the cleanest. And most likely, it is full of duplicates, unassigned ticket conversations, outdated profiles, and invalid emails. If it's not something you would like to have on Groove, you'll have to manually go through your existing data and get rid of things you don't need. It may take a few days, but the clean workspace will definitely be worth all the hassle. To make the filtering a bit quicker, we suggest you delete the old weight - from the years of experience we've learned that if you haven't used certain records for more than a year, the chance that you'll use them again is close to zero.
A tip from the HDM team: Ask your agents who deal with the data on a daily basis to go through the records and decide what to keep and what can be left out. We've mentioned it above already, but our service charges per migrated record, so the less entities you migrate – the less you'll have to pay.
However, if you don't have the extra time or human resources on your hands, you can always opt for automated filtering. The way it works is very simple – you just tell us the criteria you want your data to be filtered with, and we'll do the rest for you. This option is not free; however, it can save hours or even days of manual work on your side.
4. Prepare Groove for the transfer
Just like you need to prepare your data for the transfer, you should also prepare your new help desk to receive that data.
1. Create Users. Groove doesn't allow us to create agents automatically, so you'll have to do it yourself manually. To create users in Groove, go to Settings > Company > Users > + Add user. Fill out the name and email address, and select the role the users should be granted. Note that users don't need to have the admin role for the data to migrate properly.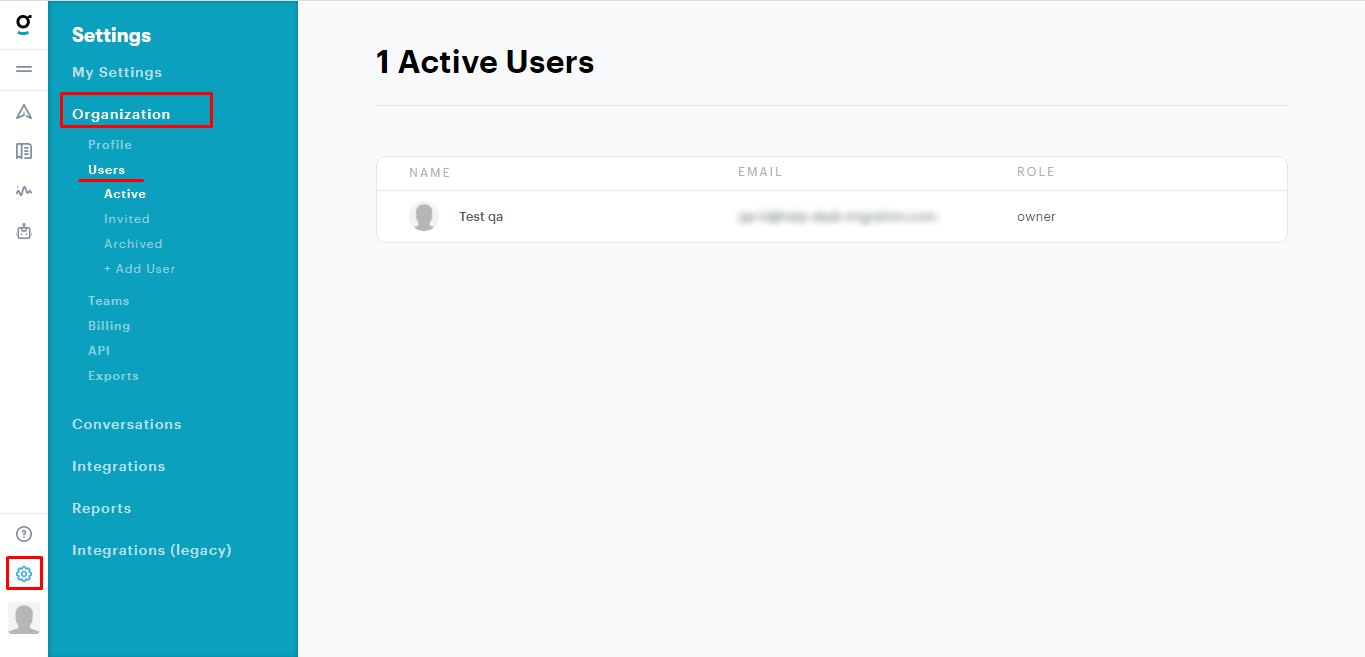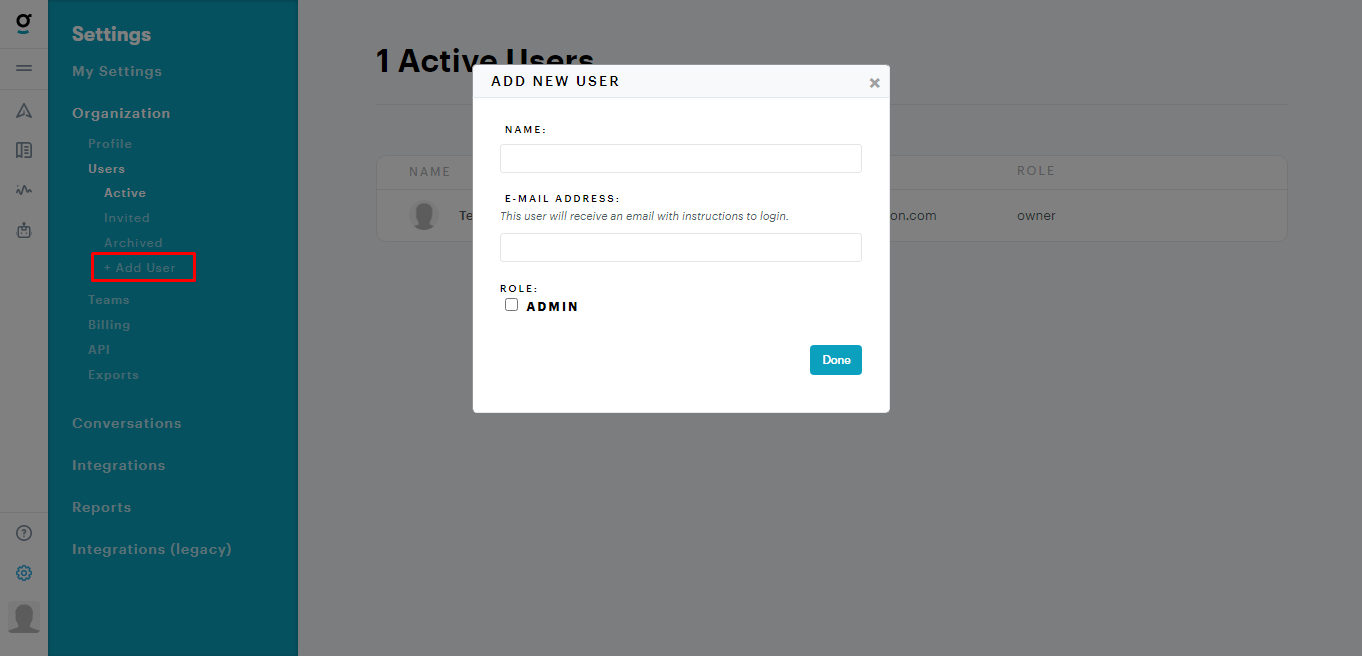 Keep in mind, that the email of agents in the source and target help desk must be an exact match.
2. Create Mailboxes. Before the migration, you will have to manually create the needed Mailboxes in Groove. To do so, go to Settings > Conversations > + Add Mailbox.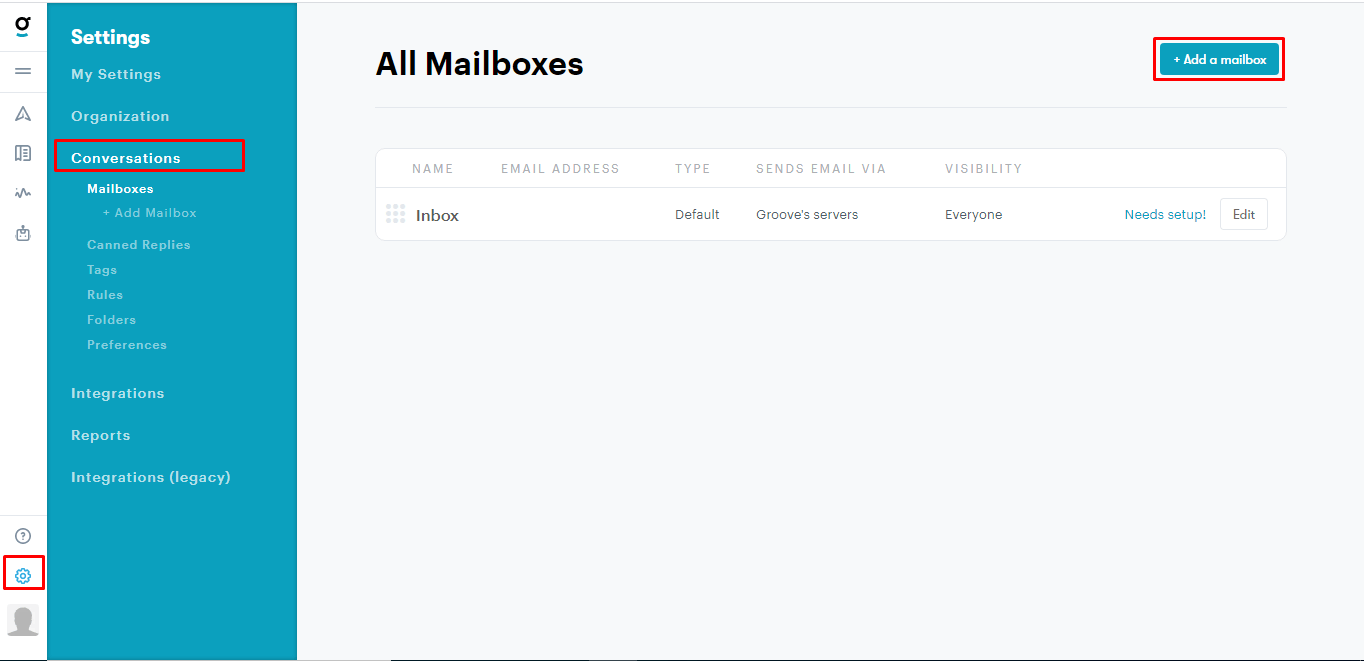 5. Consider the peculiarities and limitations of Groove
To ensure that you won't experience any unexpected surprises after your switch to Groove, we strongly insist you study all the peculiarities and limitations of the platform. We gathered the most essential ones for you to keep in mind:
If more than two Agents left ticket comments, these comments will be displayed a little bit differently. The ticket requester's comments will be shown as they were in the source, however, comments from all the other contacts will be displayed on the behalf of the ticket assignee.
If the agent is not created on Groove, all of the replies will be shown from the assignee's name. In case, both ticket's requester and assignee are not created on Groove, the replies will be displayed from the name of the default agent.
If you have a base64-format image in your Knowledge Base articles, they will not migrate to Groove.
Agents should be created prior to demo migration.
You can migrate data to only one mailbox – just map it to Constant Value and select the needed dropbox from the list.
Oauth token does not get reset when a customer tries to connect to a different Groove account. We should delete the token on our side or you should start a new demo.
6. Contact HDM team
At this point, you should've finished the most time-consuming steps of the preparation stage, so you can get in touch with our team. Reach out to discuss all the definitive details of the upcoming migration, ask any questions, or seek advice. Our super-friendly support agents will be more than welcome to answer all of your questions, share the important tips, and coordinate your further actions. Also, this is perfect timing to discuss the possible customizations, like adding the name of the end-user who left the comment in the body of the comment and migrating custom fields into a private note (depends on the number of fields you have).
You're almost ready
1. Turn off notifications
Email notification is a thing that is generally quite useful in help desks, but it can also interfere with the process of migration. Thus, before and during the transfer, we suggest keeping them disabled to prevent end-users and admins from receiving numerous emails. Since Groove does not allow Admins to edit notification preferences on behalf of other users, every support rep has to adjust the notification settings themselves. To do so, go to Settings > My settings > Notifications. Then, uncheck all the boxes and Save notification settings.
2. Disable Automations
For the same purpose as for notifications, don't forget to disable Automations (if you have any). Go to Settings, under Conversations select Rules, and then press the 'Disable' button.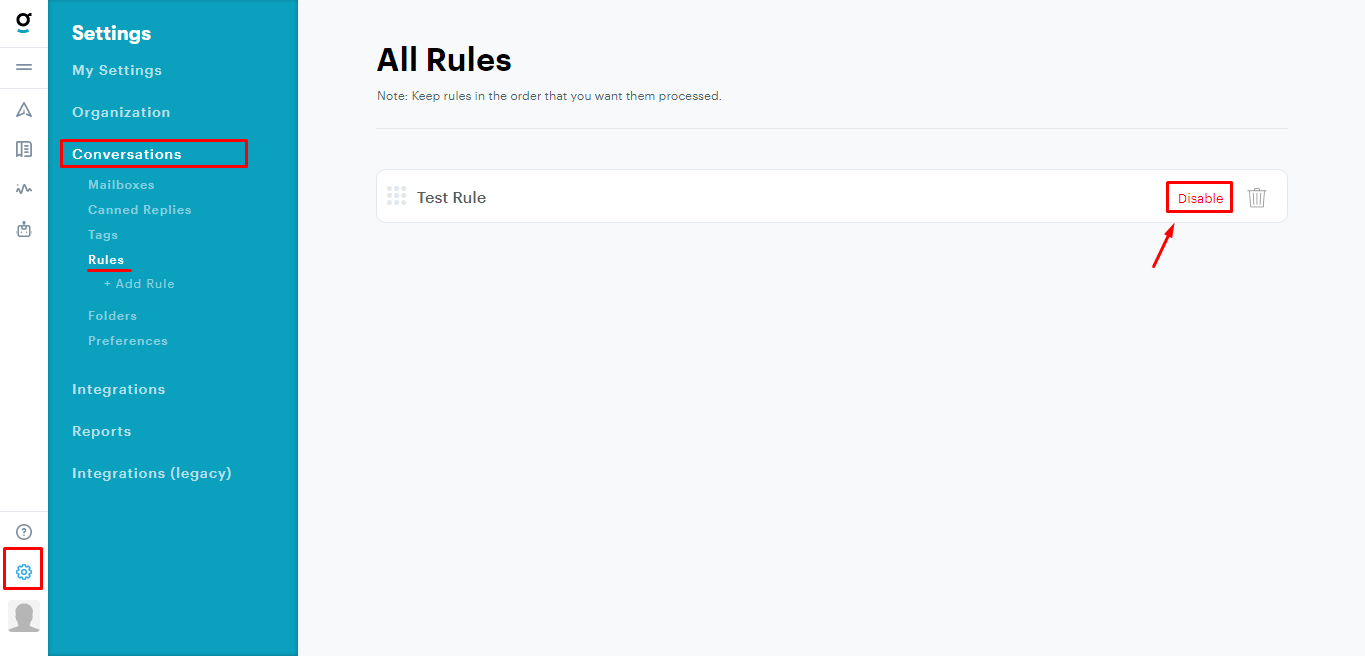 3. Run a demo migration
Depending on the number of records you want to transfer, data migrations can be quite costly. Before going ahead and paying right away, we offer a free demo to all of our customers to test out the tool and see how things will look like upon the migration. During this free sneak-peek, we will take twenty random tickets from your current help desk solution and move them over to Groove. After that, you can view the results and based on that decide whether you want to proceed.
The demo usually takes no more than five minutes and can be repeated multiple times. What we mean by that, is if after the trial something doesn't look as you wanted it to, you can return to mapping, make the needed adjustments, and try again. After the demo, the test portion of data will be automatically deleted, so you won't have to worry about having duplicates on Groove. We made sure everything is pretty thought out for a seamless experience with minimum worries.
After the Demo Migration
1. Check the result in Groove
After the demo is over, you'll see a page with downloadable reports with records' IDs in your source help desk and the corresponding IDs in Groove. To make sure the Full Data Migration will go as planned, we recommend to go through the table and carefully check if the test portion of data migrated as you wanted it to.
During the examination, pay attention if:
all comments got migrated, and if the authors of the comments are the same;
the tickets are assigned to the correct agents;
the customers and companies are migrated correctly;
the attachments are migrated.
Note: It's crucial to check each ticket, primarily its location and quality features, to detect any issues right away.
If you're looking for a detailed step-by-step explanation on how to check the results of demo migration, take a look at this guide.
Only when you're completely satisfied with the results, proceed to the next step. However, if during the examination you notice something out of place, contact us immediately. Our agents will then look deeper into the issue and talk you through the solutions.
2. Request a custom demo
If you have some tickets with more replies, attachments, or notes than your usual ones and want to see how they migrate over to Groove, feel free to request a custom demo - we'll transfer the specific ticket IDs that you want. Simply contact our team to discuss the peculiarities of customized demo migration.
Before Full Data Migration
1. Keep in mind the basics
We've mentioned it at the very beginning already – double proof that you'll be running the Full Data Migration on a day with the smallest number of incoming requests. No matter if you're planning on leaving your current help desk behind, or you're just moving separate teams, that is relevant for both cases. If needed, you can still work on your source help desk during and after the transfer, however, the records created or updated after the start of the Full Data Migration will not appear in Groove automatically. If you don't want to lose that data, you can always opt for delta migration to move these records. Keep in mind, that this option is not free.
Speaking about the Full Data Migration, to make sure things are going according to plan you can check on the transfer from time to time or ask your agents to monitor the progress. You can rest assured that your data is in safe hands - our team will keep a close eye on the process of migration and if something seems out of place - we'll contact you right away and discuss the possible solutions.
2. Initiate Full Data Migration
Now you know, why many tend to put the migration off. The premigration stage implies a lot of headwork, but the complicated part is over and now you can take the weight from your shoulders. At this point, everything will be handled by the Migration Wizard. To start the migration, just press the 'Start' button and from that very moment, all of the records will start transferring one by one over to Groove.
The migration will only begin after two main requirements are met:
The payment confirmation. It may take some time, that's why we highly recommend you to pay in advance. Speaking about time, you can also take advantage of our 'schedule' feature - all you have to do is choose time and day. Yes, it's that simple.
You've agreed to the checklist. Click on the corresponding checklist to open a mini-checklist of the essential steps you should do prior to transfer. If everything looks good, put a tick in a checkbox.
3. Don't change anything
Because the process of migration is quite lengthy, there's a high chance that you might notice something out of place. While it seems like you can solve the issue by doing a few clicks here and there, it may interfere negatively in the process of data migration and even lead to failure. Considering all the efforts put into the import, it's not worth it. So, what are your options when you notice something you would like to alter?
Wait till the Full Data Migration is complete and only then make the necessary changes.
Contact our team and they will look deeper into the issue and see what they can do. When it comes to data migration, it's best to leave things to professionals.
After the Import is Done
1. Examine everything
So, the data migration process is complete and all of your data is now successfully transferred to Groove. However, to make sure everything was smooth, we insist on checking the results of Full Data Migration. Just like with a demo, you'll see a page with downloadable reports. Go through each file and all the IDs and carefully examine everything. However, it's no longer that small test portion of data. This time, you will probably need your agents' help to cut the time.
Remember that you shouldn't only check the number of migrated records but make sure they are readable and in place. A proper inspection right after the Full Data Migration leaves a place for a correction on our side if noticed right away (within five days after the migration date) free of charge. So, if you notice something out of place, get in touch with our team as soon as possible.
2. Set up a new platform
That's it. Your Groove account is almost now ready to be running. Before you start dealing with tickets and go back to your normal workflow, don't forget to enable all the notifications that you previously had to turn off, redirect email forwarding, and set necessary settings. To enjoy your solution to the fullest, don't forget to update the Knowledge Base links. You can now enjoy all the benefits your new help desk has to offer.
Wrapping it Up
And that covers the whole process of data import to Groove from A to Z. Truly, the preparation stage is lengthy and a bit complicated, but a detailed checklist makes things ten times easier. As to the transfer itself, the Help Desk Migration service will take things into its own hands and make sure your data is safely and seamlessly migrated to a new help desk.
If you still have some questions about the data migration to Groove, our super-friendly support team got you covered. Just click on the chat icon at the bottom right and get to talking. We're always happy to help.
More data migration checklists here.