Our partnership with Freshworks began over two years ago. Freshworks (formerly Freshdesk) offers customer service tools that are easy to use and scale. Help Desk Migration wants to give companies the freedom to use the help desk that meets their needs best. The two worlds collided.
Having migrated terabytes worth of customer support data to Freshdesk and Freshworks products, we decided to talk to the person who's been our POC this whole time. We wanted to learn more about Ganesh Balaji, Freshworks' partnership philosophy and, of course, get feedback on our partnership.
So, without further ado, let's get to the interview.
Q: Tell us about yourself and your career path at Freshworks
When I did my engineering degree I worked as a developer. But then I figured out that I wanted to be closer to customers, so I was looking for other opportunities. And then Freshworks happened. In 2015, when I joined the company, it was called Freshdesk. I think we had 300 employees back then. I joined as a pre-sales engineer, or in other words, a product consultant for the US market. So, typically I had to engage with customers and present our product to them. I spent around 6-7 months in the United States, where I got to meet the customers to help with implementation. I also did a lot of roadshows.
2019 Freshworks Experience Roadshow. Source: Twitter
Then, when I returned, I thought that I want to go deeper with the product. At that time, Freshworks was looking to build a marketplace to host integrations with other products, companies, and become partners with these companies. That sounded interesting to me.
Over the last two years, we've grown from 200 to more than 800 apps. We have also hired more people to get engaged with our partners and expanded across the US. So, that's what my career at Freshworks looks like.
Q: What is the most exciting part of your job?
The most exciting part is to figure out a solution for a customer using our partner technology or other products we integrate with. As our market size grew, we discovered that businesses are looking for complete solutions and not individual products. So, the most interesting part of my job is collaborating with partner companies (our partners) to identify and deliver the best-fitting joint delivering a joint solution to the customers.
Q: Tell us about Freshworks, the company, and its products.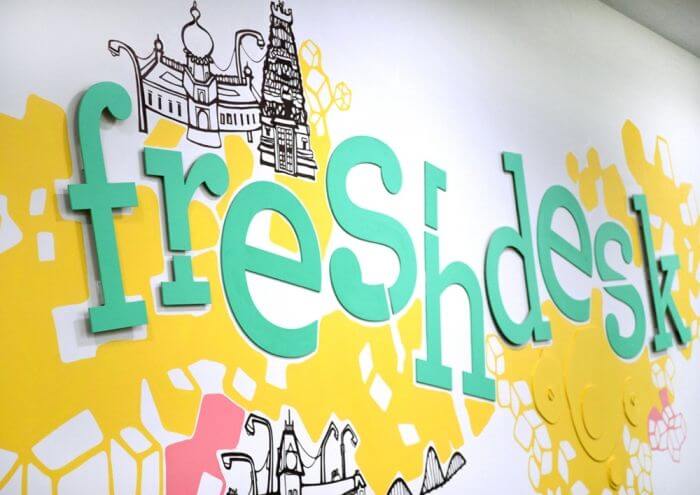 Freshworks office in Chennai. Source: Inc42
We started with Freshdesk as a ticketing CRM and realized people were using it for internal IT. Thus was born Freshservice, and later a full-blown CRM called Freshsales. We followed it up with Freshchat, Freshmarketer and today we have a full customer engagement suite that you see below.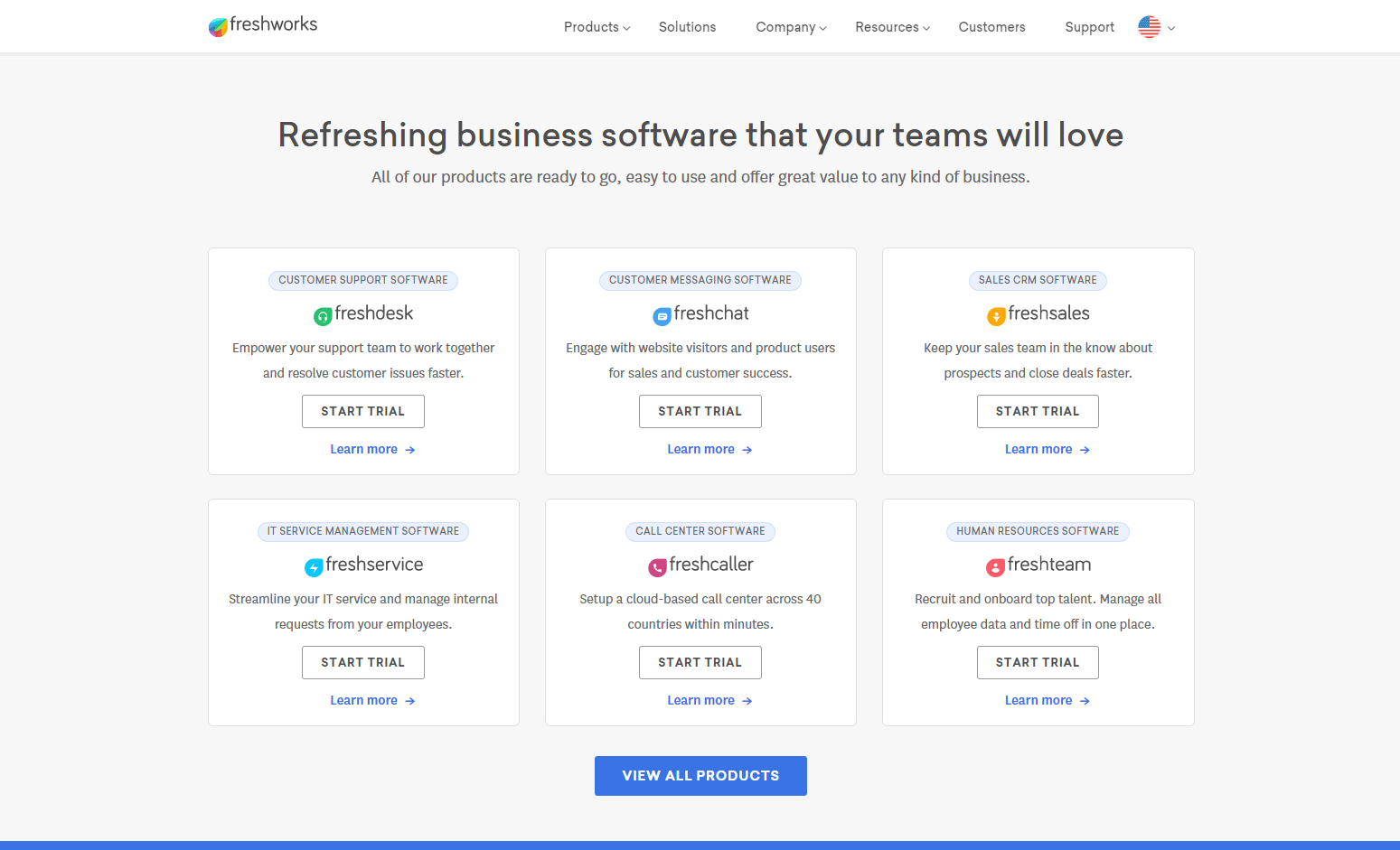 Today, we have customers from across the globe and offices situated in more than a hundred different countries. Our products are scalable, so anyone from SMBs to Enterprises can use them.
Q: A great number of new apps were released on the Freshworks marketplace this year - which also means new partners. Can you give an overview of how much the marketplace/partnership network has grown?
As I have already mentioned, during the last two years we've grown from 200 to more than 800 apps.
In the early stages, we were only focused on getting the apps that our customers were directly requesting. As we grew, we built a comprehensive partner program to proactively identify partners who are relevant to our product suite and did outbound reach-outs to bring them onboard.
A lot of these apps that we have in the marketplace were requested by our customers. We were basically delivering apps that our customers wanted to use. We had to communicate with the companies directly to get them or we brought our own assets.
Then we understood that we spent a lot of time on cooperation to engage with these sites when we just could proactively reach out to them and bring them to the marketplace ourselves.
Today, we have a strong partnership network and a streamlined partner program with partners across the globe. Most of them are concentrated in Europe, in North America, and of course in India where the company was founded.
Q: Why is it important for Freshworks to grow the partnership network?
We understand that partnership is the key to helping our company grow. So, we started investing in our partnerships. Because, while with customers we can do a lot of sales and marketing - with partners, our growth potential is more extensive. Now, we want to make sure at least 30% of our profits come through our partners.
With partnerships, we were not only able to bring complete solutions to customers, but we also saw that as our customers started using partner solutions, partners were also equally contributing to our customer base. Thus, we built a great ecosystem of partners mutually helping each other to grow.
Q: What traits should a company have to become a Freshworks partner?
When we want to onboard a new partner, the first thing we consider is how we can engage with them. Also, one of the key things that Freshworks is known for its customer experience. We create customer engagement software and we want to pick partners not only with product synergy but also with the same philosophy of exceptional customer experiences.
So, apart from the technology and the benefits our potential partners are bringing to us, we look at their engagement with customers.
Q: Name 2-3 benefits your customers gain with Help Desk Migration as Freshworks partner
When we started to see there are more and more customers who want to move from other platforms, Help Desk Migration was key because they could import data really fast. The team is very responsive, too. We strongly believe in the quality of the migration service, as we haven't received any complaints. We always had good feedback about Help Desk Migration. We ourselves see a lot of quality in the work you do, so we're happy to pass on more opportunities.
Q: What do you like the most about working with Help Desk Migration?
Responsiveness. I was surprised to see how responsive you guys are even during weekends (when most of the migrations take place). You always have the right response for a customer and always provide a quick update. These are the things that really impressed us.
Q: Is there anything we can improve?
I think you guys should build more apps for the Freshdesk marketplace 🙂 You've been doing great building apps for other marketplaces and systems.
And as we want to provide more types of services for our customers, we would like to make sure you invest your resources in more apps for our marketplace that can help our customers.
Q: Where does Freshworks see its partnership network in a couple of years?
Freshworks wants to create a robust network of partners across the globe who are able to consistently scale their business through the various opportunities including joint marketing, reselling and referral programs. We want to provide all the support and resources for partners to play a significant role in adding revenue to Freshworks, while also setting exceptionally high standards for customer experience across the globe.