Jira Service Management Data Migration Checklist
The data migration is undoubtedly far from being easy. So, to make it less complicated, we've put up a detailed data migration checklist exclusive to Jira Service Management. Let's read on!
Before diving into the details, pay attention that our tool can't migrate such records as:
CC users (migrate CC users into a custom field instead)
Groups
Inline images
If you still want to import the data listed above, request a customized migration. Contact our team to discuss the details.
Note: When importing your Knowledge base into Jira Service Management, its dates will change from the original ones to the dates of data migration itself.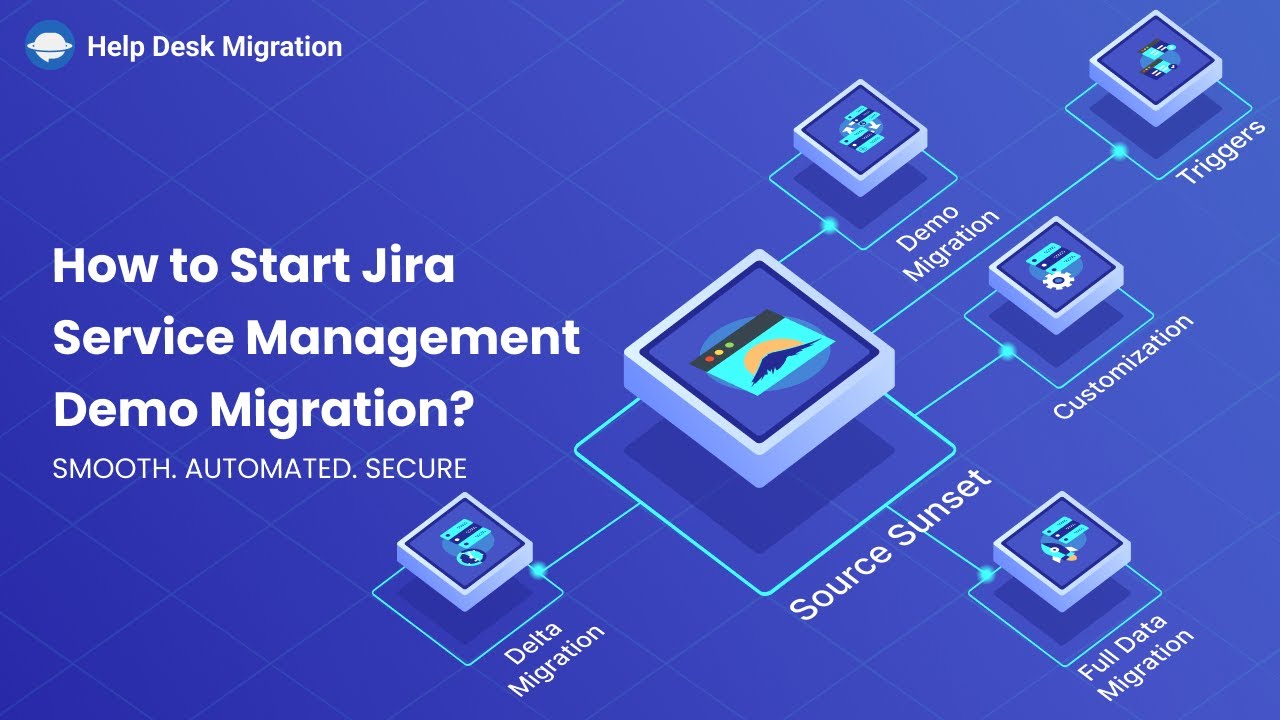 BEFORE YOU SET UP THE MIGRATION
Run through the steps given above to prepare for Jira Service Management import:
1. DECIDE ON A DATE
You need enough time to thoroughly prepare for the transfer (by starting to close tickets and filter your data, for instance). So choose the day with the smallest amount of help desk related work.
2. INFORM YOUR TEAM
Ensure to inform your agents about Jira Service Management migration first, so they can start closing tickets before the data transfer date. Besides, agents can get enough time to get used to a new platform.
3. PREPARE JIRA SERVICE MANAGEMENT FOR THE IMPORT
Before setting up a data migration itself, run through the following steps:
1. Set up users manually. You need to add all users to the required project on Jira Service Management before data migration, and their emails should be visible to everyone. Read a detailed article on how to add users to Jira Service Management first.
2. Create matching custom fields. This way, you find the needed data easily after the Full Data Migration.
You can simply create them while mapping ticket fields in Migration Wizard. Just choose the needed field value and press Add the same field on Jira Service Management at the top. Once the field is created, map the values.
If you still want to create custom fields, follow the given steps:
Go to Settings > Issues > Fields (Custom fields) > Create custom fields.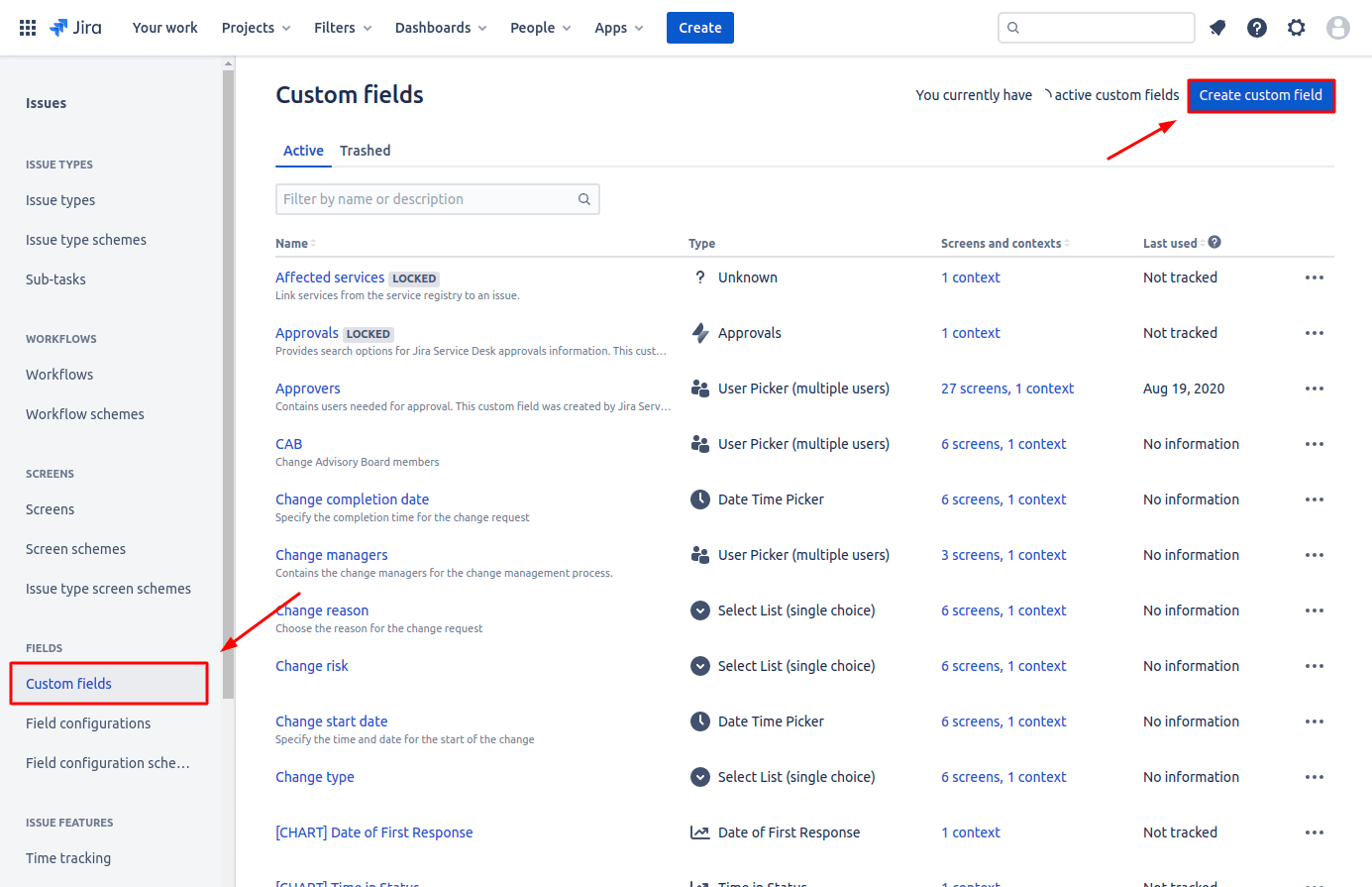 Set the Resolution field on the mapping; otherwise, all the migrated cases will be unresolved.
You can map the Status field to the Status and Resolution fields twice.
Add custom fields to the correct project screen in Jira Service Management.
3. Increase the size limit of attachments users can add to requests. This way, you could import all attachments to Jira Service Management.
4. Enable the Public sign-up settings to migrate contacts. Check out a detailed guide or watch a video.
5. Ensure you have admin rights to the source help desk and Jira Service Management to run a data migration.
4. CONSIDER THE PECULIARITIES AND LIMITATIONS
When migrating to Jira Service Management, consider the following peculiarities:
There are two types of projects in Jira – Classic and Next-gen. Our tool only migrates to the Classic projects. If you want to import data to a Next-gen project, check out a guide with a video.
By default, you can only set one issue type per migration applied to all issues. If you want to transfer multiple issue types, dive your data migration into parts. Then migrate tickets of every ticket type separately.
You can move organizations to Jira Service Management by default, but they won't link to tickets.
Do not deactivate end-users because our tool won't migrate their cases.
Note: To configure the Jira Service Management connection, you need to pick up a Project where our tool will transfer your data. If you want to import records to multiple projects, you need to set up a data migration for each project.
5. SEE IF YOU NEED CUSTOMIZATION
When migrating to Jira Service Management, you can apply some ready-made customizations:
Add a tag to the migrated tickets
Skip attachments
Migrate call recordings (if only Zendesk is a source platform)
One time Demo with custom data
When migrating to Jira Service Management, you can add tags to identify the migrated data. You can also migrate inline images as attachments. Note that this option can take longer to migrate data.
Besides, you can migrate call recording if your source help desk is Zendesk. Or skip attachments to speed up data migration. Finally, if you want to test our Migration Wizard with a specific set of data, choose one time Demo with custom data for both tickets and articles.
Note
: Some
automated options
depend on your source help desk. Check out an article to find more details.
If you want to adjust you records transfer, request a Custom data migration. The popular customizations list includes:
Migrate inline images
Data filtering by different criteria (creation date, tags, custom fields, groups, organizations, assignees) migrate into different projects
Change of the default migration process (migration of change and problem objects as tickets, migration of ticket events as private notes, migration of the information related to inactive users)
Migration of the information from the integrations (migration of linked Jira task ID or URL)
Adding information to the migrated data (marking tickets with extra tags, adding legacy ticket ID to the ticket subject)
YOU'RE ALMOST READY
1. FIND ACCESS CREDENTIALS
When running a Demo Migration, you need to have access credentials to the source platform and Jira Service Management.
To connect Jira Service Management with our tool, you need:
URL: URL of your company's Jira Service Management account.
Username: Go to Icon > Profile; find your Username under the Contact.
API Token: Go to https://id.atlassian.com/manage/api-tokens > Create API token > press "Create" > Copy the token to the clipboard.
Then choose the project you are going to import data to or export records from.
Note: Be sure to save API Token because you can't see the Token later.
2. INITIARE THE DEMO MIGRATION
Run a Demo Migration to test out the possible outcome of the Full Data Migration. During the Free Demo, our tool migrates 20 random tickets and articles from your current solution to Jira Service Management. Run it as many times as you need.
Run through the steps below:
Sign in to your Migration Wizard or create an account.
Connect your source and target solutions.
Pick up a Project to connect Jira Service Management.
Select the data you want to import.
Match agents.
Map tickets and articles route.
Pick up automated options.
Run your Free Demo Migration.
AFTER THE DEMO MIGRATION
1. CAREFULLY CHECK THE RESULTS IN JIRA SERVICE MANAGEMENT
After a Free Demo Migration, check out a table with four different columns or records:
all available records
migrated records
failed records
skipped records
Download reports on migrated, failed, and skipped records to study the results. As you check the migrated data, pay special attention to:
all comments got migrated, and if the authors of the comments are the same
the tickets are assigned to the correct agents
all the custom fields got migrated
the customers and companies are migrated correctly
the attachments and labels are migrated (download attachments from your destination platform to see if everything was transferred correctly)
Note: if something hasn't migrated during Demo Migration, it won't transfer during the Full Data Migration.
Read an exclusive guide to check Jira Service Management migration results if you need more detailed information.
2. GET A CUSTOM DEMO
If the one-time custom Demo haven't meet your requirements, you can request the Custom Demo. Contact our team beforehand to discuss all the details.
DURING THE FULL DATA MIGRATION
1. CHOOSE YOUR MIGRATION: DEFAULT OR WITH DELTA
If you need to use one of your help desks during the Full Data Migration, consider your options:
Work with a source help desk during the Full Data Migration. However, note that the created or updated records won't migrate to Jira Service Management. So run the Delta Migration not to lose that data.
Continue to running your work on your target help desk.
As the Full Data Migration runs in cloud, you can:
Check how your data migration is going in Migration Wizard
Wait for our support team to reach out to you
2. DON'T MAKE ANY LAST-MINUTE CHANGES
Any alteration can take more time to migrate your data or suspend your migration at all. If you identified duplicated or unnecessary data on the source help desk, let it go through. Better audit migrated records on Jira Service Management after the data migration.
If you have new tickets coming into your source help desk, you can opt for the Delta migration to migrate them to Jira Service Management.
3. START FULL DATA MIGRATION
The Migration Wizard imports each record one by one to a chosen project. Depending on the number of entities you have, the process may take from 20 minutes to a few days.
The Full Data Migration starts if:
Your payment is confirmed. It may take some time; that's why make a transaction in advance or schedule data migration.
You've agreed to the checklist. Press on the corresponding checklist to open a mini-guide of the essential steps you need to do before transfer. Once you run through all steps, put a tick in a checkbox.
AFTER THE IMPORT IS DONE
1. CHECK ONCE AGAIN
Your Full Data Migration is completed so start to study if everything migrated correctly. You have five days to check the results until Migration Wizard archives your data migration.
If you can't locate something ensure that search filters are set for all tickets and any period. If the problem still remains, drop a line to our support team.
2. UPDATE YOUR NEW PLATFORM
If you migrated Knowledge Base articles, manually update internal links.
Turn on all communication channels.
Re-forward your emails to Jira Service Management.