How to disable email notifications in Teamwork Desk
Before initiating demo migration to or from Teamwork Desk, you need to disable email notifications. Otherwise, users will receive unnecessary notifications during the data migration process. Here's where you can disable these notifications in your Teamwork Desk account:
1. In the top right corner, click your profile icon and then View profile.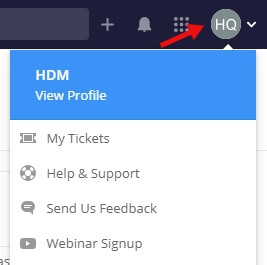 2. Go to the Notifications section and disable all notifications for the time when the data migration is running. To do so, just click all the blue boxes containing the checkmark icon, OR click the blue boxes with the "-" icon to turn off all the options in the specific notifications section. After the migration, you can turn them back on.