Help Scout Data Migration Checklist
Data migration is a complex process that often involves some legwork. That's why, to make your transfer to Help Scout 10x easier, we've prepared a detailed data migration checklist.
Note: Migration Wizard can't automatedly import such records to Help Scout as:
Inline images
CC users (migrate emails of CC users into a custom field instead)
Contact and organization custom fields
If you still want to transfer the records on the list, contact our support team for a personalized option.
As for importing your Knowledge base into Help Scout, the dates will be changed from the original to the data migration date.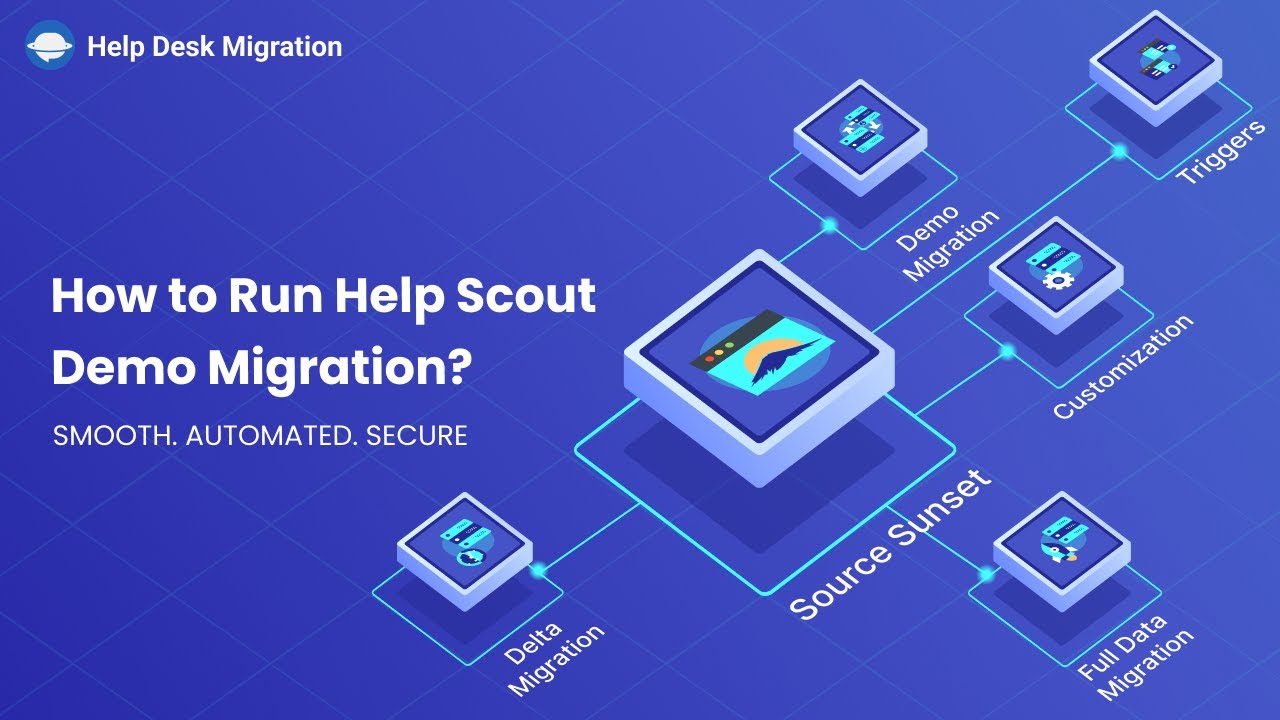 BEFORE YOU SET UP THE MIGRATION
Go through all the steps to cut corners and speed things up while preserving data integrity.
1. DEFINE A DATE
Your data, its amount, and its quality are the things that define the whole process. That's why give yourself enough time to prepare for the transfer thoroughly. Also, choose the day with the smallest amount of help-desk-related work.
2. INFORM YOUR TEAM
Tell your agents about data migration to Help Scout. This way, they have enough time to get used to a new help desk. Delegate certain responsibilities and send a reminder a day before migration.
3. PREPARE YOUR NEW HELP DESK FOR THE MIGRATION
Follow this guide to prepare Help Scout for data migration:
1. Create mailboxes. To work in Help Scout, you need to create mailboxes manually.
Go to Manage → in the dropdown menu select Mailbox → New Mailbox.


2. Create custom fields. Custom fields help you preserve the data structure and locate it instantly after the migration.
To set up custom fields, click Mailbox → Settings → choose Custom fields in the dropdown menu → New Custom Field.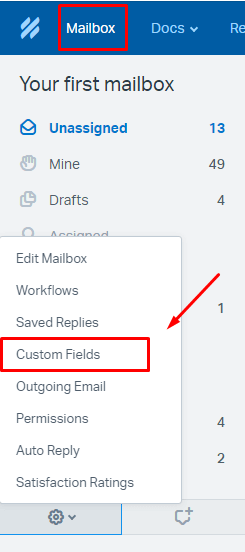 Note: Help Scout doesn't allow you to create custom fields for Contacts, only for Tickets.
3. Add agents. Create agents on Help Scout with the same emails as your current help desk before migration. Set up at least one agent profile to enable agent matching and the option 'Add the same agent's on Help Scout.'
Go to Manage > Users > New User.
Note: Add your agents to the correct mailboxes!


4. CONSIDER THE LIMITATIONS AND PECULIARITIES
Before the Full Data Migration to Help Scout, pay attention:
If you move your data to Help Scout, choose only one mailbox for migration. If you want to import records into different mailboxes, you need to set separate migration for each mailbox on your Help Scout. If you transfer data from Help Scout to another help desk, we can migrate several mailboxes in custom data migration. In case of a default migration, you need to run separate migrations for each mailbox.
If you're migrating Knowledge Base articles, turn on/create Docs beforehand.
Tickets can have no more than 100 comments on the platform. If there is more comments, the Migration Wizard will create an additional ticket with the rest of comments.
Do not deactivate end-users because we can't migrate their cases.
Before migration, you should have admin rights to your accounts in the source platform and Help Scout.
5. POPULAR CUSTOMIZATIONS
Reach out to our team if you have any specific requirements to Help Scout Migration if the available automated options aren't enough.
Migrate Contact custom fields into Contact' Notes' to preserve the needed data
Migrate the inline images as attachments
Data filtering by different criteria (creation date, tags, custom fields, organizations, assignees)
YOU'RE ALMOST READY
1. TURN OFF NOTIFICATIONS
Ensure you turn off Notifications before migration to omit unwanted notifications.
Click on the Profile icon > Your Profile > Notifications > turn off the needed notifications.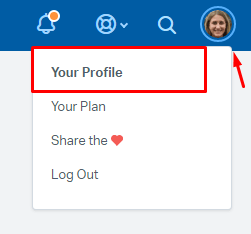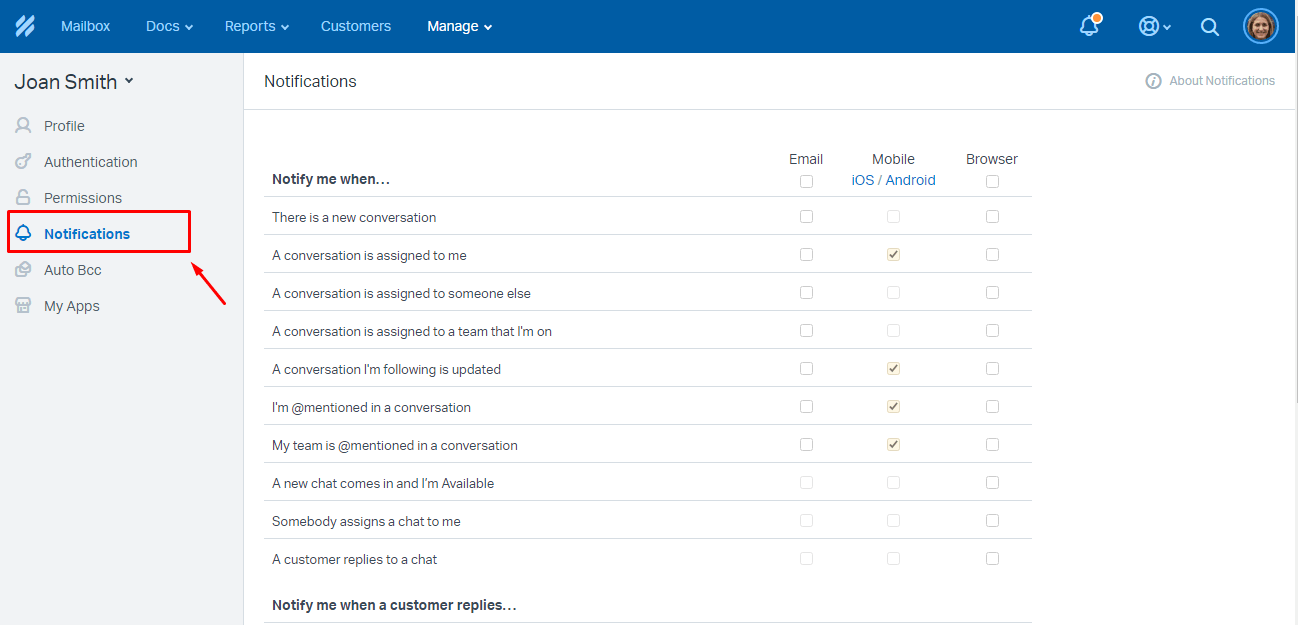 2. FIND ACCESS CREDENTIALS
When running a Demo Migration, you need access credentials to the source platform and Help Scout.
To connect HelpScout with our tool, you need:
Docs API: My Profile -> Authentication -> API Keys.
OAuth authentication: You need to sign in with your Help Scout account.
Note: You only need Docs API if you want to migrate Help Center to Help Scout.
3. START DEMO MIGRATION
Set up a Demo Migration to test the possible outcome of the Full Data Migration. Migration Wizard transfers 20 random tickets and 20 articles from your current platform to Help Scout. You can edit your migration settings and re-run Demo. Note: if you run several Demo migration with the same parameters will deliver the same results.
Go through the steps below:
Sign in to your account.
Connect your source and target solutions.
Choose the data you want to import.
Match agents and groups.
Map tickets and articles route.
Pick up automated options.
Start your Free Demo Migration.
AFTER THE DEMO MIGRATION
1. CHECK THE RESULTS OF THE DEMO
Check a table with four columns:
all available records
migrated records
failed records
skipped records
And download reports on migrated, failed, and skipped records to check the results. While checking the migrated records, ensure that:
the comments got migrated and if the authors of the comments are the same
all tickets are assigned to the correct agents
the custom fields got migrated
all customers and companies are migrated correctly
the attachments and labels are migrated
Make sure to check each ticket, primarily its location and quality features. Also, check the integrity of attachments - download them from the destination platform and check if they were migrated correctly.
For more details on how to check the results of Help Scout migration, read a detailed guide.
2. REQUEST A CUSTOM DEMO
You can test our Migration Wizard with a Custom Demo Migration as well. Choose your tickets by ID, for example, tickets with more replies, attachments, or notes. Just contact our team to discuss the needed details.
DURING THE MIGRATION PROCESS
1. SELECT MIGRATION OPTIONS
If you need to use one of your help desks, you can use your source or target help desk.
If you use a source help desk system during the Full Data Migration, note that records created or updated during the process won't get migrated. In this case, opt for a Delta Migration to import them later.
As the Full Data Migration goes in cloud, you can check the progress on a data migration page.
2. START FULL DATA MIGRATION
Full Data Migration will start when:
The payment has been confirmed. Make payment for data migration in advance. Schedule your data migration if you have any specific time or date.
You've agreed to the checklist. Then look through a short checklist of things to do before migration. As soon as you are done, check the corresponding box.
3. DON'T CHANGE ANYTHING
Make no changes to your source or target platforms during the Full Data Migration. If you notice any problems on your current help desk- wait for the data import to finish. Only then can you either try to solve it on your own or contact our support team.
AFTER THE IMPORT IS DONE
1. CHECK EVERYTHING CAREFULLY
Inspect the results of the Full Data Migration. You have five days to check all the migrated data on Help Scout until your data migration gets archived. Ask your agents to help you out to speed up the process. If something isn't right or you can't find certain records, get in touch with our team.
2. UPDATE YOUR PLATFORM
Enable all the notifications and other settings that you had to turn off and update internal links for Knowledge Base articles. Plus, re-forward your emails to Help Scout.