We are excited to let you know that you can now export your data from Microsoft Dynamics 365 via the Migration Wizard tool. The procedure is fully automated and, thus, secure, fast, and easy to perform. Check this article to learn more about Microsoft Dynamics 365 data migration.
A Few Words on Microsoft Dynamics 365 Ticketing System
Microsoft Dynamics 365 is a portfolio of business applications that will come in handy when delivering operational excellence and delighting each and every customer of yours. Being innovative and highly integrative, the platform will assist you in adapting to meet the demands of your customers effectively.
Moreover, Microsoft Dynamics 365 is equipped with a multifunctional ticketing system that will help you to tackle various help desk-related tasks. Thus, it is a platform that provides a wide range of functionality to its users.
What Data You Can Export from Microsoft Dynamics 365
If you want to export data from Dynamics 365, it is important to know what type of records can migrate from it to a new platform. So, check the following list of entities:
Tickets
Contacts
Organizations
Agents
Attachments
Emails (Public Notes)
Posts (Private Notes)
Inline Images
"Created At", "Updated At", and "Closed At" Dates
Knowledge Base Articles
Note: Keep in mind that all your articles will migrate into Source Default Category and Source Default Folder, as there are no Categories and Folders in Microsoft Dynamics 365.
The above-mentioned list of records that you can export from Microsoft Dynamics 365 includes the data that can migrate in an automated way. Still, you can always contact us and discuss the possibility of manual data migration customization if you have any specific wishes or requests, and we'll be happy to find a proper solution for you.
How Microsoft Dynamics 365 Help Desk Migration Works
To set up your Microsoft Dynamics 365 data export, go through the following steps:
1. Go to the Migration Wizard page and start a new data migration.
2. Select Microsoft Dynamics 365 as a source platform and connect it to the Migration Wizard tool by providing your URL.
3. Choose a target platform you would like to migrate to and type in all the necessary credentials. Without them, the migration process is not possible.
4. Select the type of data you would like to export from your Microsoft Dynamics 365.
5. Map the fields and make sure that the records from Microsoft Dynamics 365 will migrate to the corresponding fields on a new platform.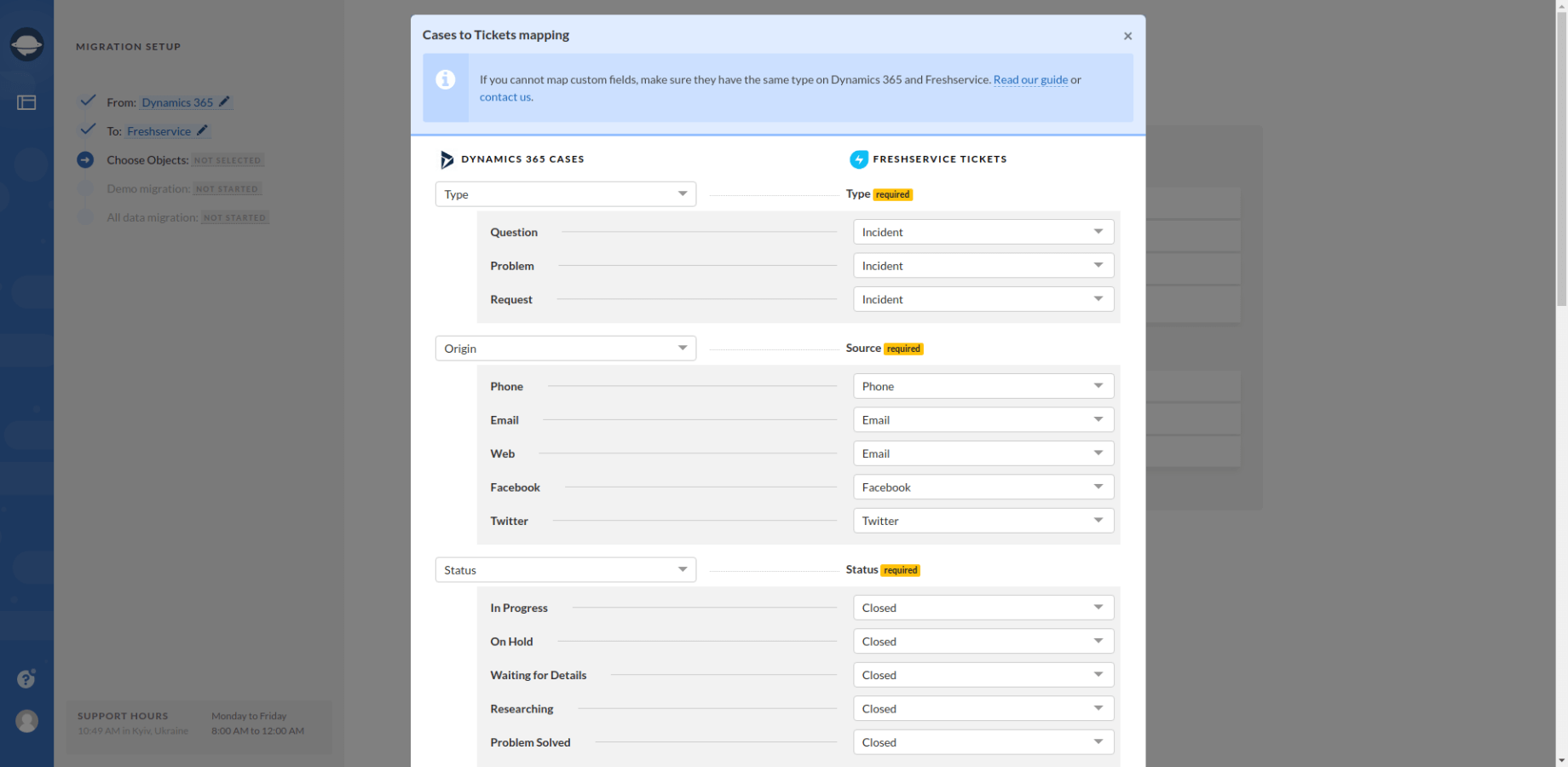 Keep in mind that you can map fields not only for help desk objects but also for knowledge base objects.
6. Start the demo migration. Once it is complete, carefully check whether the entities got transferred accordingly. You can use our detailed guide on how to check the result of the Free Demo Migration.
Note: Proceed with the next step only if you are satisfied with the outcome of the demo migration. In case anything migrated not the way you wanted, contact us right away.
7. Initiate the Full Data Migration to import data from Dynamics 365 to your new platform.
That's it! Enjoy using your new platform!
Export Your Microsoft Dynamics 365 Data Now!
Now you know how to export your Microsoft Dynamics 365 data in an automated way. Just in case you have any questions left, drop us a line, and we'll help you to transfer your records right away!
Ready to export your data from Microsoft Dynamics 365?
Try out new platform.
Setup a Free Demo