Every now and so often a new tool comes into the market. Some of them offer amazing functionality at good prices, others are expensive and are borderline unusable. So where does Helpshift fall into the equation? Well, to answer this particular question, we've decided to, now traditionally, compare it to Zendesk.
After all, Zendesk is one of, if not the best help desk solutions out there. It has stability, unique, helpful features, and most importantly, the ability to customize just about any corner of the user interface. So, how does Helpshift stand against all of this? Is it your next tool for the year 2020? Will it shine or will it shift? Let's find out in today's Zendesk vs Helpshift comparison.
What is Helpshift & Zendesk?
The title says it all. There's no way we can compare Zendesk or Helpshift if we don't know what they are. Now we won't be touching Zendesk in great detail as it will take forever, instead, we'll briefly cover what each tool is supposed to do and move to the meat and bones, the comparison section.
Helpshift
So, long story short, Helpshift is a dedicated customer service tool that incorporates a number of functions into one convenient hub. Among these features are messaging, AI-powered bots, automation options, and integrations. The key benefits Helpshift brings to the table are high-level personalization (both internal and external customizations), CSAT at a lower cost, and scalability across multiple sectors (social media platforms, mobile apps, web apps, and even phone channels). This is just the gist of the system and the stated does not represent the entire tool.
Issues, their views, and conversations in Helpshift. Source: Helpshift
Zendesk
As for Zendesk, it is a cloud-based customer support system that aims to help you foster better customer relationships through a set of systems. It is designed to work with all popular channels, including phone, social media platforms, chats, mobile apps, websites, and text SMS. The system is used by many well-known companies, including Groupon, AirBnB, Uber, and Slack. The core benefit of the tool is that it not only streamlines the service process but can significantly lower the expenses, improve productivity, and even raise customer satisfaction rates.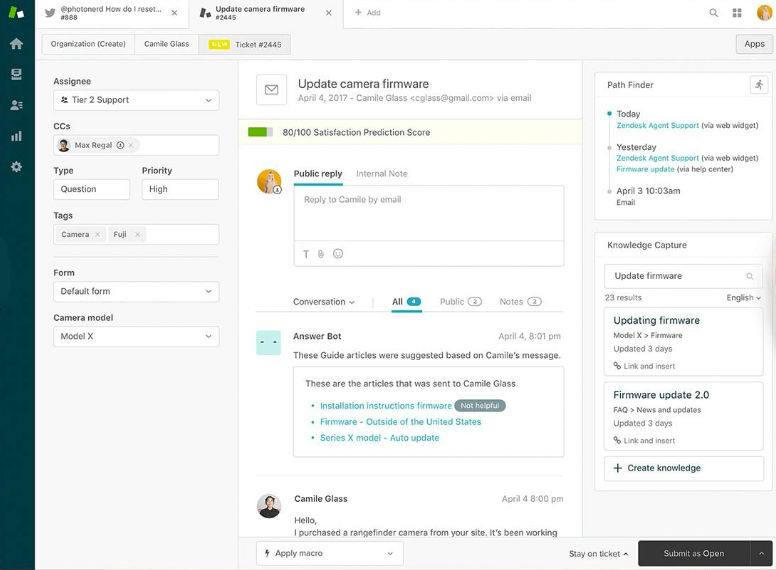 A ticket and its options in Zendesk. Source: Zendesk
Unique Features
What better way to start the Zendesk vs Helpshift comparison than by looking at the unique features. After all, in today's competitive industry, not having a thing that is unique means you will most likely be overlooked or buried by your competition. Hence why we decided to talk about this aspect in the first place.
Helpshift
Conversation Cases — As the name implies, this feature will allow you to transform all customer interactions into a conversation case. What's a conversation case? It is a special feature that allows you to gather all customer info and history into one place where access to a knowledge base article or tip is just a click away.
Simplified Case Management — This function is technically an extension of the previous one but what sets it apart is that it can streamline workflows across all your channels. It gives you a centralized view of the entire install-base, meaning you can see how things are progressing. With it, you will also be able to see what aspects of your business can be improved since you have a holistic look at everything.
Manage cases and ticket data in a simple unified dashboard. Source: Helpshift
AI Support — AI is everything these days. From personal assistants on your phone to your refrigerator knowing exactly how long should it freeze, AI is everywhere. It helps us focus on stuff that machines can't solve. Naturally, Helpshift also has a ton of AI tools. Whether you want a simple AI-powered answer bot or sophisticated automation mechanisms, Helpshift delivers.
Helpshift uses AI algorithms to offer the most suitable responses and solutions for your customers, which improve as they collect more data during communication. Source: Helpshift
Zendesk
Seamless Channel Integrations — Now one of the most praised features of the tool is its ability to hook-up with just about any platform, effortlessly. From all your standards such as Facebook, Twitter, Instagram to less common platforms such as Skype, Slack, and Vimeo, Zendesk allows you to hook them up effortlessly. With this function, your customers will have zero issues reaching you out, meaning their satisfaction rate, on average, be higher.
When viewing a ticket in Zendesk Support, you'll be able to see through which channel this ticket has come. Source: Zendesk
Guided Mode — When it comes to supporting, speed is of the essence. With Guided mode, you will not only improve your response times but let your agents focus on tickets that pile up as urgent. Nobody likes cherry-picking and this is what this tool prevents. Your staff will treat each ticket with the same priority, every single time.
To speed up the support process, agents can skip tickets they find more suitable for someone else to resolve. Administrators will then be able to view the time and reason for the skip. Source:
Pre-defined Ticket Actions — There's one thing universally all agents love, it's macro functions. They not only speed up the learning process but let your staff handle requests in a faster manner (contributing again to the satisfaction rate). They allow them to solve cases, answer frequently asked questions just by pressing a button combination. And the best part of all of this, you can set up these combinations yourself. And if you have time, you can even automate things.
You can create macros from the existing tickets to save even more time. Source: Zendesk
Performance
Now that we've seen the feature-set, let's take a moment and see how these features perform or in fact, the entire system. After all, good features are only good if they work as stated, so let's take a look at each.
Helpshift
Once we've moved a ton of data into the system and started using things, we noticed one thing, it actually works pretty well. Like, there are not substantial drops in performance and no abnormal behavior detected. Things like randomly open features are a thing among new software so we were pleasantly surprised. For the test, we've used the analytics module as it usually reveals the stability level, and suffice to say, all worked as stated. But it also perhaps for the fact that the module is quite thin (not a lot of data to view). Overall, we'd say the tool's performance rate is passable.
Zendesk
Zendesk has been long enough on the market to iron out all known performance hiccups so it was kind of obvious at the start. The tool doesn't hug the anchor when stressed and crunches data like a champ. I don't know what else we can say outside of the fact that it will only work badly when the tied system (i.e integrated module) works poorly. Good job on Zen's end, keep up the good work.
Pricing
And now for the juicy part of the analysis, the pricing. It goes without saying, when it comes to prices, if it's too high, it's too high and if it's too low, then it's probably a scam. But thankfully, none of the tools are a scam so let's dive right into it. As usual, we've used the most popular plans as our comparison points.
Price Table
Helpshift Business (price N/A)
Zendesk Professional ($49 agent/month)

Web & Mobile In-App Messaging
Email Ticketing
Live Chat
Web & Mobile In-App Help Center
Agent Desktop & Case Management
Knowledge Management
Time-Based Automation
New Issue Automation
Auto Assignment
Load Balancing
Optimized Routing
Flexible Queues
Time-Based Automation (in minutes)
Advanced Analytics

Email & social channels
Web Widget & Mobile SDK
Pre-defined business rules
Essentials card
Interaction history
Custom business rules
Performance Dashboards
Public apps and integrations
Multilingual content
CSAT surveys
Dashboards and reporting, powered by Zendesk Explore
So there's that. As you've already noticed, Helpshift doesn't really disclose the pricing so you'll have to ask for it yourself. Yet, looking at the feature set, it is quite promising. You get auto assignments, time-based automations (!), and even load balancing. We are pretty sure that it won't surpass Zen's price mark but it does seem odd to see something like this in this day or age.
Verdict
And the last part of our Zendesk vs Helpshift review is more an amalgamation of everything we've gathered up until now. That way you can have a better idea of the good, the bad, and of course, the ugly. And let's make it clear, Helpshift isn't a bad tool, in fact, it is quite capable as it has everything you might need (albeit some stuff is pretty basic in nature) to get you started.
From tracking stuff to advanced automations, it's pretty good. Is it up to the standards of Zendesk? No, not at this state. So, if you think this is the tool for you, then we can help you move your stuff to it, and if you are more into Zen, we can help you with too. Just leave us a message and we'll be sure to make the transition as smooth as possible.