Knowledge Base software is a powerful tool for improving your customer service and, at the same time, simplifying support agents' work. It is an obligatory self-service option nowadays. Since, if you're not owning a knowledge base, you're falling behind your competitors. And we're sure you already know it. That's the reason you're here, reading this article, we suppose.
So, it's not a secret that these days there is a myriad of help desk software options and the majority of them offer knowledge bases along with the other features. Zendesk belongs to this list, too. Guide is one of Zendesk products that offers powerful tools for creating and managing your customizable knowledge base, customer portal, or online community. It's basically everything you need for providing excellent self-service options.
In the case of Zendesk setup, everyone finds various features more or less powerful depending on the needs of their business, of course. But anyway, if you're looking for the best practices of Zendesk Guide setup, you probably already consider it the best option for your knowledge base. So, without further delay, let's get it started!
What to consider during Zendesk Guide Setup?
Knowledge Base is a place your customers will be seeking out answers on their pain point questions, so it has to be well-managed. What we mean by this statement, you can read below:
1. The appearance and structure.
Make it clear for yourself - what your help center should look like, what questions should it answer and what benefits should it bring to the table. Then, consider writing out a list of topics, articles, and planning the way and order you present your content. Also, think of the appropriate structure for the end-users. Clear categories, titles, and the very content of the article are indispensable. These are very important matters of your Knowledge Base as it has to reduce the effort of your customers in finding a solution, not vice versa.
"In a survey of 75 000 customers, the most important factor of building customer loyalty was reducing their effort, not delighting" -
Harvard Business Review
.
2. The purpose.
Make sure the help center you create will help you satisfy your initial goals. Otherwise, why would you even make it? Do you want to save time for critical customer cases rather than resolve repetitive queries? Or do you want to generally increase customer satisfaction and loyalty rates for your company? This will help you determine the points you should focus on in your help center and work towards creating the perfect solution.
3. The audience.
Help Center is a kind of refuge for your customers, right? You can also use it as your employees' instructions or trainees' onboarding program. In this case, you may need to split out the content for each of the groups. Consider creating separate articles for subscribed and unsubscribed users, or different departments of your company. This will significantly speed up the search for a relevant article.
4. The inspiration.
Don't be shy to look through the web and see what other companies already have to offer. It's a great source for inspiration, but make sure you're not stealing the ideas from the others. Through this approach, you'll learn what are the standards so that you can exceed them, and also understand what are your personal preferences in this case.
5. The plan.
As soon as you know precisely what you want from your future Knowledge Base, begin planning the whole process out. Calculate your budget, and set up the deadlines. Establish the responsible ones - give out the tasks to content writers, designers, developers, etc. Everyone who's going to be involved should know the requirements, be all set to start working and finish the project in time.
Now, that you know the main points to consider when setting up knowledge bases, we can move on to Zendesk Guide setup in detail.
The structure of Zendesk Guide and how to set it up
Let's now dive into Zendesk Guide structure to get ready with setting it up.
First of all, Zendesk has a definite structure. It consists of Categories (top-level containers), Sections (stored in Categories and include related Articles), and Articles (definite content items on the topics you choose). If you're an Enterprise plan user, you can also create Subsections to make the structure more diverse.
Create, manage and view your Knowledge Base articles from a single place in Zendesk Guide.
Zendesk Guide is not deployed by default and has to be enabled and then activated. Only after these procedures, it will be visible for your customers.
Then you can prepare the design and content in the way you like until you're satisfied with the result and ready to open it for end-users.
Finally, you have to activate it.
Remember, you have to be Zendesk Support administrator to be able to activate the Help Center.
To activate Zendesk Guide, you have to:
1. Click on the Settings icon in the sidebar.
2. In Guide settings, click the button dubbed Activate.
3. Confirm that you want to activate your Help Center by clicking Activate again.
4. Also, Enable spam filter to prevent publishing spam posts and comments from end-users. Read the agreement and confirm this setting by clicking on the same button again. (Enabling spam filter is an optional, but suggested step).
Now, your Zendesk Knowledge Base is activated and visible for end-users. Great job!
How to add and edit Articles in Zendesk Guide?
At the preparing stage of your Zendesk Knowledge Base, obviously, you need to add some content to your Help Center. Here's how you can do this:
1. In Help Center or Guide, click on the Add button at the top menu bar, and then choose Article.

2. Enter and edit the content as you like.
3. Select the management permissions under the Managed By section. Thus, you will set who can publish this article and edit it later.
4. To set up who can see the Article, choose the corresponding option under the Visible to section.
Important!
On default, only Guide managers can create new articles. Agents need to have corresponding permissions to do so. To find more info about adding and editing Zendesk Guide articles, read this
post
.
5. To select the section where you want to publish the Article, click Publish in section and then Select a section. Click OK to confirm.
6. You can also Upload attachments (up to 20 MB of size), Promote your article, or close it for the comments (disable Open for comments option).

7. When you've finished editing your article, you can Save it as a draft, or immediately post it by choosing the Publish option from the drop-down list.
In the future, you may need to change your posted article. To edit it, you should:
1. Go to the article you want to change in the Help Center and click Edit Article button in the top menu bar.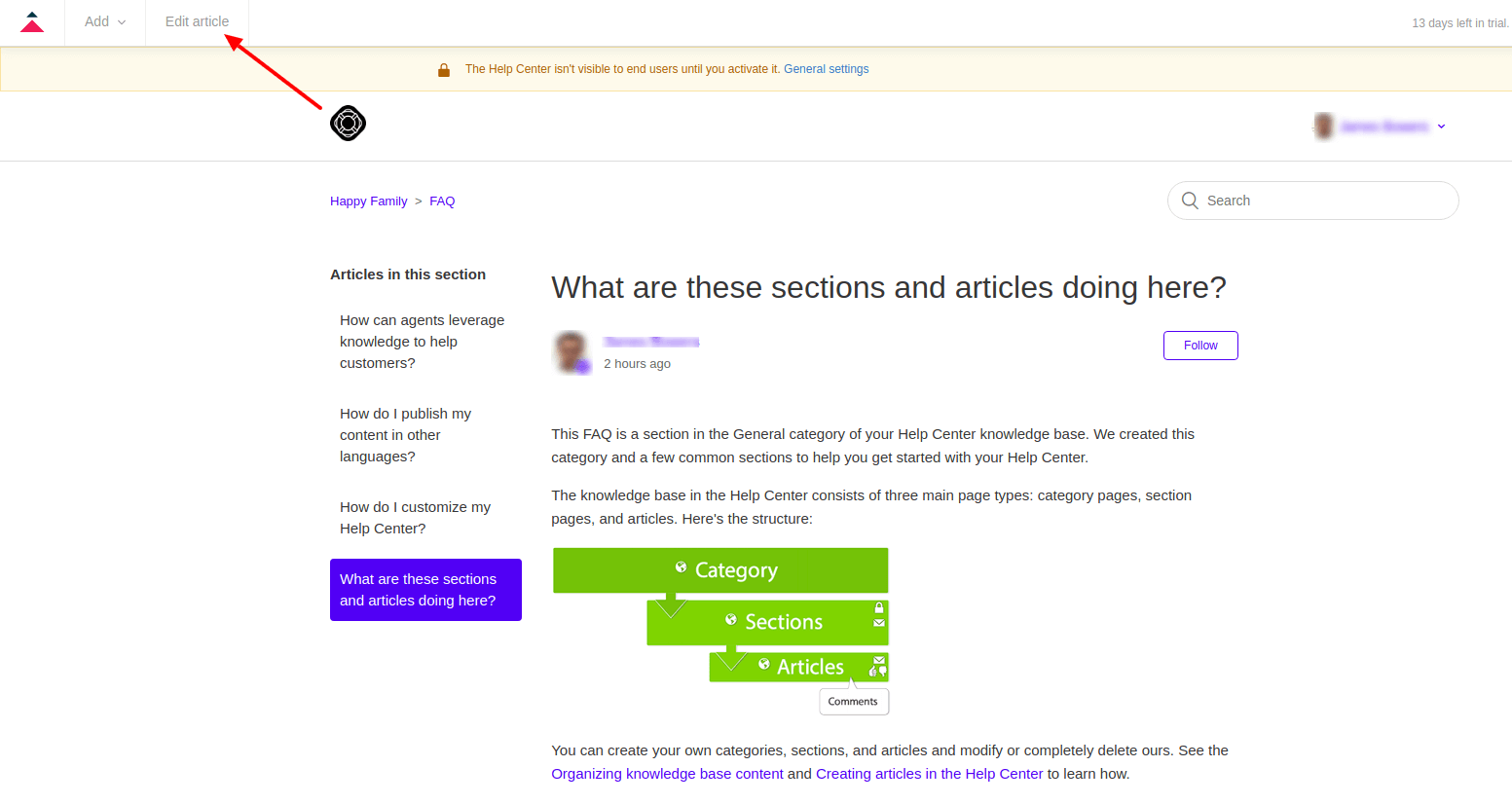 2. Change and add whatever you need.
3. Click Save to apply the changes.
Yes, it's as easy as it is. Experienced developers can also use Zendesk API key to extend the Help Center content management.
Zendesk Guide customization
If you'd like to, you could modify the appearance of your Help Center while as Zendesk offers a well-documented API key. You can add your brand logo or adjust the colors and web fonts in your Knowledge Base - it's possible in all plans. People acquainted with coding can also customize the Help Center theme using Zendesk API key. However, to access the code and modify it, you have to subscribe to a paid plan.
You can also turn to a professional service that has ready-to-use design templates or order a unique Knowledge Base theme. One such service is GrowthDot. They can do the customization of any complexity not only for Guide but for Zendesk Support also.
Import from an external source to your Zendesk Guide
If you have available Knowledge Base content, you can move it to Zendesk Guide so that you don't have to create new articles from scratch. And we know how to help you in this case!
We created a migration tool called Migration Wizard that can automatically transfer data from any help desks or knowledge bases. Just set up a free demo migration to see the functionality of the tool yourself. It will move 20 random articles from your Knowledge Base to Zendesk Guide or any other platform so that you can check them and see if everything migrated correctly.
Summary
So, here's where we're wrapping things up. As you understand, creating an informative and indeed helpful Knowledge Base is a challenging task. It requires thorough planning and a lot of effort input to be relevant, organized, and comprehensive at the same time. And using all the above-explained info, you'll definitely make your Zendesk Guide an example of a great solution for customer service. In case you have any more questions about Zendesk products or tips for something we've missed out, feel free to drop us a line. That's all for today, see you in the next article!
Migrate your Knowledge Base data easily
Transfer all records to Zendesk Guide or any other help desk
Set up Free Demo