Considered by many to be one of the best help desk solutions out there, Zendesk has established itself as a viable platform for both customer service and managing internal operations. But like everything in this world, Zendesk isn't perfect for everyone. In fact, some companies might benefit from other types of products, whereas others will find a relatively high price to be too much.
In any case, if you find Zendesk to be not your cup of tea, we've piled a list of some of the most excellent Zendesk alternatives money can buy. These tools not only have a lot of similar features found in Zendesk but offer unique ones as well. As usual with such lists, we will talk about individual characteristics, their performance, and most importantly, the price.
This way, you will not only see the whole picture but will not exactly what each tool sets itself to do. Thus, without further delay, let's see what Zendesk alternatives are worthy of your attention.
Zendesk
Now before we start looking at all the alternatives to Zendesk we've piled up, it's best that we also take a look at Zendesk itself. This way, you will know what exactly we will be trying to find in alternatives to Zendesk, as well as we'll make sure that everyone is on the same page.
Since 2007 Zendesk gained more than 40,000 customers worldwide. Many high profile companies operate thanks to Zendesk successfully. Among the most notable ones are Shopify, Groupon, Vodafone, and even the UK government. Thanks to the robust ticketing and management system, the tool gained a cult following among many startups as well.
Zendesk is known to be superb when it comes to self-service operations and consumer portals that companies can establish. Another important part of Zendesk is its analytics and reporting tool. They can keep track of multiple things at once, as well as they can be used to monitor product success rate and employee performance. Outside of boosting business operations, Zendesk provides a considerable number of customization and branding options. With it, companies can create custom animations, backgrounds, icons, and even behaviors.
Last but not least, Zendesk has a fairly reasonable price policy. For $89 user/month, companies will get access to the whole feature set. And those companies that are curious enough but still not convinced, they can try the $5 user/month plan to test things out beforehand.
Key Zendesk Competitors
Now that we covered what is Zendesk and why it is so popular among different companies, its time we look at the Zendesk alternative platforms list. We will cover each in detail and try to answer as much as possible. As for the list itself, it includes Zoho Desk, Freshdesk, Help Scout, JitBit Help Desk, and finally, Jira Service Desk.
Zendesk Competitor #1: Freshdesk
Next on our list is Freshdesk which is a relatively young platform with a lot of promise and frankly, features. One of the main components of this platform is the fact that you can adapt it to just about any business model. Whether you work in traditional retail or e-commerce, Freshdesk will work in both scenarios. Also, the tool comes packed with a bunch of smart automation options. From ticket rerouting to answering basic customer messages, Freshdesk will do wonders.
Gamification System
Freshdesk comes equipped with a bunch of gamification options that business owners can use to boost both customer loyalty and productivity. Essentially, you can make mundane work much more competitive and much more interesting through a series of challenges that come with reward points. These reward points can later be exchanged for a prize (say, a new laptop, or something), or used an internal currency. Outside of prizes, employees with exceptional performance will have a badge near their profile signifying their contributions to the company.
Routing System
Another important component of Freshdesk is the routing system. It can be adjusted, modified, and transformed to suit your organization's needs much more effectively. But the main takeaway of it is the fact that you can use it to track customer mentions, social media profiles, replies, and so much more. Essentially, what it can do is gather data from all kinds of sources and route them to one place where your agents will be able to deal with them. And it's not just about gathering new requests. It can resolve them as well, meaning that your agents don't have to worry about performance reports as everything will be automated.
Pricing
Freshdesk comes with a huge range of plans that will fit just about any budget. Just to be exact, the tool comes with 5 distinct tariffs, namely Sprout (free), Blossom (15$ agent/month), Garden (29$ agent/month), Estate (49$ agent/month), and Forest (109$ agent/month) respectively. And looking at all of them, the Estate is considered to be the best as it has enough unique features and it is cheaper than Zendesk.
Zendesk Competitor #2: Help Scout
The third alternative on this list is Help Scout. Over the years, the platform has gained quite a lot of traction due to it being super accessible and effortless to set up. It is used by many freelancers and small businesses and is widely considered to be the best bang for your buck. The tool is also very reliable and super fast because it doesn't use a conventional UI (more on that later), and has one of the most robust notification systems to date.
Shared Inbox System
One of the main features of Help Scout is its shared inbox system. What it does is it allows you to set up a single place for all your agents. That place will have its own set of "profiles" for each agent, but the overall workspace will be shared. This will allow your agents to see what others are doing, as well as what tickets need immediate responses. In essence, this shared box is a collaboration tool, but the best part of it is that it doesn't feel like one since everyone has their place. This box gathers data across all your social media profiles, e-commerce platforms, and even other help desk tools.
Detailed Customer Profiles
Another good thing Help Scout provides is detailed customer profiles. Now at glace, this might seem something as less impressive, but in reality, this isn't the case as the more information your agents have on customers, the better they can assess their issues. This is also a good thing for newcomers since they have no idea who's who and how to talk to them. This system allows you to comment profiles (if the permission is granted, that is), leave badges, warn about things the person doesn't like, etc. This will ensure that you people can provide a unified, high-quality service.
Pricing
If you look at the pricing policy Help Scout provides, it is clear that this is a happy medium. On the top end, you have the premium tariff that will cost you an undisclosed amount of money (certain publications state that it is around $69 agent/month but don't quote us on that). Then there's the middle plan, which is $32 agent/month and will pack you up with just about anything you need. The standard plan is only $20 agent/month. For our money, we suggest that you use the middle option as it has all the tools necessary and won't cost you a fortune.
Zendesk Competitor #3: JitBit Help Desk
Viewed by many as one of the most robust ticketing systems, JitBit Help Desk is a platform built specifically for smaller sized companies. It doesn't mean that it won't work in a large enterprise. It's just that smaller companies will benefit from the features more than those that are bigger. What sets this tool apart from the competition is the ability to hook up the system with multiple third-party tools.
Communication Capabilities
One of the most prominent features of JitBit is the fact that you can set up a communication channel across all of your departments. Whether you need a multi-channel setup or an omnichannel, JitBit is capable of doing both. And thanks to the smart notification system, you won't be lost in notifications as every one of them will be labeled accordingly. And it's not just emails; everything will be easy to read and digest thanks to the fact that you can fill out as many details as you like. The tool allows you to add custom fields, meaning that the stock options don't limit you.
Mobile Application
Having a mobile version of your service is no longer an option; it's a necessity. Many companies usually resort to the mobile application, and thankfully, JitBit has one of the most robust apps out there. Essentially, it is a full-fat experience that is cramped down in a mobile application. From ticket management to profile viewing, there's everything. Oh, and did we mention that its free? You're welcome!
Pricing
JitBit offers a wide range of plans that come with different features. But outside of these plans, the company also offers an on-premise solution and a cloud one. So, depending on the hosting solution, you can dish out for the on-premise solution upwards of $1699, $3499, and $4999 for Small, Company, and Enterprise plans, respectively. And for the cloud versions, upward of $29/month for the Freelance plan, $69/month for the Startup plan, $129/month for the Company plan, and lastly, the Enterprise plan will cost you $249/month. The tool isn't exactly cheap but pretty fair in its pricing policy.
Zendesk Competitor #4: Jira Service Desk
And the last one on our list is Jira Service Desk. Developed by Atlassian, Jira is a widely recognized brand that is used by many companies across the world. One of the best things about Jira Service Desk is that it can be used by both tech-oriented companies and companies that work in more traditional fields. Jira is still a service desk, and you can see it in its stock functionality. But thanks to the included marketplace, the tool can be used just about anywhere.
Atlassian Marketplace
As mentioned above, the Atlassian Marketplace is one of the key advantages Jira Service Desk has over its competition. With it, you can add a massive amount of features that you don't normally see in service desk solutions. True, the average price will increase. But you aren't limited anymore, and the modularity will allow you to combine a huge set of things into one living organism. Another part of this is that you can use the marketplace gradually as you increase in size. In other words, if you need a single premium feature and don't care about the rest, the marketplace allows you to buy that one feature.
Confluence
Jira Service Desk doesn't use a traditional knowledge base system. Instead, the company offers you to use the Confluence platform. What makes this good is that it is its tool that gets its own set of updates. Essentially, a separate team is developing Confluence o which means you will get higher quality updates more frequently. Another benefit stems from the fact that you can split Confluence into multiple knowledge bases. Say, if you have a separate brand, Confluence allows you to make a new base for it in a matter of seconds. This makes managing much easier. It will also allow you to identify what issues your customers face much faster since each product is its own thing in its place.
Pricing
Since the price can vary depending on the number of additional installs, the average price of Jira Service Desk is hard to calculate. However, what we can do is take a look at the official price. So, for three agents and more, you will have to pay $20 each. If you have more than three agents, then you'll pay $15 for the next 85 agents. And lastly, if you have more than 85 agents, you will pay $8 per individual/month.
Zendesk Competitor #5: Zoho Desk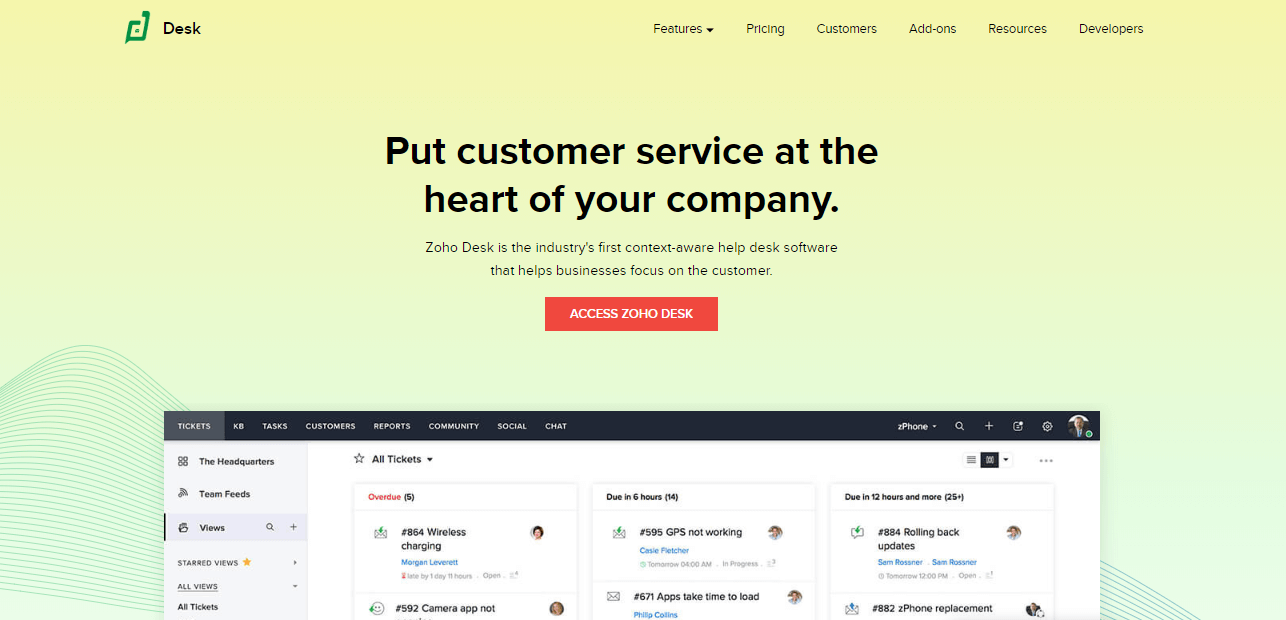 So, first on our list is Zoho Desk. It is a potent tool that has a wide range of features you can use to boost your online presence. It is also a great tool to increase agent productivity, thanks to the included automation system. Just like Zendesk, Zoho Desk has a ticketing system that is powered by an AI system dubbed Zia.
The Zia AI
What it does is it allows your agents to deliver better results through timely and accurate recommendations. Essentially, Zia reads the conversation flow, analyzes it, and searches for a solution both online and in your knowledge base. In other words, Zia is context-aware, and this is something that only continues to improve. But this isn't Zia's only strength as it can be used to answer incoming inquiries round the clock. The results are great as the messages are human-like, and the precision is simply put, outstanding.
Managing Capabilities
Another good point about Zoho Desk is the fact that it has a dedicated asset management system in place. It's still being worked on, but the results are fascinating. You can use it to track all your subscriptions, as well as connect it to popular third-party platforms. And speaking of integrations, Zoho Desk is known to be able to hook to just about anything that has an API. You can find it useful if you also need to manage your social media profiles.
Pricing
The tool isn't exactly expensive, and this is why most view Zoho Desk as the best alternative. For $15/month per agent, you get access to all basic help desk features, and if you want something more advanced, you'll have to dish out $30/month per agent which is double of the starter plan. The company also has a free option, but it is quite limited in what it can do. It might be a good option for companies that would like to test things out beforehand, to learn the interface, etc.
Which One Is The Best?
Now that we've covered all help desks, it's time we stack them up against each other. We will try and identify what are the bottlenecks of each tool, what tool is the most convenient, as well as try to compare the price to performance ratio. We will also take a look at the usability rate as it is one of the most important aspects of any software tool and how well each tool scales.
Usability
Thus, if we take a look at the usability rate, there is no denying that Help Scout wins. Nothing beats the email-like interface. Everything is super accessible and works like a dream. Plus, there is the fact that you can share a single workspace with multiple agents. Second best would be Jira Service Desk as it is practically self-maintained and requires little user input to be able to work on it.
Convenience
The most convenient of them all would be JitBit as it offers an uncompromised mobile experience. With more and more people shifting towards mobile alternatives, having an app that delivers the same results as the desktop version is simply amazing. And thankfully, JitBits solution marks all the requirements.
Pricing
As for the prices, the winner would have to be Freshdesk with its varied amount of plans. Some of you might argue that Jira is the cheapest one and that isn't too far from the truth. But when you take into consideration that Jira Service Desk comes barebone, Freshdesk becomes the clear winner.
Features
When it comes to features, Zoho Desk wins. The AI-powered bot is too good to pass on. It will not only work days on end for you but will actually reduce load (and in some cases, stress) from your agents. And then there's the price; it's not the most affordable. But it is pretty fair and understandable.
Scalability
There is simply no competition. Jira Service Desk takes the cake as being the most scalable tool on the market. You can expand just about any module, and in case you are missing one, chances are you can add it through the marketplace. If pricing isn't a concern for you, Jira will do wonders.

Bottom Line
So there you have it. We hope we managed to answer all your questions regarding Zendesk alternatives. We tried our best to cover each corner, and in case we missed something, be sure to let us know. But in the meantime, if you plan on moving to any of these tools, we can lend you a hand. All you have to do is drop us a message, and our expert will get in touch with you in no time. But for now, thanks for being here. See you soon!