Over the past couple of months, we compared quite a few tools. And we came to the conclusion that most of them are pretty similar in what they do. At the same time, we also learned that each of them targets a specific demographic. A specific customer if you will. With more and more new help desk systems coming out every day, it is only natural that we start to see more and more similar products.
But that is not the case with Twilio Flex. This unique blend of a help desk system and a customer call center makes is one of the most impressive packages on the market. But how does it perform? Well, to find out, we decided to stack it up against Freshdesk. So, without further ado, let us dive into the Twilio Flex vs Freshdesk comparison.

The Purpose Of Each Tool
Freshdesk
Let's take a moment and look at what the tools are about and what is their intended use. We will start with Freshdesk as it is the more common one. So, Freshdesk is a help desk system that operates in the cloud. Its key idea is to allow a business to serve more customers without sacrificing quality. The tool allows you to serve customers and set up self-service portals. Both employees and customers use portals for reference purposes or to get guidance. Typically, a help desk comes with an analytical tool and Freshdesk is no different. It allows its users to view valuable data gathered from various sources, as well as you can schedule reports.
Twilio Flex
As for Twilio Flex, the situation is a bit different. The tool was made a call center software utility for small companies. But over the years, it has evolved into a help desk-like tool that has a wide range of additional features. These features are both related and not to a call center and can be used in any organization regardless of their activities. One such feature of Twilio Flex is its ability to set up business hours across all your resources.
Another feature that is often mentioned, is the ability to deploy custom workflows for your employees. The system is also capable of routing multiple tasks into one project, meaning that it can easily track the progress of each division. Similarly to Freshdesk, users can set up and hook Twilio Flex to a wide range of platforms to gain more visibility.
Learn more about Twilio Flex: What is Twilio Flex: Review of the New Programmable Contact Center
So, as you can see, the systems do share quite a few similarities. However, there is enough difference between each system, which is exactly what our next paragraph is about. Keep reading!
Twilio Flex vs Freshdesk: Comparing the tools
Okay, so we now know what each tool is about and how you can use them. Which means that its time we look at them in a side-by-side manner. We will test each tool in common working scenarios and see how they perform, as well as we will try to analyze what went wrong (or good). And to start off, let's take a look at Freshdesk and how well it works.
Ticket Management
Freshdesk
So, the number one scenario is, of course, ticket management. After all, this is the reason why most companies adopt help desk systems in the first place. Thus, looking at Freshdesk user interface, it becomes obvious that it was made with this functionality in mind.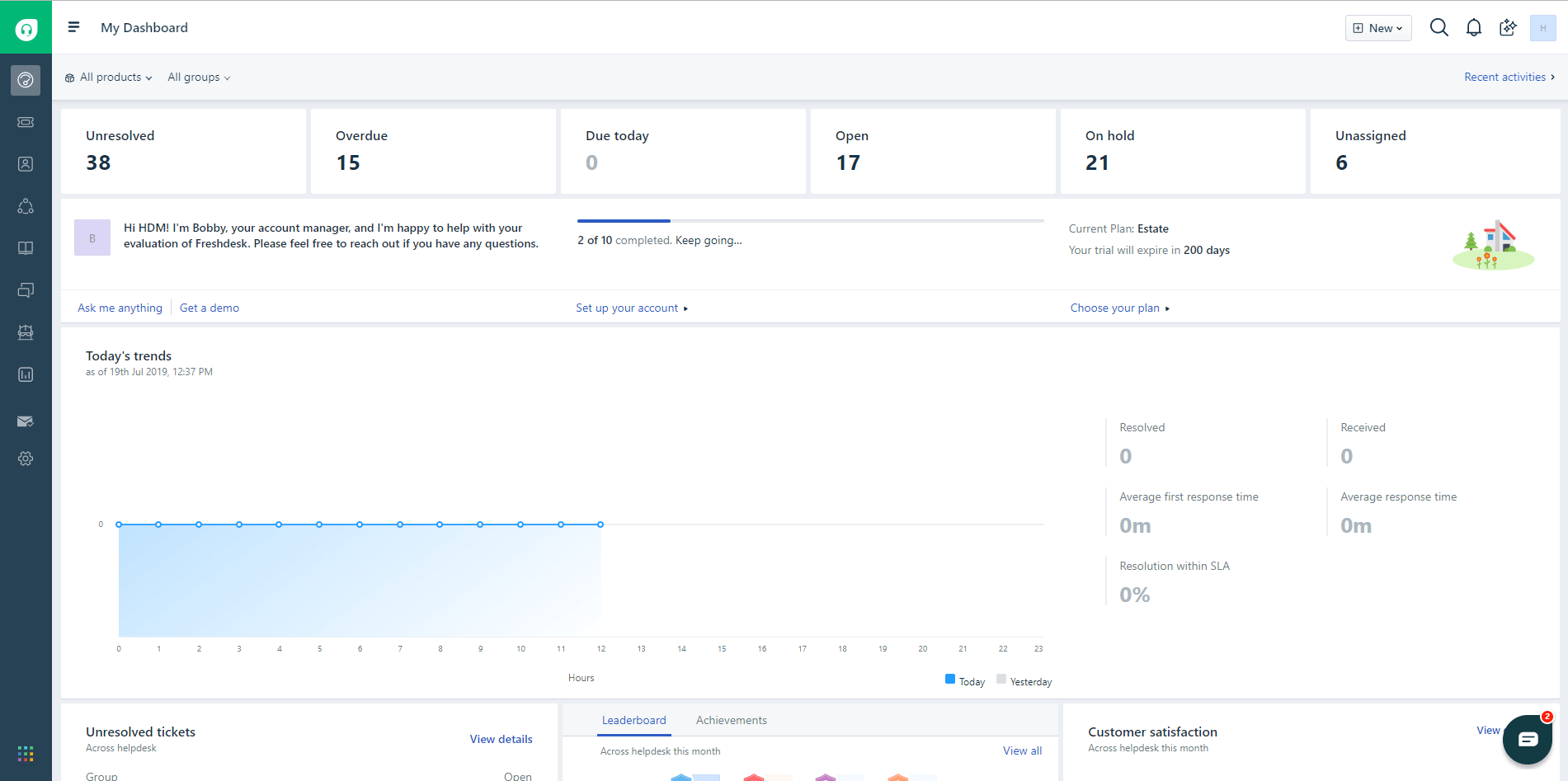 On the left side of the screen, you have a dedicated sidebar where you can locate the ticket management utility. On that screen, you will find in an email-like look a list of available tickets. Once you press on one of them, you will get a pop-up on the right side of the screen where all the information about the customer is located. On the main body of the page, you have the issue itself and on top of it you have a set of buttons, namely, merge, reply, close, forward, add a note, and delete. Overall, ticket management is pretty simple and does not require special knowledge to be able to use it.
Twilio Flex
On the flip side, we have Twilio Flex which suffices to say, is different from the competition. To be able to track tickets and requests, you first need to create a project and then you need to route the incoming requests to it. If you want to use Twilio for tracking tickets from multiple sources, you will need to open all other related projects. But other than that, you can easily set up support ticket priority for your customers, or let them do the work for you. Indeed, once properly configured, customers can pick out of three priority level. The 1st level is the top priority (business level issue), the second being degraded service, and the third one is general. Said tickets can then be resolved from the shared inbox, or can program the tool to automatically assign it to a set of agents.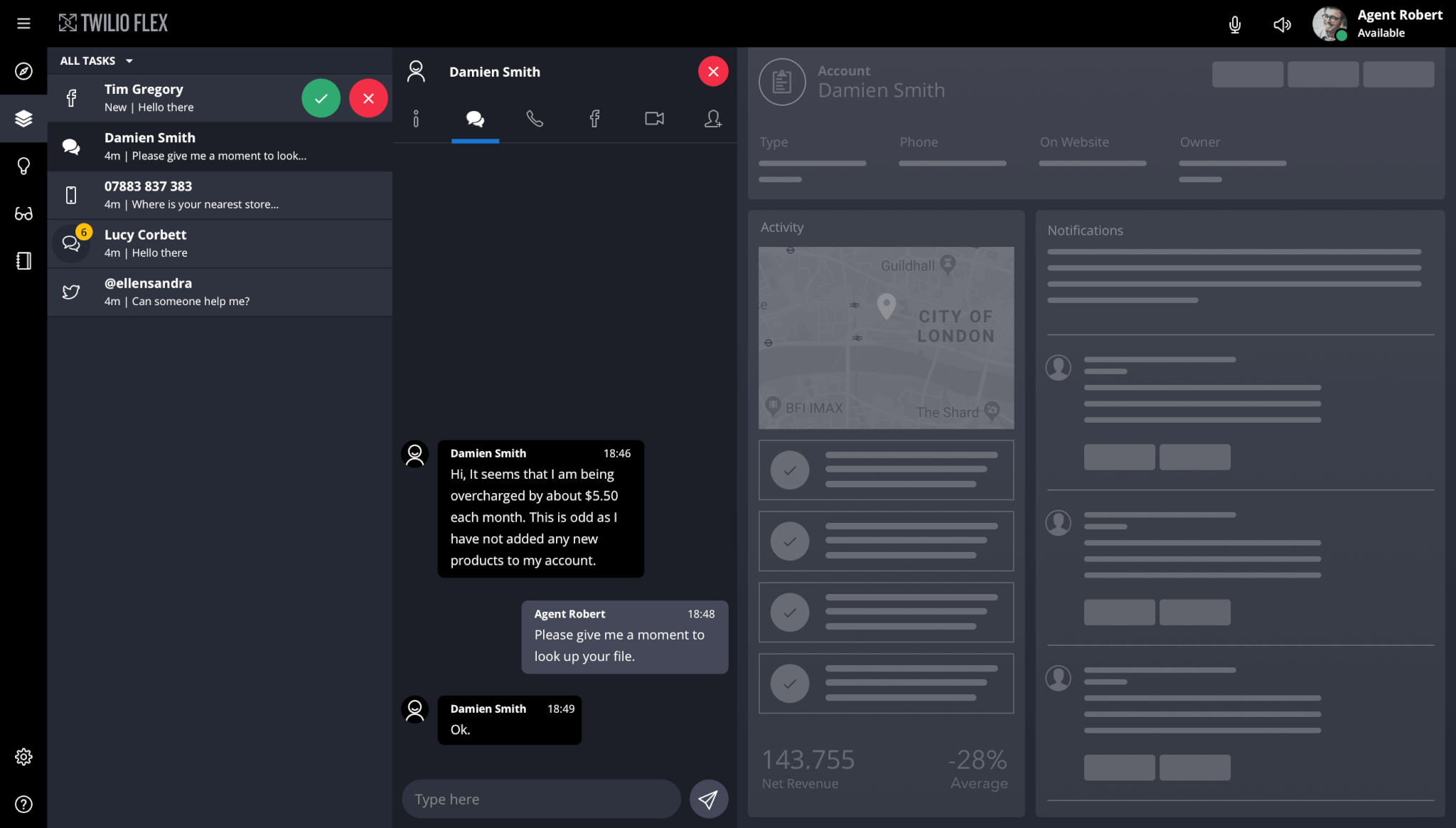 Flex agent dashboard. Source: TechCrunch
The Winner
There is no denying that Freshdesk is the better option for managing tickets. You have everything pre-configured and you don't need to code anything either. While Twilio Flex does offer more flexibility (no pun intended), if you need to manage only tickets, then go with Freshdesk.
Customer Communication
Freshdesk
The second most important aspect of any help desk tool is, of course, communication with your install base. And Freshdesk has a pretty robust system that will surely solve a lot of issues. Using Freshdesk you can easily rely on omnichannel support, as well as you can use the live chat tool to talk with your customers. Freshdesk can connect to just about any social media platform meaning that you won't be limited to just your website. Whereas the live chat system can also be hooked to your website and connected directly to the ticket management tool. Lastly, you can set up a voice box that can automatically sort questions and complaints into their respective boxes. If you want an answering machine, you will need to rely on a third-party tool, which means extra expenses.
Twilio Flex
As for Twilio Flex, the situation is miles better cause the tool was practically made for communication in the first place. Most Twilio Flex competitors try to mimic this aspect of the tool for a reason. With Twilio Flex, you can set up an answering machine in just two to three clicks, as well as you can connect the tool to any social media platform. In fact, you can even connect the tool to a mobile app such as WhatsApp which is a massive plus in our books. And in case you are wondering, yes, you can place a live chat with both video and audio support on your site. The system can also create automatic tickets after the call has ended, as well as it can identify the caller.
The Winner
Overall, Twilio Flex is a much better package as it has way more options, and you don't need to poke with third-party apps to get extra functionality. While it's true that you can use Freshdesk and be completely satisfied with it, it's in the comparison scenario where Twilio shines the most.
Usability Rate
Freshdesk
The last point of comparison would be the usability rate. This might seem like an irrelevant point but what good a tool can do when your agents have no idea how to use it? That's right, nothing. And the guys over at Freshdesk clearly understand this as the tool is a breeze to use. You don't need to wrestle the menus just to get to a feature you need. Everything is organically placed and very intuitive to use.
Twilio Flex
The tool is also pretty easy to read and use. You won't find convoluted namings as everything is pretty self-explanatory. The overall feel and look of the system feel snappy and sleek which is a good thing since you will be staring at it all day. The search bar is where you usually find it, and the results page has a wide range of sorting options. While it is simple in nature, there are a few things that require in-depth coding knowledge but if you plan on using the tool like a help desk system only, you will be more than satisfied.
The Winner
To be honest, there are no winners as both systems follow modern usability trends. You have all the menus where you'd expect them to be, and the performance of the tools are top-notch.
Pricing Options
And the final part of our analysis is the pricing options. To many, this is a turning point, hence why we will try to cover as much as possible, outlining core advantages and disadvantages of said plans.
Freshdesk pricing
So, if we look at Freshdesk, the company has five plans but we'll cover only the popular one, dubbed Estate. So, for just $49 agent/month, you will get access to a plethora of features that your business can benefit from using. One such feature is Ticket Assignment Automation. What it does is it lets you gather tickets across various sources and assign them to a proper specialist. This kind of functionality is usually locked in a higher pricing plan. And then there's the Support Bot that can help your customers navigate the knowledge base. Again, a premium feature. If you have a small team and want to grow fast, this plan is must for you. Yet, if you operate on a large scale, the plan will cost you a penny, especially in the long run.
Twilio Flex pricing
As for Twilio Flex, the pricing system is a bit different as to what most help desk enthusiasts are used to. You pay for active user hours, in this case, the first 5000 hours are free, albeit a bit limited. But there's also a secondary pricing plan where you can dish out $150 per user and not worry about the incoming traffic whatsoever. The plan includes everything we've mentioned up to this point and everything the company has in store. You pay a premium but get a premium as well. If you have a smaller team this is a great option and if you have a large team, there's the hour-long plan that you can use.

Conclusion
But that's all for today. Both tools are good and picking a clear winner would depend on where you want to use it. Twilio will work wonders in a large call center. Whereas Freshdesk is better suited in a medium-size team. We leave you to decide which one is actually better. But what we can say, if you want to switch to one of these tools then out automated data migration can help you. You can try a test migration free of charge right now!