Most likely, if you've ever dealt with help desks, you have heard about Freshdesk. It's a leader in the industry, and to be honest, it completely deserves all the praise. Freshdesk is a powerful solution, aimed at putting your customer service at the top. However, there's one thing that cannot go unnoticed. Freshdesk doesn't support an out-of-the-box option for migrating data between its accounts.
But, there's no need to worry - Help Desk Migration service can make the transfer possible. We've already done successful Freshdesk to Freshdesk data migrations in the past, but our software engineers recently made the transfer of 'Forums' possible. It has been requested for a long time, so if you're interested, keep reading for more details.
What is a forum in Freshdesk?
Forum is essentially a platform for interaction for customers and agents. Forums have been around for a long time now, but they remained a great feature for maintaining customer support. In forums, users can ask questions and get quick answers either from agents or from other users, who know how to deal with certain issues due to a personal experience.
The best thing about Freshdesk's forums is that they're highly customizable. By saying that, we mean that you can choose between several kinds of discussions (Questions / Ideas / Problems / Announcements) and invite customers to share ideas, suggest features, and others. Moreover, agents have an opportunity to monitor forums and even convert topics to tickets to get your team working on an issue. That certainly can come in handy for many organizations.
How forums migrate
Due to the peculiarities of Freshdesk, our service can migrate forum-related data, except:
The authors of the comments
Creation dates
Attachments
Dates of discussion
However, the core data is still being preserved, which allows you to take advantage of created tickets in the new Freshdesk account.
Migrate with us
If you have a Freshdesk to Freshdesk migration in mind, no need to postpone it. With Help Desk Migration service you can transfer a whole list of records:
Tickets
Contacts
Organizations
Agents
Groups
Attachments
Public and private notes
Tags and custom fields
Knowledge Base articles (only the ones that have already been published)
And Forums, of course
The process of migration can be set up in just a few minutes. All you're required to do is to follow a simple step-by-step guide and enjoy the results.
So, to successfully migrate records from Freshdesk to Freshdesk:
1. Start by selecting the source and target platforms. In this instance, both are Freshdesk. So, simply choose it from the list of available options.
2. Then, provide all the necessary credentials, including API key and workspace URL. Only after the credentials are verified, you will be able to proceed further. This is done primarily to establish a connection to our service.
Keep in mind that different accounts have different API keys. If you don't know where to find one, check out this
article
.
3. Select objects that you want to migrate to a new account. The table will show how the name of the records will change in a target platform. Since you're migrating to the same help desk, no unexpected changes will take place.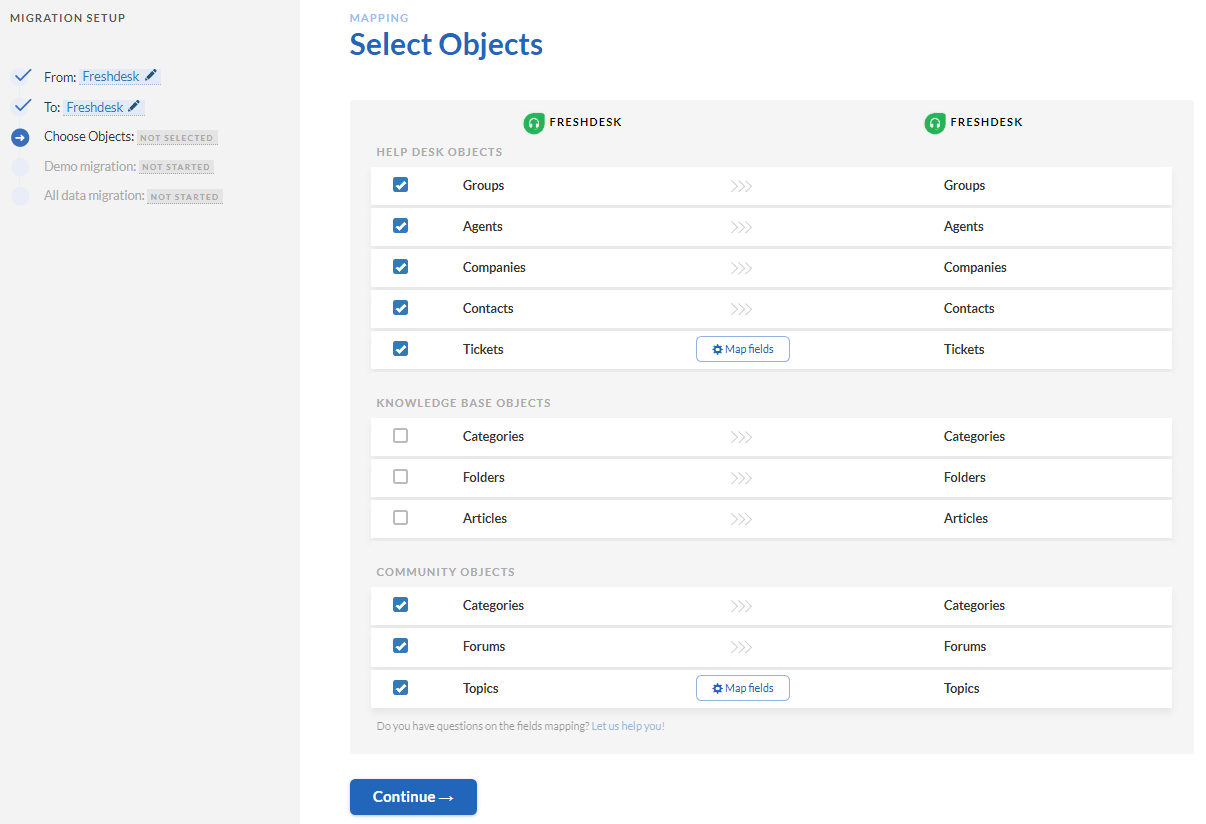 4. After you've selected the records for migration, a mapping page will open automatically. Every transfer is different, however, if you want to preserve the old settings and structure, make the corresponding fields identical.
5. Then, start a trial migration. During this five-minute process, twenty random tickets will be selected and transferred to a new platform. After the demo is complete, check thoroughly if everything migrated as you expected to. We advise you to take time and examine each of the twenty tickets to avoid any mishaps during the Full Data Migration.
6. Then, if you're completely satisfied with the way the demo went, initiate Full Data Migration.
Let's move your data
Still hesitating about the data migration between two Freshdesk accounts? Leave us a message and our super-friendly support team will make sure that none of your questions will be left unanswered. Remember, you're just a few clicks away from the data migration that can ease your life.

Set up your Freshdesk to Freshdesk Migration now!
Migrate your records seamlessly and safely
Start My Demo